Air fryers are known to make deep-fried foods a little healthier. One thing that air fryers are not known for as much is grilled foods like air fryer hamburgers.
There's nothing I love more than a great dinner on the grill. Except we live in New York and it can get down to negative degrees with the windchill here in the winter. That doesn't make good grilling weather.
Looking to air fry your hamburgers from frozen? Use these directions here!
I started craving some hamburger patties and figured I would try them out in the air fryer. They came out PERFECT.
We occasionally will make them in a frying pan, but it keeps all the fat in the burgers. The air fryer lets the fat drip into the bottom of the air fryer drawer, making the burger just as healthy as on the grill.
I made this recipe using my Cosori Air Fryer. It has a square basket, which allows me to cook more burgers at a time. It's perfect for our family of 4 and we only need to cook one batch.
That means dinner can be on the table in less than 15 minutes. I use the Cosori Air Fryer for all my recipes on Everyday Family Cooking and highly recommend it.
Looking for other grilling recipes to make in your air fryer? Check out our Air Fryer Hot Dogs recipe that shows you how to air fry hot dogs from fresh and frozen.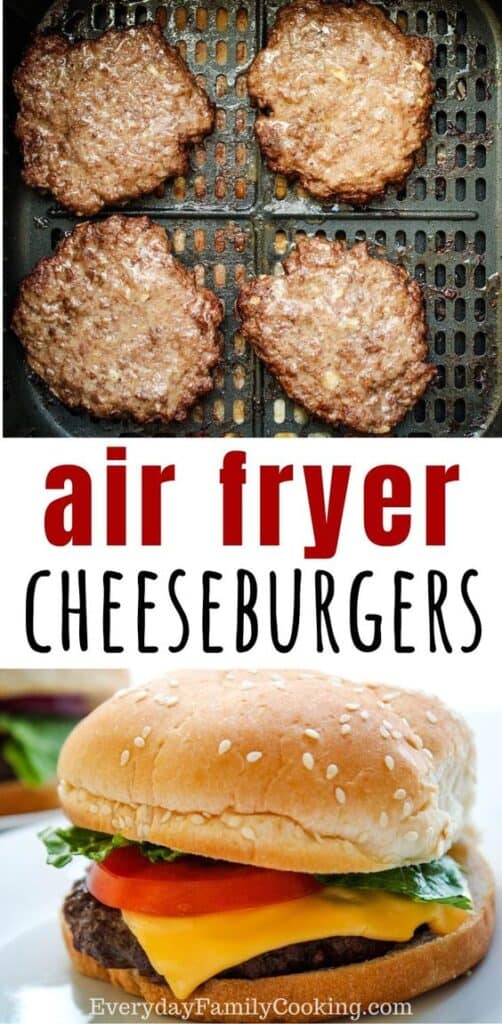 How to Make Air Fryer Hamburgers
Preheat your air fryer to 360 degrees.
Mix together the ground beef, minced garlic, salt, and pepper with your hands. Form the ground beef into 4 hamburger patties.
If you're making air fryer hamburger sliders, you can form more than 4 (see notes below).
I like to use the bottom of a plate to press the patty into the cutting board to help get my burgers pretty thin.
They will shrink in size and rise a little inside the air fryer (a little bit more on this later).
Place the burger patties into the air fryer in one layer. They can be touching but should not overlap at all.
If there isn't enough room in the air fryer, you can cook in batches.
Cook the air fryer hamburgers for 8-12 minutes, flipping once halfway through until hamburgers reach the internal temperature of 155 degrees (for a medium-well hamburger).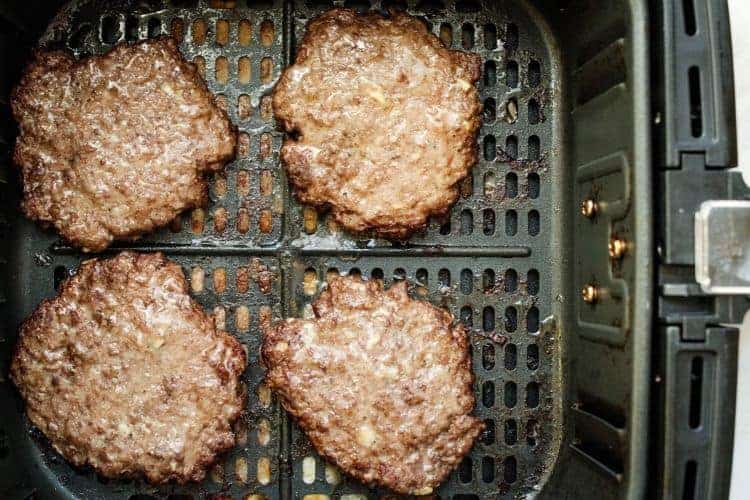 If your air fryer starts to smoke or has a tendency to smoke when cooking fatty foods, please read the "Why Does My Air Fryer Keep Smoking When Cooking Hamburgers?" section below
Remove patties from the air fryer, place them on hamburger buns with your favorite toppings, and enjoy!
How to Make These into Air Fryer Cheeseburgers
As a cheese-loving family, we are constantly making our air fryer burgers into cheeseburgers using American cheese.
Once the burgers are cooked, turn the air fryer off, open the drawer, add the cheese on top, and close the drawer.
Allow 1-2 minutes for the cheese to melt.
If the cheese does not melt using the above method, simply place 4 toothpicks on each "corner" of the burger where the cheese is and cook on 360 degrees for about 1 minute.
If you have a thicker-sliced cheese like cheddar, it may need to cook for an additional minute.
The first time I put cheese on top of a burger in the air fryer and closed it up, something told me to open it 20 seconds later.
I'm glad I did because the cheese had blown off the burger and was starting to melt to the air fryer.
You must use several toothpicks for the cheese to stay in place.
One or two toothpicks are just not enough. The toothpicks will literally cut through the cheese and the cheese will start to fly up again. Trust me, I've tried it.
How Long Does It Take to Cook a Hamburger in an Air Fryer?
The time it takes to cook a hamburger inside an air fryer depends on how well you would like your burger.
Follow these guidelines when cooking your air fryer hamburger.
The temperatures placed next to each define what the internal temperature of the hamburger will be for each wellness level.
You MUST check the internal temperature of the burgers before eating them. These times are just guidelines and can vary depending on your air fryer and how big each patty is.
I use this instant meat thermometer to personally check the internal temperature of my hamburgers before eating them.
Rare (125 degrees): approximately 4 minutes + let the burger rest for 3 minutes
Medium Rare (135 degrees): approximately 5 minutes
Medium (145 degrees): approximately 6 minutes
Medium Well (155 degrees): approximately 8-12 minutes
Well Done (160 degrees): approximately 10+ minutes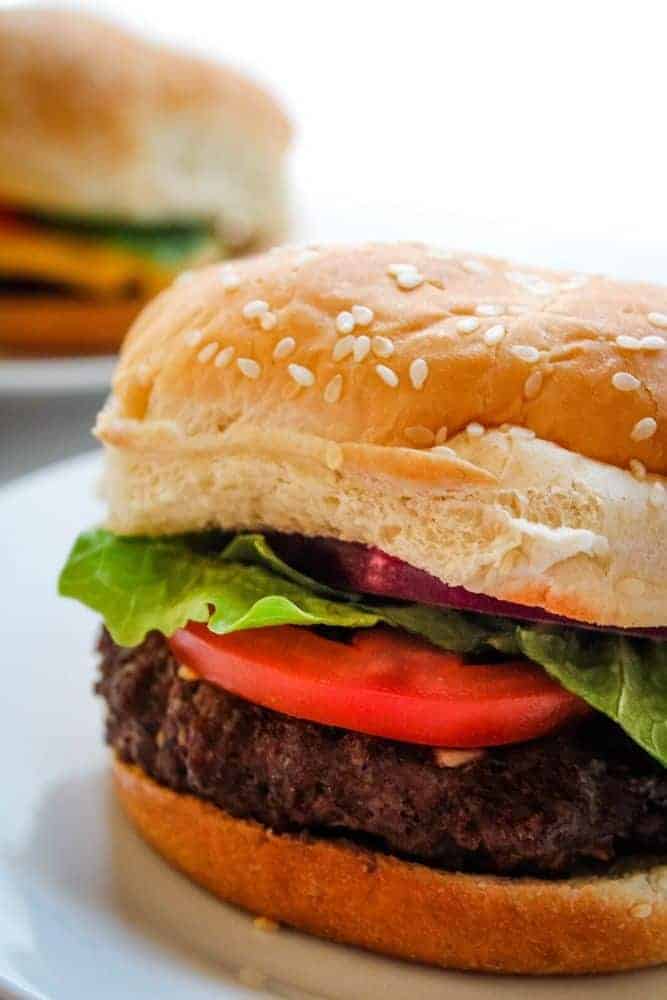 Can I Make These Burgers into Sliders?
Yes! If you want to make sliders instead of normal-sized burgers, just simply form smaller patties. Remember, the patties will shrink in size, so size them a little bigger than anticipated.
Sliders will cook much faster than hamburgers, so check and flip them about 3 minutes into cooking. They should be fully cooked in about 5-7 minutes.

Why Do My Hamburgers Keep Shrinking?
When hamburgers cook, they release liquid inside causing the burger to shrink. That liquid also includes fat.
The fattier your ground beef, the more your burger will shrink. I personally like to use an 80/20 (80% ground beef/20% fat) burger as it contains enough fat to make the burger juicy but is still much healthier than fattier versions.
Using a 90/10 burger starts to make the hamburger become a little drier than my liking.
When forming your patties, make them larger than the bun size to account for the inevitable shrinkage.
Why Does My Air Fryer Keep Smoking When Cooking Hamburgers?
The way an air fryer works is simple. It circulates air in a 360 motion around the food.
That means any of the liquid that drips off your hamburger will eventually circulate to the top of the air fryer, hit the heating coils, and cause it to smoke.
So, is it safe for you to cook with your air fryer smoking?
No. The fat will cause build up on the fans and unless you do a deep cleaning (which is a complete pain), that fat will remain there and eventually affect your air fryer.
Thankfully, there are two ways to avoid it:
1. The Bread Method
Simply place 1-2 pieces of bread underneath the basket into the air fryer drawer. You may need to push down the bread to allow your air fryer basket to sit properly inside the drawer.
The bread acts like a sponge and absorbs all the fat that drips down beneath the basket. This way no fat will fly to the fan and cause smoking.
This is the way I personally do when air frying fatty foods. I have never had any issues with smoking since implementing this technique.
2. The Water Bath Method
If you don't want to use bread or just don't have any around, you can use the water bath method.
Place a small amount of water inside the drawer of the air fryer (underneath the basket) and then air fry your food normally.
I have noticed some air fryer baskets sit down farther inside the drawers making this method difficult.
I tried it on a recent air fryer and even a minimal amount of water caused the bacon to just sit in the water while cooking.
No one wants soggy foods, especially bacon.
If you can have your food sit above the water, this method will work great.

Other Air Fryer Recipes You'll Love:
Yield: 4 hamburgers
Air Fryer Hamburgers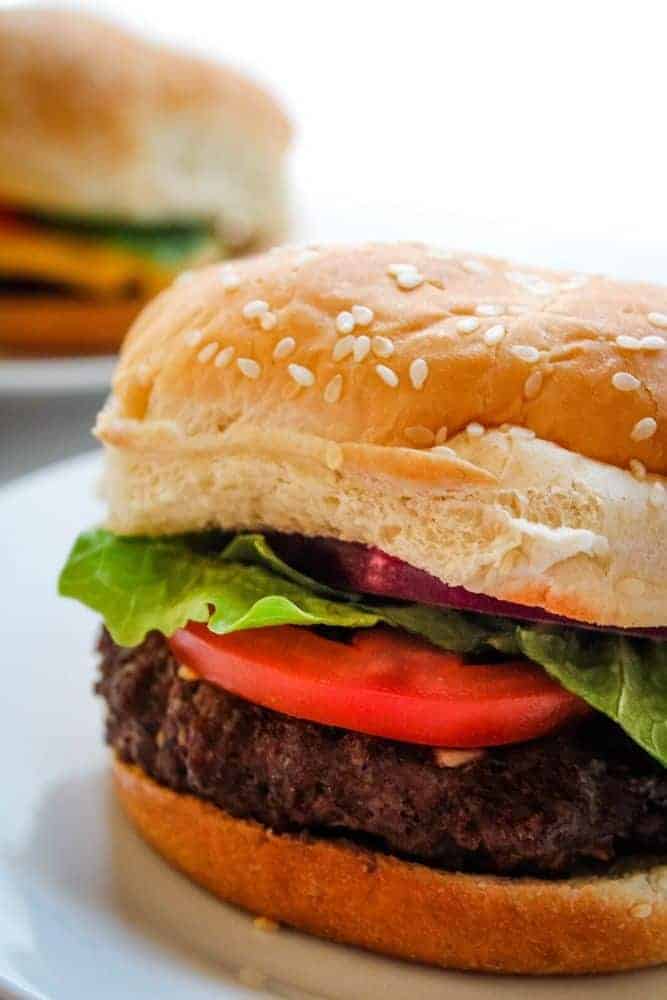 How to cook hamburgers inside your air fryer that are juicy and delicious in just 5 ingredients. They're completely keto without the buns!
Ingredients
1-pound ground beef, thawed (preferably 80/20)
1 clove garlic, minced
1/2 teaspoon salt
1/4 teaspoon pepper
Instructions
Preheat air fryer to 360 degrees.
Mix together the ground beef, minced garlic, salt, and pepper with your hands.
Form ground beef into 4 patties and press them down with the back of a pie plate to make them evenly flat.
Place hamburgers in a single layer inside the air fryer.
Cook for 8-12 minutes, flipping halfway through cooking for medium-well hamburgers.*
Carefully remove hamburgers from the air fryer,** place onto hamburger buns (if using), and add desired toppings.
Notes
*thicker hamburgers may take longer to cook if not pressed down properly
** if making cheeseburgers, place a piece of cheese on each burger in the air fryer, turn the air fryer off, and let the burgers sit in the air fryer for 1 to 2 minutes until melted
Nutrition Information:
Yield:
4
Serving Size:
1
Amount Per Serving:
Calories:

438
Total Fat:

21g
Saturated Fat:

8g
Trans Fat:

1g
Unsaturated Fat:

10g
Cholesterol:

101mg
Sodium:

595mg
Carbohydrates:

23g
Fiber:

1g
Sugar:

3g
Protein:

35g
This nutrition information is based on the exact products I used in this recipe. Brands and sizes of products could alter exact nutrition and should always be calculated independently.