This post may contain affiliate links. If you click on a link and make a purchase, I may receive a small commission at no extra cost to you. For more information, please read my disclaimer here.
These Asian-style Air Fryer Green Beans are freshly roasted in just minutes. They come out perfectly cooked each time!
While I love regular air fryer green beans, Asian-style ones are a perfect way to change up the flavor. This recipe only includes 4 ingredients and will give you an Asian flavor with no soy sauce added.
It's a delicious low-carb, keto, and vegan option to add to your dinner table!
Looking for other vegetables to air fry? Check out this delicious list!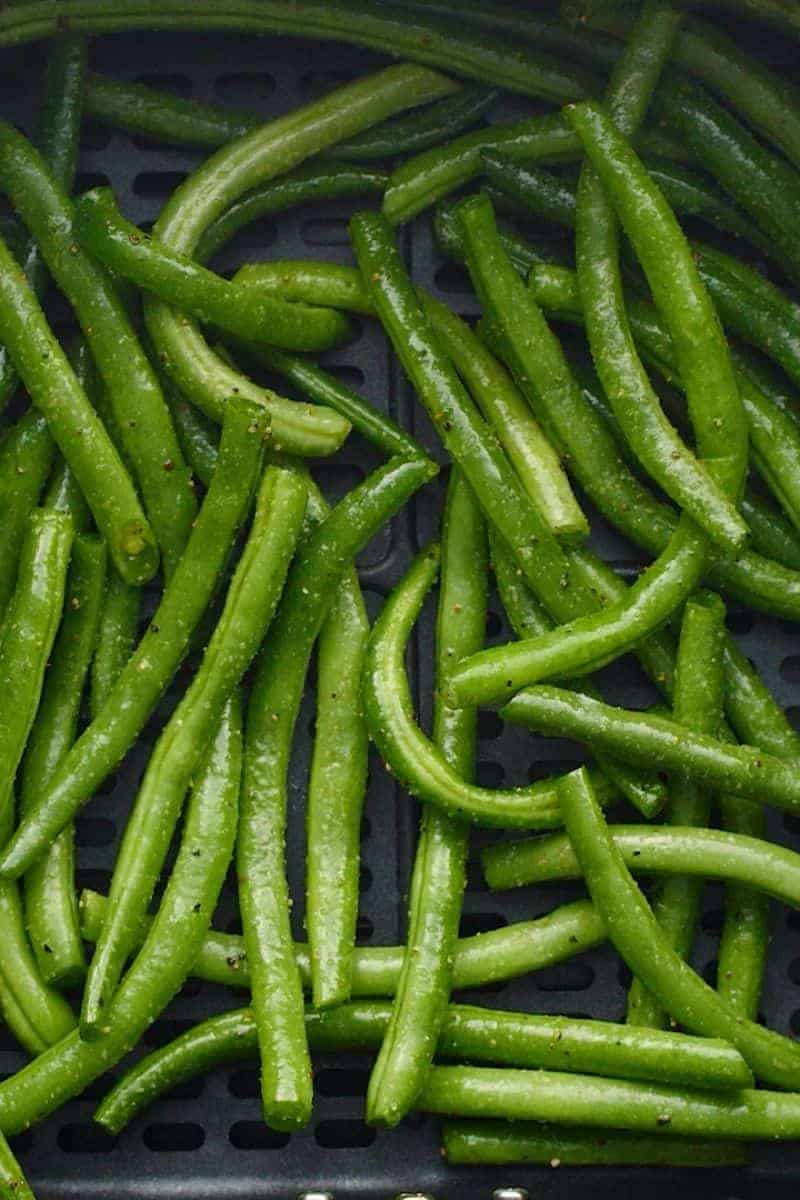 I grew up eating mainly frozen green beans made in the microwave or steamed. I thought I just didn't like them but turns out when you have fresh green beans it's a whole different ball game.
They're fresh, firm, crisp, and anything but mushy.
It's like the Thanksgiving green bean casserole dish. You either love it or hate it. I'm on the hate side because most people around me like to make it with canned or frozen green beans.
To this day, I even take out the green beans in canned vegetable soups because I just don't like the mushy texture.
That is far from what this recipe will give you. These Asian-style air fryer green beans are my go-to green beans recipe.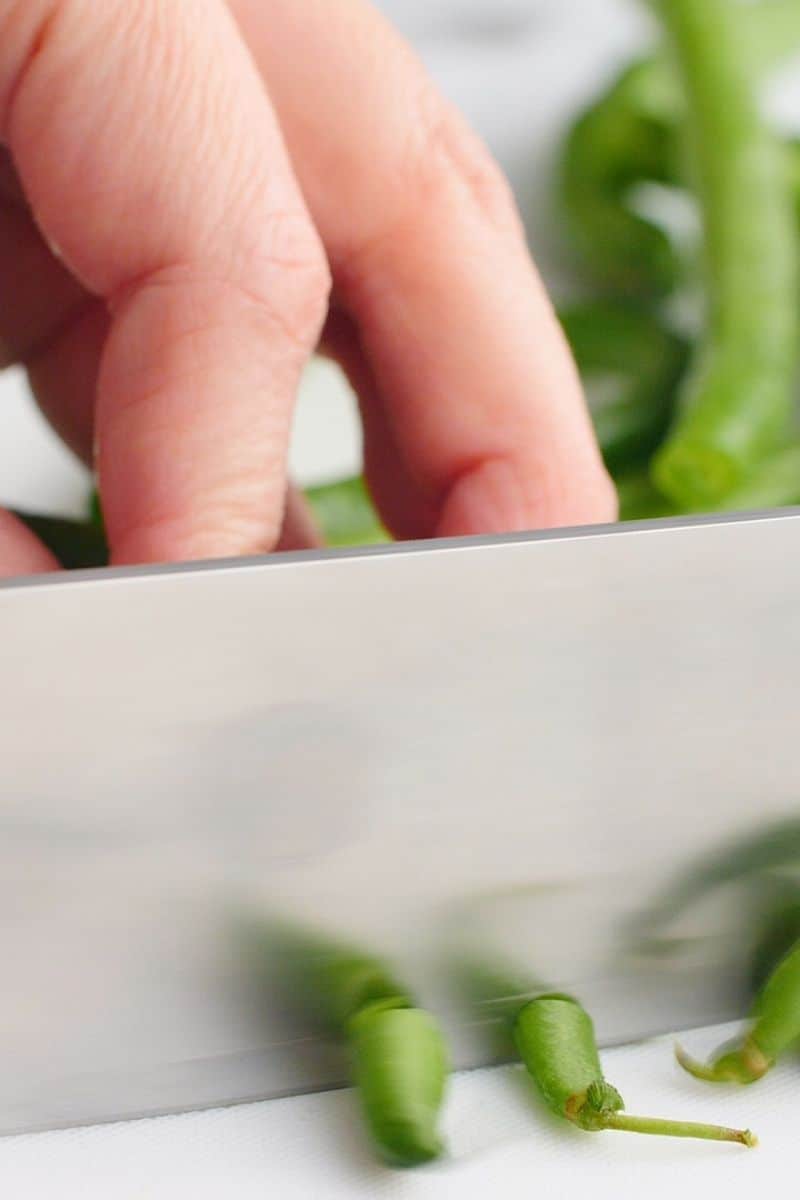 They're fresh and crisp just like you would expect freshly picked green beans in the spring to be.
I love to serve this recipe along with stir-fries, chicken, and even hamburgers.
I made these green beans in my Cosori Air Fryer. It has a square basket, which is perfect for cooking long foods like green beans.
I've found the circular baskets are tough to fit these kinds of vegetables and other foods in and have them cook evenly.
I personally own and use the 5.8 qt version and it's been perfect for my family of 4 so I do not have to cook in batches for most meals.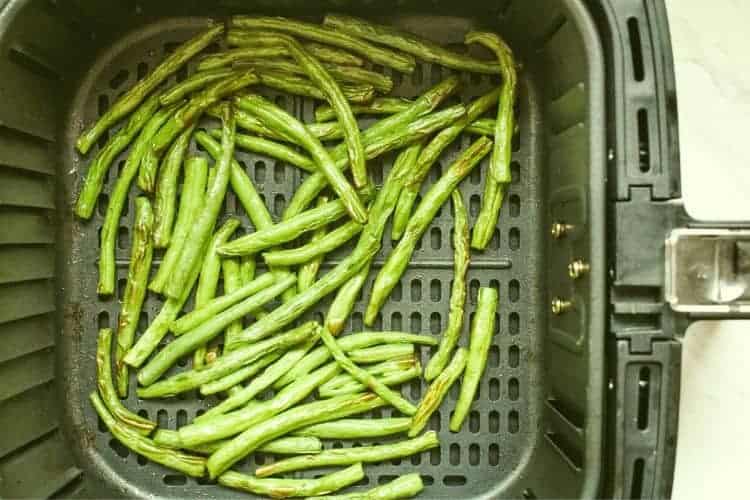 How to Make Asian-Style Air Fryer Green Beans
Preheat your air fryer to 400 degrees.
Take your washed green beans and cut the ends off both sides. I like to keep my green beans whole, but if you own a smaller air fryer, feel free to cut the green beans in half like shown in my One Pot Air Fryer Sausage, Gnocchi, and Green Beans meal.
Place the trimmed green beans into a bowl and add the sesame oil, garlic salt, and pepper in a bowl. Mix until the green beans are coated with the oil and seasoning.
Place green beans into the preheated air fryer and cook for 5-7 minutes shaking the basket halfway through.
Remove green beans from the air fryer and enjoy immediately!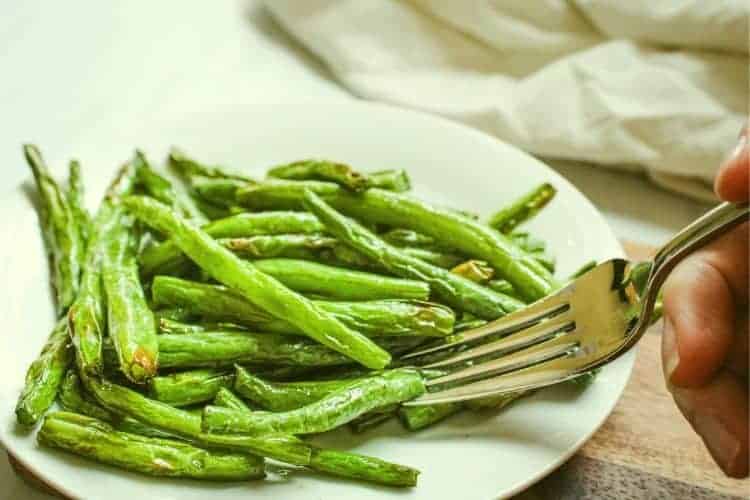 How Long Do You Air Fry Green Beans?
If you prefer your green beans with a little crispiness still in them, you can cook them for about 5 minutes. This is my personal preference.
If you prefer a little bit of a softer and more thoroughly cooked green bean, you can continue to cook them for 1-2 minutes (totaling 6-7 minutes) and check the tenderness with a fork by opening the air fryer and poking a green bean slightly.
I find this works perfectly for most vegetables when cooking them in an air fryer.

Other Air Fryer Recipes to Try:
Air Fryer Roasted Parmesan Corn-on-the-Cob
Air Fryer Pierogies with Onions
Yield: 4 servings
Asian-Style Air Fryer Green Beans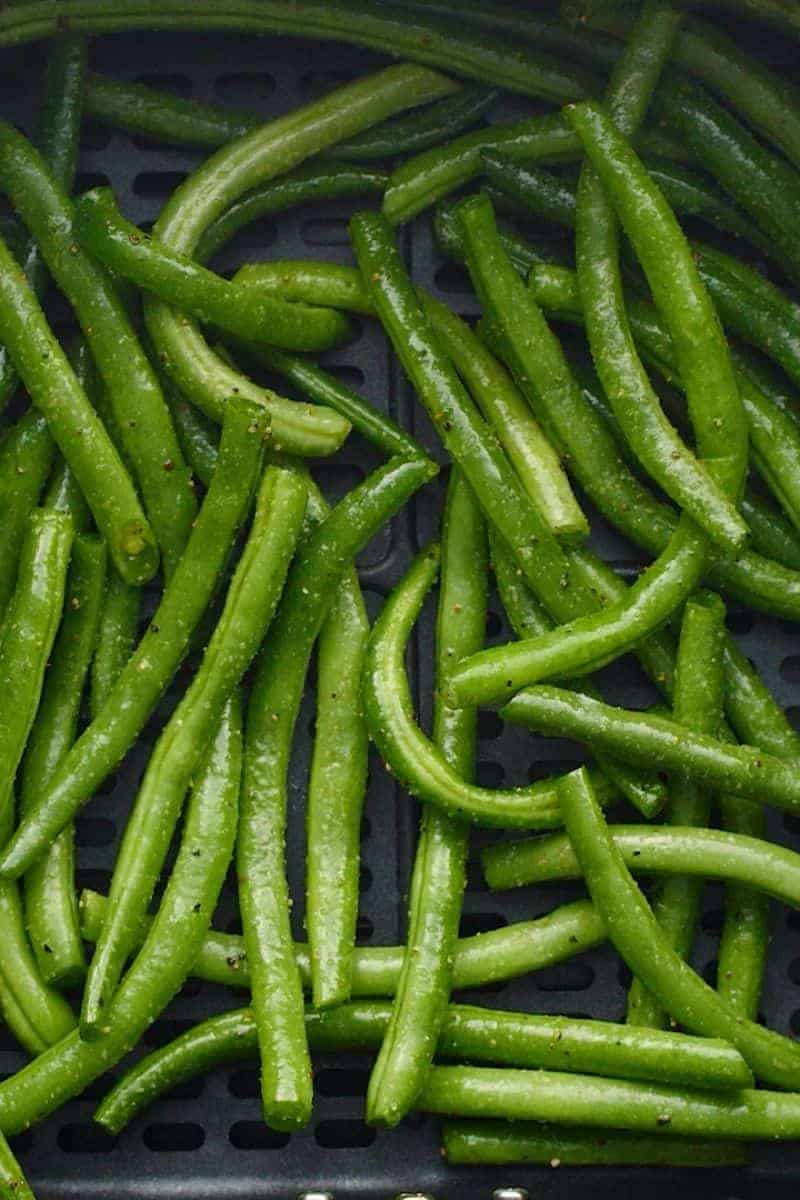 A delicious Asian-Inspired air fryer dish that can complement stir fries or even just chicken.
Ingredients
1 lb green beans, washed and trimmed
2 teaspoons sesame oil
1 teaspoon garlic salt
pepper to taste
Instructions
Preheat your air fryer to 400 degrees.
Place the trimmed green beans, sesame oil, garlic salt, and pepper into a bowl and mix to evenly coat green beans.
Put green beans into your preheated air fryer for 5-7 minutes shaking the basket halfway through. You can check the tenderness with a fork to test if the green beans are done.
Remove green beans from the air fryer and enjoy!
Nutrition Information:
Yield:
4
Serving Size:
1
Amount Per Serving:
Calories:

62
Total Fat:

3g
Saturated Fat:

0g
Trans Fat:

0g
Unsaturated Fat:

2g
Cholesterol:

0mg
Sodium:

398mg
Carbohydrates:

10g
Fiber:

4g
Sugar:

4g
Protein:

2g
This nutrition information is based on the exact products I used in this recipe. Brands and sizes of products could alter exact nutrition and should always be calculated independently.