Salmon is one of the most common fish to eat. Even my father-in-law, who doesn't cook much, makes salmon. It only made sense to try it out in the air fryer, so I made this air fryer garlic butter salmon recipe.
The air fryer salmon is cooked with the skin on to provide a nice crispy texture.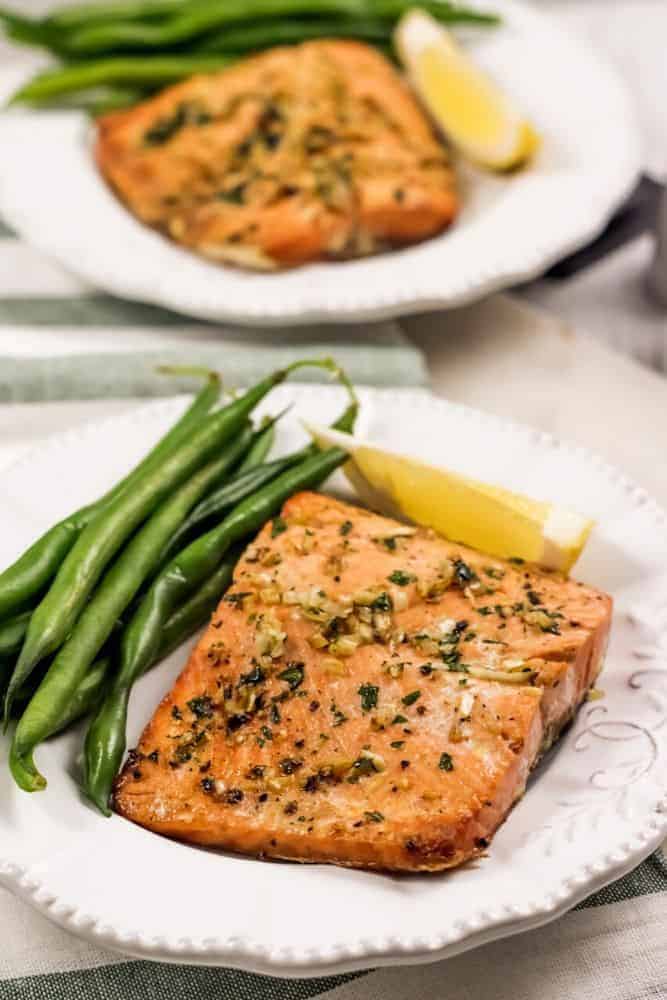 I recommend using wild-caught as it typically has fewer calories and more nutrients and is more flavorful than farm-raised.
This recipe is completely keto with no breading.
I've even included directions on how to cook salmon from frozen in the air fryer! It's perfect for those days you forget to take it out of the freezer or are just crunched for time.
This recipe was made in the Cosori 5.8QT Air Fryer. It is the perfect size for a family of four with its square-shaped basket.
How to Make Garlic Butter Salmon
Preheat air fryer to 360 degrees.
Take your salmon fillets and season with salt and pepper. The salt helps bring out a lot of flavor in this recipe. Always air on the side of less seasoning if you're not sure how much to add.
You can always add more at the end, but can't take it away.
Mix the melted butter, minced garlic, and parsley in a bowl and then baste the fillets with the mixture.
Lightly spritz your air fryer basket with oil using an EVO Oil Mister or put down a piece of parchment paper.
Carefully place the salmon fillets side-by-side in the basket with the skin side down.
Cook for about 10 minutes then remove from your air fryer and enjoy immediately or store for up to 3 days in the refrigerator.
Pair this air fryer salmon with some Air Fryer Hush Puppies (that can also be cooked from frozen) for the ultimate seafood pairing.

Other Air Fryer Recipes You'll Love:
How to Reheat Salmon in the Air Fryer
One of my favorite things to do is reheat leftovers in my air fryer. I find myself hoping for leftovers for lunch so I can make something quick that doesn't take much or any effort at all.
This salmon is the same way.
Preheat your air fryer to 370 degrees then cook the salmon with the skin side down for 4 minutes.
Remove from the air fryer and enjoy immediately.
How to Cook Air Fryer Frozen Salmon Fillets
I wish I could say I always remember to take dinner out of the freezer the night before, but it's not true.
I can't tell you how many times I go to cook chicken or salmon to find it's still on the bottom shelf in the freezer.
Thankfully, cooking salmon from frozen in an air fryer is incredibly easy and can be done with this recipe as well.
You can also try this frozen salmon in the air fryer recipe for a different flavor combination!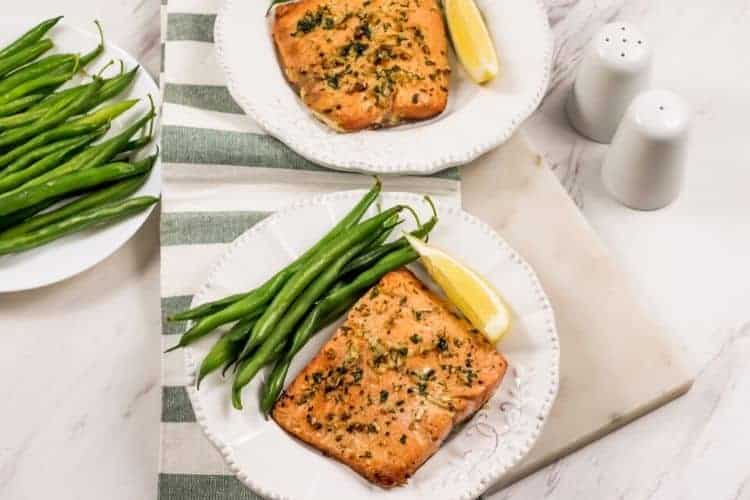 Simply preheat your air fryer to 390 degrees and place the salmon fillets, skin side down, in the basket side by side. Cook for 4 minutes.
This should help thaw the salmon so you can season it and baste the garlic butter mixture on top.
It's important to thaw the grilled fish before placing an oil mixture on top so it can penetrate and bring out the flavor of the fish.
Now cook the recipe as normal and you have a delicious air fryer garlic butter salmon!
How to Know When Salmon is Finished Cooking
As salmon cooks, it will change color. Raw salmon has a red color to it while cooked salmon will turn more of a pale pink color.
To test if your air fryer salmon is done, take a knife and slice into the salmon. It is done cooking when it flakes easily. You can also use a fork to test as well.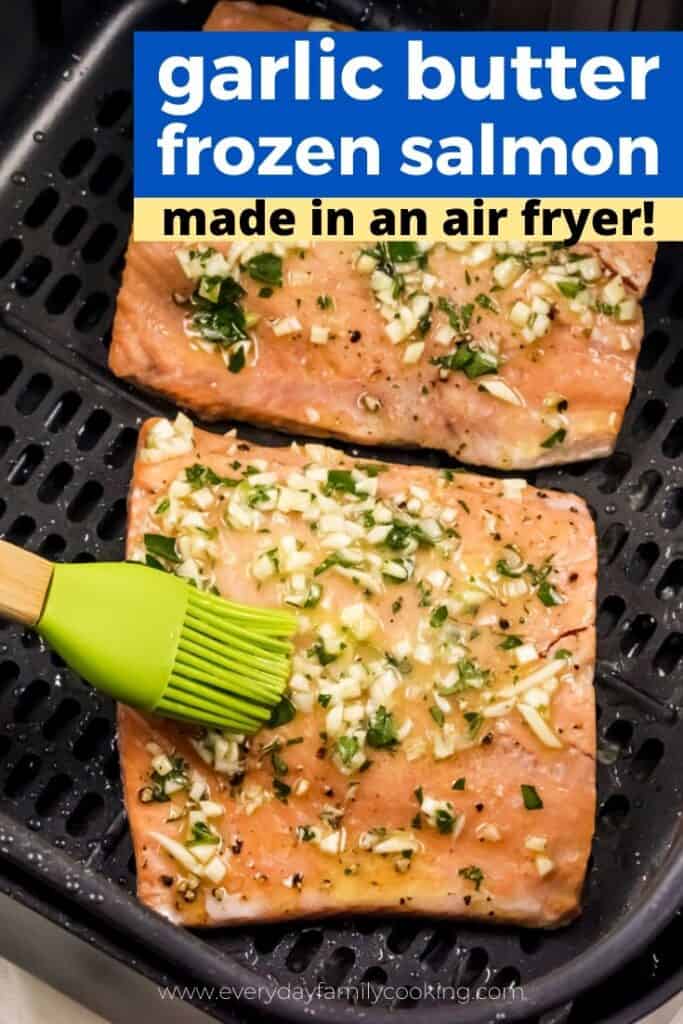 Do You Have to Flip Salmon in the Air Fryer?
No, salmon with the skin does not need to be flipped when cooked in the air fryer.
Since one side is skin and the other is flesh, salmon works best when cooked with just the skin side down.
If cooking salmon without skin, I recommend flipping the salmon halfway through to create even cooking.
Although an air fryer is created to have 360-degree airflow, the heat still starts top to bottom cooking the top slightly faster than the bottom.
This is especially noticeable if you use parchment paper rounds that obstruct some of the airflow.
Do You Eat the Skin on Salmon?
Yes, you can eat the skin on some salmon. Salmon skin is incredibly nutritious and adds a nice crispy texture to a recipe but can also be toxic.
It's important to know exactly where your fish came from to know if you should eat the actual skin on it.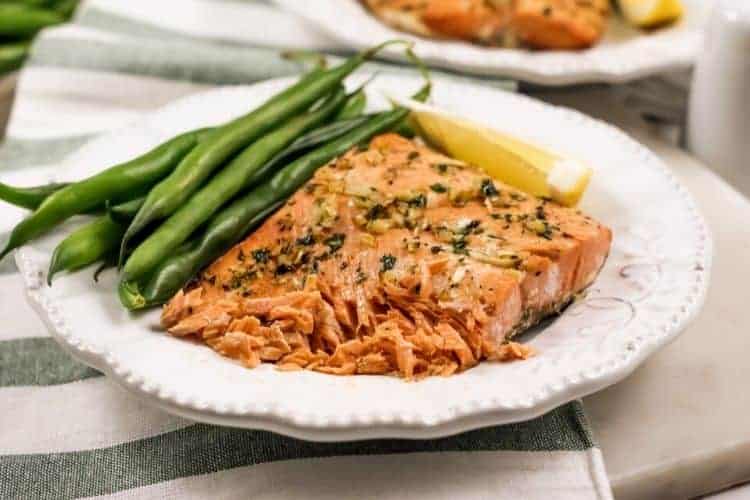 Here is a great resource to help you decide if you want to consume the skin on salmon.
Cooking salmon with the skin is a great way to keep the nutrients and oils inside, even if you do not actually eat the skin.

Other Air Fryer Recipes to Make:
Yield: 2 servings
Air Fryer Garlic Butter Salmon (Fresh & Frozen!)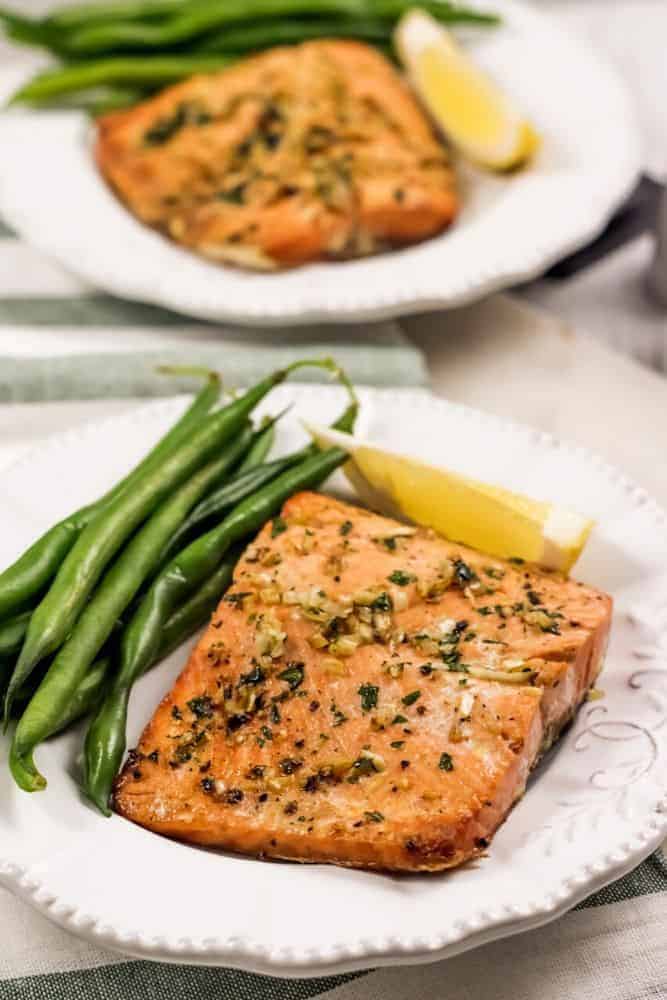 A delicious air fryer salmon dish cooked with the skin on and covered with a simple garlic butter sauce with no breading. It can be cooked from fresh and frozen.
Ingredients
2 (6-ounce) boneless, skin-on salmon fillets (preferably wild-caught)
2 tablespoons butter, melted
1 teaspoon garlic, minced
1 teaspoon fresh Italian parsley, chopped (or 1/4 teaspoon dried)
salt and pepper to taste
Instructions
Preheat the air fryer to 360 degrees.
Season the fresh salmon with salt and pepper then mix together the melted butter, garlic, and parsley in a bowl.
Baste the salmon fillets with the garlic butter mixture and carefully place the salmon inside the air fryer side-by-side with the skin side down.
Cook for approximately 10 minutes until salmon flakes easily with a knife or fork.
Eat immediately or store up to 3 days using the reheating directions below.
Notes
How to cook air fryer frozen salmon fillet:
Cook frozen salmon fillets in a preheated air fryer at 390 degrees for about 4 minutes, skin side down to thaw. Then follow the recipe above as if the fish fillets were fresh.
How to reheat salmon in an air fryer:
Cook salmon in a preheated air fryer set at 370 degrees for approximately 4 minutes.
Nutrition Information:
Yield:
2
Serving Size:
1
Amount Per Serving:
Calories:

338
Total Fat:

26g
Saturated Fat:

10g
Trans Fat:

0g
Unsaturated Fat:

13g
Cholesterol:

102mg
Sodium:

309mg
Carbohydrates:

1g
Fiber:

0g
Sugar:

0g
Protein:

25g
This nutrition information is based on the exact products I used in this recipe. Brands and sizes of products could alter exact nutrition and should always be calculated independently.