This post may contain affiliate links. If you click on a link and make a purchase, I may receive a small commission at no extra cost to you. For more information, please read my disclaimer here.
An easy light air fryer cod recipe with lemon and dill made with no breading. It's the perfect keto dinner with fresh flavors.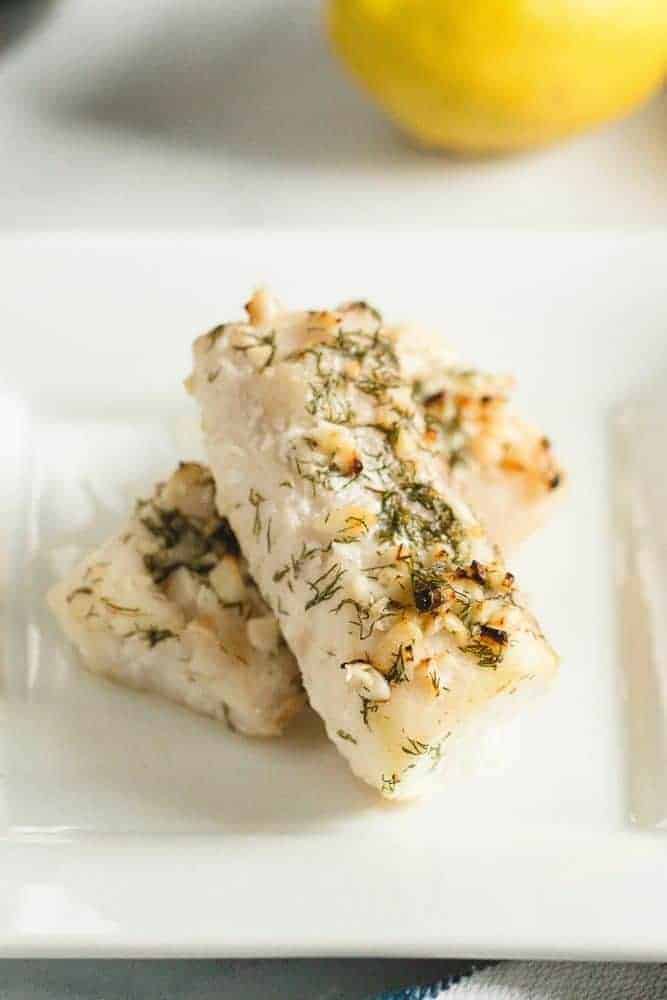 Cod is a great fish to cook inside the air fryer with its mild yet dense and flaky interior. The air fryer cooks it through perfectly.
In this post, I will share how to cook cod in the air fryer, how to cook frozen cod in the air fryer, and even how to reheat cod inside the air fryer.
Basically, if you have any kind of cod or white fish, you will know exactly how to cook it in the air fryer!
I used cod loins for this recipe, but fillets will work great as well. You can buy them pre-frozen or buy them fresh and freeze them if you don't plan to use them right away.
This is an air fryer cod fish with no breading recipe that is intended for those who want a light seafood meal. It's completely keto/low-carb, but any fish lovers will enjoy this one!
Looking for more air fryer seafood recipes? Try these:
I cooked this recipe in the 5.8 QT Cosori Air Fryer. I can easily cook more than 4 cod loins if needed for my family with its square basket.
How to Make Air Fryer Cod
A full printable version of this recipe with ingredient measurements is available at the bottom of this post.
Preheat your air fryer to 370 degrees and remove the cod from your refrigerator (instructions on air fryer frozen cod is below).
Mix the melted butter, salt, minced garlic, lemon juice, and chopped dill in a bowl.
Add one cod loin into the bowl and using your hands, completely coat each piece. Press the garlic lightly into the cod so it doesn't fall off once in the air fryer.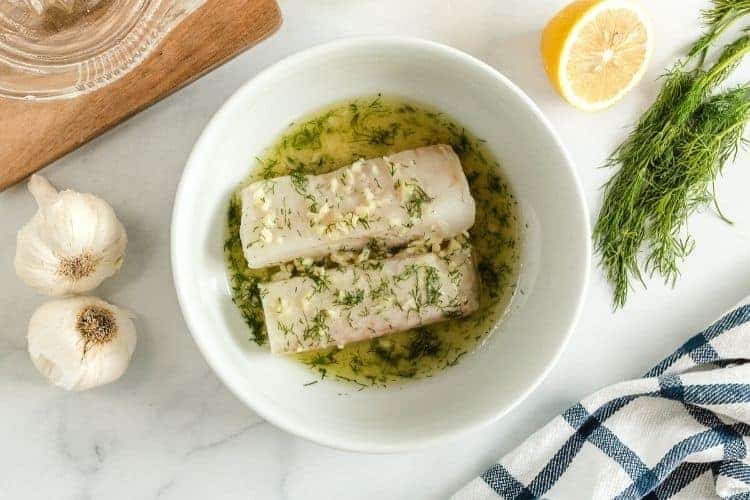 Repeat the previous step with remaining cod pieces.
Place all cod in the air fryer in one single layer not touching and cook for 10 minutes.
Carefully remove the fish from the air fryer and garnish with another squeeze of lemon and butter if desired and enjoy!
What if My Cod is Sticking to the Basket?
If you try to flip or move your cod in the air fryer before it's completely cooked, it may stick. Wait until the cod is cooked entirely to move it in the air fryer.
If you have issues with your air fryer basket sticking, I recommend using a parchment paper round or spray the basket with a little oil while making this recipe. They come with perforated holes so your air fryer can still circulate air appropriately but will help any sticking from occurring and will even make cleanup even easier!
Looking for something a little more environmentally friendly? I also use this silicone basket to cook in the air fryer. It helps make cleanup easy and I can make multiple dishes with different flavors without issues!
How Can I Tell if My Cod is Cooked?
It's simple to tell when fish is done cooking. I like to take a fork and use it to flake some of the fish off the corner. If it flakes easily, the cod is done cooking. If it's not flaky, let it cook another 1-2 minutes and try again.
You can also use an Instant Read Thermometer to measure its internal temperature. Cod should be cooked to 145 degrees at its thickest point.
I like to use the Kizen Instant-Read Thermometer. It sticks on my fridge when I'm not using it and shows the internal temperature within 2 seconds, so I don't lose much heat in my air fryer when opening it up.
To avoid making the cod tough, it's important to cook the cod JUST to 145 degrees. Overcooking cod can cause it to become rubbery.
How to Cook Frozen Cod in the Air Fryer
If you're an avid reader of Everyday Family Cooking, you know I love to cook food from frozen. It's honestly not on purpose, but with two young kids running around, I just forget to take dinner out of the freezer.
I started to explore if you can cook certain foods from frozen and it evolved from there. I now try to make most of my recipes from frozen – just in case you're reading this recipe for dinner and realize dinner is still frozen!
This works great for cooking air fryer frozen cod, which you don't have to thaw out before cooking!
I always recommend cooking from fresh over cooking from frozen, but it always helps in a pinch!
Rinse the frozen cod under cold water for a quick second. Shake them off and add the frozen cod in the air fryer (NOT preheated).
Turn your air fryer on to 350 degrees and cook for 4 minutes. This will help thaw out the cod so you can treat it like you're cooking from fresh!
Remove the cod from the air fryer, turn the air fryer to 370 degrees and coat the cod loins in the melted butter, salt, garlic, lemon juice, and dill.
Cook the cod in the air fryer for 10 minutes then enjoy!
How Do I Reheat Air Fryer Cod Fish with No Breading?
These reheating directions will work with any air fryer cod with no breading, including the lemon dill cod recipe in this post.
Place the cod fish in the air fryer and turn it to 350 degrees.
Cook the white fish for about 5 minutes, until heated thoroughly and enjoy!
What to Serve with Cod
Love air frying? Join our newsletter! You can also follow us on Facebook, Instagram, or join our free Facebook Air Frying Community.
Air Fryer Weight Watcher Points per serving: 7
Yield: 4 servings
Air Fryer Cod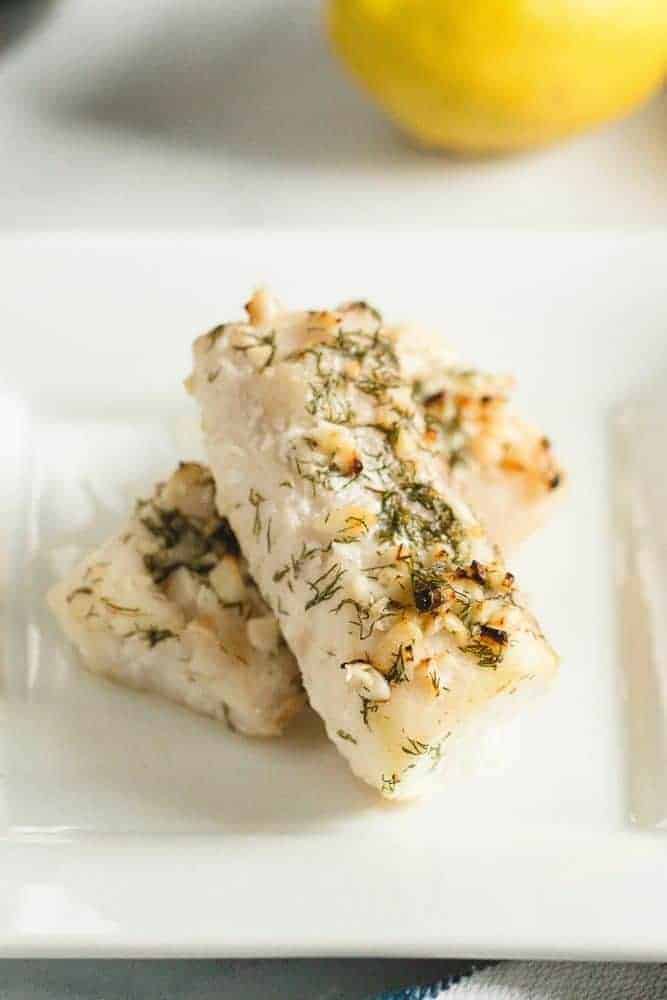 Delicious air fryer cod is coated in lemon juice and dill for a fresh low-carb dinner.
Ingredients
4 cod loins
4 tablespoons butter, melted
6 cloves of garlic, minced
2 tablespoons lemon juice (1 lemon)
1 teaspoon dried dill (or 2 tablespoons fresh dill, chopped)
1/2 teaspoon salt
Instructions
Preheat your air fryer to 370 degrees.
Mix the butter, garlic, lemon juice, dill, and salt in a bowl.
Add a cod loin into the bowl coating it completely. Lightly press the garlic into the cod so it doesn't fall off when cooking. Repeat with remaining cod pieces.
Place all the cod loins into the air fryer in one layer not touching.
Cook for 10 minutes then carefully remove from the air fryer.
Garnish the cod with more lemon juice or butter if desired and enjoy!
Notes
How to Cook Frozen Cod in the Air Fryer:
1. Quickly rinse the cod in cold water for a second. Shake them over and place in a cold air fryer.
2. Turn the air fryer to 350 degrees and cook for 4 minutes.
3. Remove from the air fryer and follow ingredient and cooking instructions above like it is fresh cod!
How to Reheat Cod in an Air Fryer
1. Place the cod into an air fryer and turn to 350 degrees.
2. Cook for about 5 minutes, until warmed, then enjoy!
Nutrition Information:
Yield:
4
Serving Size:
1
Amount Per Serving:
Calories:

302
Total Fat:

13g
Saturated Fat:

8g
Trans Fat:

0g
Unsaturated Fat:

4g
Cholesterol:

130mg
Sodium:

507mg
Carbohydrates:

3g
Fiber:

1g
Sugar:

0g
Protein:

42g
This nutrition information is based on the exact products I used in this recipe. Brands and sizes of products could alter exact nutrition and should always be calculated independently.