This post may contain affiliate links. If you click on a link and make a purchase, I may receive a small commission at no extra cost to you. For more information, please read my disclaimer here.
Air Fryer bacon is insanely easy to make. It only takes 8 minutes to get crispy fresh bacon strips.
On mornings where you're making pancakes, scrambled eggs, and bacon, it can be hard to have so many pans on the stove at the same time. Making bacon in an air fryer helps this.
Join our new FREE Air Fryer Facebook Community to gain access to exclusive recipes, tips, and content!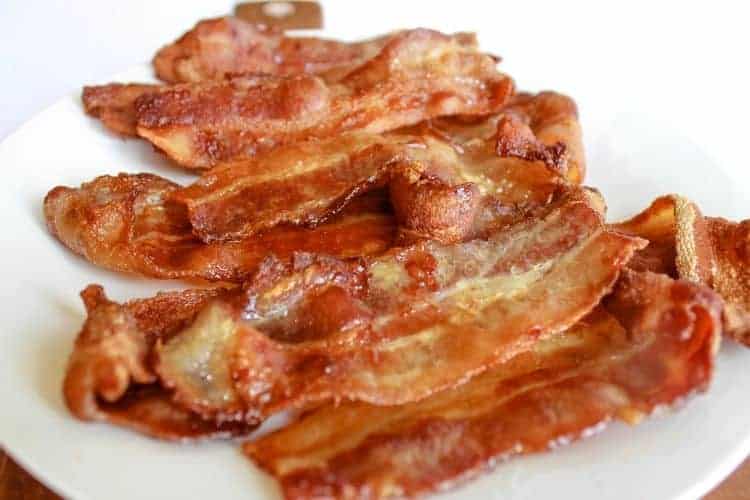 Air Fryer bacon is also much faster to make and get that crispy result you're looking for.
Not into extra crispy bacon? No problem. If you cook the bacon for less time, you'll still get the juicy bacon you want.
This recipe is perfect for any air fryer, including GoWise, Cuisinart, the Air Fryer XL, and even the Power Air Fryer Oven

Other Delicious Air Fryer Recipes You'll Love:
How to Cook Bacon in an Air Fryer
STEP ONE: Preheat your air fryer 350 degrees.
STEP TWO: Place bacon in your air fryer evenly in one layer. You can overlap the pieces slightly, but stacking the bacon can result in unevenly cooked bacon.
I like to use a piece or two of bread to help prevent any smoking from the grease. See below on how and why you should do this.
STEP THREE: Cook the bacon for 8-10 minutes. Remove it from the air fryer and enjoy!
If you're looking for extra crispy bacon to crumble on fries or other foods, cook an additional 1-2 minutes.
Looking for a change-up? Try cooking these 25 air fryer breakfast recipes! Includes turkey bacon, breakfast burritos, and even hash brown patties!
Can I Stack Bacon in an Air Fryer?
Air fryers are known for their even cooking. Some foods, like french fries, can be stacked and cooked to perfection, while other foods cannot.
Bacon cannot be stacked in an air fryer. If you try stacking it, the bacon will cook extremely unevenly.
I have personally tried this and the overlapped portions will come out basically raw while the single-layered sections will be crispy.
It just doesn't make for good bacon.
If you need to cook more bacon than your air fryer can handle in one layer, you can cook in batches.
It will increase the amount of time it takes to cook all your bacon, but the perfectly crisp bacon will be worth it.
Why Does My Air Fryer Smoke When Cooking Bacon?
If you've ever tried cooking air fryer bacon, you may have noticed smoke coming from your air fryer machine.
This smoke is caused by fatty foods like bacon or hamburgers. The fat is dripping from the foods into the basket and since an air fryer circulates air in a 360 degree motion, that fat then goes into the heating fan.
So is it safe for you to cook with your air fryer smoking? No. The fat will cause build up on the fans and unless you do a deep cleaning (which is a complete pain), that fat will remain there and eventually affect your air fryer.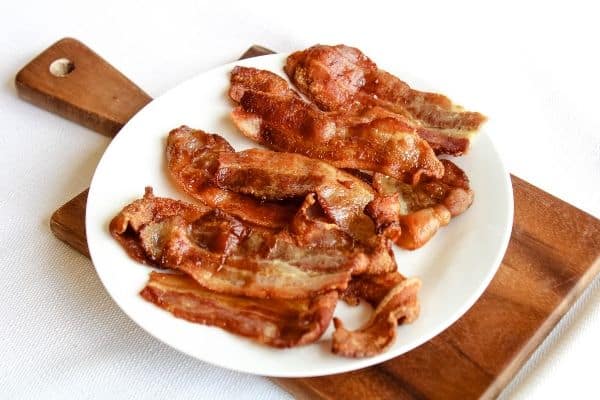 How do I Stop My Air Fryer From Smoking?
There are two ways that I recommend to stop your air fryer from smoking from foods like bacon, so you can continue to enjoy them air fried.
Once you cook air fryer bacon without the smoke, it's as healthy as it is to cook it on the stove.
1. The Bread Method
Simply place 1-2 pieces of bread underneath the basket into the air fryer drawer. You may need to push down the bread to allow your air fryer basket to sit properly inside the drawer.
The bread acts like a sponge and absorbs all the fat that drips down beneath the basket. This way no fat will fly to the fan and cause smoking.
This is the way I personally do when air frying fatty foods. I have never had any issues with smoking since implementing this technique.
2. The Water Bath Method
If you don't want to use bread or just don't have any around, you can use the water bath method.
Place a small amount of water inside the drawer of the air fryer (underneath the basket) and then air fry your food normally.
I have noticed some air fryer baskets sit down farther inside the drawers making this method difficult.
I tried it on a recent air fryer and even a minimal amount of water caused the bacon to just sit in the water while cooking.
No one wants soggy foods, especially bacon.
If you can have your food sit above the water, this method will work great.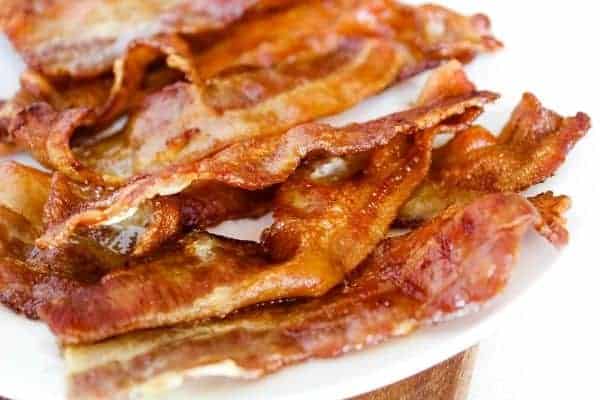 Can I Use Aluminum Foil in an Air Fryer?
Aluminum foil is completely safe to use in an air fryer if you have food placed on top of it all times.
Do I recommend aluminum foil for frying bacon? No. If you use aluminum foil in the basket directly underneath the bacon, the bacon will continue to cook in its own fat, making it much unhealthier to eat.
Your bacon will also not come out as crispy.
Do I Need Oil to Cook Bacon in My Air Fryer?
This air fryer bacon recipe is completely oil-free. Adding oil to cooking bacon is unneeded.
If you want to learn more about what foods to use oil in while cooking in an air fryer, this Ultimate Guide to Using Oil in Your Air Fryer will help tremendously.
Yield: 4 servings
Air Fryer Bacon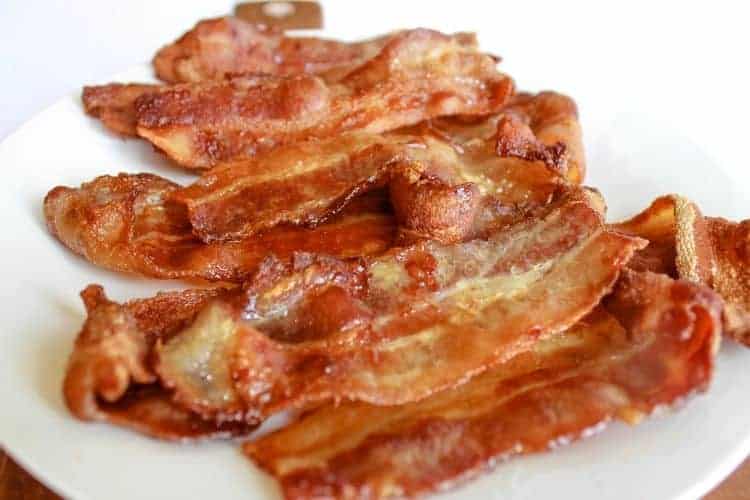 Crispy air fryer bacon cooked to perfection. Includes directions on how to make it extra crispy.
Ingredients
7 ounces of bacon (approximately 8 slices)
1-2 pieces of bread
Instructions
Place 1-2 pieces of bread at the bottom of your air fryer underneath the basket.*
Put bacon in air fryer evenly in one layer. Cut bacon in half if too long.
Cook in air fryer at 350 degrees for 8-10 minutes, until it's at your desired crispiness.**
Enjoy immediately.
Notes
*putting bread under the basket will catch any grease that may cause the air fryer to smoke
**cook bacon an additional 1-2 minutes to make extra crispy and for recipes that calls for bacon bits.
Nutrition Information:
Yield:
4
Serving Size:
1
Amount Per Serving:
Calories:

268
Total Fat:

18g
Saturated Fat:

6g
Trans Fat:

0g
Unsaturated Fat:

11g
Cholesterol:

49mg
Sodium:

902mg
Carbohydrates:

8g
Fiber:

0g
Sugar:

1g
Protein:

18g
This nutrition information is based on the exact products I used in this recipe. Brands and sizes of products could alter exact nutrition and should always be calculated independently.