You can make yummy air fryer cinnamon rolls fast and easy without heating up your oven!
Who doesn't love just-baked cinnamon rolls? All of that sweetness and melt-in-your-mouth goodness is pretty irresistible in these air fryer cinnamon rolls.
Maybe you think making cinnamon rolls on your own seems like too much trouble. Well, I'm about to totally change your mind about that.
Your air fryer is essentially a small convection oven. So when hot circulating air meets raw food like canned cinnamon rolls, magic happens. Okay, it's more like simple science, but you still get some excellent and quick cooking in a compact space.
These Air Fryer Pillsbury Cinnamon Rolls are so simple and tasty, you're going to want to make them over and over. Plus, with Fall right around the corner, you'll have the perfect, baked goodie right at your fingertips.
Just pop open a can of rolls, put them into your air fryer, and in a short time, everyone will rave about how amazing they are.
Here's what I'm going to teach you in this post:
How to make delicious cinnamon rolls in the air fryer
Tips and frequently asked questions to help you get the recipe just right
How to store, reheat, and serve this favorite baked treat
This article shows you how long to cook and what temperature setting to use when air frying Pillsbury Cinnamon Rolls, so they come out perfect every time!
And if you love cinnamon rolls, I recommend trying my Cinnamon Roll Apple Pie recipe!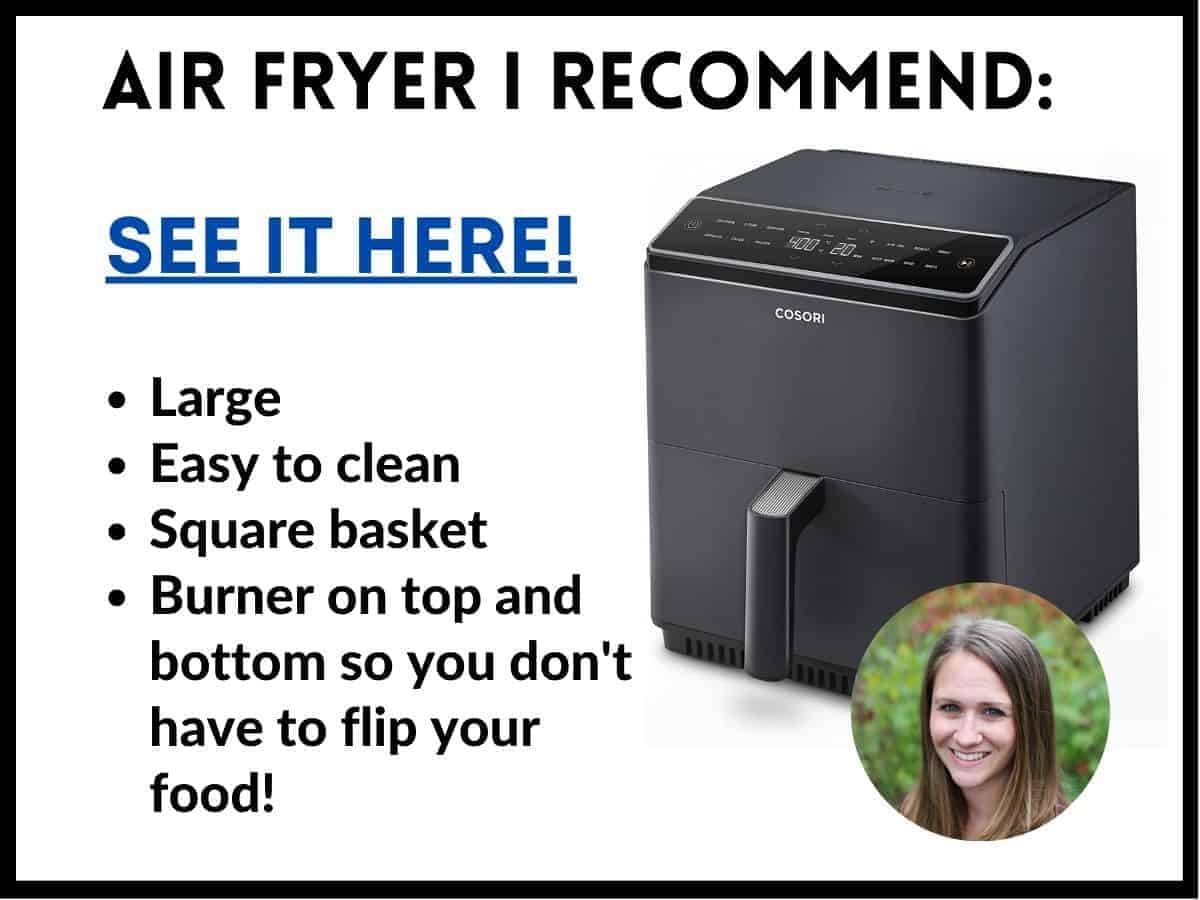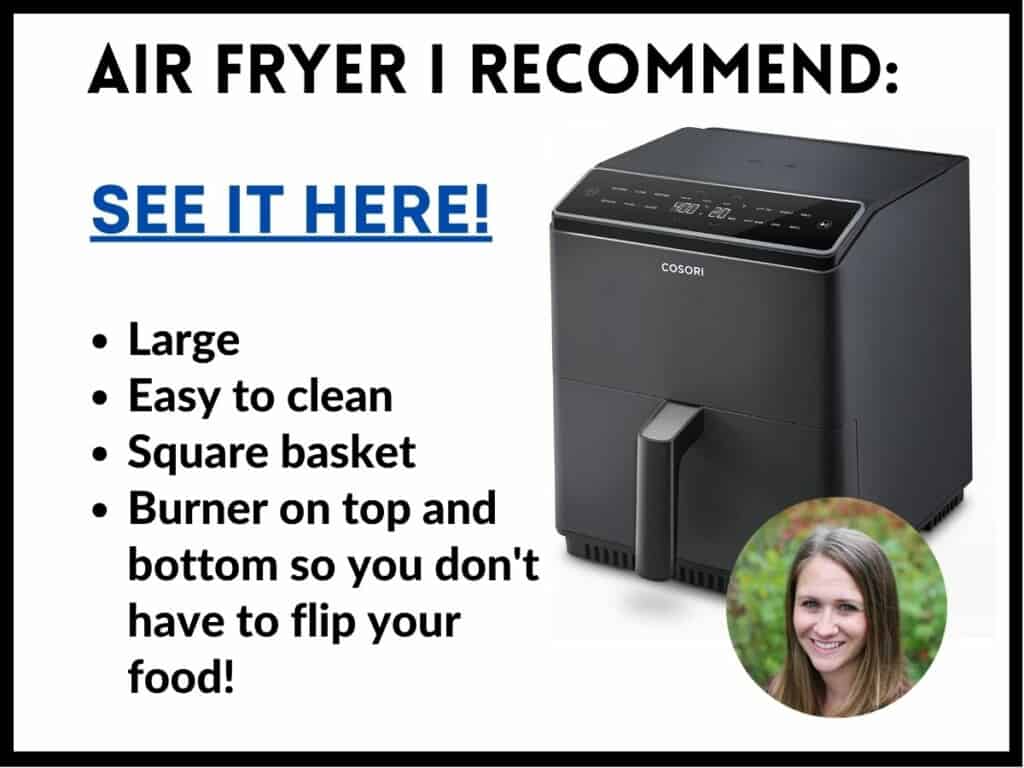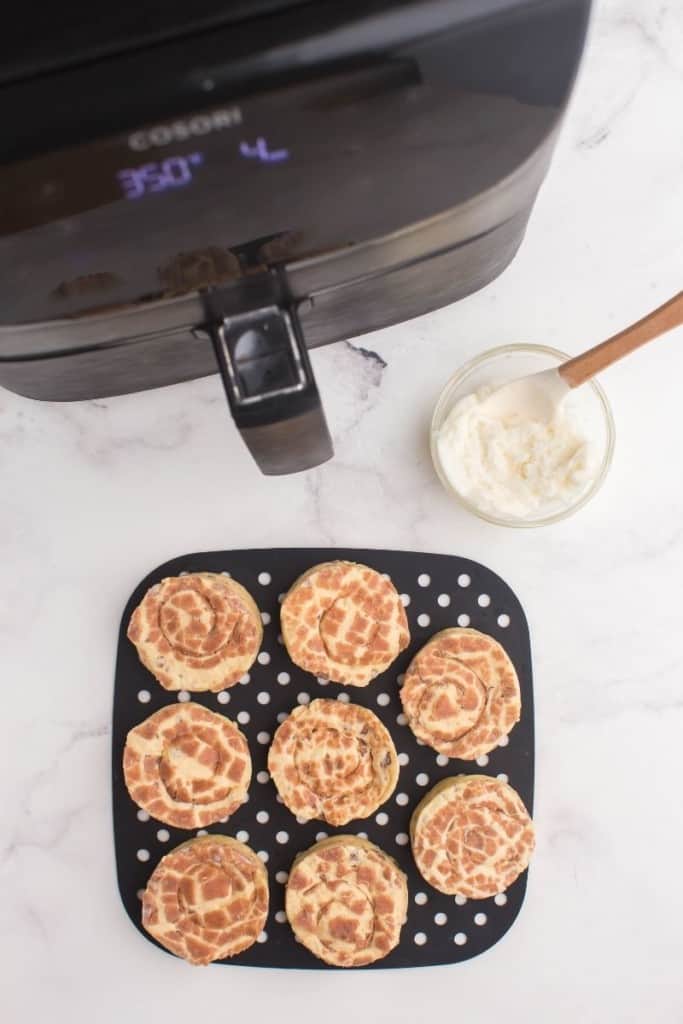 How to make Air fryer Cinnamon Rolls
STEP ONE: Preheat your empty air fryer at 350 degrees. Always preheat your air fryer to ensure even cooking, just like you would an oven. You can learn more about preheating your air fryer here.
STEP TWO: Place parchment paper in your air fryer (if using), and carefully position the rolls on top, leaving space between each of them.
Do not place parchment paper in the air fryer while preheating. Loose parchment paper will blow around and can end up against the heating element. This can cause damage or even ignite a fire.
It's important to leave room between cinnamon rolls to allow hot air to circulate on all sides of each one. This step makes all the difference in even and complete cooking. Rolls that are squished together may not cook properly and could be doughy.
STEP THREE: Cook your cinnamon rolls in the air fryer for 4 minutes. Cook time in your hot air fryer will be so much quicker than in a conventional oven!
STEP FOUR: Using tongs or a thin spatula, gently remove them from the air fryer and allow them to cool for a minute or two. While they're still warm, drizzle icing on top of them and serve right away.
Tips for making the best Air Fryer Cinnamon Rolls
Be sure they are still cold from the fridge when you cook them. This makes a difference in how the dough activates as the rolls heat up and cook.
If you think your can of rolls is even approaching room temperature, the dough inside will be too sticky to handle properly, and you risk them spreading out and becoming flat. Trust me. This isn't ideal!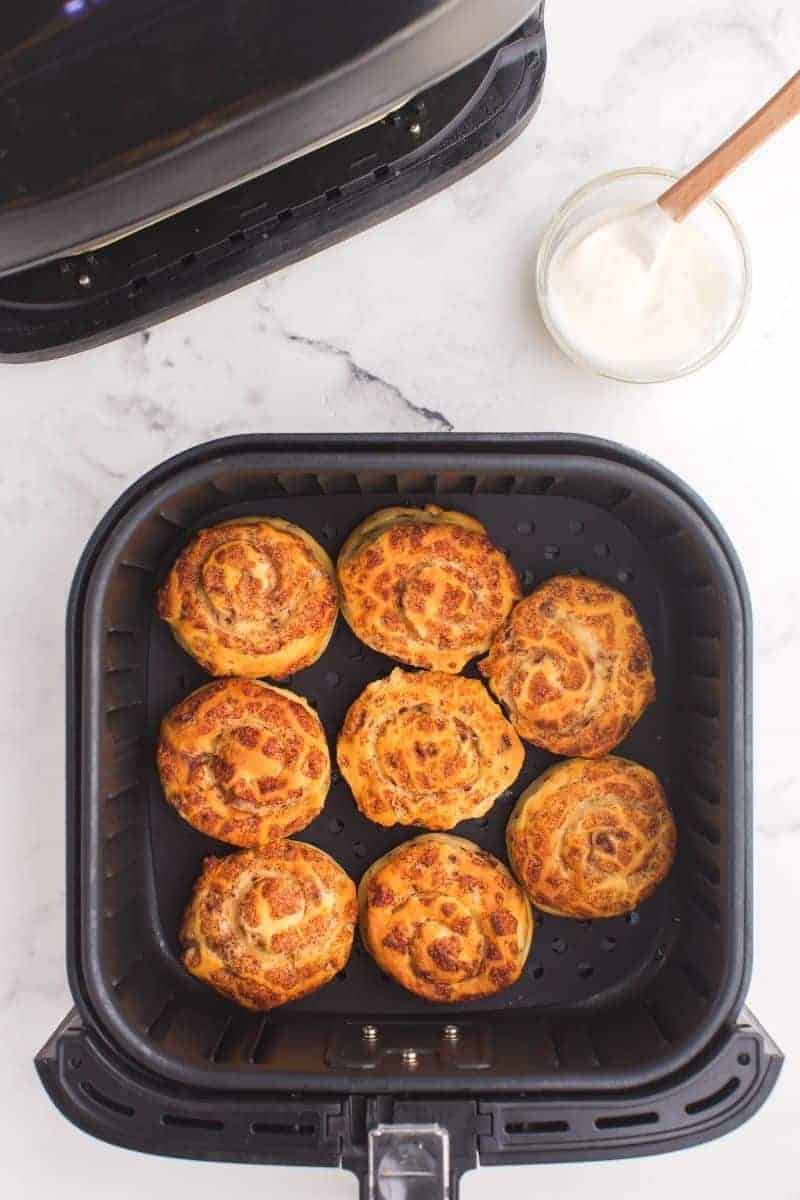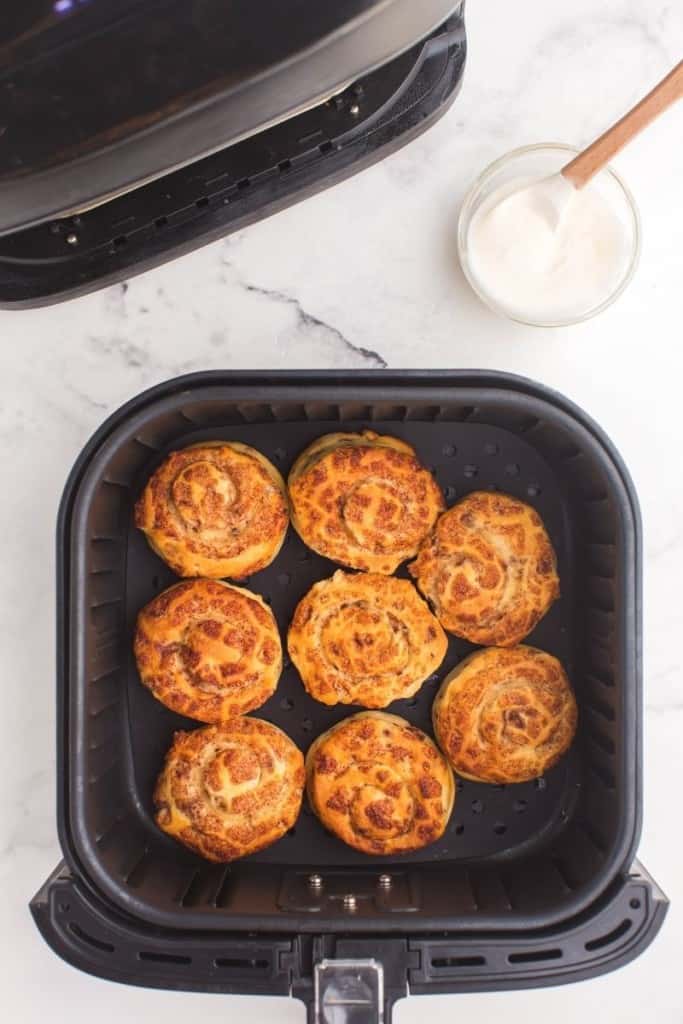 Do I Need Parchment Paper Rounds to Cook These in the Air Fryer?
No, but because the roll is raw, the dough can seep down into the holes in the air fryer basket and cook to the basket, causing them to stick when it's time to get them out.
Perforated parchment paper disks, made specifically for the air fryer, are the easiest way to keep this from happening. If you don't have any, just cut one to fit your air fryer. You can poke a few holes in it for ventilation.
I used a silicone parchment paper round for this recipe that is completely reusable!
You can learn more about when you need to use parchment paper in the air fryer here.
How to Reheat Cinnamon Rolls in the Air Fryer
Preheat your air fryer to 300 degrees.
Place the leftover cinnamon rolls in the air fryer and cook for 1 minute. Resist the temptation to heat for longer. Too much time will yield a dried out or scorched roll.
Remove them from the air fryer and enjoy!
You'll get to enjoy that warm yumminess all over again.
What if I want to reheat my already frosted cinnamon rolls in the air fryer?
You can still reheat the rolls, even if they're already frosted. Since frosting loves to melt when it gets hot, I recommend placing parchment paper or aluminum foil in the air fryer under the rolls to catch any drips of melted icing and using the directions above.
If you happen to be fortunate enough to own an air fryer pan, this is a perfect time to use it. Your air fryer cinnamon rolls will be nicely heated and all of the messy icing will stay out of the bottom of your appliance.
What other foods can you serve along with these cinnamon rolls?
If you're making air fryer Pillsbury cinnamon rolls for breakfast, they work well with savory foods like bacon, sausage, and eggs. And who wouldn't mind having a fresh cinnamon roll next to an omelet or a bowl of oatmeal?
If you're serving them for dessert, fresh fruits of all kinds are a super tasty and healthy complement. Of course, ice cream is a huge favorite, but don't just stick with vanilla either. Lots of flavors match up nicely with them.
Here are some ideas you can make right in the air fryer too!
Check out a full list of air fryer breakfast recipes you'll love here!
How Long Does It Take to Bake Cinnamon Rolls in the Air Fryer?
In an air fryer preheated to 350 degrees F, they only need 4 minutes to cook. The cook time is specifically for the regular size Pillsbury Cinnamon Rolls.
If you like your rolls bigger, you could try Pillsbury Grands Cinnamon Rolls. Grands only have 5 per can, but they're big, so you'll want to cook them for 7-8 minutes.
Other Air Fryer Recipes You'll Love: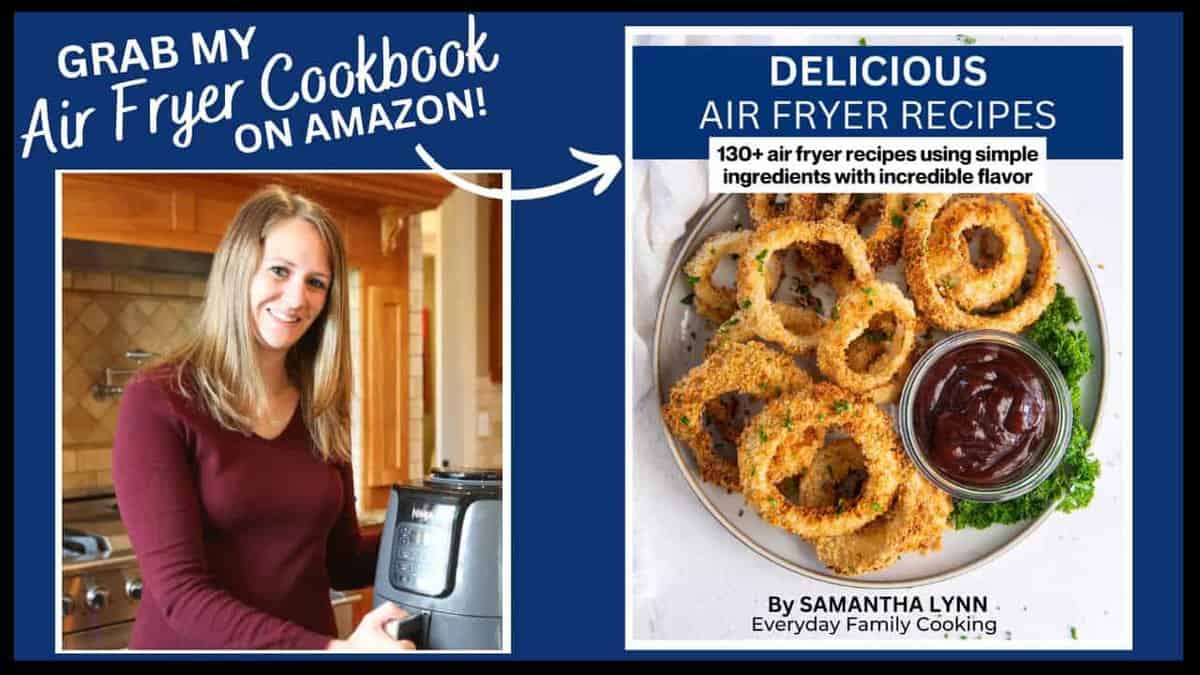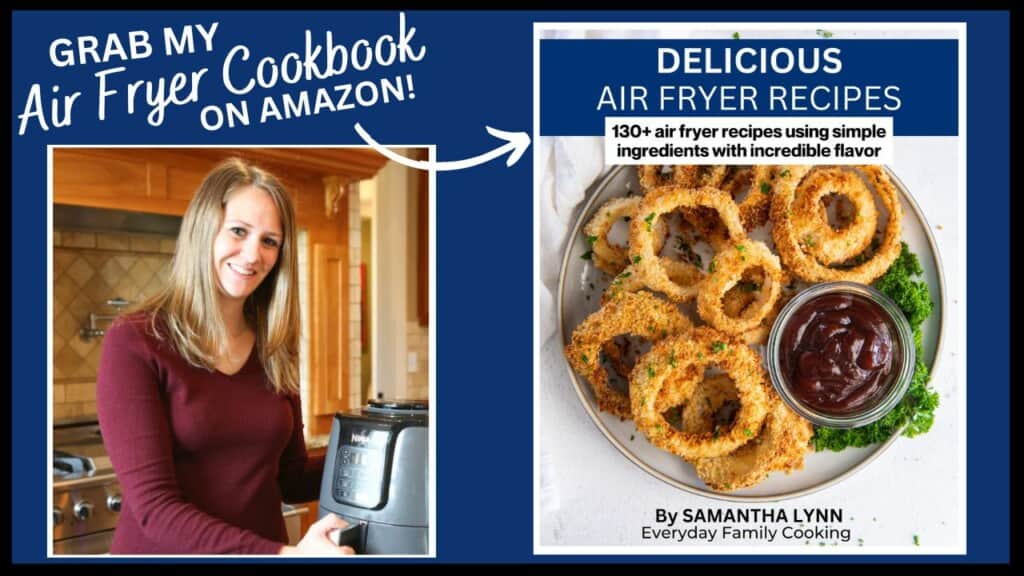 Yield: 8 servings
Air Fryer Cinnamon Rolls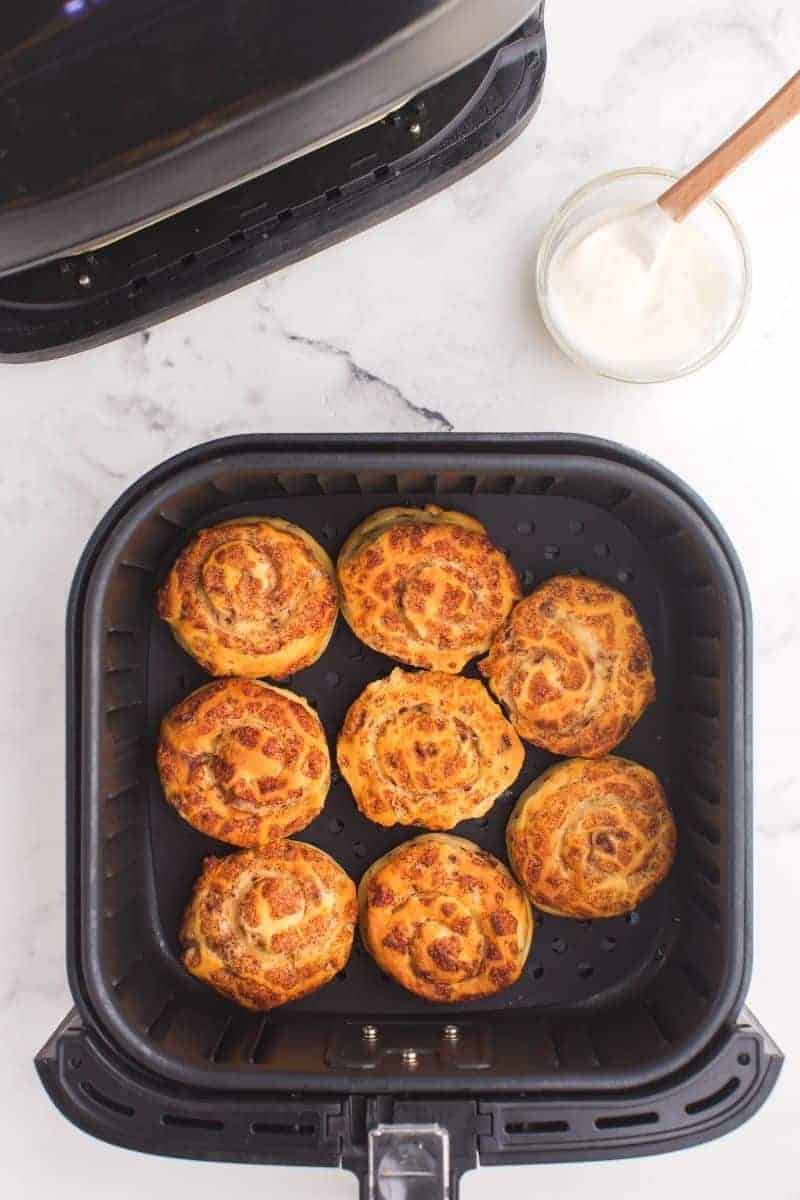 Pillsbury cinnamon rolls are cooked in the air fryer in just minutes for a quick and easy breakfast.
Ingredients
1 can Pillsbury cinnamon rolls, 8 count (not Grands)
Instructions
Preheat your air fryer to 350 degrees.
Place parchment paper in the air fryer (recommended) and carefully place the cinnamon rolls on top, leaving a small space between them.
Cook the cinnamon rolls for about 4 minutes.
Carefully remove the rolls from your air fryer and allow them to cool for a few minutes, then drizzle icing on top. Enjoy!
Notes
How to Reheat Cinnamon Rolls in the Air Fryer:
1. Preheat your air fryer to 300 degrees.
2. Cook the cinnamon rolls for just 1 minute then enjoy!
If using iced cinnamon rolls, I recommend parchment paper or an air fryer pan for easy clean-up.
Nutrition Information:
Yield:
8
Serving Size:
1
Amount Per Serving:
Calories:

290
Total Fat:

10g
Saturated Fat:

3g
Trans Fat:

4g
Unsaturated Fat:

0g
Cholesterol:

0mg
Sodium:

686mg
Carbohydrates:

47g
Fiber:

1g
Sugar:

19g
Protein:

4g
This nutrition information is based on the exact products I used in this recipe. Brands and sizes of products could alter exact nutrition and should always be calculated independently.