Air Fryer Apple Fritters are filled with apple cinnamon flavor for a healthy dessert.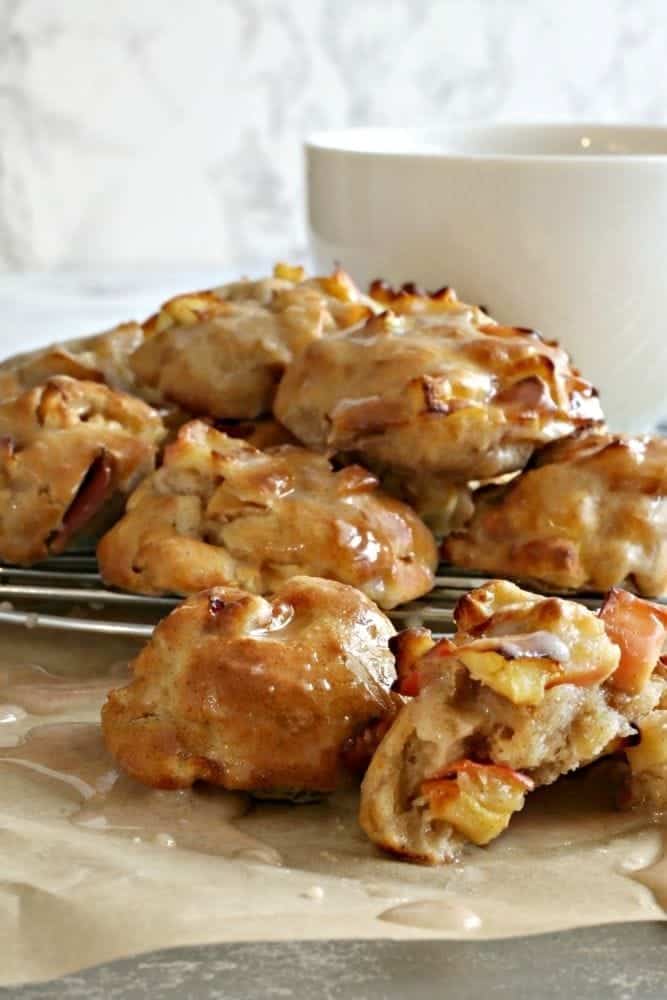 I am team apple when it comes to Fall flavors and apple fritters in the air fryer are one of my favorites ways to use up my extra ones.
In this post, I will show you how to make a completely homemade air fryer apple fritter, what apples are the best to use, and how to correctly store the apple fritters. You can even freeze them!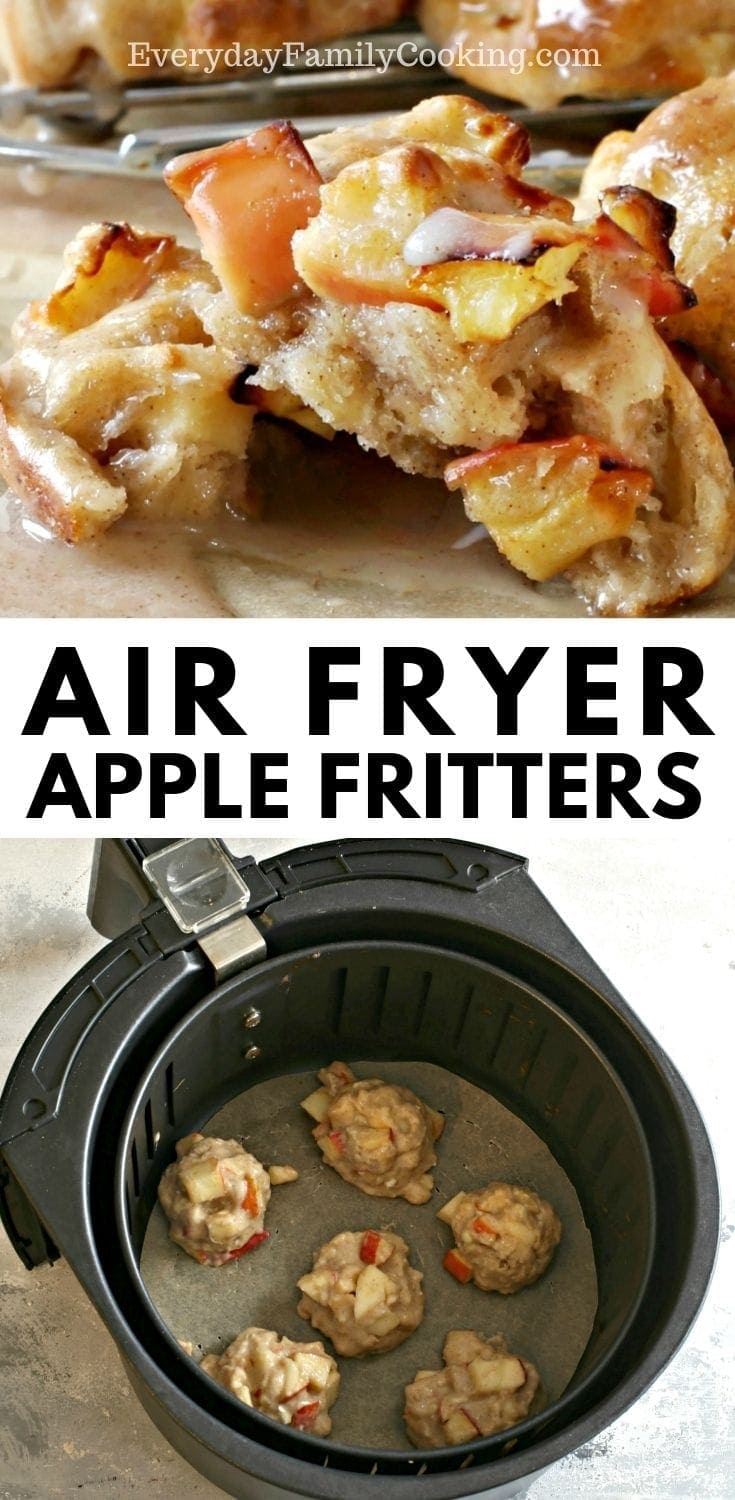 What is an Apple Fritter?
Apple fritters are typically deep-fried donuts filled with apple pieces with cinnamon flavor. They are then topped with glaze for an even sweeter taste!
This air fryer version is much healthier and is cooked without any oil, but still delivers a delicious fritter flavor! The icing adds even more cinnamon flavor for the best-tasting apple fritter you've had.
Looking for more sweet treats? Check out this list of 20+ Delicious Air Fryer Desserts to try!
How to Make Air Fryer Apple Fritters
A full printable version of this recipe with ingredient measurements is available at the bottom of this post.
Dice the apples into small cubes. You can peel them if you would like, although it's not necessary.
Add the flour, sugar, baking powder, salt, ground cinnamon, and ground nutmeg into a big mixing bowl. Stir to combine.
In a second bowl, mix the butter, egg, milk, and lemon juice.
Add the wet mixture into the dry mixture and stir until just combined.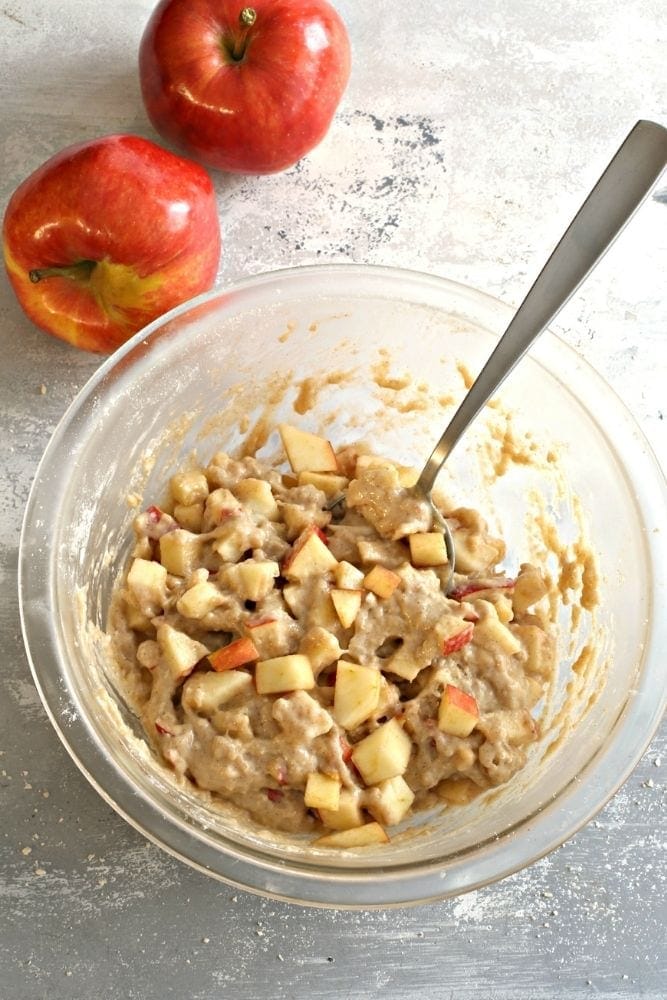 Place the mixture in the fridge and preheat your air fryer to 370 degrees.
Scoop the apple fritters into medium-sized balls, about 2 tablespoons big, and place in the air fryer in one layer not touching.

I like to use a medium-sized cookie scoop to make consistent sizes. I recommend using parchment paper rounds to avoid any sticking or dripping through the air fryer holes with a wetter batter.
Cook the air fryer apple fritters for 6 to 7 minutes.
While the apple fritters are cooking in the air fryer, put together the glaze by whisking together the confectioner's sugar, milk, cinnamon, and just a pinch of salt for flavor in a bowl.
Remove the apple fritters from the air fryer, top with glaze, and enjoy!
What are the Best Apples to Use for This Recipe?
I love how versatile apples are, so here are my favorites to use in this recipe. They work great in baking and taste fantastic in apple fritters.
You will find this is a very similar list to my Air Fryer Apple Slices recipe and Air Fryer Apple Crisp recipe as these apples work best when baking.
Gala (my all-time favorite apple for eating and baking)
Granny Smith
Honey Crisp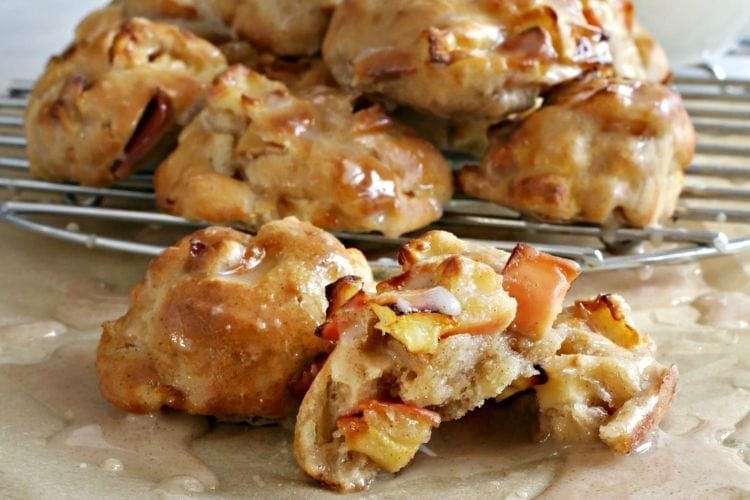 Tips for Making Even Fluffier Air Fryer Apple Fritters!
Instead of using melted butter, use cold butter grated into the batter using a cheese grater.
Refrigerate the batter for 15 minutes before air frying.
If you can't refrigerate them for 15 minutes, scoop them onto a cookie sheet and let refrigerate while preheating the air fryer. Since the batter will be in smaller scoops, they will get colder faster.
Do I Really Need to Use Parchment Paper Rounds to Cook These?
The short answer is no, but a batter like this can easily stick to the air fryer basket even if you're using a nonstick basket.
To avoid sticking and the batter from edging down into the air fryer holes, you can place a simple parchment paper round to avoid the cleanup and sticking.
You can also use normal parchment paper and cut it to shape with holes inside, but I found for the price, the parchment paper rounds are completely worth the $7-10 investment.
Learn more about using parchment paper in an air fryer here.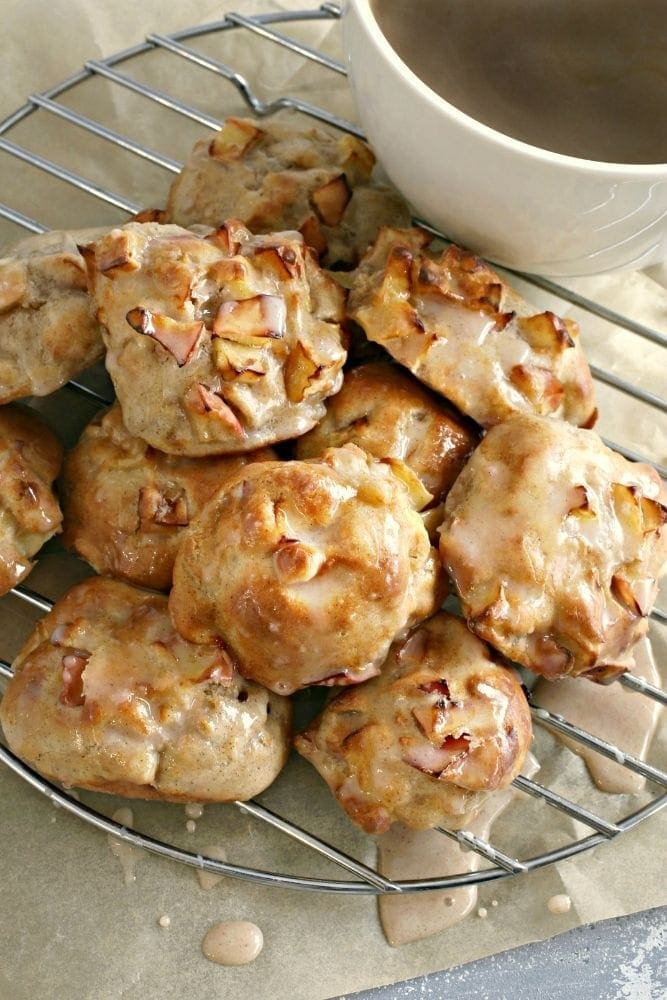 How to Store Apple Fritters
These apple fritters will taste best when eaten fresh, but it's completely possible to store and eat them later!
Apple fritters can be stored in the following ways:
In a plastic airtight container for up to 3 days
In the refrigerator, covered, for up to a week
In the freezer for up to 3 months
You can even store the batter in the fridge for up to 2 days before air frying them!
If saving for a special occasion, skip the glaze when storing and pour it on right after reheating the apple fritters using the directions below.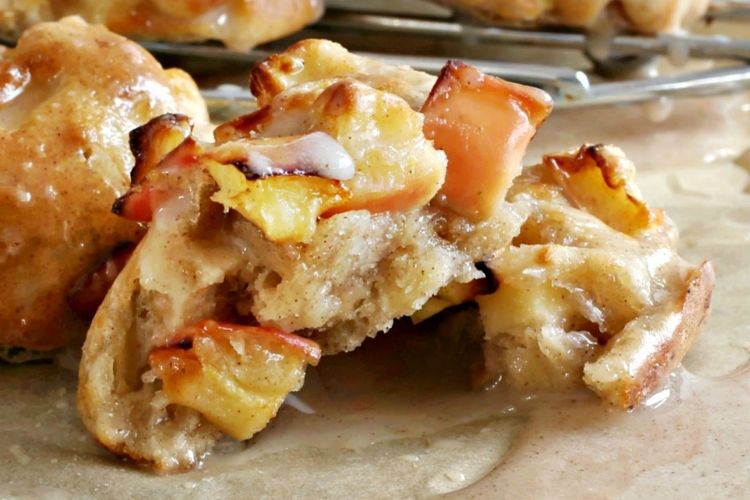 How to Reheat Apple Fritters in the Air Fryer
Preheat your air fryer to 320 degrees.
Place the already cooked apple fritters inside the air fryer. You can put them on a parchment paper round, air fryer pizza pan, or an air fryer silicone basket to help keep your physical air fryer clean from the glaze.
Cook for about 2-3 minutes then enjoy!
If you're cooking the apple fritters from refrigerated, add on an extra 1-2 minutes to get them fully heated.
Other Air Fryer Recipes You'll Love:
Love air frying? Join our newsletter! You can also follow us on Facebook, Instagram, or join our free Facebook Air Frying Community.
Air Fryer Weight Watcher Points per serving: 5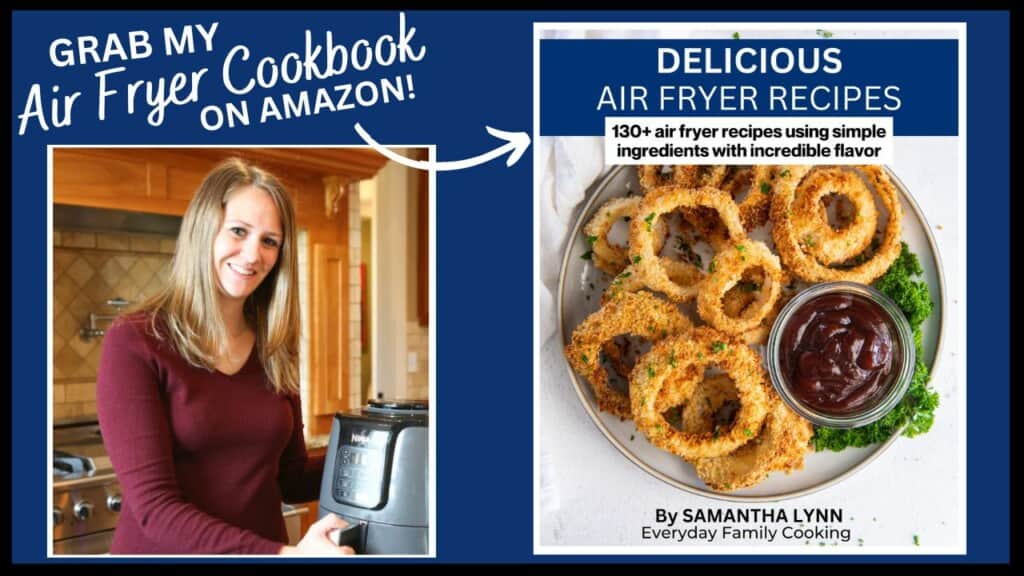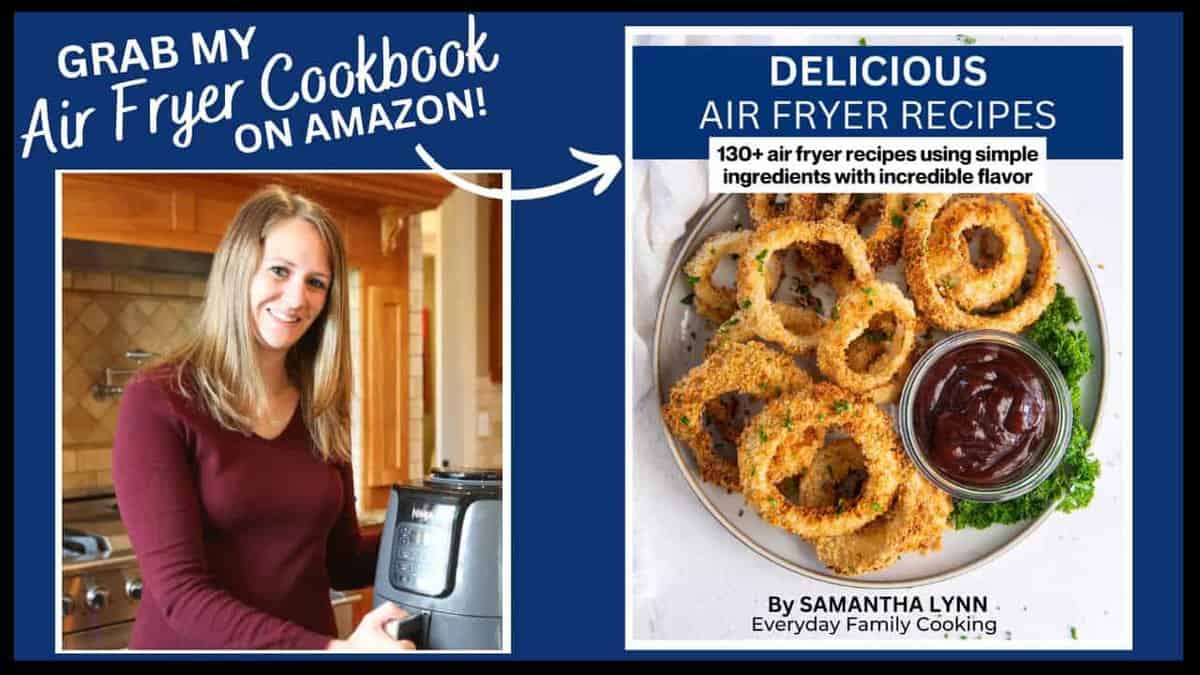 Yield: 12
Air Fryer Apple Fritters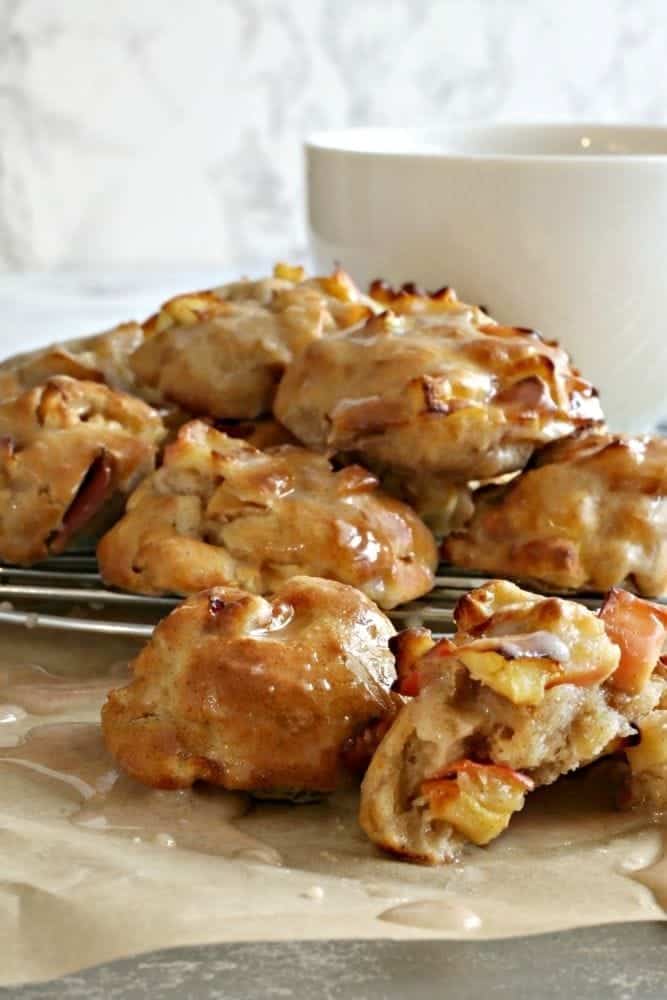 Apple fritters are air fried and topped with a cinnamon glaze for a delicious dessert!
Additional Time
5 minutes
Ingredients
2 apples, cored and diced
1 cup all-purpose flour
2 tablespoons sugar
1 teaspoon baking powder
1/2 teaspoon salt
1/2 teaspoon ground cinnamon
1/4 teaspoon ground nutmeg
1/3 cup milk
2 tablespoons butter, melted
1 egg
1/2 teaspoon lemon juice
Cinnamon Glaze
1/2 cup confectioners sugar
2 tablespoons milk
1/2 teaspoon ground cinnamon
Pinch of salt
Instructions
Dice the apples into small cubes and set aside. Peel them if desired.
Add the flour, sugar, baking powder, salt, ground cinnamon, and ground nutmeg into a large mixing bowl and stir to combine.
In a separate bowl, mix the milk, butter,* egg, and lemon juice.
Add the wet ingredients into the dry ingredients and stir just until combined. Stir in the apples and put mixture into the fridge for anywhere from 5 minutes to 2 days (covered).
Preheat your air fryer to 370 degrees.
Put a parchment round on the bottom of the basket and scoop out apple fritters into 2-tablespoon balls. Place apple fritters in the air fryer and cook for 6-7 minutes.
While cooking, whisk the confectioners sugar, milk, cinnamon, and salt together to make the glaze.
Remove the apple fritters from the air fryer, place them on a wire rack, and immediately pour the glaze over top and enjoy!
Notes
*to make the apple fritters even fluffier, grate the butter in cold to the recipe instead of using melted butter.
How to Reheat Apple Fritters in the Air Fryer:
1. Preheat your air fryer to 320 degrees.
2. Cook apple fritters for 2-3 minutes and enjoy! If cooking from refrigerated, add 1-2 additional minutes.
Nutrition Information:
Yield:
12
Serving Size:
1
Amount Per Serving:
Calories:

100
Total Fat:

3g
Saturated Fat:

2g
Trans Fat:

0g
Unsaturated Fat:

1g
Cholesterol:

21mg
Sodium:

166mg
Carbohydrates:

18g
Fiber:

1g
Sugar:

8g
Protein:

2g
This nutrition information is based on the exact products I used in this recipe. Brands and sizes of products could alter exact nutrition and should always be calculated independently.