This post may contain affiliate links. If you click on a link and make a purchase, I may receive a small commission at no extra cost to you. For more information, please read my disclaimer here.
Deep-fried Oreos are a personal favorite dessert of mine at the fair. They're fluffy, creamy, and chocolatey.
I've always considered them a delicacy because they were fried until I figured out how to make Air Fried Oreos.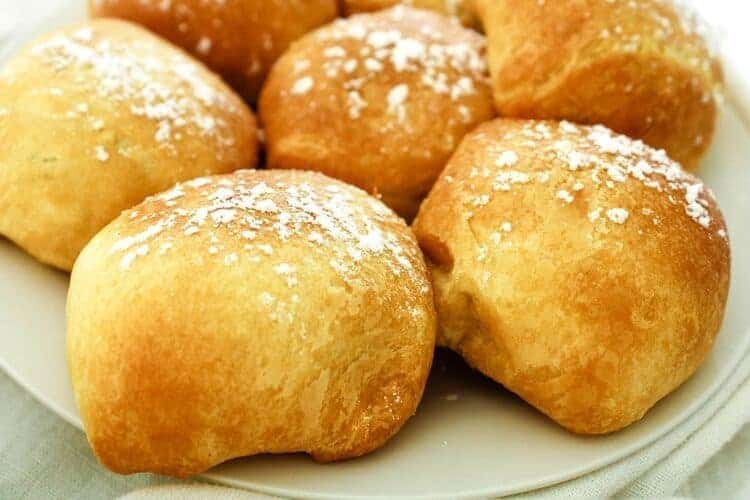 I now can get that same fluffy, creamy, and chocolatey flavor without all the oil. It only takes two ingredients and 10 minutes to make these delicious Air Fried Oreos.
You only need to make them once to be completely hooked.
I made this recipe inside my Cosori Air Fryer. It has a square basket, which makes cooking foods, like these Air Fried Oreos in one layer much faster.
It's perfect for my family of four and cooks all my food evenly!
How to Make Air Fried Oreos
I love using these with flaky layers crescent rolls. I personally used the butter variety, but you can use the original kind to avoid butter.
Spread out the crescent roll dough onto a flat surface, such as a cutting board or counter.
Lightly use your finger to press down on all the perforated lines. This allows the dough to become one piece.
Using a pizza cutter or knife, cut the crescent roll sheet into 8 even squares. I like to cut the dough in half both ways then cut them into quarters each way from there.
Place one Oreo cookie in the center of each crescent roll dough square and roll all four corners inward on top of the Oreo.
Bunch the rest of the crescent roll over the Oreo, making sure it covers the entire sandwich cookie.
Do not stretch it too thin or it will break causing the Oreo to break through the dough.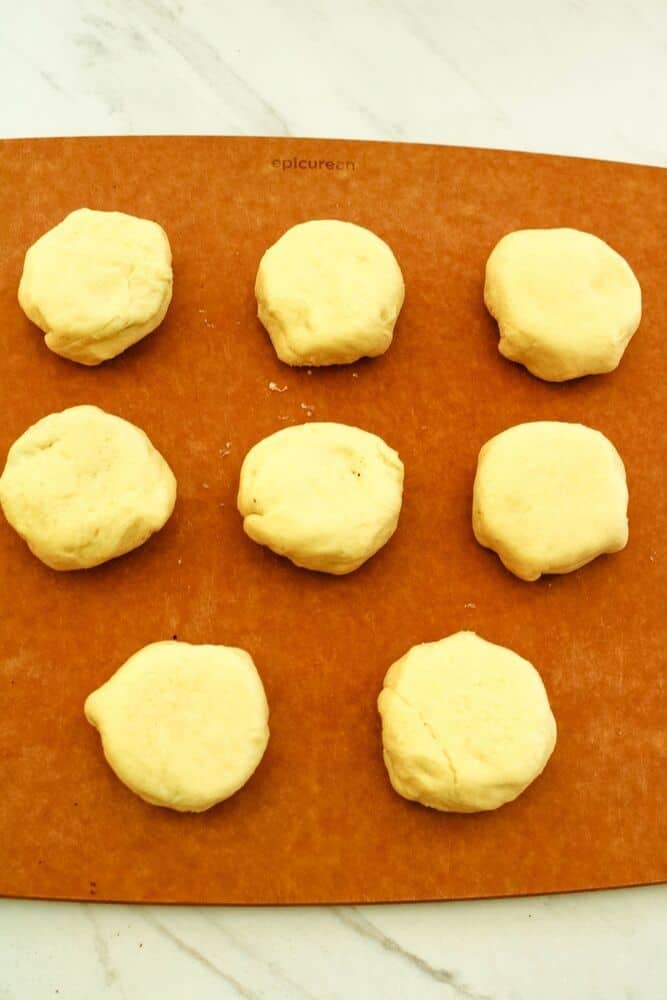 How to Cook the Air Fryer Oreos
Preheat air fryer to 320 degrees for 2-3 minutes.
I like to preheat my air fryer when finishing up the last 3-4 Oreo cookies so you can put them all inside the air fryer as soon as you've finished wrapping them in the dough.
Place the Air Fried Oreos in the air fryer in a single layer leaving a small space between each one.
Do not stack or let them touch or they will stick together when cooked and cause the dough to cook unevenly.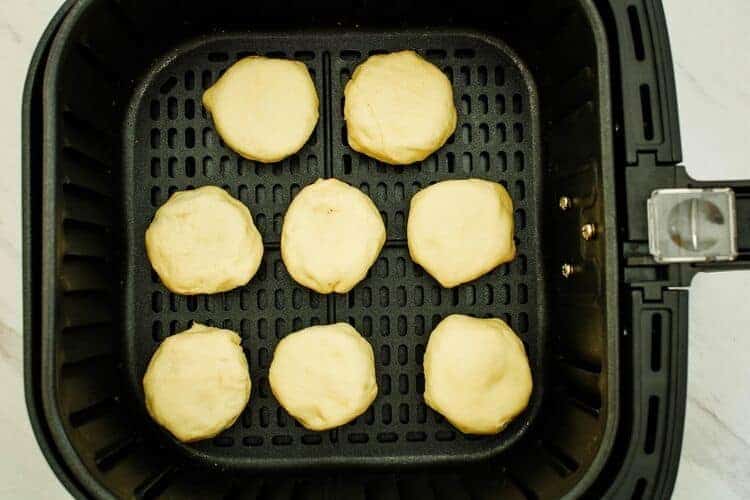 If they all do not fit in your air fryer at the same time, you will need to cook in batches.
Cook the Air Fried Oreos at 320 degrees for 5-6 minutes until golden brown on the outside.
Carefully remove the Oreos from the air fryer and immediately dust with powdered sugar if desired.
Let cool for two minutes and enjoy!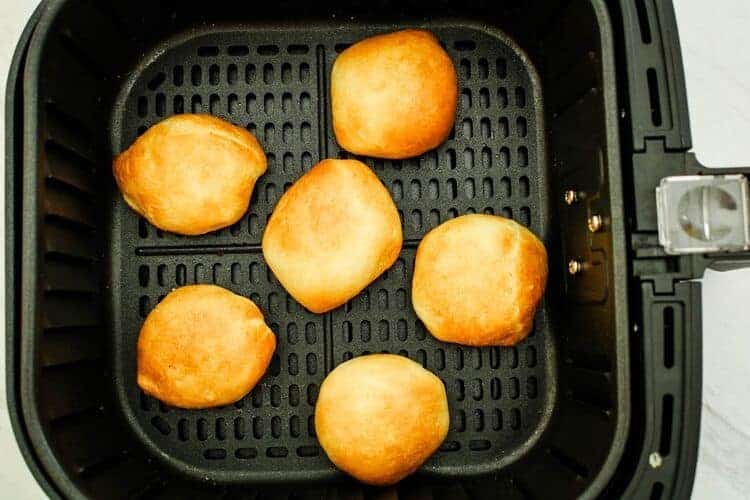 Do I Need to Use Oil in This Recipe?
This air fryer recipe contains no oil. That means you don't need to spray any oil on top of the crescent rolls to make this recipe.
Now, if your air fryer tends to stick on the bottom, I do recommend spraying the basket quickly with oil using an EVO oil sprayer. Do not use PAM spray as it can ruin your air fryer.
Are These Air Fried Oreos Vegan?
Pillsbury Original Crescents rolls are completely vegan.
Oreos on the other hand, are not completely vegan. Looking at package ingredients, they show all vegan ingredients, but there is more behind the scenes.
They cross-contaminate with milk making them not suitable for vegans. They are still completely vegetarian.
Yield: 8 servings
Air Fried Oreos
An air fryer take on deep-fried Oreos without the excess oil.
Ingredients
8 Oreo cookies or other brand sandwich cookies
1 package of Pillsbury Crescents Rolls (or crescent dough sheet)
Powdered sugar for dusting (optional)
Instructions
Spread out crescnt dough onto a cutting board or counter.
Using your finger, press down into each perforated line so it forms one big sheet
Cut the dough into eighths.
Place an Oreo cookie in the center of each of the crescent roll squares and roll each corner up (see visual above in post).
Bunch up the rest of the crescent roll to make sure itcovers the entire Oreo cookie. Do not stretch the crescent roll too thin or it will break.
Preheat air fryer to 320 degrees for about 2-3 minutes.
Gently place the Air Fried Oreos inside the air fryer in one even row so they do not touch. If you have a smaller air fryer, cook in batches.
Cook Oreos on 320 degrees for 5-6 minutes until golden brown on the outside.
Carefully remove the Air Fryer Oreos from the air fryer and immediately dust them with pwodered sugar if desired.
Let cool for two minutes, then enjoy!
Nutrition Information:
Yield:
8
Serving Size:
1
Amount Per Serving:
Calories:

172
Total Fat:

4g
Saturated Fat:

1g
Trans Fat:

0g
Unsaturated Fat:

1g
Cholesterol:

2mg
Sodium:

127mg
Carbohydrates:

32g
Net Carbohydrates:

0g
Fiber:

1g
Sugar:

21g
Sugar Alcohols:

0g
Protein:

2g
This nutrition information is based on the exact products I used in this recipe. Brands and sizes of products could alter exact nutrition and should always be calculated independently.