When you want something easy, tasty, and filling, you can't go wrong with meatballs! You can make these incredible homemade meatballs in the air fryer in just 20 minutes.
If you're going to take the time to master any dish, you should put homemade meatballs at the top of your list!
Made correctly, they can make an enticing appetizer or satisfying main course. And if you know how to cook meatballs in the air fryer, then you have a dish that's as quick as it is delicious!
The secret to air fryer meatballs, like any meatball recipe, lies in the ingredients: you need to capture the moisture while seasoning and developing a crust. Sound tricky? It's easier than you think! All you need are a handful of breadcrumbs, some cheese, a bit of garlic and onion, and just a few seasonings.
This recipe makes a single serving of four meatballs, but it's very easy to double or triple to make enough for the whole family.
Here's what I'm going to teach you in this post:
How to cook meatballs in the air fryer that are juicy, tender, and make a great appetizer or main course – they're even great for leftovers!
A few tips and tricks to make these homemade meatballs even better than your restaurant favorites.
Ways that you can customize and make this recipe totally your own!
Air fryer meatballs are moist yet substantial and packed with Italian flavor. They're a great source of protein with a low amount of trans fat. And you can make them in just 20 minutes!
How to make Air Fryer Meatballs
A full printable version of this recipe with ingredient measurements is available at the bottom of this post.
STEP ONE: While your air fryer preheats to 350 degrees F, mix together all of the ingredients.
Throw the ground beef, breadcrumbs, cheese, onion, garlic, egg, Italian seasoning, salt, and pepper into a single bowl and combine gently.
Don't mix for a second longer than you have to!
STEP TWO: Scoop up roughly a quarter of the meat to create a 2-inch meatball, then place it in the fryer.
A medium ice cream scoop or cookie scoop can help you get uniform balls that will cook consistently across the board. Repeat until all of the mixture is used, and make sure that none are touching each other in the basket.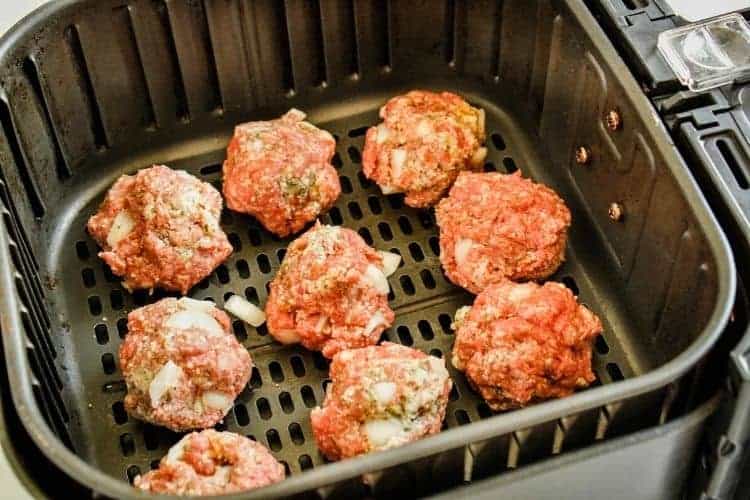 STEP THREE: Cover and cook for 10-12 minutes, or until the meat's internal temperature reaches 165 degrees F. Shake the air fryer basket after 5 minutes or so to keep the meat from sticking.
STEP FOUR: Let rest only briefly and enjoy right away! You can refrigerate any leftovers for 3 days or freeze them for 3 months.
Tips to Make Perfect Homemade Meatballs in the Air Fryer
This recipe is already easy and extra flavorful, but here are a few ways to make the job even easier:
Watch the Percentage of Fat – Lean meats are always best, but you do need enough fat to help the meat stick together and retain moisture. A leanness between 70% and 80% is recommended.
Use a Food Processor – Dicing up garlic and onion is a breeze with a food processor. Diced as finely as possible, it'll be easier to mix into the meat mixture and you'll avoid large chunks.
Don't overmix! Touch the meat mixture as little as possible when combining. If you overmix, you risk a batch of tough meatballs.
What Goes Well With Meatballs?
If serving these air fryer meatballs as a main course, you're in luck – there are so many dishes that make great sides. Some crisp and buttery diced potatoes or creamy mashed potatoes come to mind immediately, and you can't go wrong with garlic bread!
Personally, I love to layer them on a roll and enjoy a fresh, hot meatball sub.
Air Fryer Meatball Variations
Don't always stick with the same old recipe each time! Here are some ideas you might want to try:
Pick Your Protein – You don't need to stick with beef. You can use a mix of beef and pork, if desired. Ground chicken and turkey are popular as well, and both are leaner options.
Opt for Fresh Herbs – Fresh basil, rosemary, thyme, and oregano can easily take the place of any Italian seasoning blend. Simply chop them up and throw them right in.
Stuff With Cheese – If the parmesan isn't enough, you can stuff some mozzarella cheese into the center for a cheesy surprise inside!
How to Reheat meatballs in the Air Fryer
While this recipe can be frozen, I hate putting food in a freezer just to enjoy it the next day for leftovers.
Simply, cook the meatballs at 320 degrees for 3-4 minutes until they are warmed thoroughly.
How Long Do You Air Fry Frozen Meatballs?
Making frozen air fryer meatballs isn't much more complicated than making them fresh! Simply preheat your air dryer to 320 degrees F and lay them in the basket. Cook for about 10 minutes or until just warmed through the center.
If you're reheating some that have already been cooked, cut down the cooking time to 3-4 minutes.
For more tips, read our post on how to cook frozen meatballs in the air fryer.
Other Air Fryer Recipes You'll Love:
Yield: 4 servings
Air Fryer Meatballs
A delicious freezable air fryer Italian meatball recipe that's perfect as an appetizer or with spaghetti!
Ingredients
1 pound ground beef
1/2 cup breadcrumbs
1/2 cup Parmesan cheese
1/2 cup onion, diced
1 clove garlic, minced
1 egg
2 teaspoons dried Italian seasoning (or 1/4 cup fresh Italian herbs, chopped)
1/2 teaspoon salt
1/4 teaspoon pepper
Instructions
Preheat your air fryer to 350 degrees.
Add ground beef, Italian breadcrumbs, Parmesan cheese, onion, garlic, egg, Italian seasoning, salt, and pepper to a bowl.
Mix to combine ingredients by using as little movement as possible.
Form the ground beef mixture into 2-inch meatballs and place in the air fryer in a single layer, not touching.
Cook the meatballs for 10-12 minutes, shaking the basket halfway through. Meatballs are done when the internal temperature is 165 degrees.
Remove the meatballs from the air fryer and enjoy immediately, store in the fridge for up to 3 days, or in the freezer for up to 3 months.
Notes
How to Reheat Meatballs in the Air Fryer:
1. Preheat air fryer to 320 degrees.
2. Cook meatballs for 3-4 minutes, until heated thoroughly.
How to Cook Frozen Meatballs in the Air Fryer:
1. Preheat air fryer to 320 degrees.
2. Cook meatballs for 9-11 minutes, until heated thoroughly.
Nutrition Information:
Yield:
4
Serving Size:
1
Amount Per Serving:
Calories:

447
Total Fat:

25g
Saturated Fat:

10g
Trans Fat:

1g
Unsaturated Fat:

11g
Cholesterol:

158mg
Sodium:

711mg
Carbohydrates:

15g
Fiber:

1g
Sugar:

2g
Protein:

38g
This nutrition information is based on the exact products I used in this recipe. Brands and sizes of products could alter exact nutrition and should always be calculated independently.