This post may contain affiliate links. If you click on a link and make a purchase, I may receive a small commission at no extra cost to you. For more information, please read my disclaimer here.
You don't know chicken tenders until you've made homemade air fryer chicken tenders. Making them with a crispy breaded panko crust in an air fryer that only takes 15 minutes to make brings it to a whole new level.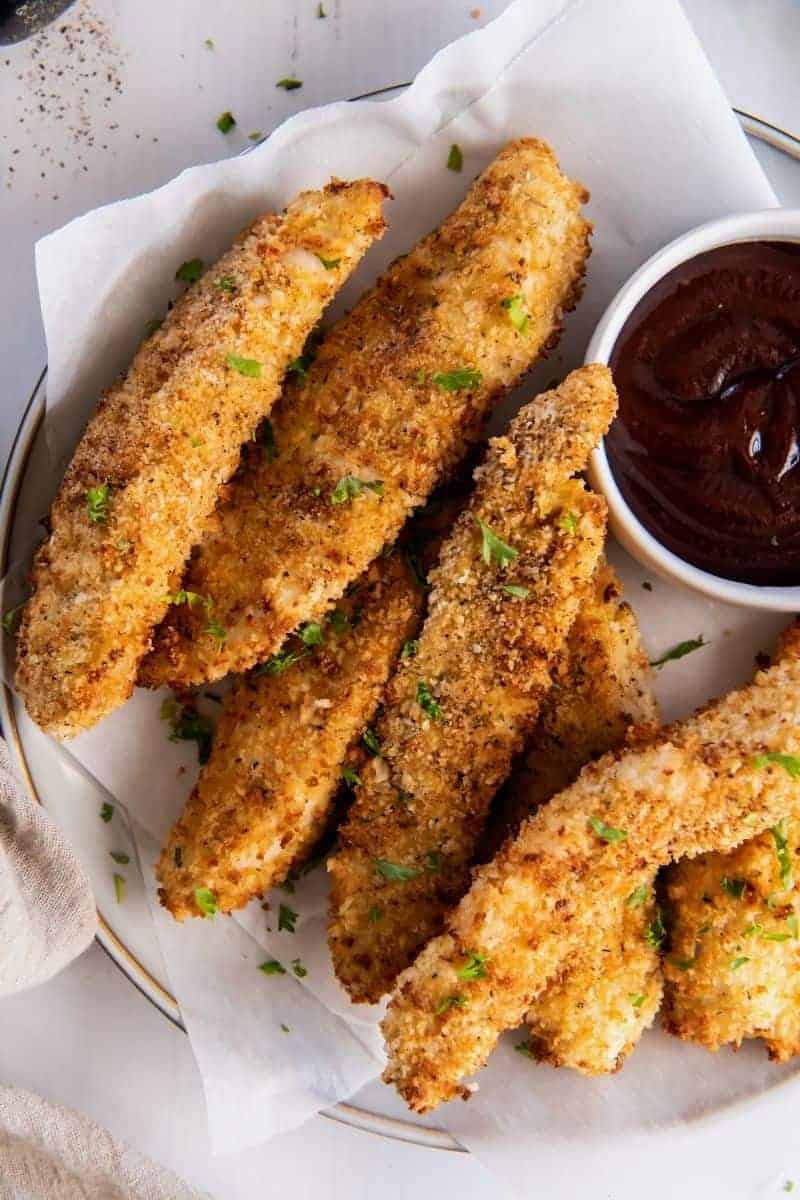 Typically deep frying fresh chicken tenders would require almost a gallon of oil. Imagine how much oil will soak up in your breadcrumbs and chicken!
These super easy Air Fryer Panko Breaded Chicken Tenders are oil-free. It's basically like breaded grilled chicken tenders, but with the taste of fried chicken.
If you're wondering if you can use oil in an air fryer, the quick answer is yes, but there are certain rules behind it. You can learn them here.
My favorite part of this recipe is how family-friendly it is. My toddler is in love with chicken lately and devoured these air fried chicken tenders within minutes of placing them on her plate.
So, it's officially approved for kids!
How to Make Air Fryer Chicken Tenders
It's best to buy boneless skinless chicken breasts or tenderloins for this recipe. If your chicken has skin on it, you will need to remove it before cooking.
Take your chicken breasts and cut them in 1-inch wide pieces. It's okay if they are a little long, as long as they fit in your air fryer flat.
If your chicken is a bit thicker, you will want to pound it a little thinner until it's a little thinner. Think about ½ inches.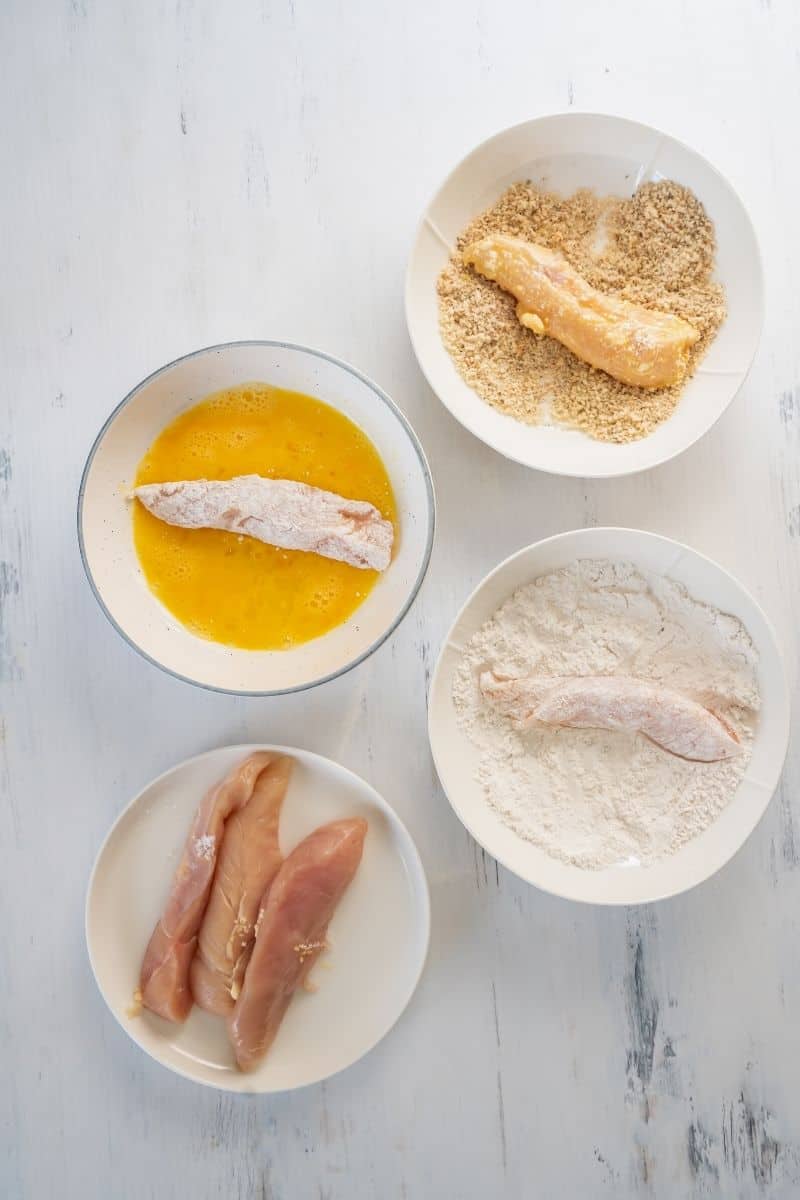 Making the chicken fingers Batter
You will need 3 separate shallow bowls for your batter. Place your eggs in the first bowl and the flour in the second. If you are low on bowls, feel free to use a plate for the flour. Whisk your eggs.
In the third shallow bowl, put the panko breadcrumbs, onion powder, garlic powder, paprika, Italian seasoning, salt, and pepper. Mix in the herbs and spices until combined with the breadcrumbs.
Coat each chicken tender with flour, then eggs, then cover with the panko mixture and place in your air fryer on one single layer. Do not overcrowd the chicken.
Using the batter in this order allows for the chicken to come out crispy on the outside and tender on the inside.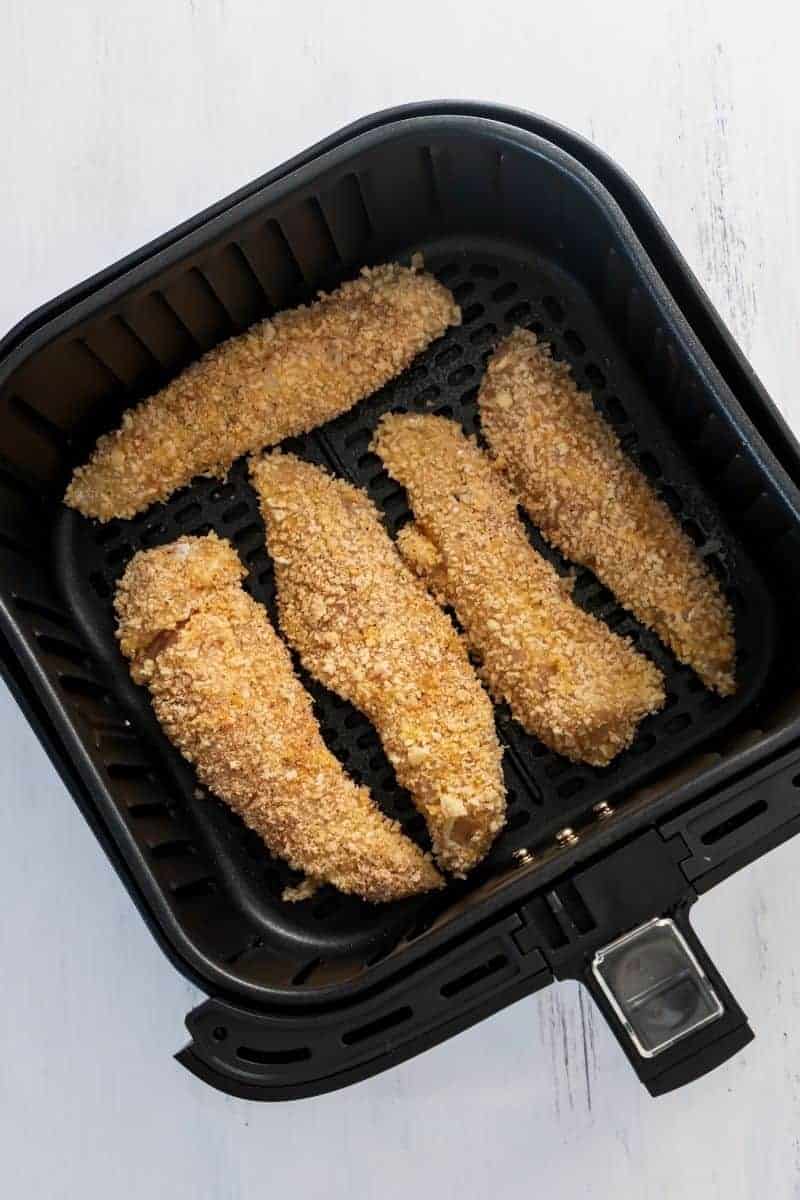 How to Cook Air Fried Chicken tenders
One of my favorite things about an air fryer is the time it takes to cook. You don't need to wait for an entire oven to heat up and it takes 25-50% less time than cooking in an oven.
Turn your air fryer to 400 degrees F and cook the air fried chicken tenders for 7-10 minutes, flipping halfway until golden brown. The tenders are done when the thickest part reads 165 degrees F.
If you notice the outside of the chicken turning brown quickly, turn your air fryer down to 350 and continue to cook until they hit 165 degrees F.
Each air fryer, just like any oven, distributes heat differently. Checking on your chicken fingers every 5 minutes helps eliminate the chances of overcooking your food.
Eat immediately or refrigerate for up to 5 days. These chicken tenders can be frozen for up to 3 months.
How do You Reheat Chicken Tenders in an Air Fryer?
To reheat these air fryer chicken tenders, heat your air fryer to 350 degrees and cook your chicken tenders for 3-5 minutes until heated thoroughly.
If reheating frozen chicken tenders, heat to 375 degrees and allow cooking for an additional 2-3 minutes until hot.
If cooking packaged frozen chicken tenders, cook at 400 degrees F until internally heated to 165 degrees, about 6-7 minutes.
Can I Use Italian BreaDcrumbs Instead?
Yes! You can make this recipe using either Panko or Italian breadcrumbs for the breading.
If using Italian breadcrumbs, I recommend spritzing the top of the chicken lightly with oil using an EVO Oil Mister to keep the breading from drying out.
Can I Open My Air Fryer While Cooking Air Fryer Chicken Tenders?
Yes! I highly encourage you to open your air fryer while cooking this recipe and any other one you cook. An air fryer is designed to hold heat, so you can frequently open it and move the food around.
Should you have it open every minute to check on it for 30 seconds each time? Well, no. Aim for opening your air fryer about every 5 minutes for 5-10 second intervals to allow just enough time to shake the basket or flip your food.
You can open it more frequently toward the end to make sure your food does not overcook.
Can You Stack Chicken Tenders in an Air Fryer?
When cooking from fresh, it's not recommended to stack chicken tenders in an air fryer. It can make the chicken cook unevenly and even pull some of the breading off the tenders.
If cooking from frozen, you can stack your chicken fingers a bit more. There is no fresh breading to worry about coming off.
Never fill your air fryer basket more than halfway full and shake the basket while cooking every 5 minutes or so to allow for even cooking.
To double this recipe, you can use a wired rack to keep this recipe under 30 minutes easily.
What Kind of Air Fryer Can I Cook This Recipe With?
Although each air fryer cooks a little different, this recipe can be made in any type of air fryer. This means if you have the Power Air Fryer Oven, GoWise, or Air Fryer XL, you can make this air fried recipe with no issues.
But since all air fryers do cook different, it's important to keep an eye on the breading. If you see the breading getting darker, check the temperature of the chicken, and lower the heat if needed.
What Can I Pair These Chicken Tenders With?
Chicken tenders are never complete without a dipping sauce. Try this homemade buffalo sauce recipe that pairs perfectly with these air fryer chicken tenders.
You can dip them or even coat them completely to make Air Fryer Buffalo Chicken Tenders.
Finish out your dish with some Air Fryer French Fries or Air Fryer Sweet Potato Fries.

Other Air Fryer Dishes You Will Love:
Crispy Air Fryer Chicken Wings
Air Fryer Frozen Mozzarella Sticks

Yield: 4 servings
Crispy Air Fryer Chicken Tenders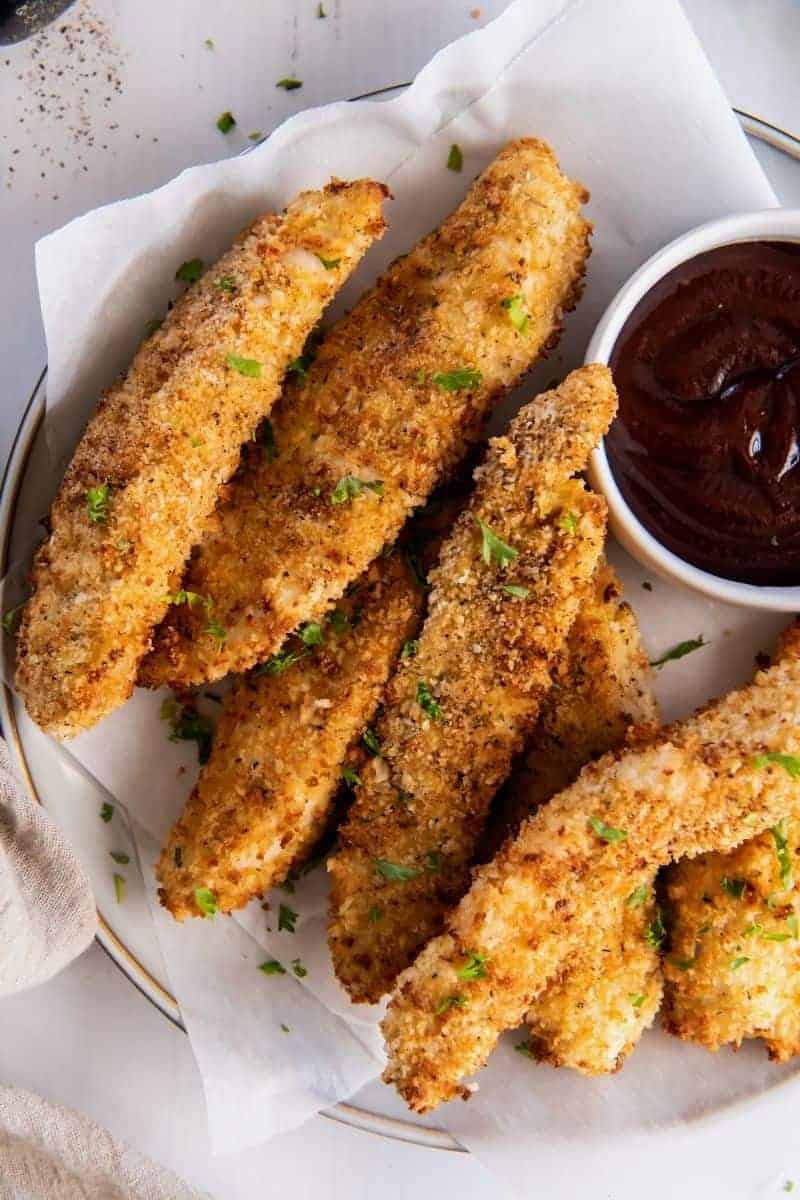 Homemade chicken tenders coated in an airy, crispy panko breadcrumbs and made in just 15 minutes.
Ingredients
1 pound chicken tenderloins (or breasts)
2 eggs
½ cup flour
½ cup panko breadcrumbs
½ teaspoon onion powder
½ teaspoon garlic powder
¼ teaspoon paprika
½ teaspoon Italian seasoning
Salt and pepper to taste
Instructions
Preheat air fryer to 400 degrees.
If using chicken breasts, cut them into thin 1-inch strips.
Set up the batter by putting the flour and eggs in separate bowls. Whisk the eggs.
Fill a third bowl with panko breadcrumbs, onion powder, garlic powder, paprika, Italian seasoning, and salt and pepper to taste. Mix to combine.
Dip chicken tenderloins or breasts into flour, then the eggs, and lastly the breadcrumbs.
Place coated chicken in the air fryer. Do not overcrowd. Cook for 7-10 minutes, until 165 degrees F at the thickest part.
Enjoy immediately or freeze for up to 3 months.

Nutrition Information:
Yield:
4
Serving Size:
1
Amount Per Serving:
Calories:

336
Total Fat:

7g
Saturated Fat:

2g
Trans Fat:

0g
Unsaturated Fat:

4g
Cholesterol:

189mg
Sodium:

293mg
Carbohydrates:

23g
Fiber:

1g
Sugar:

1g
Protein:

42g
This nutrition information is based on the exact products I used in this recipe. Brands and sizes of products could alter exact nutrition and should always be calculated independently.