When you cook frozen waffle fries in the air fryer, they turn out hot, crispy, and delicious every time. Best of all, they're ready in just 10 minutes!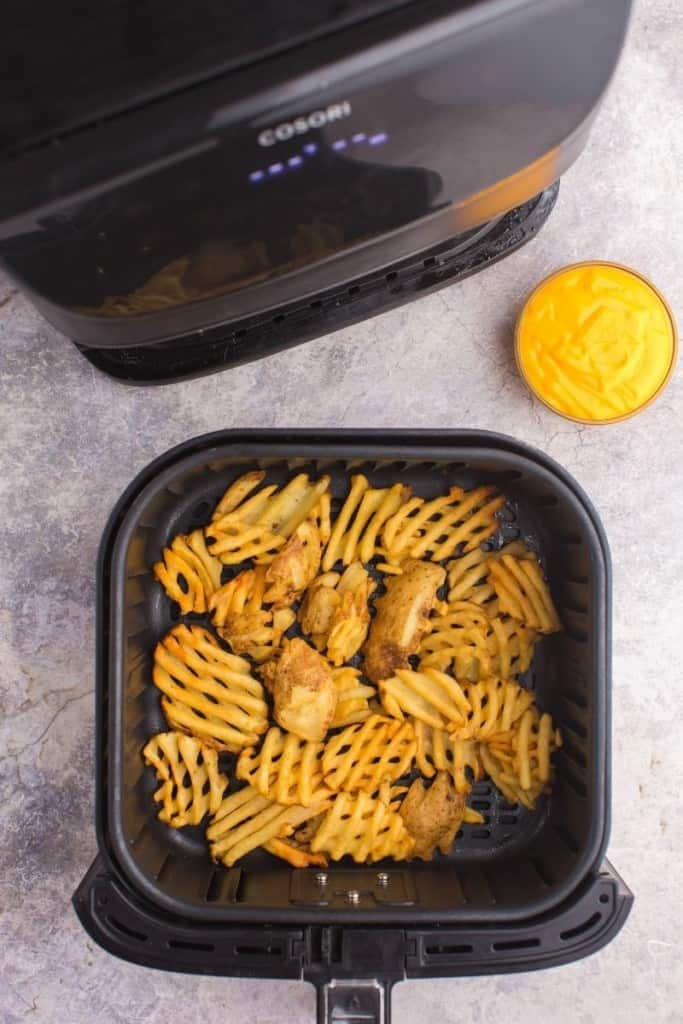 I always have a bag of waffle-cut fries hiding in my freezer. They seem so convenient when I buy them at the store, but when it comes to making them, they never turn out quite right in the oven.
Meanwhile, deep frying them is way more of a hassle than I want on a busy weeknight.
Then, I discovered how to make frozen waffle fries in the air fryer, and everything changed! These delicious bites are always perfectly crispy on the outside, soft and fluffy on the inside, and sure to be devoured in seconds by my family.
Here's what I'm going to teach you in this post:
How to make air fryer waffle fries
Tips for making the best waffle fries in the air fryer
How to air fry homemade waffle fries instead of frozen
The best way to reheat waffle fries in the air fryer
If you have a bag of Alexia, Ore Ida, McCain, or any other kind of waffle fries lurking in the back of your freezer, now is the time to put them to good use!
However, I will warn you: once you make these air fryer waffle fries once, your family may start begging you to make them every night.
I made this recipe using the 5.8 QT Cosori Air Fryer. Its square basket makes it the perfect size for our family of 4.
How To Make Frozen Waffle Fries in the Air Fryer
STEP ONE: Preheat your air fryer to 400 degrees.
STEP TWO: Place the waffle fries in a single layer in the air fryer basket. A little bit of overlap is fine.
STEP THREE: Cook for 8-10 minutes, shaking the basket about halfway through. Continue to check the fries until they reach your desired crispness.
Do you love making frozen foods? Check out this great list of all the frozen foods you can make in the air fryer!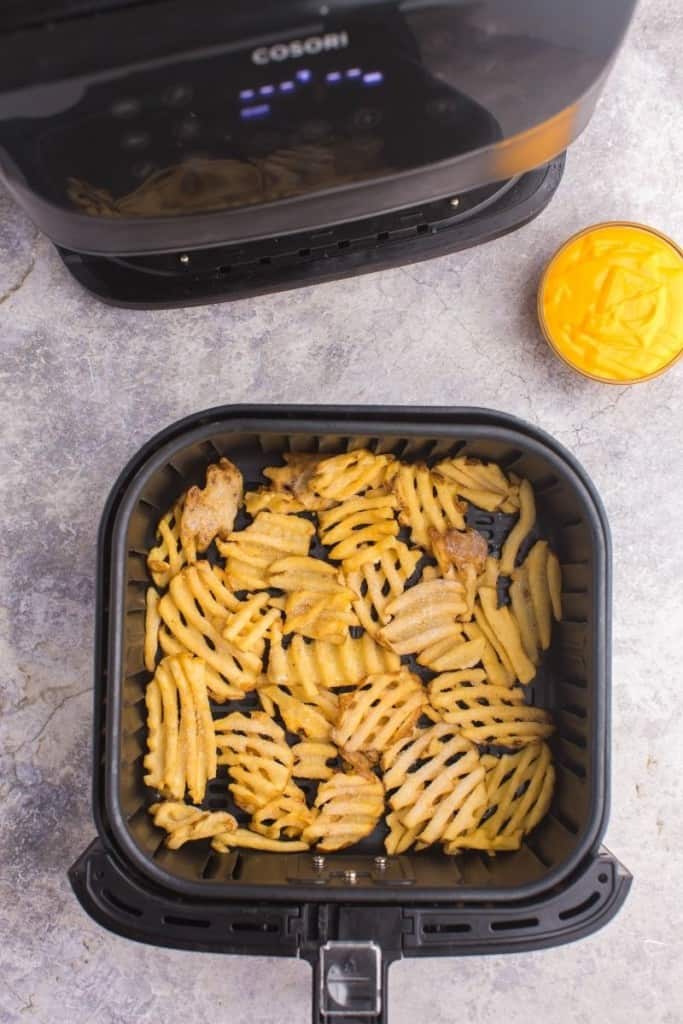 Do You Need Oil to Cook Frozen Waffle Fries in the Air Fryer?
Frozen foods are typically fried in oil before they're packaged, so you shouldn't need any extra oil.
However, if you see that your fries are getting a little dry while cooking, go ahead and spray them with an oil mister.
You can read more about when to use oil in your air fryer here.
Tips for Cooking Frozen Waffle Fries
Don't stack your fries too much. It's okay to have a little overlap, but you don't want the fries to be on top of each other. I was able to fit about ½ of the bag in one batch.

If you do cook more, they will take longer to cook and will need more frequent shaking to cook evenly.
You don't need to spray the basket or the fries with cooking oil unless you notice the fries getting dry while cooking.
If you want to season your fries, do so after you air fry them. If you pre-season them, the seasoning might burn in the air fryer or just fall off.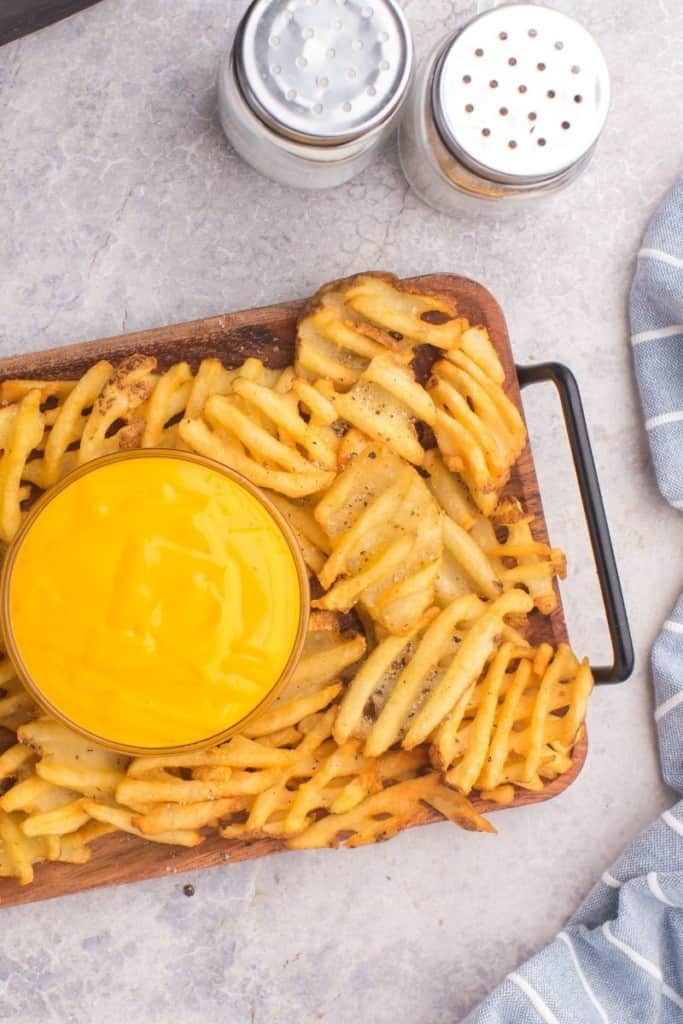 Main Dishes to Serve with Waffle Cut Fries
Can I Make Homemade Waffle Fries in the Air Fryer?
If you're making your fries from scratch, they're going to require a different time and temperature to make sure they're cooked properly.
Frozen waffle-cut fries are precooked, whereas your homemade fries will start as raw potatoes.
If you want to make homemade waffle fries or french fries in the air fryer, be sure to check out my Air Fryer French Fries recipe! This will give you a more accurate time and temperature to ensure your fries turn out crispy and delicious.
Do These Directions Work for Frozen Sweet Potato Waffle Fries in the Air Fryer?
Yes! I've tried making both regular and sweet potato fries using this method, and the same time and temperature work great for both.
Dips to Use for Air Fryer Waffle Cut Fries
Nacho Cheese (my favorite!)
Ketchup
Mustard
Ranch Dressing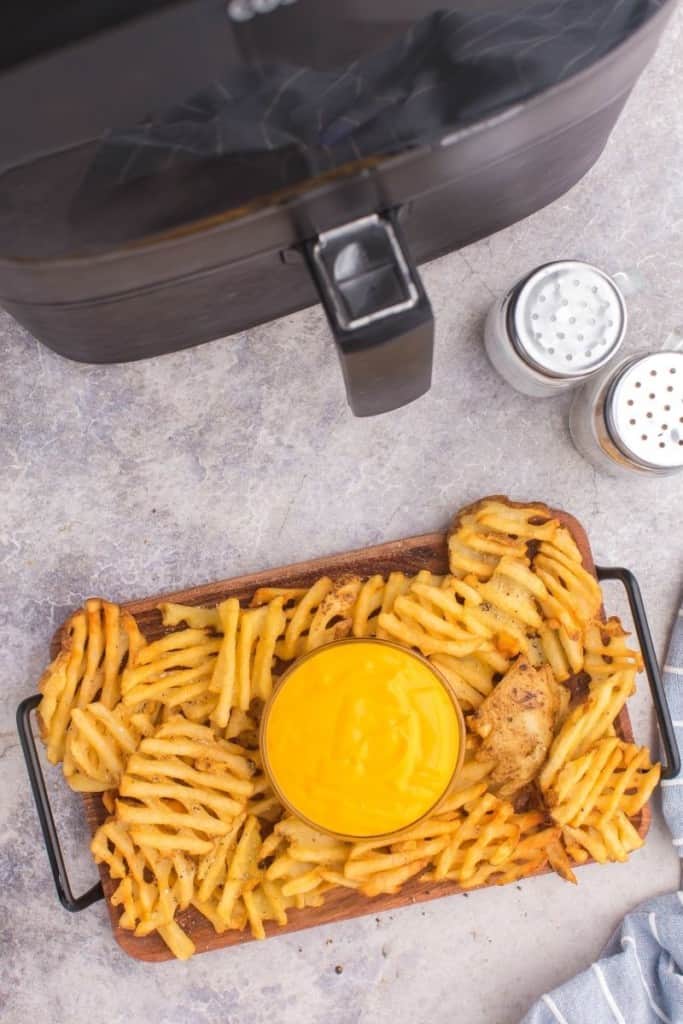 How to Reheat Waffle Fries in the Air Fryer
Preheat the air fryer to 350 degrees F.
Place the fries in the air fryer basket in a single layer.
Cook for 2 minutes or until heated through.
Other Air Fryer Recipes You'll Love:
Love air frying? Join our newsletter! You can also follow us on Facebook, Instagram, or join our free Facebook Air Frying Community.
Yield: 4 servings
Frozen Waffle Fries in the Air Fryer
You won't believe how easy it is to make frozen waffle fries in the air fryer! They're ready in 10 minutes for a hot and crispy side the whole family is sure to love.
Ingredients
1 pound frozen waffle fries (1/2 bag)
Optional
Instructions
Preheat your air fryer to 400 degrees F.
Place a single layer of frozen waffle fries in your air fryer. They can overlap slightly.
Cook the fries for 8 to 10 minutes, carefully shaking the basket halfway through cooking.
Remove the waffle fries from the air fryer, serve with your favorite dipping sauce, and enjoy!
Notes
How to Reheat Waffle Fries in the Air Fryer:
1. Preheat your air fryer to 350 degrees.
2. Place your leftover waffle fries in the air fryer and cook for about 2 minutes, until warmed thoroughly.
Nutrition Information:
Yield:
4
Serving Size:
1
Amount Per Serving:
Calories:

423
Total Fat:

17g
Saturated Fat:

4g
Trans Fat:

0g
Unsaturated Fat:

12g
Cholesterol:

30mg
Sodium:

870mg
Carbohydrates:

60g
Fiber:

3g
Sugar:

5g
Protein:

9g
This nutrition information is based on the exact products I used in this recipe. Brands and sizes of products could alter exact nutrition and should always be calculated independently.