Frozen Sweet Potato Fries in the Air Fryer come out super crispy and faster than oven-baked ones. They're perfect dipped in your favorite sauce or even just ketchup.
My family loves to make homemade air fryer sweet potato fries (you can see that recipe here), but we always like to keep a bag of frozen Alexia sweet potato fries in the freezer.
They're for those days I just don't feel like cooking or need something healthy to add to our meal.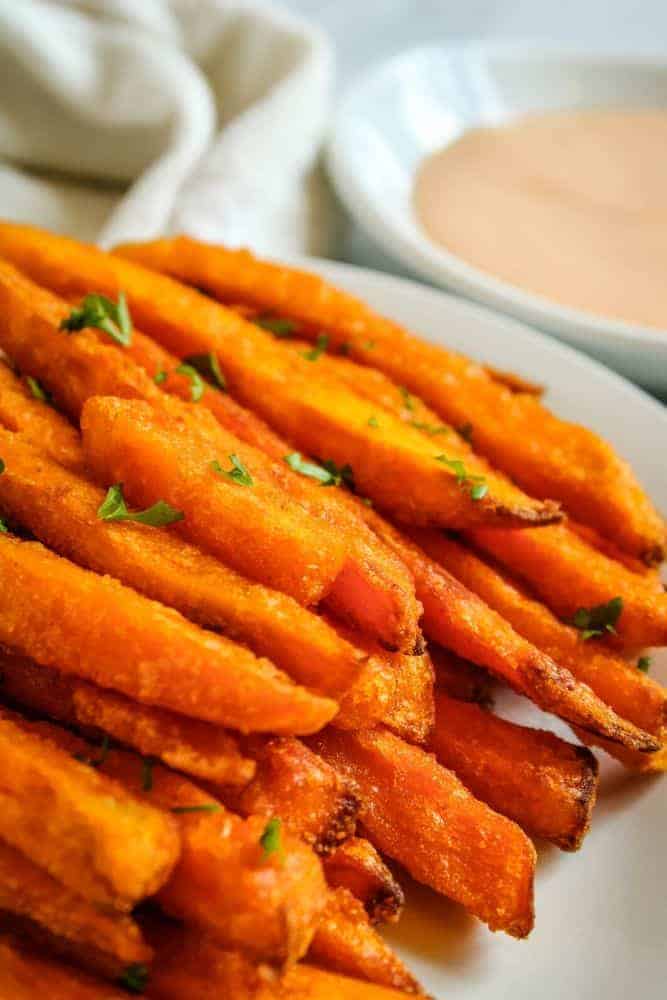 It's also a great side dish to add to a hot summer day of using the grill without having your oven heat up the entire house.
And if you're looking for a way to sweeten up this recipe, try upgrading these to our Air Fryer Sweet Potato Dessert Fries. You can make them with frozen fries too!
I made this recipe using the 5.8 QT Cosori Air Fryer. Its square basket makes it the perfect size for our family of 4.
The Rule of Thumb for Cooking Frozen Sweet Potato Fries in an Air Fryer
See below for specific air frying instructions.
Since each brand of sweet potato fries is cut differently (some are thin and straight while others are thick and crinkle-cut), they all can cook differently.
This includes Trader Joe's Sweet Potato Fries, Alexia Sweet Potato Fries, and even the Wegmans brand (I'm in the North East).
Take your package of sweet potato fries and look at the oven temperature. Decrease that temperature by 20-30 degrees and preheat your air fryer to that temperature.
So, if your directions on the bag say 425 degrees, preheat your air fryer to 400.
Next, look at the oven time. Take that amount and reduce it by half. This is when you should start looking at the sweet potato fries to see if they're done.
Specific Directions for Cooking Air Fryer Frozen Sweet Potato Fries
A full printable version of this recipe with ingredient measurements is available at the bottom of this post.
1. Preheat your air fryer to 400 degrees.
2. Place frozen sweet potato fries into the air fryer. You can stack them, but do not fill the basket more than halfway full.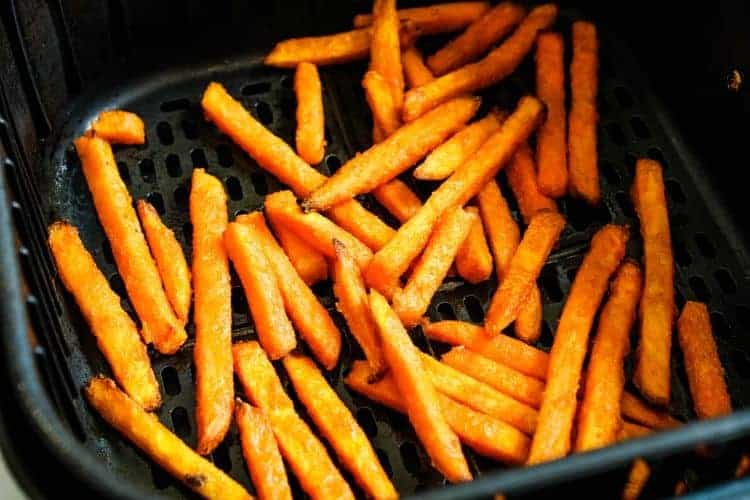 3. Cook the fries for 7-8 minutes, shaking the basket halfway through to allow for even cooking. You can use oil for misting if they look a little dry. This is dependent on the brand you are using.
4. Remove the sweet potato fries from the air fryer and add a pinch of sea salt if needed. Enjoy!

Try Out These Other Air Fryer Sweet Potato Recipes:
How Do I Reheat Sweet Potato Fries?
Nothing's worse than having crispy fries on day 1 just to microwave them the next day to create a floppy mess.
Reheating sweet potato fries in your air fryer will bring back the crispness from day one so they taste just as good.
Preheat your air fryer to 400 degrees and cook the fries inside for 2-3 minutes until they're hot.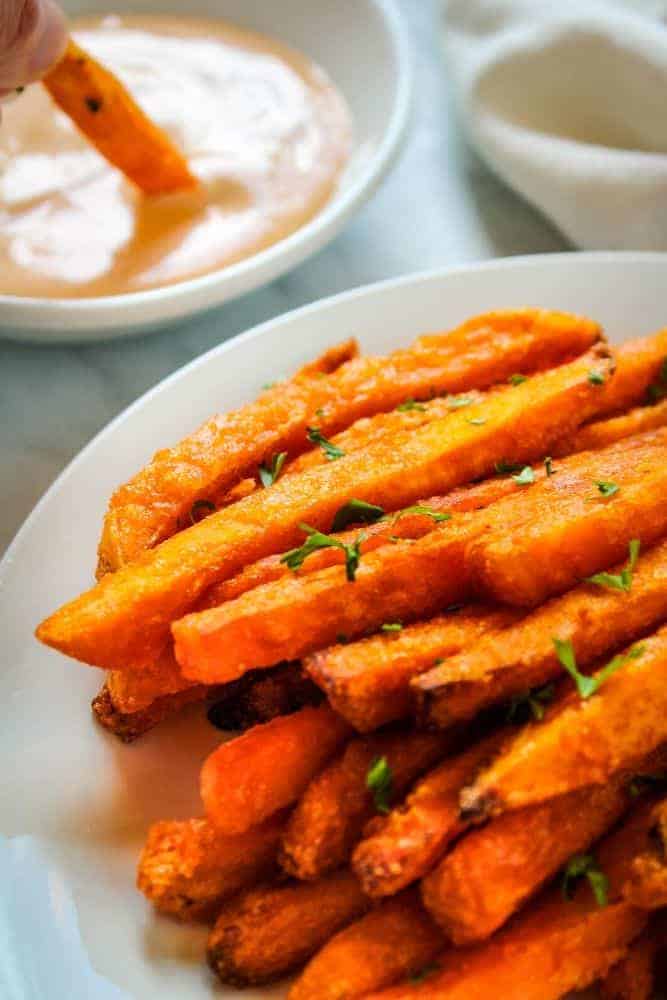 Are Frozen Sweet Potato Fries Good for You?
Sweet potato fries are a great healthier option to put on the table at dinner. They're loaded with nutrients. That transfers over to frozen sweet potatoes as well.
While frozen sweet potato fries are packaged in oils and salt, air frying them cuts down on the oil content compared to deep frying.
Can I Stack Frozen Food in the Air Fryer?
Yes! Frozen foods like these sweet potato fries, french fries, chicken tenders, and more can be stacked in the air fryer.
You can stack your air fryer up to the half-full point. Putting any more food in will cause an obstruction of airflow and your sweet potato fries will cook unevenly.
That means the top fries will be burnt while the bottom fries won't be cooked.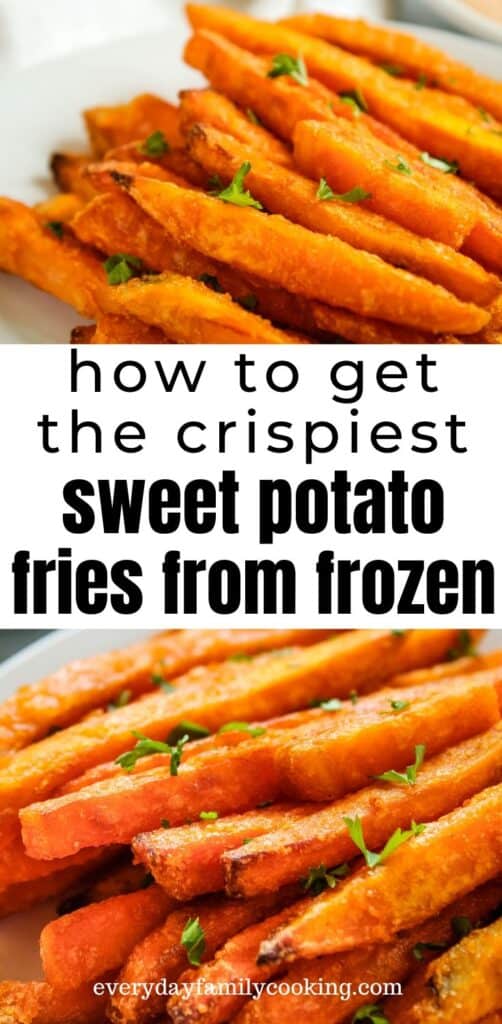 It's also important to shake your air fryer basket every 5 minutes or so to allow for even cooking when using stacked foods.
Looking for more frozen foods to air fry? Check out this list of the best air fryer recipes made from frozen!
Love air frying? Join our newsletter! You can also follow us on Facebook, Instagram, or join our free Facebook Air Frying Community.
Yield: 2 servings
Air Fryer Frozen Sweet Potato Fries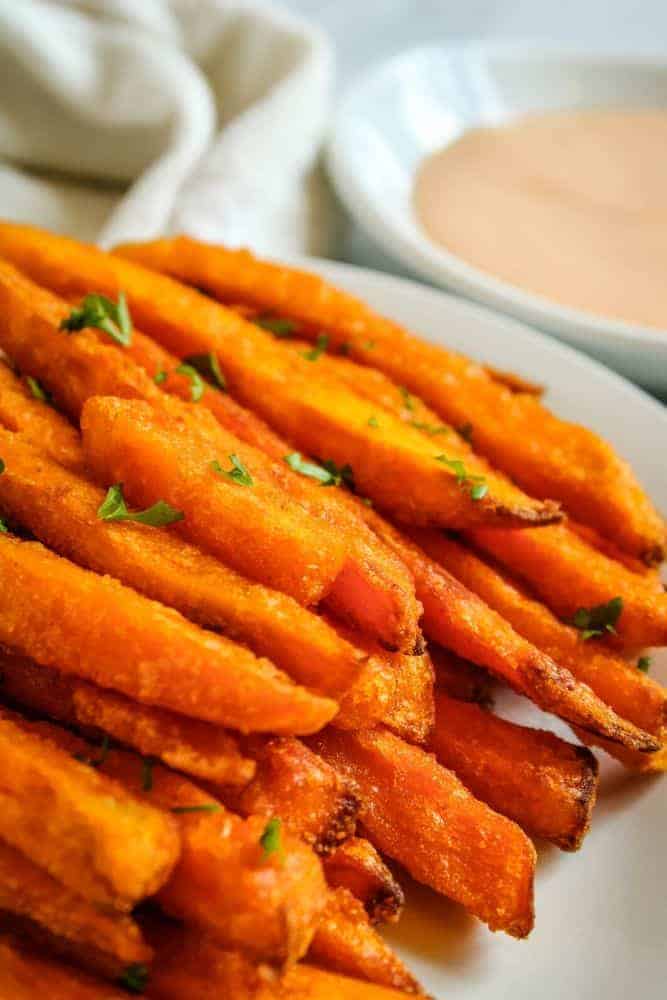 A simple way to make crispy sweet potato fries just by pulling them out of your freezer and putting them in your air fryer!
Ingredients
10 ounces frozen sweet potato fries
Optional
sea salt to taste
Oil for misting (if needed)
Instructions
Preheat air fryer to 400 degrees.
Place sweet potato fries into the air fryer and cook for 7-8 minutes shaking the basket halfway through. Add oil if needed.
Remove sweet potato fries from the air fryer. Add sea salt if desired and enjoy.
Notes
To reheat sweet potato fries in the air fryer:
1. Preheat air fryer to 400 degrees.
2. Cook sweet potato fries for 2-3 minutes.
3. Enjoy!
Nutrition Information:
Yield:
2
Serving Size:
1
Amount Per Serving:
Calories:

454
Total Fat:

35g
Saturated Fat:

3g
Trans Fat:

1g
Unsaturated Fat:

19g
Cholesterol:

0mg
Sodium:

564mg
Carbohydrates:

33g
Fiber:

4g
Sugar:

8g
Protein:

2g
This nutrition information is based on the exact products I used in this recipe. Brands and sizes of products could alter exact nutrition and should always be calculated independently.