We love grilling in the summer, but now that it's September, it's starting to get too cold to grill here in New York. I've turned to my air fryer to cook a lot of our grilling recipes and that's how these Air Fryer Hot Dogs were created.
Join our new FREE Air Fryer Facebook Community to gain access to exclusive recipes, tips, and content!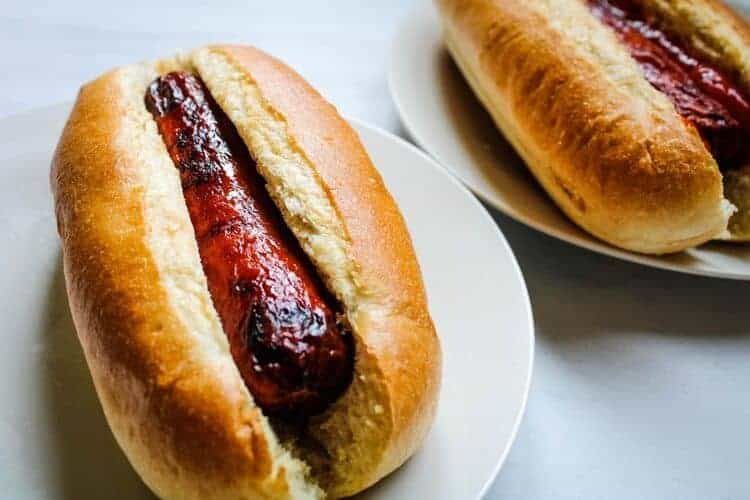 One of my husband's favorite things to grill is hot dogs. It's also a bonus that our 3-year-old toddler loves them too. We've tried making them in a pan on the stove, but they just don't have that same "grilled taste."
You know the one I'm talking about – from a gas grill, not charcoal.
I personally love this recipe because the hot dogs take 5 minutes to cook. Pair this with baked beans, and a frozen vegetable, and you can have dinner on the table in less than 10 minutes!
Of course, if you have more time, you can pair these with Crispy Air Fryer French Fries, Air Fryer Sweet Potato Fries, or even Air Fryer Roasted Carrots.
Looking for another grilling recipe to make in the air fryer? Try these hamburgers in the air fryer, air fryer bratwurst, or even this BBQ chicken recipe!
How to Cook Air Fryer Hot Dogs
Start by preheating your air fryer to 400 degrees. Think of it like preheating a grill. It only takes a few minutes.
Once preheated, place each hot dog inside the air fryer in one even layer. Do not crowd the air fryer as this recipe works best with more air movement throughout the machine.
If you have a smaller air fryer and need to cook extra hot dogs, you can cook in batches. This recipe is so quick that it's worth it.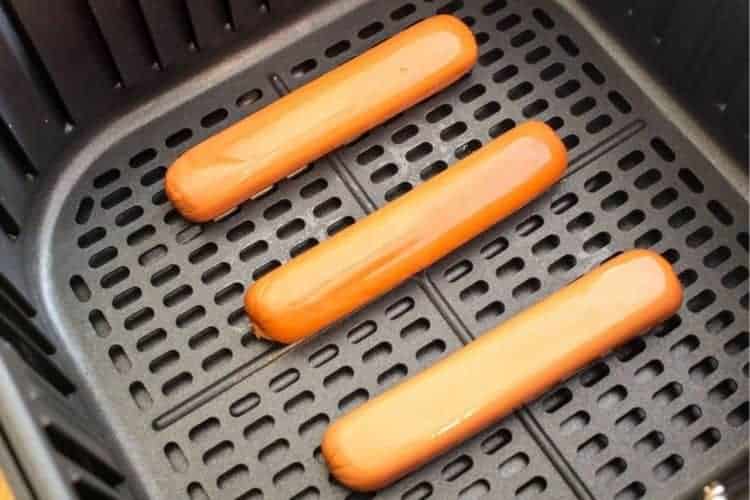 Cook the Air Fryer Hot Dogs for 4 minutes, moving the basket halfway through to rotate them, just like you would on a grill. If they don't move by slightly tipping the basket, you can use some tongs.
This recipe is for skinnier hot dogs, like Ball Park or Nathan's hot dogs. If you are cooking a thicker variety, like our local Zwiegles hot dogs, they may need an extra minute or two to heat thoroughly.
While the hot dogs are cooking, slice each hot dog bun down the middle if they are not already sliced.
Remove the hot dogs from the air fryer and place each one into a hot dog bun.
Place the hot dogs with their buns back inside the air fryer and cook on 400 degrees for 1-2 additional minutes.
This allows your bun to get toasted, which is a nice added touch when eating hot dogs!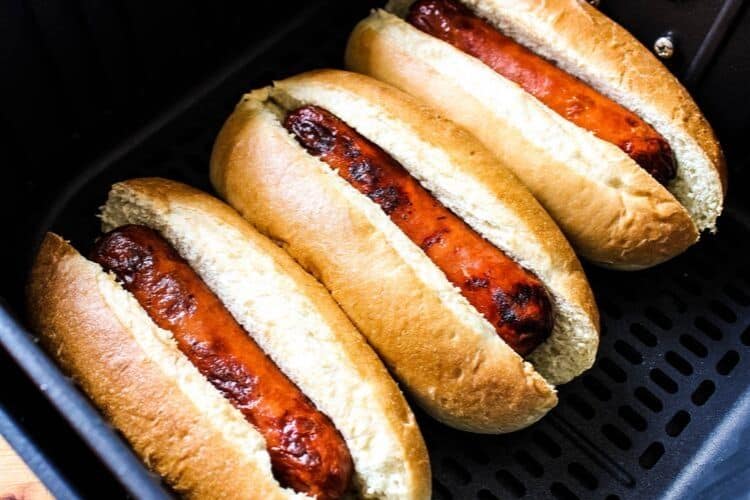 How Do You Preheat Your Air Fryer?
The one question I get constantly is do I need to preheat an air fryer? You can always cook your food without preheating an air fryer, but it may not cook at its best. Here's why.
Air fryers already tend to cook at different speeds depending on what wattage they are. The Power Air Fryer Oven and Power Air Fryer XL are 1700 watts while the basic Ninja Foodi is 1400 watts.
The higher the wattage, the faster the food will cook.
Now, when you add in another variable, such as how fast the air fryer can cook, your times can be completely off.
This can be why when you cook online recipes, they might turn out a little more burnt or not as cooked as you would expect.
I currently cook my air fryer recipes in my Cosori Air Fryer, which is 1700 watts.
To preheat your air fryer, simply turn it to the temperature you need and let it cook empty for 3-5 minutes. The bigger the air fryer, the longer it will take to preheat.
I let my Cosori Air Fryer (5.8 quarts) preheat for about 5 minutes.
Can I Put Foil in an Air Fryer with This Recipe?
Aluminum foil and air fryer parchment paper rounds are completely safe to use in an air fryer as long as you always have food weighing them down.
While you can use aluminum foil in this recipe, the foil stops the air from flowing all around the hot dogs.
Your Air Fryer Hot Dogs may need more time to cook (an extra minute or two at most) and may need to be rotating more than once to cook evenly.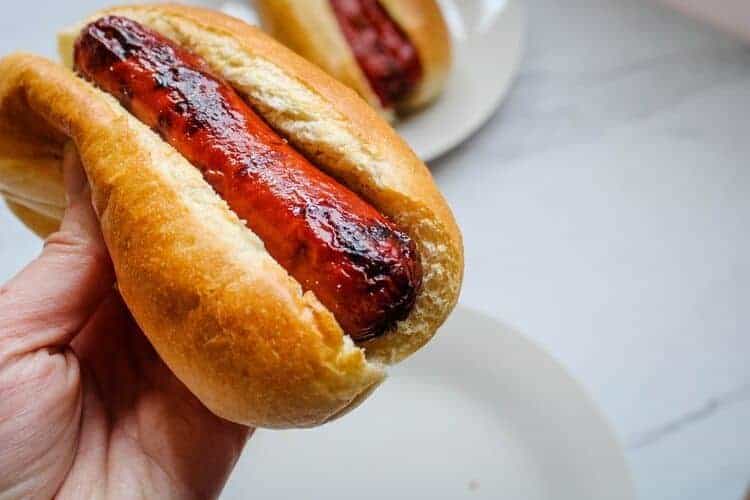 Can You Cook Frozen Hot Dogs in an Air Fryer?
I cannot tell you how many times I decide we're having hot dogs for dinner, buy the hot dog buns at the store, and our hot dogs are still frozen.
Turns out you can air fry frozen meats, like frozen hot dogs.
Remove the hot dogs from the freezer and use a knife to slice 3-5 little slits on top of each hot dog. This ensures the hot dog will not burst open when air frying from frozen.
Place frozen hot dogs inside the air fryer and cook on 350 degrees for 7-8 minutes.
Remove the Air Fryer Hot Dogs and enjoy immediately or toast roll in the air fryer with directions above.
If you have a few extra minutes and access to a microwave, I recommend microwaving the frozen hot dogs for 30 seconds to 1 minute on the defrost option.
That is completely optional but will allow for a more even cooking result.
How to Freeze Your Hot Dogs So They Don't Stick Together
When freezing your newly bough hot dogs, you'll want to make sure they don't stick together. This can be accomplished by placing the hot dogs 1 inch apart on top of a baking sheet covered with parchment paper.
Let freeze for 1-2 hours then place in a freezer-proof bag.
This allows you to take the exact number you want out of the freezer, so you can buy a family pack to save money if wanted.

Other Recipes You'll Love:
Yield: 4 servings
Air Fryer Hot Dogs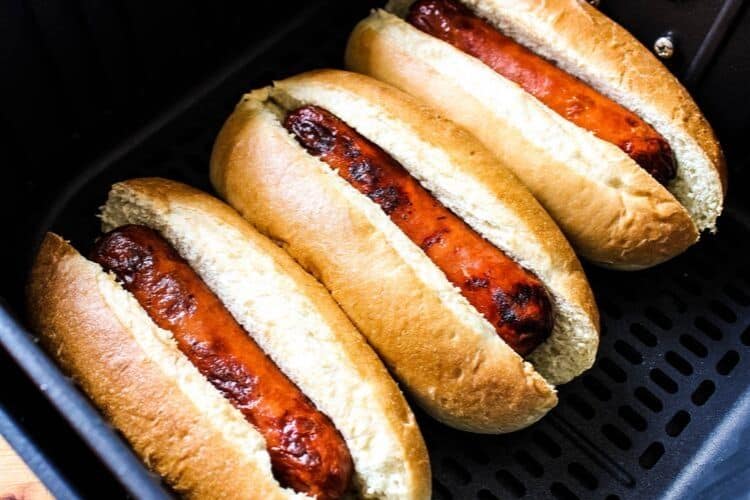 An easy way to cook hot dogs without a grill. Can be cooked from fresh or frozen.
Ingredients
4 hot dogs
4 hot dog buns, sliced down the middle
Instructions
Preheat air fryer to 400 degrees.
Cook hot dogs for 4 minutes until cooked, moving basket once halfway through to rotate them.
Place hot dogs into hot dog buns.
Cook hot dogs in buns an additional 1-2 minutes, still at 400 degrees.
Enjoy immediately.
Notes
To air fry frozen hot dogs:
Preheat air fryer to 350 degrees
Microwave hot dogs for 30 seconds - 1 minute on defrost (optional)
Cook on 350 for 7-8 minutes until hot dog is heated thoroughly
Nutrition Information:
Yield:
4
Serving Size:
1
Amount Per Serving:
Calories:

300
Total Fat:

16g
Saturated Fat:

6g
Trans Fat:

0g
Unsaturated Fat:

8g
Cholesterol:

28mg
Sodium:

666mg
Carbohydrates:

27g
Fiber:

1g
Sugar:

4g
Protein:

11g
This nutrition information is based on the exact products I used in this recipe. Brands and sizes of products could alter exact nutrition and should always be calculated independently.