This Instant Pot Potato Salad tastes just like the classic side dish, but comes together so much faster thanks to the Instant Pot.
If you've ever wondered how to make Instant Pot potatoes for the perfect potato salad, I'm here to show you how easy it is.
The Instant Pot is a much faster way to cook potatoes, so you can whip up this classic dish in a fraction of the time.
In this post, I will share what type of potato is best for this Instant Pot recipe, how to make a super creamy Instant Pot Potato Salad, and how you can cook the eggs at the same time in the same pot as the potatoes!
Whether you're whipping this up for a summer picnic or just want a yummy side dish that everyone will enjoy, you're going to love how easy it is to make these Instant Pot potatoes.
I made this recipe using my Instant Pot 6-Quart Duo Nova. It's the perfect size for my family of four and makes releasing the steam so much easier than the standard Instant Pot.
How To Make Instant Pot Potatoes for Potato Salad
A full printable version of this recipe with ingredient measurements is available at the bottom of this post.
Peel the potatoes, then chop them into 1-2 inch cubes.
Place the potatoes in the instant pot, then add enough water to cover the potatoes.

You want to make sure they're fully covered in order to pressure cook them directly. You'll drain them later, so don't worry about the salad getting soggy! Next, add salt.
Place the eggs in the instant pot on top of potatoes, then close the lid. Make sure the pressure valve is set to close.
Set the instant pot to pressure cook for zero minutes on high pressure.
Chop the onion to your desired size. Anywhere from a rough chop to a fine mince works depending on your preference. If you want to chop them faster, you can use an onion chopper.
Once the Instant Pot is done cooking, safely quick release the pressure by opening the pressure value using a towel or hot pad to absorb the steam (directions below).
Remove the eggs and soak them in ice water to stop the cooking process. Once they've cooled for a few minutes, peel and chop the eggs.
Drain all the water from the cubed potatoes, then place them back in the instant pot.
Add the onions, eggs, mayonnaise, and remaining seasonings to the potatoes.
Mix until the potato salad is well-combined and enjoy!
How Can This Instant Pot Potato Recipe Cook for 0 Minutes?
Pressure cookers work by bringing the food and liquid inside up to pressure, keeping the pressure, then releasing it.
This means that even though you may put zero minutes on the digital screen, this potato salad is cooking the entire time it is coming up to pressure — which will take about 10 minutes to do.
It works the same way as when you natural release something. The food is still cooking in that entire time the pressure is releasing.
That's why it's so important to quick release recipes like this Instant Pot Potato Salad or Macaroni and Cheese recipe to ensure the food does not overcook and get mushy.
What Kind Of Potatoes Work Best For Instant Pot Potato Salad?
Potato salads are meant to be soft and creamy, so you want a potato that won't be too crunchy or starchy.
My favorite option is to use Yukon Gold potatoes. They have a buttery texture that works perfectly in the potato salad.
You can also use red potatoes or Russet potatoes instead.
How Do I Quick Release My Instant Pot Safely?
There are two ways you can release the pressure in an Instant Pot. First, you can wait for it to go down on its own over time, which is called a natural release.

Second, you can immediately remove the pressure from the Instant Pot by opening the vent. This is a quick release and used for this specific recipe.
To do this safely, I recommend using an long oven mitt or heat resistant glove to switch the valve to venting. You can expect it to release a lot of steam, so be careful not to burn your arm or hand.
Make sure there's enough room above the pressure cooker to release the steam. For example, I turn my Instant Pot around so the valve isn't directly under my cabinets.
If the valve starts to spray water, close it back up for 15 to 20 seconds, then try the quick release again. Keep doing this until it no longer sprays.
Can I Cover The Vent With Something To Trap The Steam?
No. While it's tempting to cover the vent with something to keep the steam from getting everywhere, it is not safe. You want to let the valve release the steam without anything blocking it.
If the valve starts spraying a liquid along with the steam, try closing it for 30 seconds or so, then releasing it again.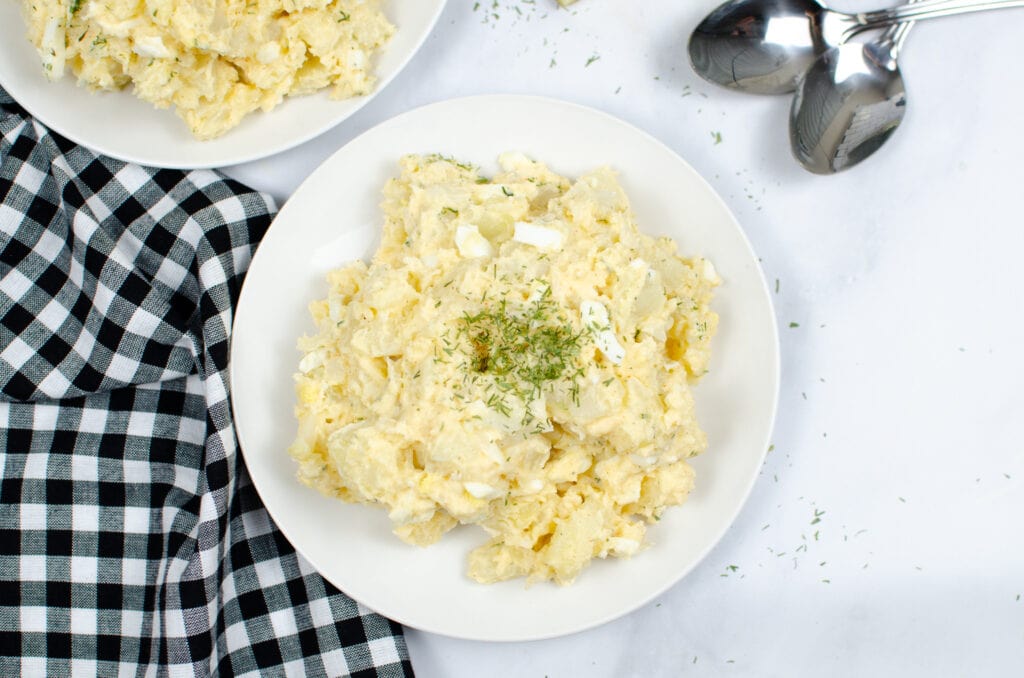 Tips For Cooking And Serving Instant Pot Potato Salad
As you can see, the Instant Pot does a lot of the work for you in this recipe. It's so convenient to be able to cook the potatoes and the eggs at the same time.
The key to cooking the potatoes is to make sure they are fully covered with water. This allows them to pressure cook directly.
You'll drain the potatoes after they're done cooking, so you don't worry about your potato salad being too watery.
Once you've mixed everything together for your potato salad, you can serve it right away or store it covered in the refrigerator for up to 3 days.
Because the recipe includes mayo, don't leave it sitting out at room temperature for too long.
Can I Half This Instant Pot Potato Salad Recipe?
Yes! This recipe can be completely halved to feed a smaller family.
Just use half the required amount of each ingredient, including the potatoes and use the same cook time.
Other Instant Pot Recipes You'll Love:
Love using your Instant Pot or Air Frying? Join our newsletter! You can also follow us on Facebook, Instagram, or join our free Facebook Air Frying Community.
Yield: 10 servings
Instant Pot Potato Salad
A creamy Instant Pot take on potato salad that can be made all in one pot!
Additional Time
20 minutes
Ingredients
8 potatoes, peeled and cut into 1-2 inch cubes
4 cups water
1 tablespoon salt
4 eggs
1/2 white onion, diced (about 1/2 cup)
1 1/2 cups mayonnaise
2 tablespoons dill
1 tablespoon mustard
1 teaspoon paprika
1/2 teaspoon pepper
Instructions
Place cubed potatoes into the bottom of the Instant Pot and add enough water to cover the potatoes, about 4 cups.
Add in the salt, then place the eggs inside the Instant Pot right on top of the potatoes and water.
Close the lid and turn the Instant Pot to high pressure for 0 minutes. The potatoes and eggs will cook as the Instant Pot comes to pressure and are done once it officially gets to full pressure.
Once cooking is complete, safely quick release the pressure in your Instant Pot (use the directions above on how to do this).
Remove the eggs and place them in a bath of ice water for at least 5 minutes then peel and cube them.
Drain the potatoes from the water and place back into the Instant Pot.
Add the chopped onions, chopped eggs, mayonnaise, dill, mustard, paprika, and pepper to Instant Pot and use a big spoon to mix well.
Remove from Instant Pot and enjoy immediately or store inside the fridge for up to 3 days!
Nutrition Information:
Yield:
10
Serving Size:
1
Amount Per Serving:
Calories:

389
Total Fat:

27g
Saturated Fat:

5g
Trans Fat:

0g
Unsaturated Fat:

22g
Cholesterol:

88mg
Sodium:

908mg
Carbohydrates:

31g
Fiber:

3g
Sugar:

2g
Protein:

7g
This nutrition information is based on the exact products I used in this recipe. Brands and sizes of products could alter exact nutrition and should always be calculated independently.