This quick and simple broccoli salad recipe is a classic barbecue and picnic side dish! Filled with fresh ingredients and featuring a homemade dressing, it only takes about 15 minutes to prepare.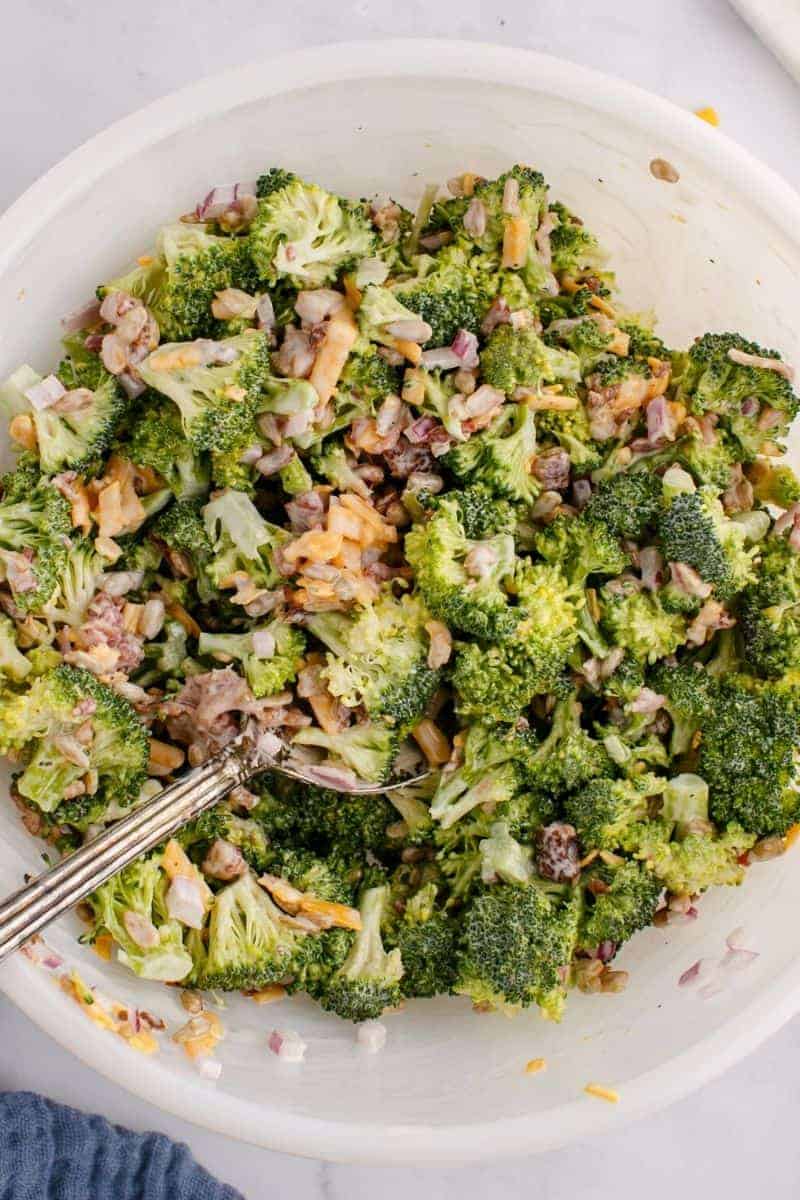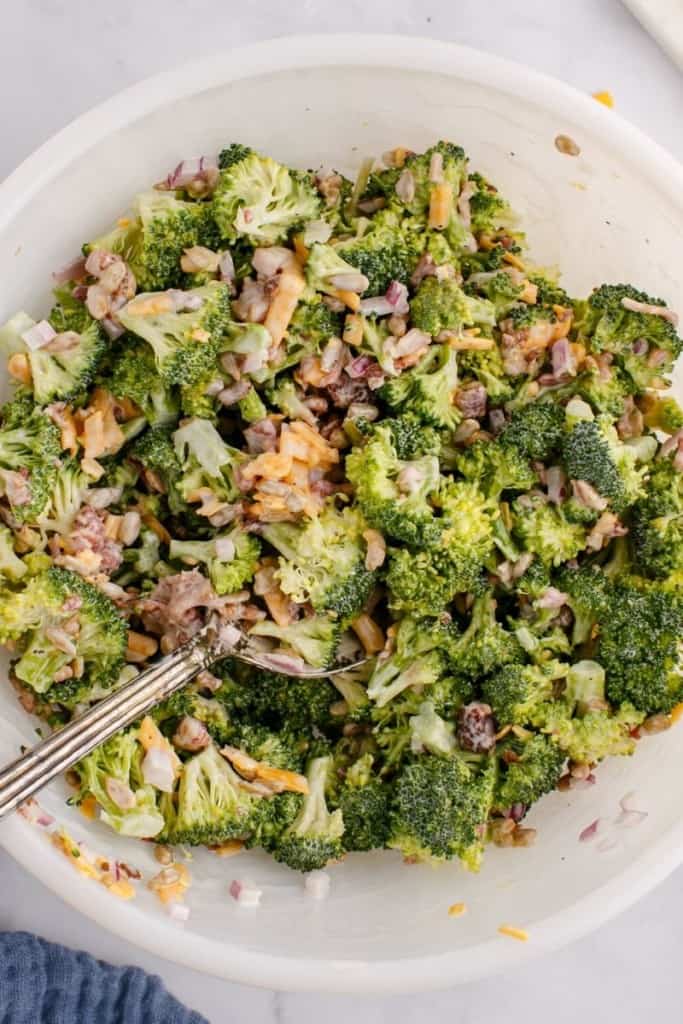 When I get invited to an event and am tasked with bringing along something to eat, I immediately get excited to start playing around in my kitchen. I know that this isn't the case with everyone — there are some people who immediately panic at the thought of bringing something to a get-together!
If you're all out of ideas, you don't need to freak out! I've got the perfect recipe for you. My broccoli salad is filled with veggies, cheese, and even a little bit of bacon. I love the addition of a bit of salt alongside the honey-sweetened dressing I include in this recipe. The flavors really balance each other out for perfect results.
It also comes together in under 15 minutes and can easily be doubled or tripled. This can really come in handy if you're going to a larger party!
Whether you enjoy it at home with your family or with friends and loved ones at a picnic, this is one easy broccoli and bacon salad recipe you won't want to lose.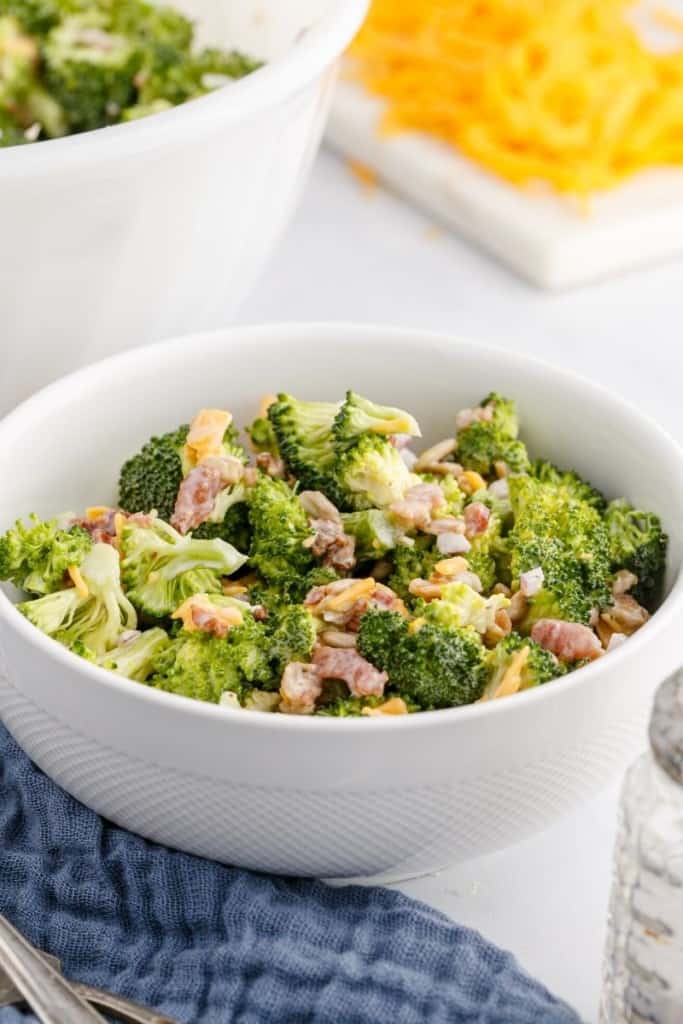 Here's what I'm going to teach you in this post:
The ingredients you need to prepare my cold broccoli salad and homemade dressing. This recipe also makes for a great cold lunch!
Everything you need to know about making this easy side dish for your upcoming picnics or barbecues.
The answers to some frequently asked questions that tend to come up when preparing this light and refreshing broccoli salad.
You'll never fear bringing a side dish to a party again once you learn how to make my broccoli and bacon salad! Find the simple steps below.
How to Make Broccoli Salad
A full printable version of this recipe with ingredient measurements is available at the bottom of this post.
STEP ONE: Place the mayonnaise, apple cider vinegar, honey, salt, and pepper together in a small bowl and whisk until well combined. Set the dressing aside — you'll need it later.
STEP TWO: Add the broccoli, bacon bits, cheddar cheese, sunflower seeds, and red onion to a large bowl. Pour in the dressing and mix well.
You can use bacon bits or crumbled bacon for this recipe. I love to make crispy bacon in the air fryer and use it!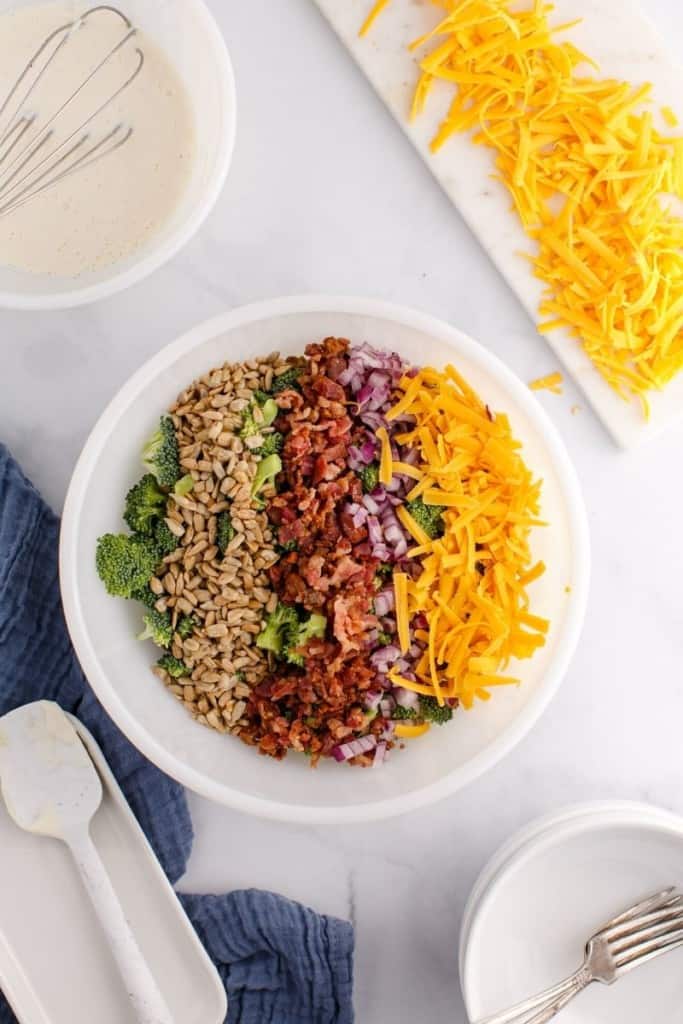 STEP THREE: Keep your broccoli and bacon salad in the fridge until you're ready to serve. They don't call it a cold broccoli salad for nothing!
Do I Need to Blanch My Broccoli?
Many recipes that call for raw broccoli will encourage you to blanch the veggies first. That said, it's totally optional!
If you would like to blanch yours before you add them to my broccoli and bacon salad, you need to bring a pot of salted water to a boil. Add the broccoli and allow it to cook for 1 minute. Drain and rinse immediately in cold water. Dry, then assemble the rest of your cold broccoli salad!
How Can I Lighten Up the Broccoli Salad?
This salad is very light as is, but you can make a few adjustments to lighten it up even more. Opt for light mayonnaise instead of full-fat in your dressing and try a mild cheddar cheese.
You can ditch the bacon too — which would make this broccoli salad recipe vegetarian! If you want to add some tart freshness, include some dried cranberries.
How Long Does Broccoli Last in the Fridge?
When properly stored, raw broccoli will keep for 3 to 5 days in the fridge. That said, when you cut it, it loses a lot of its freshness and will go bad much more quickly.
If you have any leftover broccoli salad, put it in an airtight container and then place it in the refrigerator. It will keep for about 2 days. I like this salad best when eaten fresh, but you could totally prep it the day before you plan on eating! The ability to make ahead makes this dish is even more perfect for picnics, barbecues, and cold lunches.
Is Eating Raw Broccoli Good For You?
I'm certainly no health expert, and you should always talk to your doctor about the best foods for your body and lifestyle. But, broccoli is a part of the dark leafy green vegetable group which is famously nutrient-dense! It's a good and healthy food choice whether you decide to enjoy it cooked or raw.
My cold broccoli salad features raw broccoli, so it's a great option if you're focused on getting in your five-a-day.
Other Party Food Recipes You'll Love: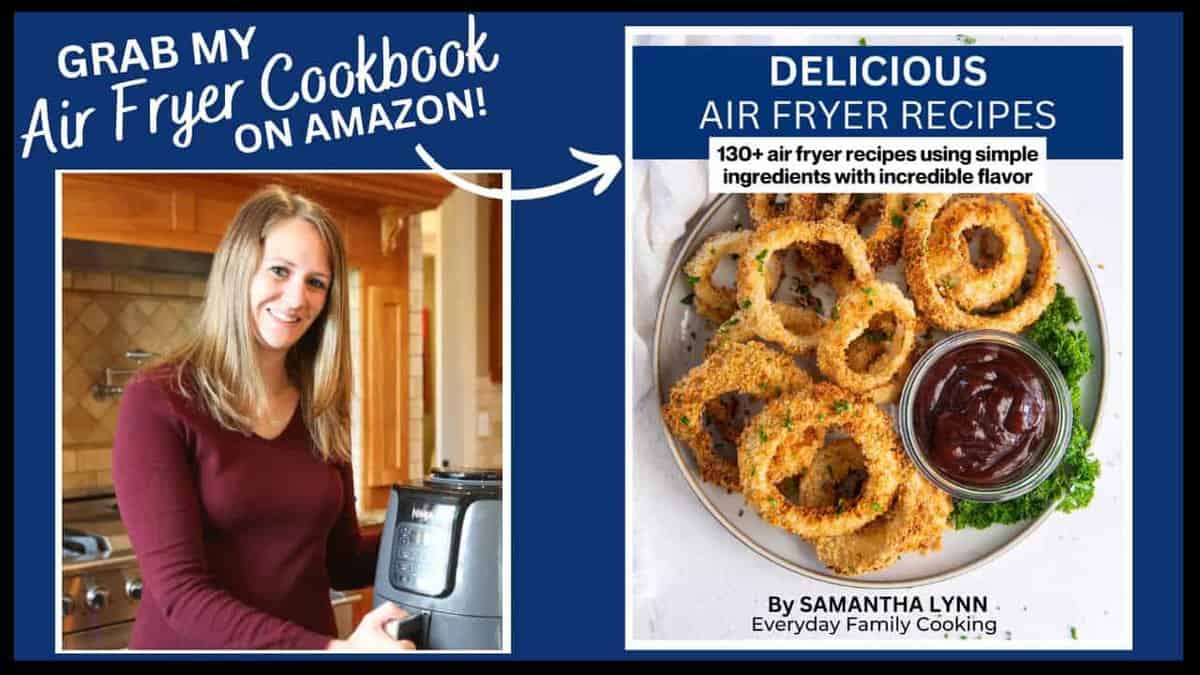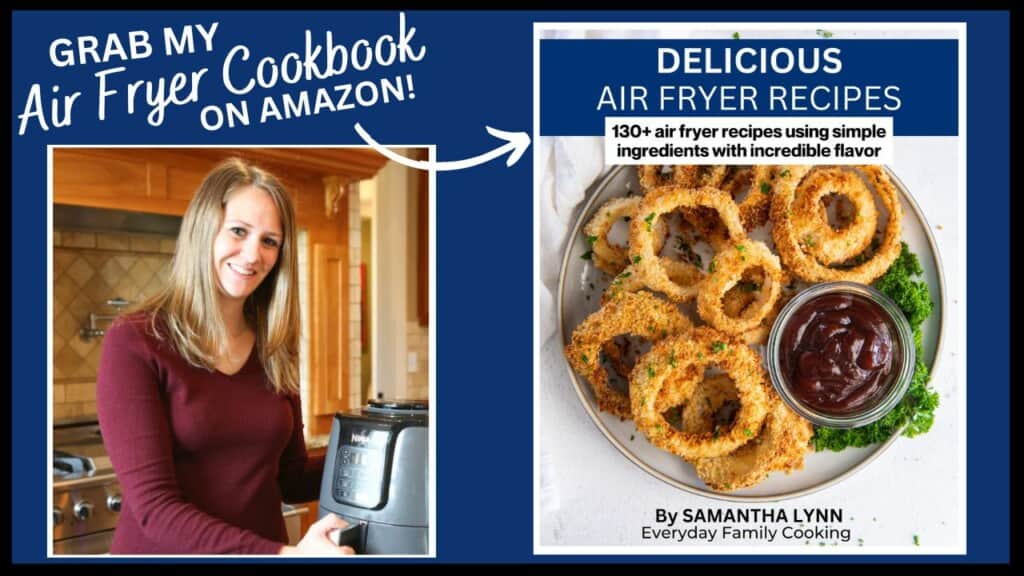 Yield: 6 servings
Broccoli Salad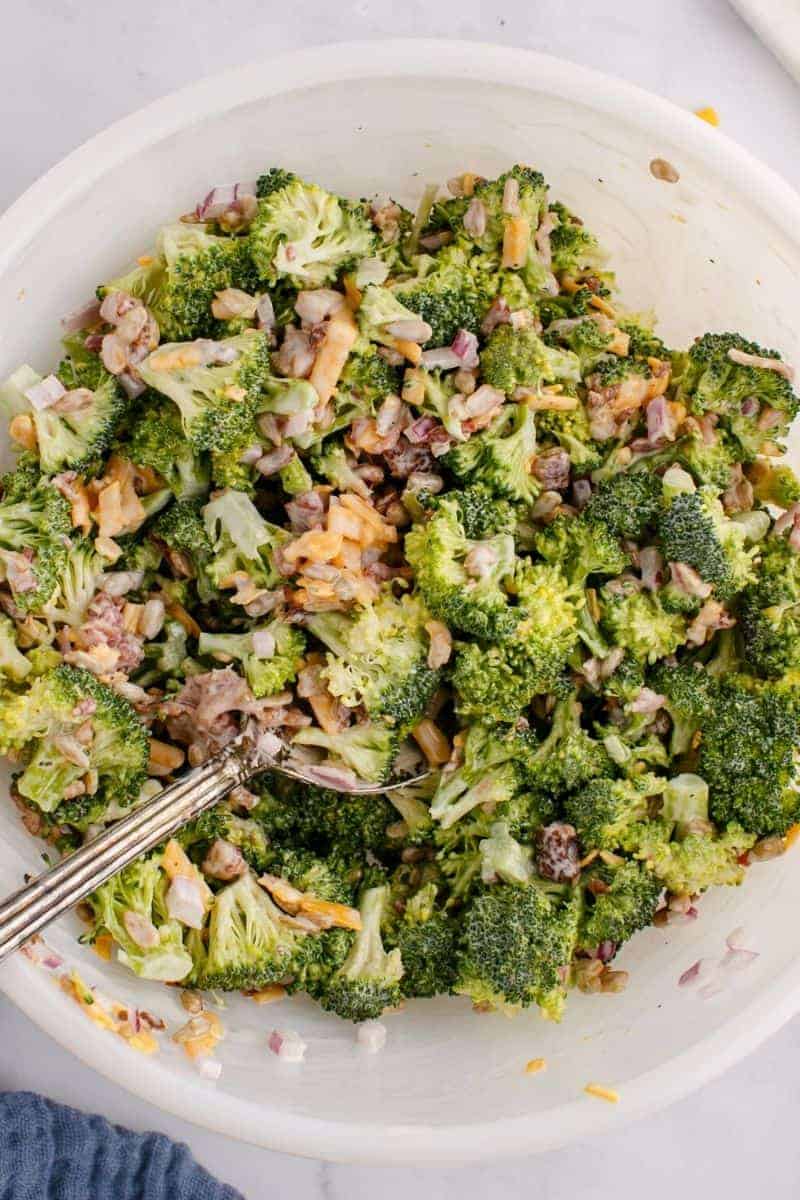 This quick and simple broccoli salad recipe is filled with fresh ingredients with a homemade dressing, and only takes 15 minutes to prepare.
Ingredients
Dressing Ingredients
¾ cup mayonnaise (I used full fat)
3 tablespoons apple cider vinegar
1 tablespoon honey
½ teaspoon salt and pepper, or more to taste
Salad Ingredients
6 cups broccoli pieces, chopped into bite-sized pieces
⅔ cup bacon bits or crumbled bacon
½ cup cheddar cheese, shredded
⅓ cup sunflower seeds
¼ cup red onion, finely chopped
Instructions
In a small bowl whisk together the mayonnaise, apple cider vinegar, honey, salt, and pepper until well mixed and set aside.
In a large bowl add the broccoli florets, bacon bits, cheddar cheese, sunflower seeds, and red onion then pour dressing on top and mix well.
Keep in the fridge until serving.
Nutrition Information:
Yield:
6
Serving Size:
1
Amount Per Serving:
Calories:

421
Total Fat:

33g
Saturated Fat:

7g
Trans Fat:

0g
Unsaturated Fat:

25g
Cholesterol:

27mg
Sodium:

1140mg
Carbohydrates:

20g
Fiber:

7g
Sugar:

6g
Protein:

14g
This nutrition information is based on the exact products I used in this recipe. Brands and sizes of products could alter exact nutrition and should always be calculated independently.