A delicious and easy way to prepare brats in the air fryer and still get the perfect grilled taste. Bratwurst will never be the same!
Brats are an amazing dish to enjoy in the summer with friends and family. It pairs right up there with hot dogs and hamburgers when cooking on the grill.
Turns out, they are just as tasty in the air fryer. Plus, you can cook them up whenever you want indoors from fresh or frozen!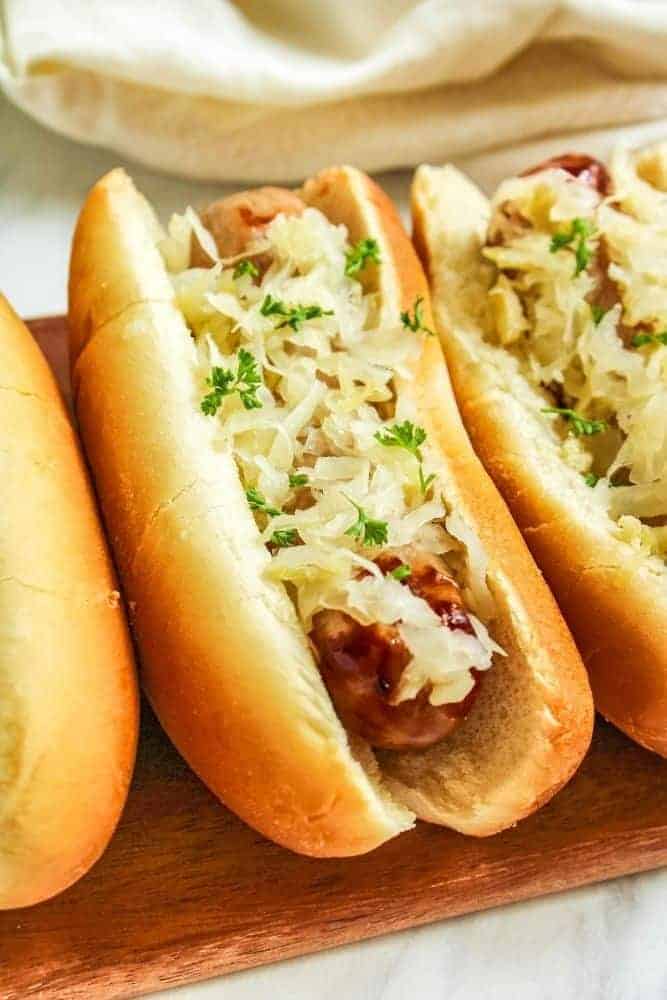 If you're looking for more summer air fryer recipes to cook up, check out this incredible list!
I'm going to go over what exactly brats are, why you should cook bratwurst in an air fryer, how to cook them, what they can be served and topped with, and how to cook frozen brats in an air fryer.
This recipe is for raw air fryer brats. See below on how to reheat brats in the air fryer for directions on how to cook already cooked brats.
What is Bratwurst?
Bratwurst is similar to a large sausage link but is typically made with pork (but may be made with veal). It originated from Germany and is typically seasoned with ginger, nutmeg, coriander, or caraway spices.
Bratwurst can come in all sorts of flavors. Johnsonville even has cheddar and beer brat varieties. They're absolutely delicious on a bun and can be topped with plenty of different toppings (you can read more about those below).
Confused about what the difference between sausage and brats is? Check out this helpful article that explains the full differences.
Why You Should Cook Brats in an Air Fryer
They taste just like they came off the grill.
You can cook them any time of year, no matter what the weather is.
They take just minutes to make!
You can toast the buns to get a nice crispy texture.
How to Cook Air Fryer Brats
It's insanely easy to air fry brats to perfection. Just follow these cooking directions to get them to your juicy liking.
Preheat air fryer to 370 degrees. All air fryers are made differently, so preheating ensures food is evenly cooked correctly following this recipe.
Place a piece of bread underneath your air fryer basket then reattach your air fryer (read more on why below).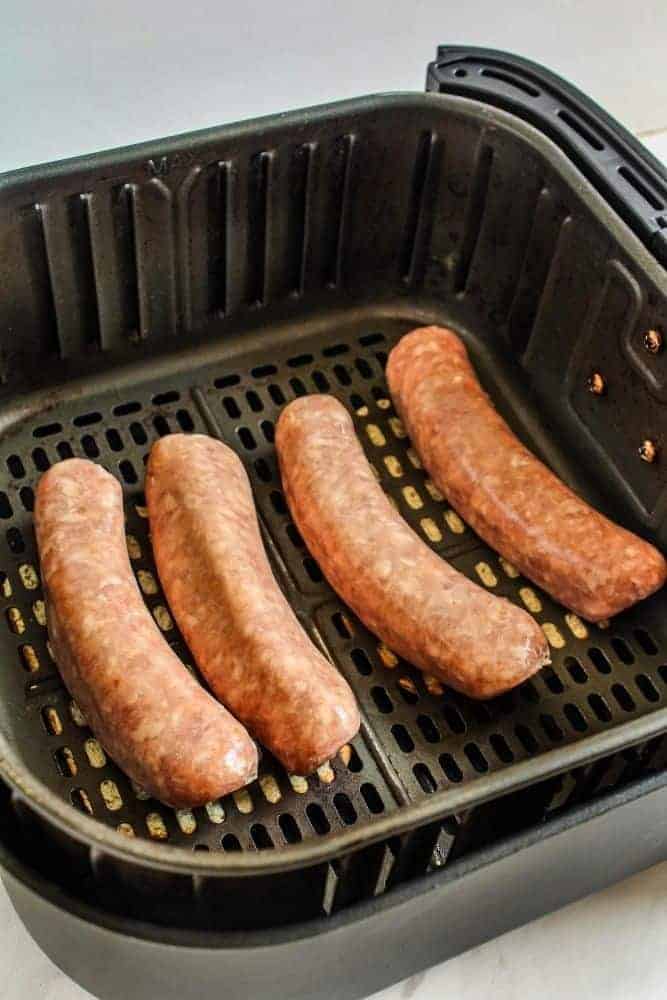 Place brats in your air fryer side by side and cook for about 8-10 minutes, turning basket halfway through.
Check the brats with an instant-read thermometer (I like the Kizen Instant Read Thermometer) and they are cooked fully when they reach 160 degrees internally.

Be careful when checking their temperature. Brats are very fatty meat and the fat can ooze upward when piercing it.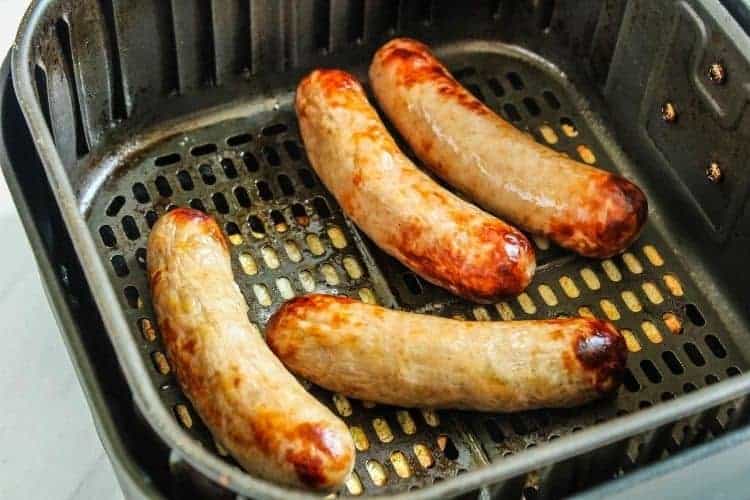 Remove brats from air fryer and cook rolls for 1-2 minutes, until crispy
Shut the air fryer off completely, add the brats, sauerkraut, and swiss cheese to the rolls inside the air fryer and close the air fryer for 1 minute.

This allows for the cheese to melt with the residual heat.
Why Do I Need to Put a Piece of Bread Under My Air Fryer Basket?
Using a slice of bread is a neat trick when cooking fatty foods such as Air Fryer Hamburgers, Air Fryer Bacon, or these air fryer brats.
Why?
An air fryer creates a 360-motion fan when cooking. That means any grease or fat that comes out of the food, will go down under the basket holes and then fly up and hit the fan and heating coils.
It not only can create a huge mess; it can make your air fryer smoke.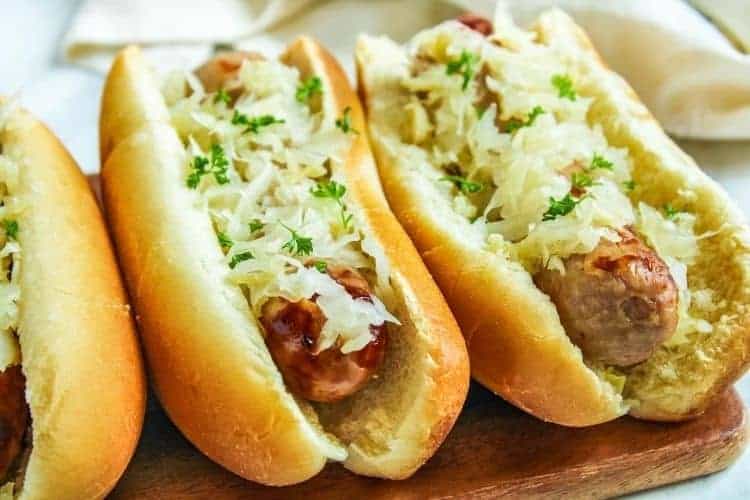 Using a piece of bread acts like a sponge and absorbs all the fat that drips down beneath the basket. This way no fat will fly to the fan and cause smoking.
Simply place 1-2 pieces of bread underneath the basket into the air fryer drawer. You may need to push down the bread to allow your air fryer basket to sit properly inside the drawer.
This is the way I personally do when air frying fatty foods. I have never had any issues with smoking since implementing this technique.

Related Air Fryer Recipes:
How to Cook Frozen Brats in an Air Fryer
It happens all the time. I plan for dinner and even buy our nice sausage rolls, but then I forget to take the bratwurst out of the freezer.
There's no need to thaw the meat before cooking (just like these air fryer hot dogs from frozen).
You just take them out of the freezer and cook!
Here's how to cook air fryer frozen brats:
Preheat your air fryer to 350 degrees.
Place frozen brats inside the air fryer and cook for 13-15 minutes, turning halfway, until cooked internally to 160 degrees.
Remove brats from the air fryer and finish the recipe as stated below!
NOTE: Raw brats typically stick together when frozen. If you know you will need to cook them straight from frozen, place the raw brats on a baking sheet with parchment paper and wrap in plastic wrap.

Let freeze for one hour then transfer to a freezer bag. This will stop them from sticking together and works great for other foods too.
How to Reheat Brats Using an Air Fryer
Since I work from home with the kids all day, reheating foods in an air fryer has become second nature to me. You can reheat everything from pizza to steak in there!
These directions will also work when using pre-cooked Johnsonville brats.
Preheat air fryer to 350 degrees.
Place bratwurst in the air fryer with a piece of bread underneath (they're still super juicy!).
Cook for 3-5 minutes until warmed thoroughly. Since they are already pre-cooked, they do not need to get to the full 160 degrees internal temperature.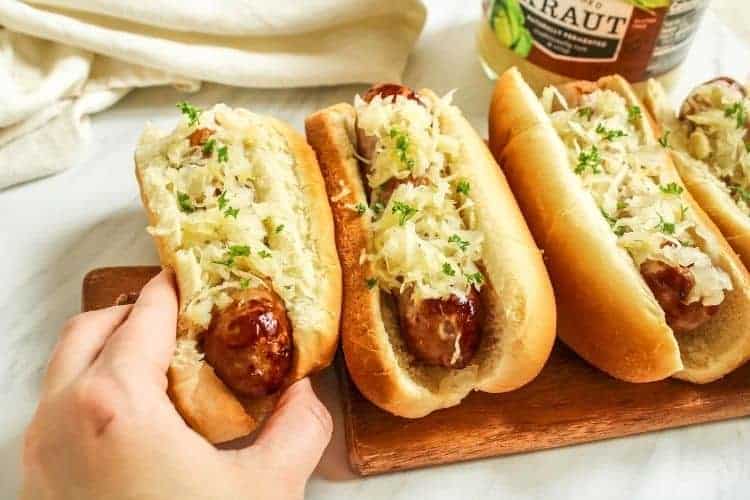 What Can You Top Brats With?
While I love to top them with a little sauerkraut and Swiss cheese, here are some other ideas:
Peppers and Onions
Ketchup and Mustard
Relish and Diced Onions
Cheese curds
Pineapple and BBQ sauce
Jalapenos and Bacon Bits (you can even use Air Fryer Bacon to create the bacon bits!
Buffalo sauce and blue cheese
Potato chips and ketchup
What Sides Can I Serve with Brats?
Bratwurst is a perfect grilling food, so why not pair it with some BBQ favorites?
Yield: 2 servings
Air Fryer Brats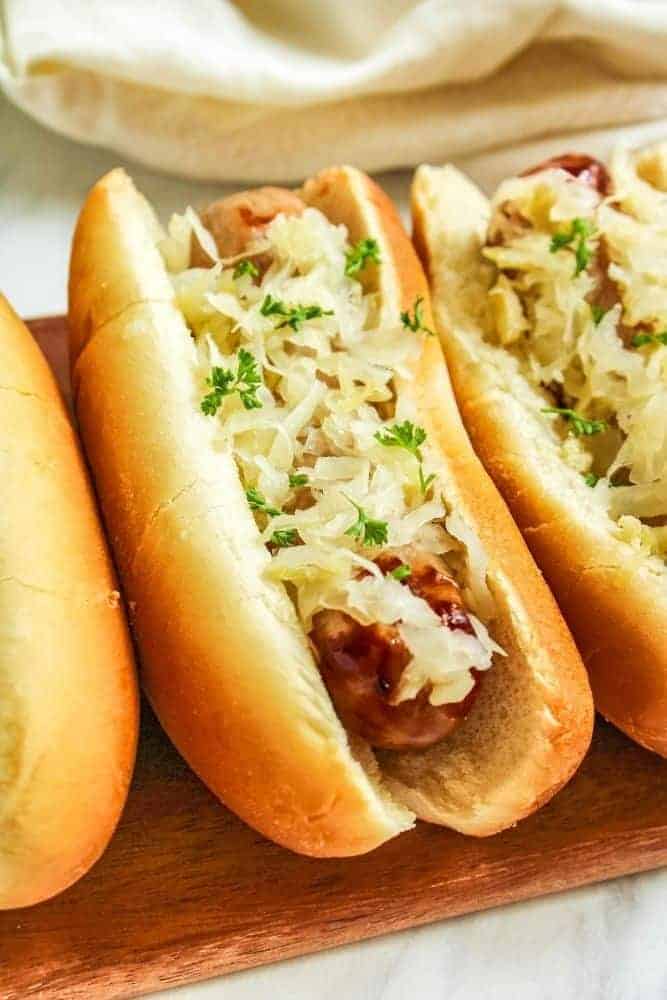 A delicious bratwurst recipe that tastes like it came right off the grill! Directions for fresh and frozen brats.
Ingredients
2 bratwursts
2 hot dog rolls
Instructions
Preheat your air fryer to 370 degrees.
Cook brats for 8-10 minutes, until internal temperature reaches 160 degrees, turning the bratwurst halfway through.
Remove the brats from the air fryer, place in the hot dog rolls, then add back to the air fryer for 1-2 minutes to crisp up the rolls.
Remove bratwurst from the air fryer and enjoy!
Notes
How to Reheat Brats in the Air Fryer:
Preheat air fryer to 320 degrees and cook for 3-4 minutes, until warmed thoroughly.
How to Cook Frozen Brats in the Air Fryer:
Preheat air fryer to 350 degrees and cook for 13-15 minutes, until the internal temperature reaches 160 degrees.
Nutrition Information:
Yield:
2
Serving Size:
1
Amount Per Serving:
Calories:

428
Total Fat:

27g
Saturated Fat:

9g
Trans Fat:

0g
Unsaturated Fat:

16g
Cholesterol:

63mg
Sodium:

976mg
Carbohydrates:

28g
Fiber:

1g
Sugar:

4g
Protein:

17g
This nutrition information is based on the exact products I used in this recipe. Brands and sizes of products could alter exact nutrition and should always be calculated independently.