This post may contain affiliate links. If you click on a link and make a purchase, I may receive a small commission at no extra cost to you. For more information, please read my disclaimer here.
There's nothing I love more than throwing everything into an air fryer and then eating it, especially when it's super easy like this Air Fryer Sausage, Gnocchi, and Green Beans recipe.
Being a mom of two under four years old, I'm always on the lookout for quick and easy dishes that my husband will enjoy as well.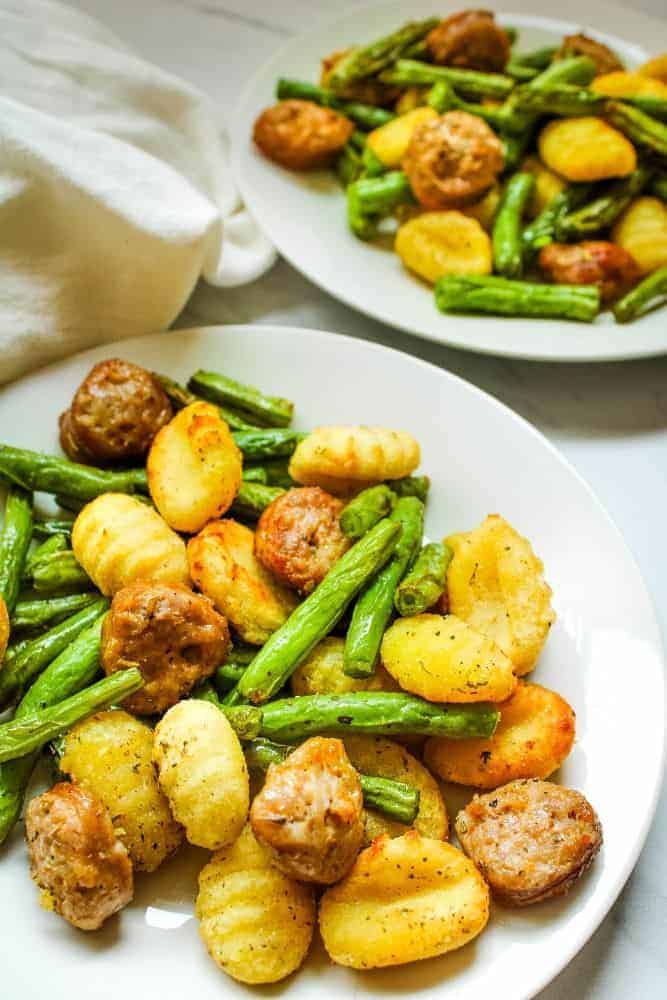 Even though my oldest is only 3, she's already in dance and soccer, so sports on a weekday night is already a thing.
Sometimes we're not home until 6:30 at night! Since their bedtime is early, we need something fast to make so they can still enjoy some time to play before we start our bedtime routine.
Since I'm obsessed with using my air fryer, I'm always trying new ways to treat my air fryer machine like a sheet pan recipe in the oven. This air fryer sausage and veggies recipe does just that.
Everything goes right into the air fryer and cooks at the same time, which makes for easy cleanup and a delicious dinner.
Plus, it only contains 4 main ingredients with a little oil and salt and pepper to amplify the flavor.
How to Make Air Fryer Sausage, Gnocchi, and Green Beans
Preheat your air fryer to 380 degrees for 4 minutes.
I used my Cosori Air Fryer to make this recipe. It has a square basket, which allows more surface area for cooking. I absolutely love it and you can read more about it here.
Preheating is crucial in this recipe to ensure everything cooks evenly. Since there are 3 different foods being cooked at the same time, it needs even heat right from the start.
Place your trimmed and cut green beans and gnocchi into a bowl. Add olive oil, Italian seasoning, salt, and pepper and mix to fully coat each ingredient.
I used frozen gnocchi in this recipe because it's cheaper (hello budget!), but you can also use fresh refrigerated gnocchi. Place bowl aside.
Add Italian sausage slices into the preheated air fryer then place the green beans and gnocchi on top. Do not shake or mix the food.
The food can be stacked but should never fill your air fryer more than half full.
If you prefer the taste of chicken apple sausage, feel free to substitute it into this dish for the Italian sausage. The flavors will mesh perfectly together.
Cook the air fryer sausage and veggies with gnocchi for 10-12 minutes shaking the basket halfway through until Italian sausage or chicken apple sausage reaches an internal temperature of 160 degrees.
Remove food from the air fryer, place on a serving platter, and enjoy immediately.
How Do I Reheat Air Fryer Sausage and Veggies with Gnocchi?
I am constantly cooking too much food in my air fryer for one night's worth of meals. The great part is an air fryer reheats food so it's crispy like the day before!
Preheat your air fryer to 350 degrees for about 3 minutes. If your air fryer cooks a little quicker, you should reduce the heat to about 330-340 degrees.
The key is to heat the inside of the food first without browning the outside more.
Place remaining food back in the air fryer and cook for 3-5 minutes until food is warmed. Shake the food halfway through to ensure it reheats evenly.
Enjoy!

Other Air Fryer Recipes You'll Love:
Air Fryer Italian Sausage Sandwiches with Peppers and Onions
Air Fryer Dumplings with a 2-Minute Dipping Sauce
Air Fryer Sweet and Spicy Brussels Sprouts

Yield: 4 servings
Air Fryer Gnocchi, Sausage, and Green Beans
A delicious air fryer meal that can be thrown in an air fryer all together and cooked as a one pot meal.
Ingredients
1/2 pound green beans, washed, trimmed, and cut in half
4 Italian sausages
12 ounces gnocchi (frozen or refrigerated both work great)
1 teaspoon Italian seasoning
1 tablespoon extra-virgin olive oil
salt and pepper to taste
Instructions
Preheat air fryer to 380 degrees.
Cut the Italian sausage into 1-inch slices and place aside.
Place green beans and gnocchi into a bowl and mix with extra-virgin olive oil, Italian seasoning, salt, and pepper.
Add sausage slices to air fryer then place green beans and gnocchi on top. Do not shake or stir!
Cook for 10-12 minutes until the Italian sausage reaches an internal temperature of 160 degrees, shaking basket halfway through.
Remove from the air fryer and enjoy!
Nutrition Information:
Yield:
4
Serving Size:
1
Amount Per Serving:
Calories:

479
Total Fat:

25g
Saturated Fat:

8g
Trans Fat:

0g
Unsaturated Fat:

19g
Cholesterol:

68mg
Sodium:

644mg
Carbohydrates:

43g
Fiber:

4g
Sugar:

4g
Protein:

21g
This nutrition information is based on the exact products I used in this recipe. Brands and sizes of products could alter exact nutrition and should always be calculated independently.