I'm sure you've had a bag of frozen Mrs. T's pierogies, cooked them, and were disappointed with the taste. Making these Air Fryer Pierogies creates a nice and crispy outside while keeping the inside soft and fluffy.
You just can't get the same texture from an oven.
Join our new FREE Air Fryer Facebook Community to gain access to exclusive recipes, tips, and content!
Ever since college, pierogies have been a favorite of mine. I never had them growing up, but those little mashed potato filling dough balls are delicious!
I tried making them at home, but they either came out soggy or tough.
It wasn't until I learned the parboil method with cooking frozen pierogies that I finally found the secret to cooking them perfectly.
How to Make Air Fryer Pierogies
You can make this recipe with Mrs. T's pierogies or any other comparably-sized pierogies.
Our Wegmans store brand variety is very reputable when it comes to food like pierogies, so we've used both kinds.
How to Make the Onions in an Air Fryer
Start by slicing an onion into long slices, then put the oil in an air fryer pan and heat on 300 degrees for 1 minute.
Add in onions to the pan, mix to coat with oil, and cook on 300 degrees 5 minutes, stirring halfway through.
Add a small pinch of sugar to the onions, mix thoroughly, and cook for an additional 7-10 minutes, stirring every 3 minutes.
Remove from the air fryer and set aside.
If you don't have an air fryer pan, you can follow the directions to make the onions on a stove with this Pierogies with Caramelized Onions recipe over at Journey to SAHM.
How to Make the Frozen Pierogies in an Air Fryer
Once the onions start cooking, fill a large pot with water and bring to a boil on the stove. Add the pierogies and parboil for 5 minutes, draining immediately afterward.
It's important to parboil the pierogies first to cook the insides and a soft texture on the outside. This allows them to crisp up in the air fryer without creating a tough consistency.
Once pierogies are parboiled and the onions are removed, place pierogies in the air fryer and cooked at 350 for 4 minutes.
After 4 minutes, open the air fryer and spritz the top with oil with an EVO oil sprayer. Do not use any type of PAM-like nonstick spray as it can ruin your air fryer.
Increase the temperature to 400 degrees and cook air fryer pierogies for another 4-5 minutes, until turning golden brown on top.
Combine the onions with the pierogies and enjoy immediately!
What Foods Go with Pierogies?
Our personal favorite side dish to pair with pierogies are baked beans.
We also love to eat them alongside Italian sausage and roasted vegetables.
How Long Do You Cook Frozen Pierogies in an Air Fryer?
Once the pierogies are parboiled, they will take about 8-9 minutes to cook inside an air fryer.
Set the temperature to 350 degrees for 4 minutes, spritz will oil, then increase heat to 400 degrees for another 4-5 minutes.
The tops will turn a nice golden brown when done.
Can You Make This Recipe with No Oil?
You can make the frozen pierogies without adding any oil on top if necessary. I do, however, not recommend air frying the onions without oil as they tend to dry up and get burnt.
The oil is what keeps them nice and soft.
Can I Make These in Any Air Fryer or Actifry?
Yes, you can make the pierogies in any brand of air fryer or Actifry. If using the Actifry, remove the inside piece to avoid the pierogies from breaking apart.

Other Air Fryer Recipes You'll Love:
Air Fryer Sweet Potato Fries Made from Frozen
Air Fryer Italian Sausage with Peppers and Onions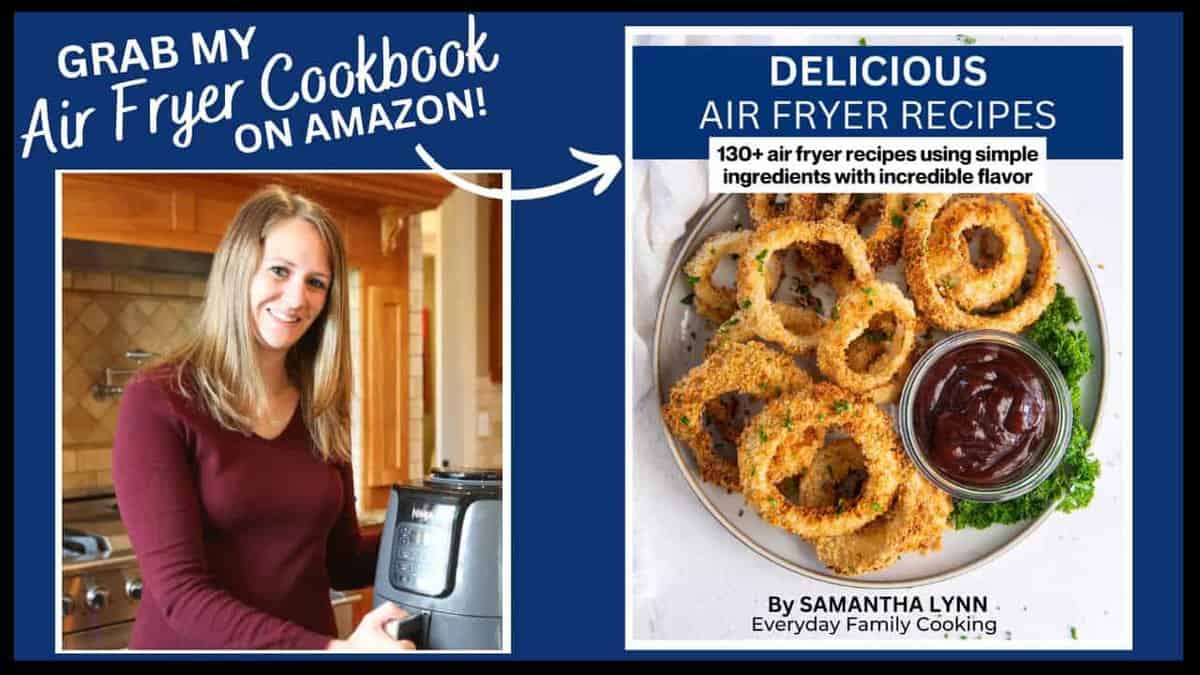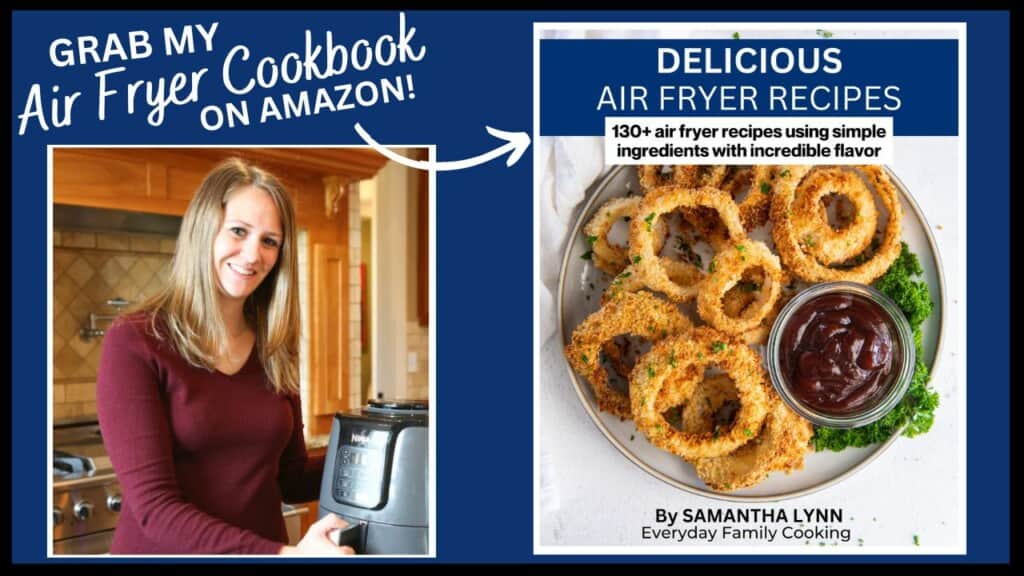 Yield: 2 servings
Air Fryer Pierogies with Onions
Frozen pierogies are turned into a delicious main dish by air frying them and combining them with sauteed or caramelized onions.
Ingredients
14 frozen pierogies
1 small onion
1 tablespoon oil
small pinch of sugar
spraying oil
Instructions
Heat a large pot halfway full with water on high heat to a boil. Once boiling, cook pierogies for 5 minutes and remove from water/drain.
While water is heating up, slice the onion into long slices.
Place oil in an air fryer pan and cook on 300 for 1 minute.
Add onion to the pan, mix to coat, and cook on 300 degrees for 12-15 minutes, stirring every 3 minutes. Add a small pinch of sugar to them after cooking for 6 minutes and mix to coat.
Remove from the air fryer and set aside.
Place pierogies in an air fryer and cook at 350 degrees for 4 minutes.
Spritz the tops with oil and increase the temperature to 400. Cook for another 4-5 minutes until tops are golden brown.
Combine pierogies and onions and enjoy immediately.
Nutrition Information:
Yield:
2
Serving Size:
1
Amount Per Serving:
Calories:

656
Total Fat:

30g
Saturated Fat:

4g
Trans Fat:

0g
Unsaturated Fat:

24g
Cholesterol:

11mg
Sodium:

1262mg
Carbohydrates:

82g
Fiber:

3g
Sugar:

6g
Protein:

14g
This nutrition information is based on the exact products I used in this recipe. Brands and sizes of products could alter exact nutrition and should always be calculated independently.