Air Fryer Taquitos are cooked from frozen without oil to get the perfect crispy tortilla outside.
Cooking frozen taquitos in the air fryer is a great way to make a quick lunch or snack. They cook up much quicker than oven-baked and much crispier than microwaved.
I am going to show you how to make frozen taquitos in the air fryer, how to reheat taquitos in the air fryer, which brands are the best to use, and what dips go the best with air fryer taquitos.
They require simple instructions to follow. You don't even need any oil! Just throw them in and heat them!
Looking for other frozen foods to make in the air fryer? Check out this list!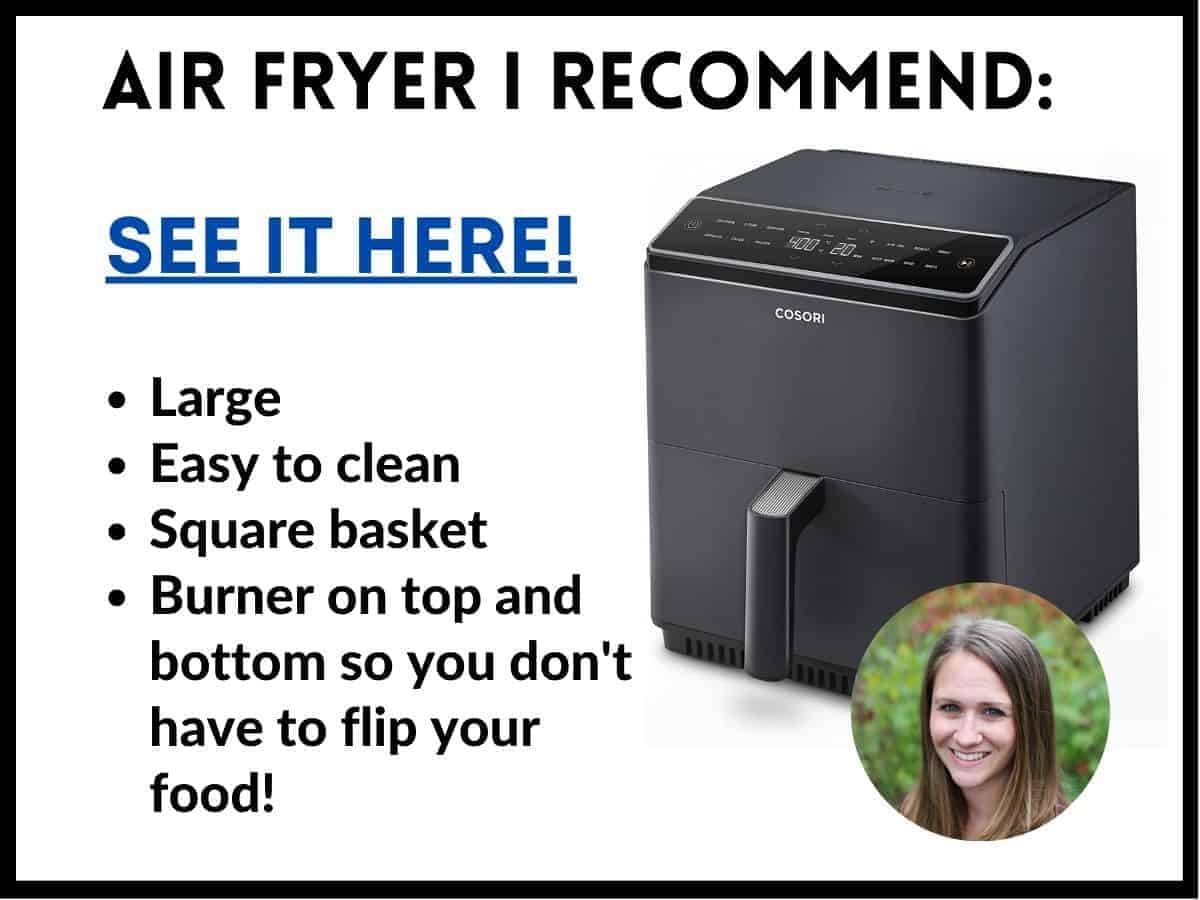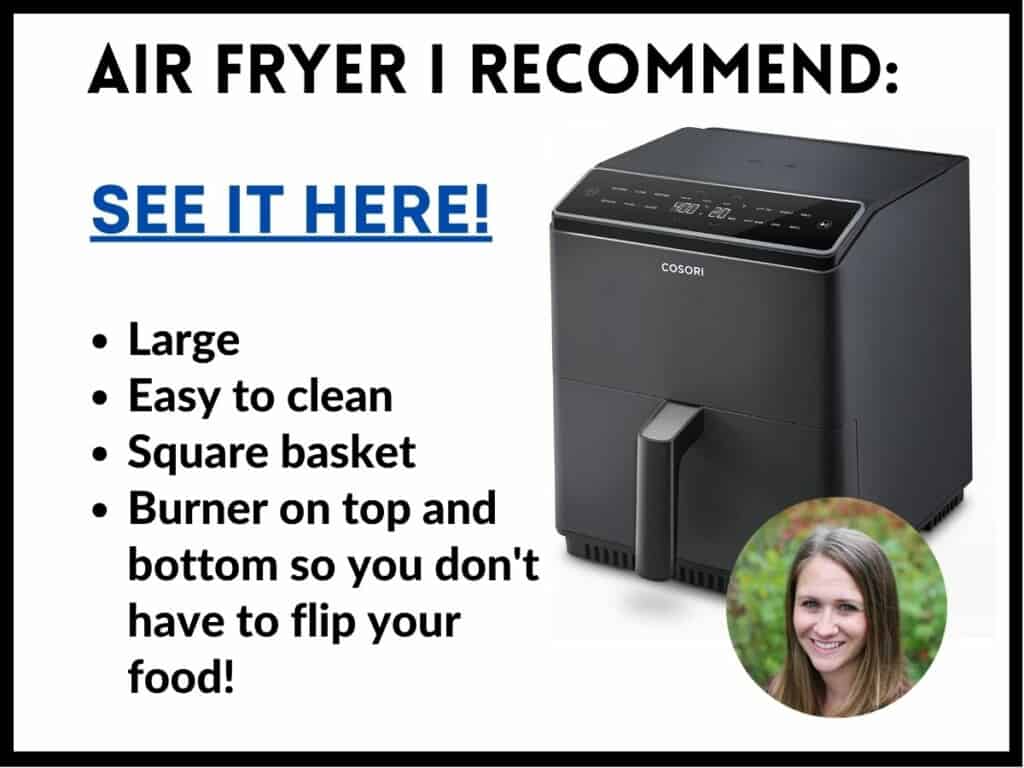 What is a Taquito?
A taquito is a Mexican dish that contains a tortilla filled with different ingredients, such as chicken, steak, pork, cheese, or beef.
The tortilla is then rolled up, so it looks like a long cylinder and cooked.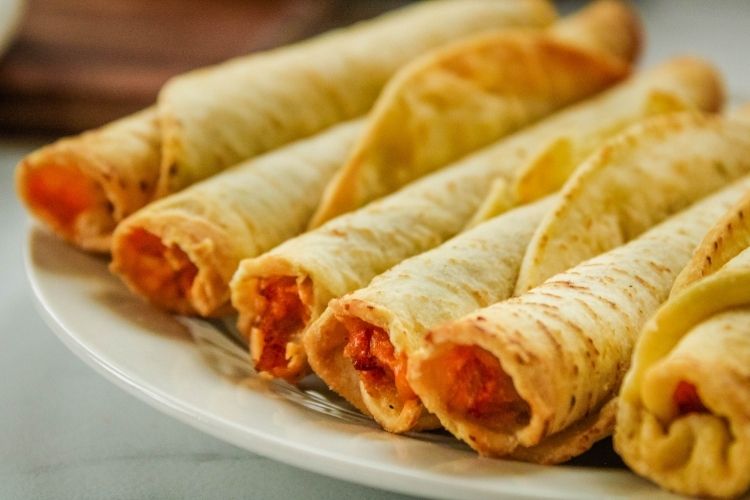 What is the Difference Between Taquitos and Flautas?
There is and isn't a difference between the two.
A taquito is typically made with corn tortillas, while flautas are made with flour tortillas. But in today's world, the names tend to be used interchangeably. Even frozen taquito brands will use the more well-known term in America "taquito" when they use a flour tortilla.
This means to double-check the ingredient label if you are gluten-free and looking for taquitos.
And if you love tortillas, try our Sweet Potato Black Bean Tacos recipe!
Are Frozen Taquitos Precooked?
Yes, most taquitos are cooked and then packaged up. This is to preserve the ingredients and flavor inside.
While the frozen taquitos are already fully cooked, it's still important to heat them fully.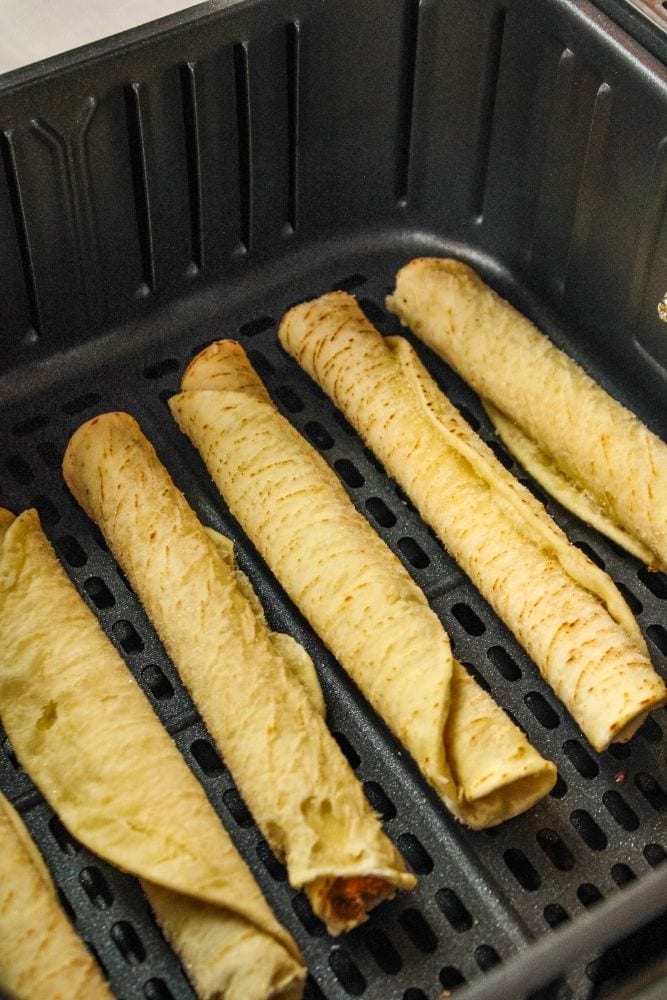 How to Make Air Fryer Frozen Taquitos
A full printable version of this recipe with ingredient measurements is available at the bottom of this post.
Preheat your air fryer to 400 degrees.
Place the frozen taquitos in the air fryer and cook for 4 to 5 minutes until fully heated.
Remove the taquitos from the air fryer and enjoy!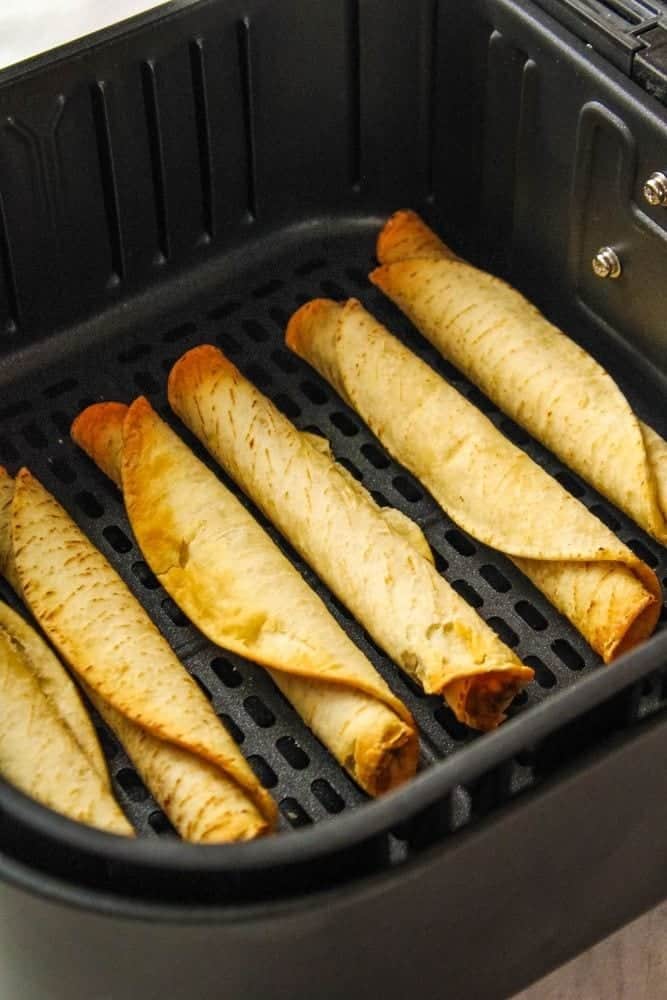 Do I Actually Need to Preheat my Air Fryer?
Yes, preheating your air fryer will allow your food to cook evenly. This allows the inside to get hot before you burn the outside in less time.
It also makes following any air fryer recipe easier and more accurate as smaller air fryers will heat up more quickly than larger ones, dependent on wattage.
While you can get away with heating food without preheating your air fryer, it may not come out perfect each time. And if you need to make an extra batch of food, the second batch will cook much quicker.
It's easier to just preheat, get evenly cooked food, and remember one time and temperature per recipe and know that it will work flawlessly.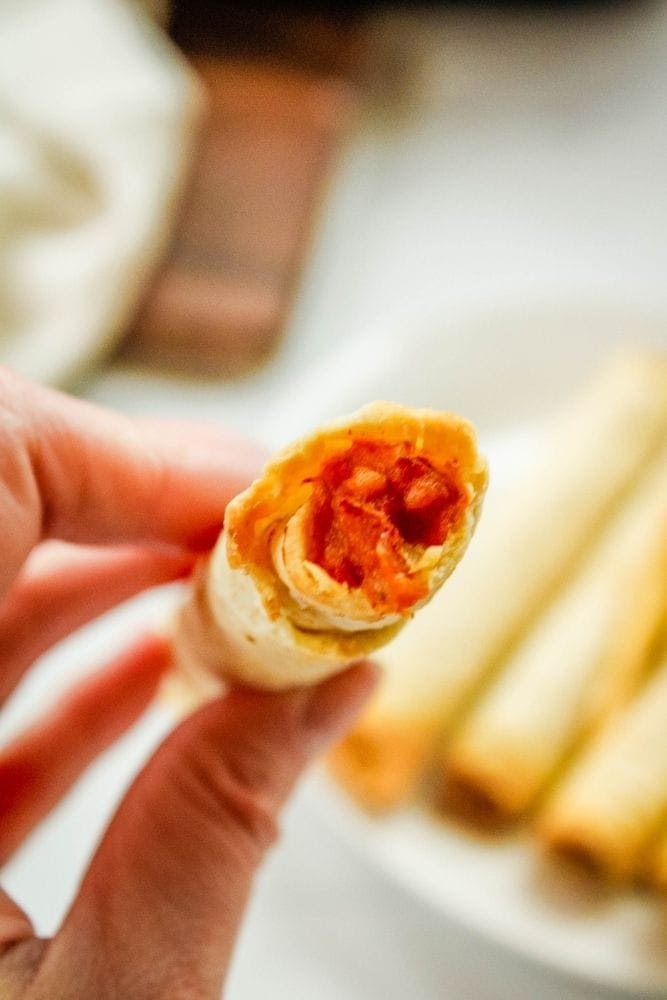 The Best Frozen Taquito Brands
Most frozen taquitos brands out there are pretty good, but I've found some pack in more meat and cheese inside the corn tortilla, making it taste just that much better. Some are also available as flautas with flour tortillas.
Here are my favorites for making frozen taquitos in the air fryer:
Delimex
Jose Ole's
El Monterey
I have also heard The Snack Artist frozen taquitos are great too if you have a local Safeway (we do not).
How to Store Air Fryer Taquitos After Cooking
These air fryer frozen taquitos can keep in the fridge for up to 3 days. You can reheat them using the directions below when ready to eat.
How to Reheat Taquitos in the Air Fryer
Preheat your air fryer to 350 degrees.
Place the taquitos in the air fryer and cook for 2 to 3 minutes.
Remove the taquitos from the air fryer and enjoy!
What is Good to Dip Taquitos In
Guacamole
Sour Cream
Melted Cheese
Ketchup
Sriracha Mayo
Hot Sauce
Other Air Fryer Recipes You'll Love:
Love air frying? Join our newsletter! You can also follow us on Facebook, Instagram, or join our free Facebook Air Frying Community.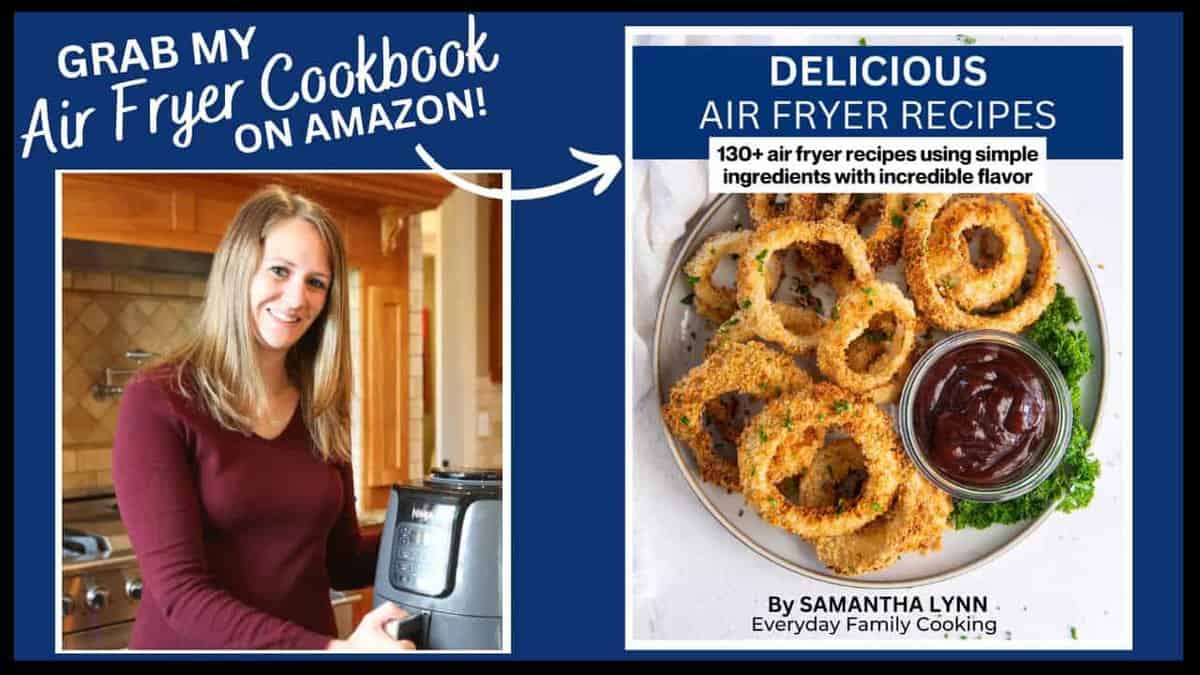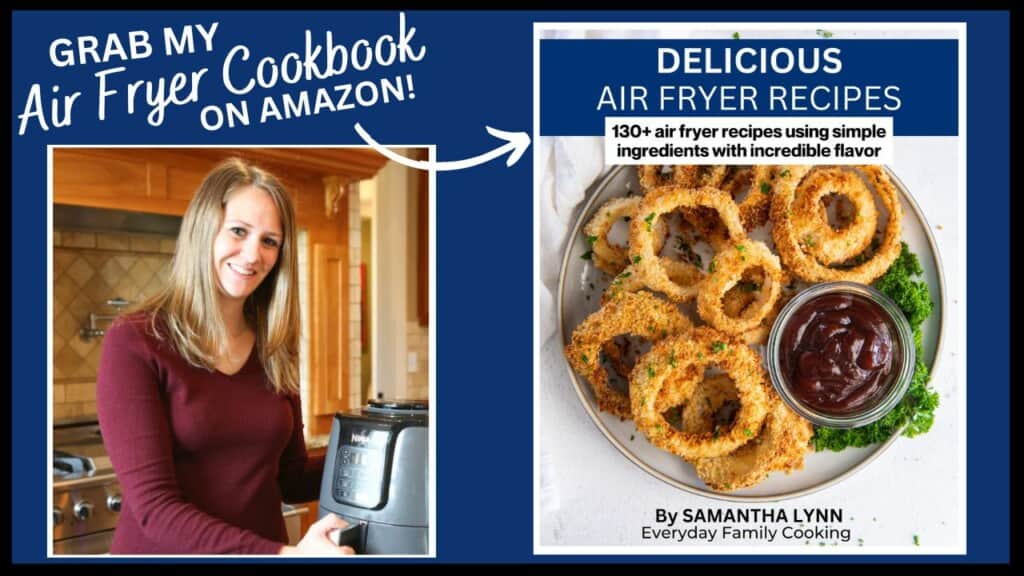 Yield: 3 servings
Air Fryer Taquitos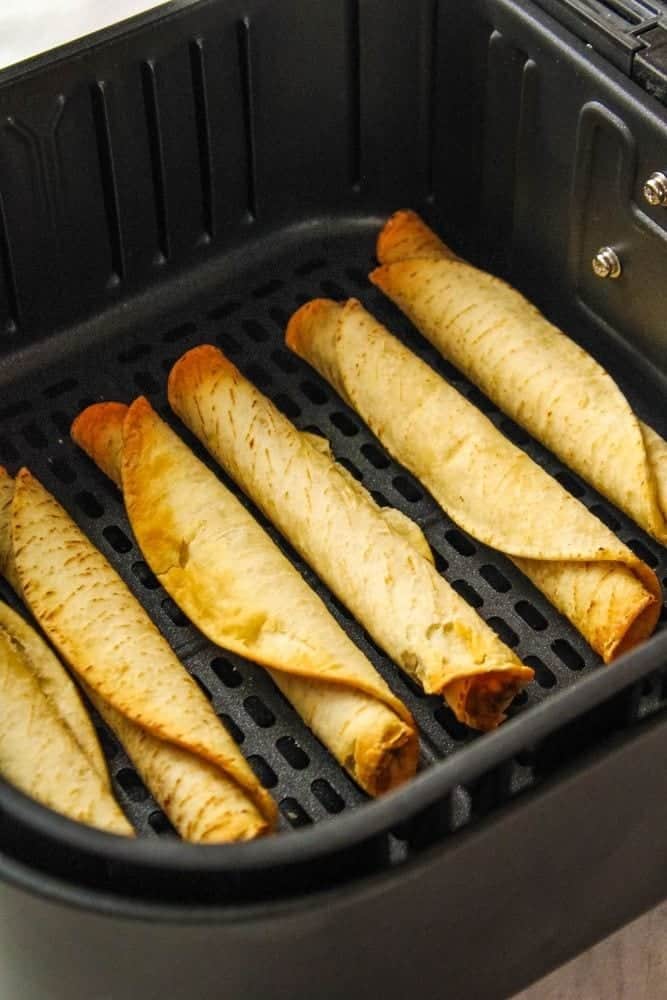 These frozen taquitos are cooked in the air fryer for a crispy tortilla and hot filling.
Instructions
How to Cook Frozen Taquitos in the Air Fryer:
1. Preheat your air fryer to 400 degrees.
2. Place the taquitos inside the air fryer and cook for about 5 minutes.
3. Remove taquitos from the air fryer and enjoy!
How to Reheat Taquitos in the Air Fryer:
1. Preheat your air fryer to 350 degrees.
2. Cook taquitos for 2-3 minutes until warmed, then enjoy!
Nutrition Information:
Yield:
3
Serving Size:
1
Amount Per Serving:
Calories:

240
Total Fat:

11g
Saturated Fat:

2g
Trans Fat:

0g
Unsaturated Fat:

8g
Cholesterol:

10mg
Sodium:

382mg
Carbohydrates:

28g
Fiber:

2g
Sugar:

1g
Protein:

8g
This nutrition information is based on the exact products I used in this recipe. Brands and sizes of products could alter exact nutrition and should always be calculated independently.