Air fryer asparagus is coated with garlic and Parmesan cheese for a healthy (and crispy) side dish you'll keep coming back to! It's easy to prepare in just 10 minutes.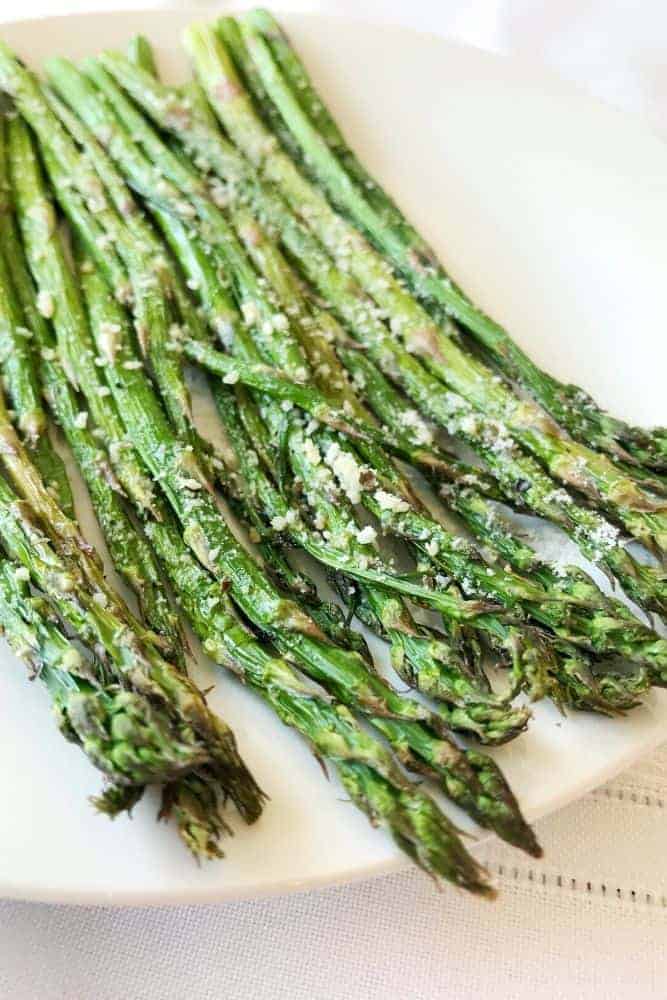 On hectic days when I can't even remember where I left my car keys, never mind think about what I'm going to serve up for dinner, I love having simple and delicious recipes to come back to.
You know the ones I'm talking about: they're fast, easy, and reliable. My air fryer asparagus is one of those recipes!
While I do love roasting with my oven sometimes, I have to admit that it can involve a bit of extra clean-up. Just one more thing to add to my "Why I Love My Air Fryer" list!
Roasted asparagus in the air fryer involves just a little bit of prep work (2 minutes) and a little bit of air frying (8 minutes) for a side dish that's ready in 10 minutes.
Here's what I'm going to teach you in this post:
The simple ingredients needed for my fast and easy air fried asparagus recipe. Hint: you probably already have most of them in your pantry and fridge!
Instructions on how to trim asparagus before you roast it in your air fryer.
Answers to commonly asked questions about making asparagus in the air fryer including how to store leftovers.
Get garlicky, cheesy, and perfectly crispy asparagus every time if you follow my lead! Let's get into the specifics.
I made this recipe using the 5.8 QT Cosori Air Fryer. Its square basket makes it the perfect size for our family of 4.
How to Make Air Fryer Asparagus
A full printable version of this recipe with ingredient measurements is available at the bottom of this post.
STEP ONE: Preheat your air fryer to 400 degrees.
STEP TWO: Clean your asparagus with water and pat dry. Then, cut about 1-inch off the bottom of each spear.
If you're using a small air fryer, you may need to trim a bit more so that they fit.
If you're working with thicker asparagus, you can shave the outsides of the stalk down. When you opt for thinner spears, you can skip this step.
STEP THREE: Place your asparagus in the air fryer basket. Don't overcrowd them – this can cause undercooked veggies. Spray the spears with a little bit of oil.
I recommend using this EVO Oil Sprayer Bottle for the best results! Then, sprinkle with garlic salt plus a bit of pepper to taste before adding Parmesan cheese on top.
STEP FOUR: Air fry at 400 degrees F for 7-10 minutes, depending on the thickness of your asparagus. You'll know it's done when you can easily poke it with a fork. Some of the Parmesan may fall off when you remove your air fried asparagus, so don't be afraid to add more on top!
How to Trim Asparagus
Start by rinsing the vegetables under cold water to get rid of any dirt or debris.
Trim the stalks. Try to snap off the hardest part of the stalk (on the bottom of the asparagus) with your fingers. You'll know where to cut as it should bend naturally to the touch. Then, use a knife for a more even cut!
Throw away the hardest part of the stalk and you're ready to roast!
Should You Soak Asparagus Before Cooking? 
Some chefs prefer to soak their vegetables before cooking. While you should rinse your asparagus very well before cooking in your air fryer, you don't need to soak them. Just make sure to carefully remove any dirt or debris – especially if you pick yours up from a local farmer's market! 
How to Pick Ripe Asparagus 
You want to opt for spears that feature tight and compact tips. They should be bright green or a little purple depending on the variety. The stalks should be firm to the touch, and the bottoms should be fresh and moist. 

Stay away from dark green-colored asparagus as this is usually an indicator that it will go bad soon. If the bottom of the stalks have an almost "woody" appearance, you'll want to stay away from those too!
Should Asparagus Be Crunchy or Soft? 
Asparagus in the air fryer should be a little bit of both! That means it's been roasted long enough that it's cooked through and is soft enough to chew, but it will also crisp up nicely thanks to the oil and garlic. 
How to Store Air Fryer Asparagus
Place your air fried asparagus in an airtight container. It will keep in the fridge for up to 7 days. You can also freeze any leftovers for up to 10 months! When you're ready to eat it, you can reheat it in your air fryer for extra crispy results.
How to Reheat Asparagus in the Air Fryer
Preheat your air fryer to 350 degrees.
Place the leftover asparagus in the air fryer and cook until warmed, about 2 to 3 minutes.
Top with extra cheese and enjoy!
Other Air Fryer Recipes You'll Love:
Love air frying? Join our newsletter! You can also follow us on Facebook, Instagram, or join our free Facebook Air Frying Community.
Air Fryer Weight Watcher Points per serving: 1
Yield: 4
Air Fryer Asparagus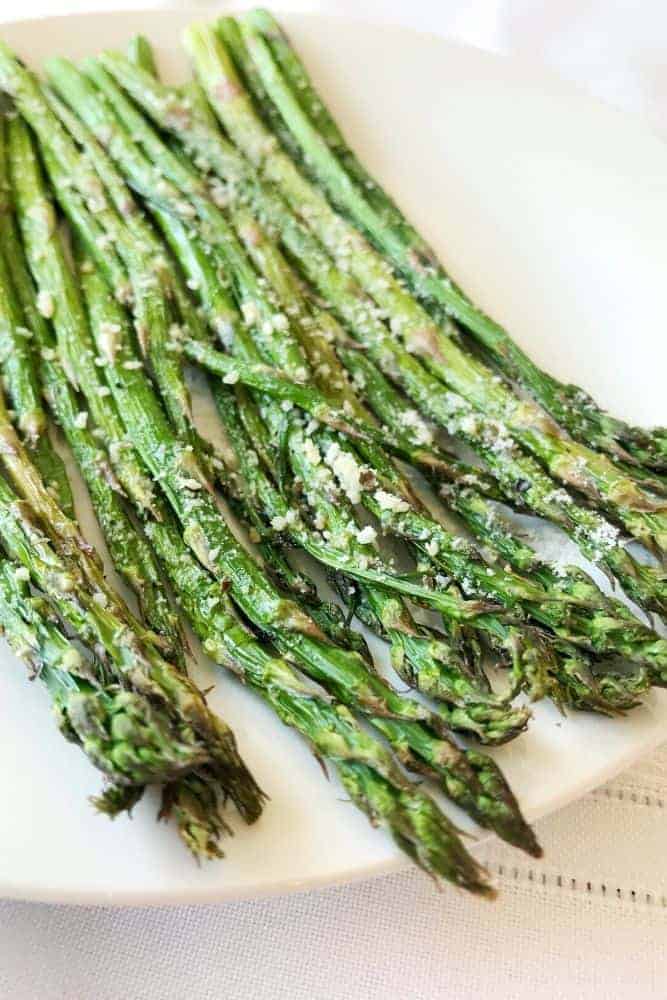 A delicious and healthy air fryer asparagus recipe done in less than 10 minutes.
Ingredients
1 bundle asparagus
1 teaspoon olive oil
1/8 teaspoon garlic salt
1 Tablespoon Parmesan cheese (powdered or grated)
pepper to taste
Instructions
Preheat your air fryer to 400 degrees.
Clean asparagus and pat dry. Cut 1 inch off the bottom to take off the woody stems.
Lay asparagus in a single layer in air fryer and spritz with oil.
Sprinkle garlic salt evenly on top of asparagus. Season with pepper and then add a little Parmesan cheese across the top.
Cook at 400 degrees for 7-10 minutes. Thinner asparagus may cook faster.
Once asparagus is removed from the air fryer, add a little more Parmesan cheese to finish it off!
Enjoy immediately.
Notes
How to Reheat Asparagus in the Air Fryer:
1. Preheat your air fryer to 350 degrees.
2. Place leftover asparagus in the air fryer and cook for 2 to 3 minutes.
Nutrition Information:
Yield:
4
Serving Size:
1
Amount Per Serving:
Calories:

18
Total Fat:

2g
Saturated Fat:

0g
Trans Fat:

0g
Unsaturated Fat:

1g
Cholesterol:

1mg
Sodium:

74mg
Carbohydrates:

1g
Fiber:

0g
Sugar:

0g
Protein:

1g
This nutrition information is based on the exact products I used in this recipe. Brands and sizes of products could alter exact nutrition and should always be calculated independently.