This post may contain affiliate links. If you click on a link and make a purchase, I may receive a small commission at no extra cost to you. For more information, please read my disclaimer here.
An air fryer can be an intimidating appliance. After all, most people don't use it to its full potential. Roasting vegetables is just one way to cook food in an air fryer.
And let me tell you air fryer asparagus is delicious in it! This air fried asparagus recipe will have your kids eating up their vegetables with the extra touch of garlic and Parmesan.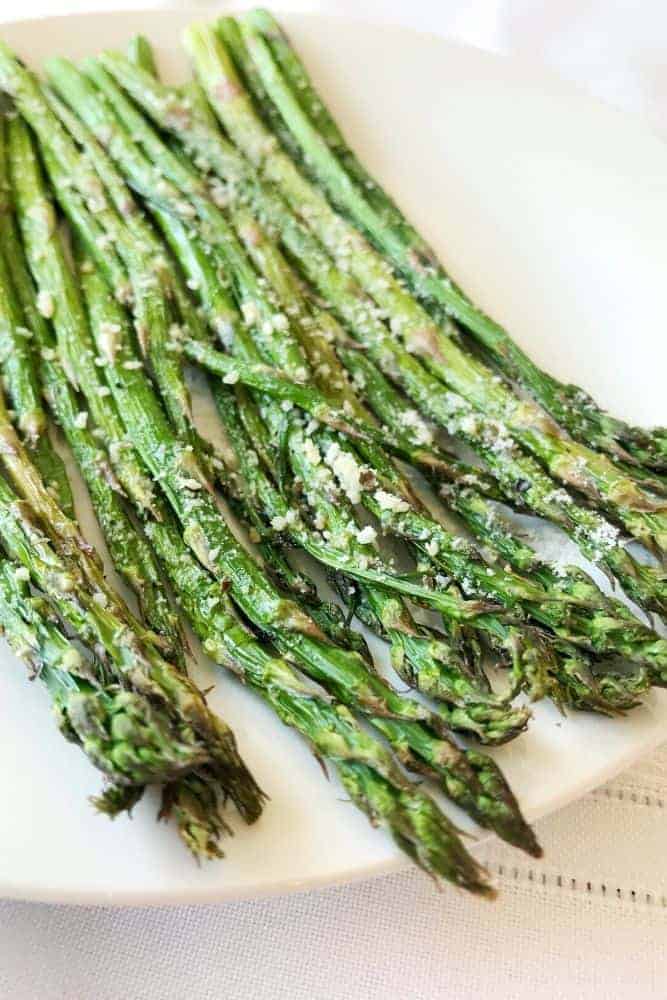 Asparagus is a great spring vegetable that's perfect for any time of year at any occasion. I had stopped buying it after being disappointed a few times.
Turns out I was trying bad recipes in combination with picking unripe vegetables.
I made this recipe in my Cosori Air Fryer. It's square-shaped, which is perfect for making long foods like asparagus. I can make enough for my family of 4 in one batch.
HOW TO PICK RIPE ASPARAGUS
It can be difficult to pick out asparagus if you don't know what you're looking for. Here are some tips for picking out the best ripe asparagus at the grocery store.
Look for tight and compact tips that are a bright green color and may have a purplish tint.

The stalks should be firm with no limp. Dark green stalks are usually a sign the asparagus is starting to go limp

Check the bottoms of the asparagus. They should look fresh and moist. If they look dry or woody, this means the asparagus is older

HOW TO KNOW WHEN ASPARAGUS IS BAD
Asparagus should always be firm. It's still okay to eat if the stalks are a little limp but touch the tips and see if they feel soft and mushy. This means they will taste mushy when eating and should just be thrown out.
The bottom of the stalks should always look fresh. If they start to appear woody, this means they are past their prime.
Cut off the bottoms about ½ inch to 1 inch and see if the stalks appear fresh and green, they are okay to eat.
If the stalks still appear woody, the asparagus will continue to have this "woody" taste when cooked and should be tossed.
IS ASPARAGUS KETO?
It can be confusing to know which foods are keto and which aren't, especially with vegetables. Asparagus is 100% keto-friendly.
One whole cup of plain raw asparagus only contains 5.2 grams of carbs and 27 calories!
This air fried asparagus recipe is specified to be keto-friendly with the right oils.
To Make Vegan: Exclude the Parmesan cheese or replace with a vegan Parmesan cheese substitute
To Make Paleo and Whole30: Exclude the Parmesan cheese from the recipe
HOW TO MAKE GARLIC PARMESAN AIR FRIED ASPARAGUS
First, take a bundle of asparagus and clean it underwater. Pat it dry and place them on a cutting board with all the tops lined up. This will make it easier to prep.
Next, you'll want to cut about 1 inch of the bottom off. Depending on the size of your air fryer, you may need to trim the stems down just a little more.
This is usually only needed with a smaller air fryer.
If you're working with thicker asparagus, you can peel the outsides of the stalk. You can typically skip that step with thinner asparagus.
There is really no taste difference between thick and thin asparagus. It's a matter of preference if you have one. I enjoy both thick and thin types in their own way.
Place the asparagus inside the air fryer. Lay all the stems down in a line trying not to overlap them as much as possible. Think about how you would place vegetables on a baking tray while oven roasting them.
Stacking the asparagus can cause them to not cook evenly since you won't be shaking the basket during this recipe.
Spritz the asparagus with a little oil making sure to lightly coat it from top to bottom. This allows the next ingredients to stick a bit more. I recommend the EVO Oil Sprayer Bottle for this.
Sprinkle the garlic salt evenly across the air fryer asparagus and add some pepper to taste. Add a little Parmesan cheese on the asparagus to top it off.
Air fry the asparagus at 400 for about 7-10 minutes. This will create the same effect as roasting the asparagus in the oven.
How do you know when the asparagus is done? I recommend checking it at 7 minutes and poking it with a fork at the thickest point.
When the fork glides through with not much force, they are done. The asparagus will also turn a nice bright green color like when you blanch vegetables.
Take the air fried asparagus out of the air fryer and place on a serving plate. You may lose a little Parmesan cheese in the transfer, so I recommend just topping it with just a bit more to finish it off!

Other Air Fryer Recipes You'll Love:
Yield: 4
Air Fried Asparagus with Garlic and Parmesan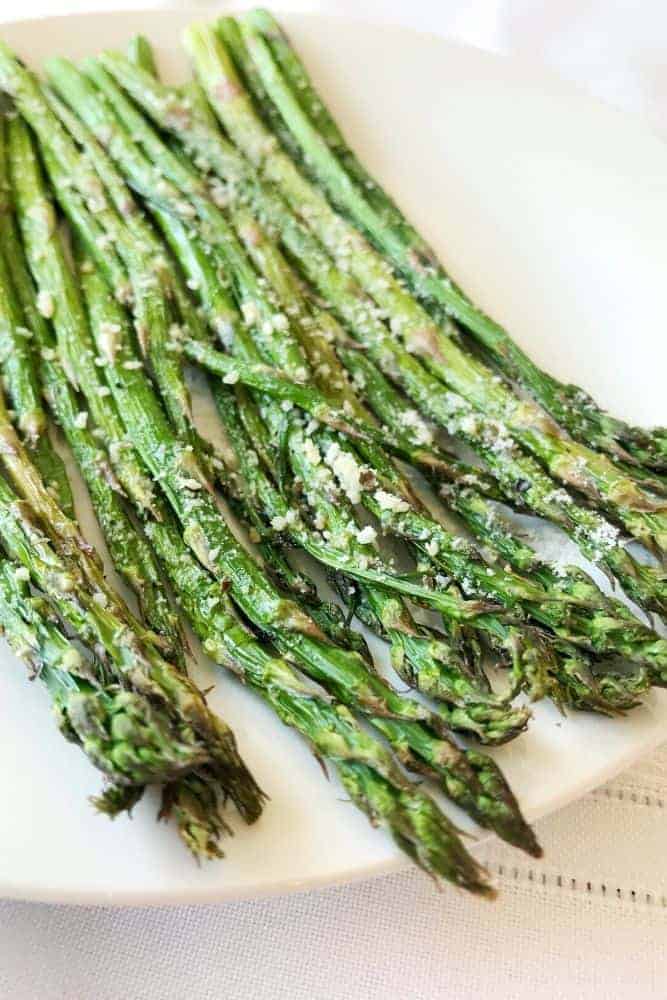 A delicious and healthy air fryer asparagus recipe done in less than 10 minutes.
Ingredients
1 bundle asparagus
1 teaspoon olive oil
1/8 teaspoon garlic salt
1 Tablespoon Parmesan cheese (powdered or grated)
pepper to taste
Instructions
Clean asparagus and pat dry. Cut 1 inch off the bottom to take off the woody stems.
Lay asparagus in a single layer in air fryer and spritz with oil.
Sprinkle garlic salt evenly on top of asparagus. Season with pepper and then add a little Parmesan cheese across the top.
Cook at 400 degrees for 7-10 minutes. Thinner asparagus may cook faster.
Once asparagus is removed from the air fryer, add a little more Parmesan cheese to finish it off!
Enjoy immediately.
Nutrition Information:
Yield:
4
Serving Size:
1
Amount Per Serving:
Calories:

18
Total Fat:

2g
Saturated Fat:

0g
Trans Fat:

0g
Unsaturated Fat:

1g
Cholesterol:

1mg
Sodium:

74mg
Carbohydrates:

1g
Fiber:

0g
Sugar:

0g
Protein:

1g
This nutrition information is based on the exact products I used in this recipe. Brands and sizes of products could alter exact nutrition and should always be calculated independently.