There's nothing better than a quick lunch during the day while the kids are home. That's why I love air fryer frozen mozzarella sticks. They are insanely easy to make and take no time at all!
Having two kids at home with me all day makes it pretty hard to make a nice lunch. I have a 4-year-old and a 12-month-old, and everyone is just at a point where they eat different things.
I will stick my frozen mozzarella sticks inside the air fryer, and they are done by the time I make their two lunches quick. It's honestly the best way to cook them!
I personally use the Cosori Air Fryer. It's suitable for a family of four and cooks my foods evenly.
How to Make Frozen Mozzarella Sticks in Your Air Fryer
This recipe is insanely simple, so here we go!
Preheat air fryer to 360 degrees. It's important to preheat your air fryer even to cook frozen foods to allow for even heating.
Place your mozzarella sticks inside the air fryer. I recommend placing them in a single layer and not stacking for the best results.
I personally used Farm Rich frozen mozzarella sticks.
Cook them for approximately 6 minutes and check for readiness using the directions below.
Remove them from the air fryer and wait 1-2 minutes to allow them to cool and enjoy with your favorite marinara sauce or other dipping sauce.
That's it!
How to Know When Your Mozz Sticks are Done
Once you cook your mozzarella sticks, carefully pick one up (careful, they're hot!) and give it a gentle pinch.
They are done cooking when they are soft and give in, like a stuffed animal.
If they are still pretty firm, cook them another minute or two and check again.
How to Make Sure Cheese Doesn't Ooze Out of the Mozzarella Sticks
One complaint I hear time and time again from people air frying mozzarella sticks is that the cheese oozes out on them.
The cheese will only ooze out of the mozzarella sticks when they are overdone.
The melted cheese builds up pressure inside and then bursts a hole open somewhere on the stick causing the cheese to ooze out.
While it's okay for the mozzarella sticks to split showing cheese (they're delicious this way!), it's never fun to eat cheeseless mozzarella sticks and deal with the mess it causes.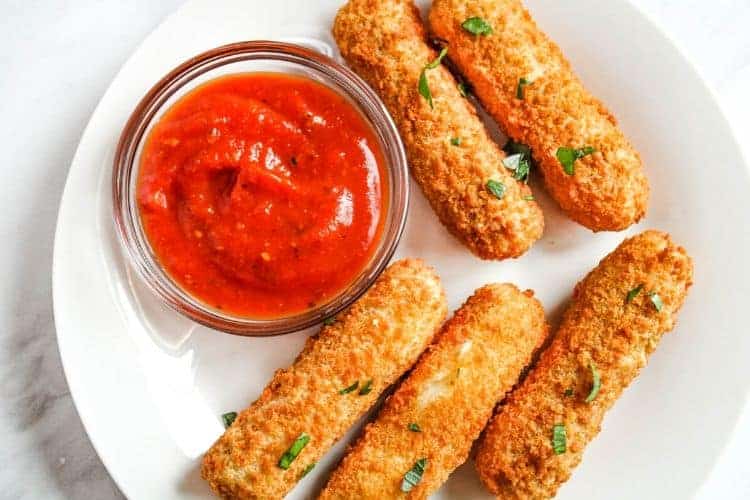 Rule #1? Preheat your air fryer! Preheating allows for even cooking, which will lower the chances of your cheese oozing.
Rule #2? Read the above "How to Know When Your Mozz Sticks are Done" section to know when to pull them out of the air fryer as soon as they're done.
If the mozzarella sticks are still oozing cheese, drop the suggested temperature down 10-20 degrees and cook again.
The higher temperature may be the cause of your specific brand of frozen mozzarella sticks leaking cheese.

Other Air Fryer Recipes You'll Enjoy:
Yield: 2 servings
Air Fryer Frozen Mozzarella Sticks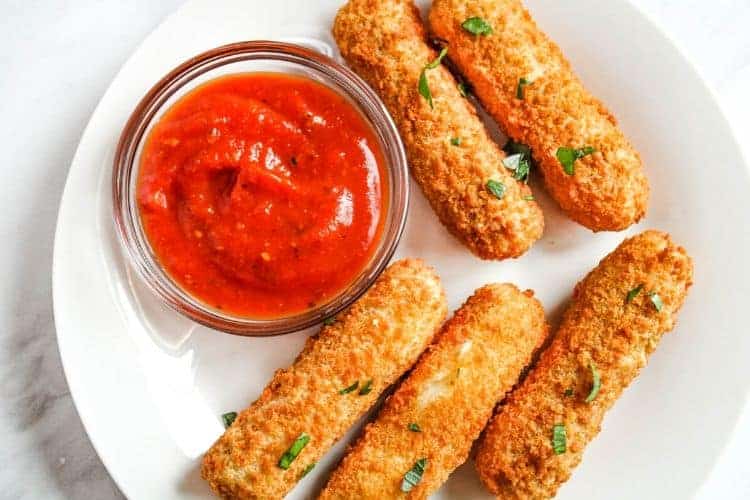 A quick and easy way to make crispy mozzarella sticks without the cheese bursting out.
Ingredients
10 frozen mozzarella sticks
marinara sauce for dipping
Instructions
Preheat the air fryer to 360 degrees.
Place the frozen mozzarella sticks in the air fryer cook for 6-8 minutes.
Pinch slightly (and carefully since they're hot). They are done when the cheese inside is soft and there is give to the mozzarella stick.
Remove them from the air fryer and enjoy with a marinara sauce for dipping.
Nutrition Information:
Yield:
2
Serving Size:
1
Amount Per Serving:
Calories:

537
Total Fat:

29g
Saturated Fat:

11g
Trans Fat:

1g
Unsaturated Fat:

15g
Cholesterol:

57mg
Sodium:

1623mg
Carbohydrates:

44g
Fiber:

4g
Sugar:

7g
Protein:

24g
This nutrition information is based on the exact products I used in this recipe. Brands and sizes of products could alter exact nutrition and should always be calculated independently.