This post may contain affiliate links. If you click on a link and make a purchase, I may receive a small commission at no extra cost to you. For more information, please read my disclaimer here.
Air Fryer Fish Sticks are made from frozen to form a crispy outside and flaky fish inside!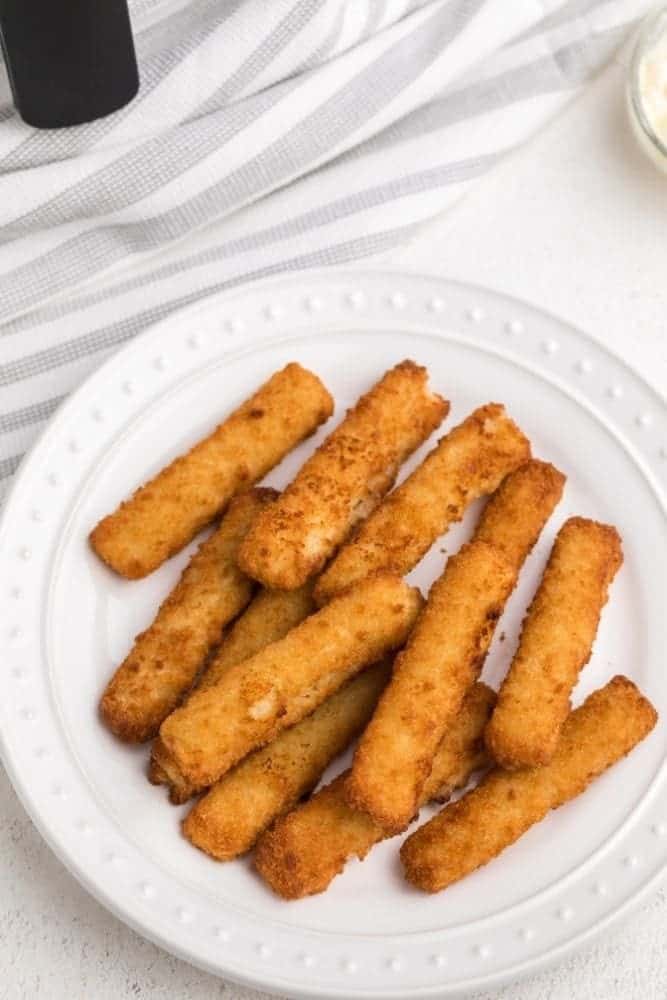 Making air fryer fish sticks from frozen is a guilty pleasure of mine. The crispiness the breading gets on the outside doesn't compare to cooking them in the oven or microwave.
They're done in just minutes to bring an easy weeknight dinner or lunch to the table!
I am going to tell you how to make frozen fish sticks in the air fryer, how to rehear fish sticks in the air fryer, the best dips and sides to serve with fish sticks, and even what brands of fish sticks are the best to buy!
Looking for other air fryer foods to make from frozen? Here's a big list!
I made this recipe using the 5.8 QT Cosori Air Fryer. Its square basket makes it the perfect size for our family of 4.
What Fish is Used to Make Fish Sticks?
Fish sticks are generally made with the following types of fish depending on the brand. If the fish is not listed on the front of the box, it will be the first ingredient on the back.
And yes, the fish sticks are made with real fish!
Here are the most common kinds found in frozen fish sticks:
Are Frozen Fish Sticks Healthy?
Since frozen fish sticks have already been fried and come precooked, they do contain oil. However, they do still contain healthy attributes.
Here is why frozen fish sticks are still a good option:
A lot of brands now contain no artificial flavors or preservatives
They contain real frozen minced fish
You can even buy whole fillet fish sticks that are not minced with a new Gorton's fish sticks variety, which are great in the air fryer
You're air frying them, so no more oil is needed than the oil already in them
How to Make Frozen Air Fryer Fish Sticks
A full printable version of this recipe with ingredient measurements is available at the bottom of this post.
STEP ONE: Preheat your air fryer to 400 degrees.
STEP TWO: Add the frozen fish sticks into the air fryer in one layer. It's important to not overcrowd them as that can cut off airflow and cause them to not cook as fast.
STEP THREE: Cook the fish sticks for 10 minutes, flipping them halfway through until warmed.

I like to check the temperature using an Instant-Read Thermometer. This allows me to make sure the insides are nice and hot before pulling them out of the air fryer.
STEP FOUR: Remove the fish sticks from the air fryer and enjoy with your favorite dipping sauce or store in an airtight container in the fridge for up to 3 days.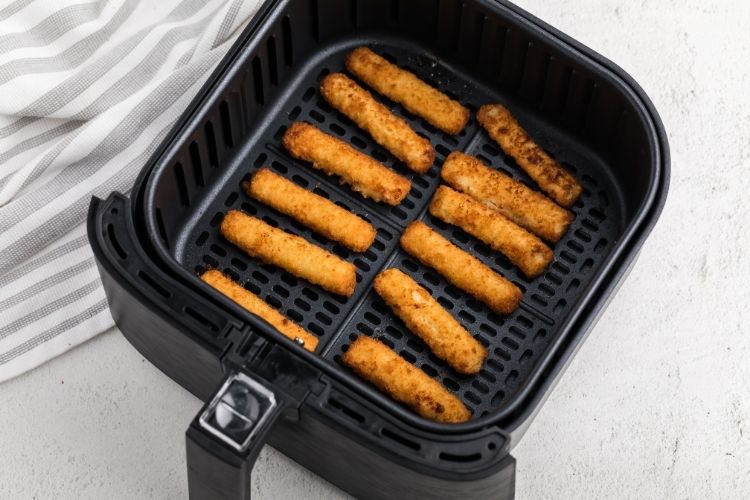 Love seafood? Try these other air fryer seafood favorites:
Check out this big list of air fryer fish recipes for even more ideas to cook!
How to Reheat Fish Sticks in the Air Fryer
Reheating fish sticks in the air fryer is amazing. They get that first-day crispy crunch on the outside that's lost when microwaving leftovers while the inside stays fresh and flaky.
Preheat your air fryer to 400 degrees.
Place fish sticks inside the air fryer and cook for 1-2 minutes until thoroughly heated.
Remove the fish sticks from the air fryer and enjoy!
What is the Best Brand of Fish Sticks?
My top pick is Trident Seafoods The Ultimate Fish Stick to make the best air fryer frozen fish sticks.
I found them at Costco and they have the best taste between the crispiness and texture of the breading and the freshness and flakiness of the fish.
Other great fish sticks brands are:
Gorton's fish sticks
Mrs. Pauls
Van De Kamp (these will cook slightly faster as they're smaller than the normal fish stick)
Trader Joe brand fish sticks
How to Cook Fish Sticks and Tater Tots in the Air Fryer Together
This is the perfect air fryer combination to make. Air Fryer Tater Tots take almost the same time to cook as air fryer frozen fish sticks that I recommend putting them in there at the same time with these directions.
Preheat your air fryer to 400 degrees.
Place the frozen fish sticks on one side of the air fryer and tater tots on the other side.
Cook for 8 to 10 minutes, flipping the fish sticks and tater tots halfway through.
Remove the fish sticks and tater tots from the air fryer and enjoy!
I recommend using this method with a larger air fryer, like the Cosori 5.8QT. The square basket helps keep things separate to allow for ample airflow.
What to Dip Fish Sticks In
Creamy Honey Mustard
Tartar Sauce
Cocktail Sauce
What Do You Eat with Frozen Fish Sticks?
Besides the above combination of fish sticks and tater tots, here are some other great options to enjoy in the air fryer:
I also love to pair fish sticks with macaroni salad, coleslaw, and even an easy Instant Pot macaroni and cheese recipe!
Love air frying? Join our newsletter! You can also follow us on Facebook, Instagram, or join our free Facebook Air Frying Community.
Yield: 3 servings
Air Fryer Frozen Fish Sticks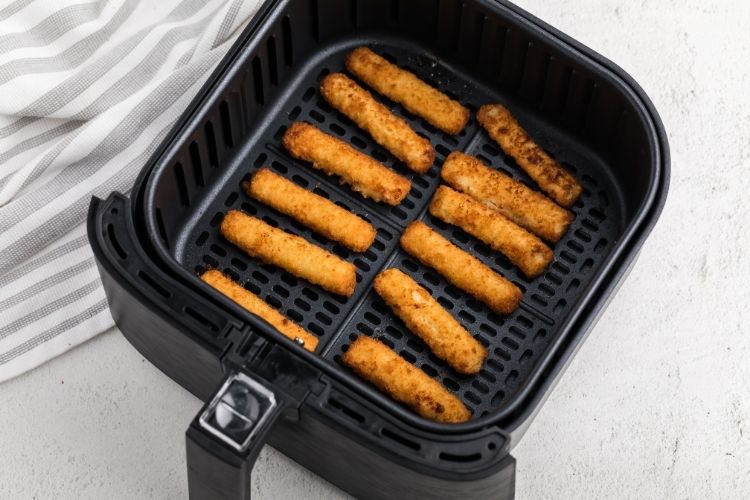 Frozen fish sticks are air fried to get a crispy breading and flaky inside.
Instructions
Preheat your air fryer to 400 degrees.
Place frozen fish sticks in the air fryer in one layer not touching.
Cook for 9-10 minutes, flipping halfway, until warmed thoroughly.
Remove from the air fryer and enjoy!
Notes
How to Reheat Fish Sticks in the Air Fryer
1. Preheat your air fryer to 400 degrees.
2. Cook leftover fish sticks in the air fryer for 1 to 2 minutes, until fully warmed then enjoy!
Nutrition Information:
Yield:
3
Serving Size:
1
Amount Per Serving:
Calories:

274
Total Fat:

28g
Saturated Fat:

5g
Trans Fat:

0g
Unsaturated Fat:

12g
Cholesterol:

84mg
Sodium:

1087mg
Carbohydrates:

10g
Fiber:

1g
Sugar:

1g
Protein:

27g
This nutrition information is based on the exact products I used in this recipe. Brands and sizes of products could alter exact nutrition and should always be calculated independently.