This post may contain affiliate links. If you click on a link and make a purchase, I may receive a small commission at no extra cost to you. For more information, please read my disclaimer here.
We're in the middle of Lent and you know what that means, Fish Friday! What better way to pair it up with some Air Fryer Hush Puppies?
Hush puppies are cornmeal-based bread bites that are typically deep-fried.
This is an air fryer hush puppies recipe from mix to create an easy version to pair with your Friday night or even weeknight dinner.
It specifically uses Jiffy cornbread mix.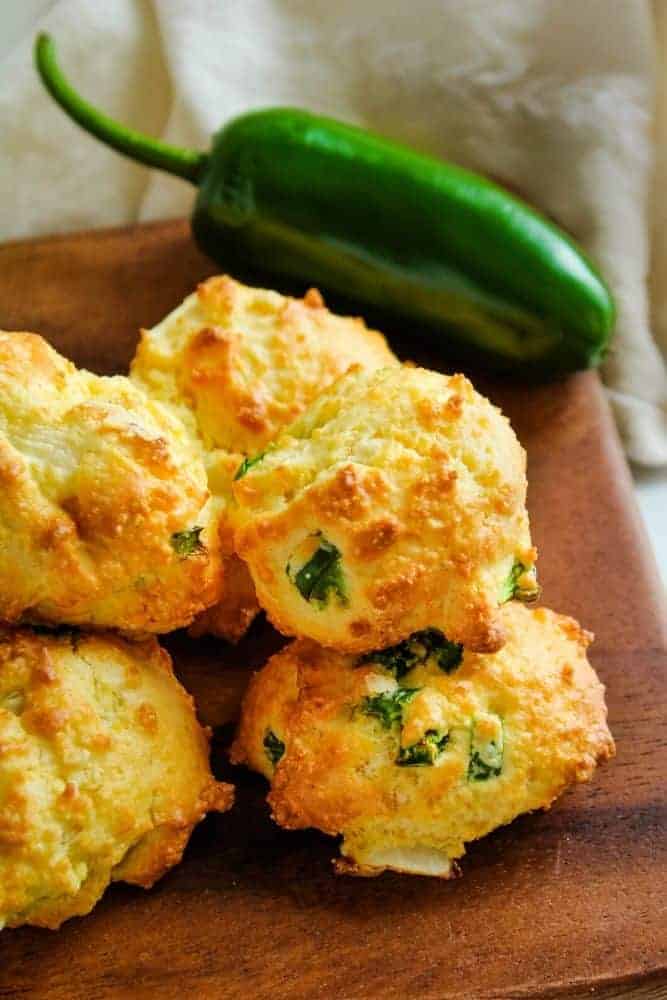 The hush puppies are freezer-friendly and can be reheated from frozen inside the air fryer too!
Keep reading for directions on how to make them and reheat them!
You will need parchment paper for this recipe, whether it be parchment paper cut to fit your air fryer with holes punched through or these nifty and cheap parchment rounds specifically made for air fryers.
If you do not use them, I promise the hush puppies will stick to the bottom of the air fryer, even if your air fryer doesn't normally stick.

Other Air Fryer Recipes You'll Love:
Why Are They Called Hush Puppies?
Hushpuppies have quite a long backstory. There are plenty of myths on the Internet of how the term hush puppies came to be.
Even until recently, I had always heard the story that hush puppies got their name by chefs taking extra pieces of their food and throwing it out the dogs to tell them "hush puppy!"
That along with other versions are just that — myths.
Hush puppies used to be known as red horse bread. Clearly, they have nothing to do with red horses, but "red horse" was a species of fish option served alongside the bread.
Time went on and the name was changed to hush puppies after a church said the phrase.
You can read the full story on hush puppies here.
How to Make Air Fryer Hush Puppies from Mix
In a large bowl, mix the Jiffy Mix, flour, garlic powder, and cayenne pepper (if using). I love using the vegetarian variety.
Add the milk and egg into the mixture and mix well with a wooden spoon to combine.
Add in the chopped onion and jalapeno pepper and mix just to combine. You can also choose to use sweet peppers instead of jalapenos depending on taste preference. I find the jalapenos don't make the batter too spicy, but this can vary.
Let the dough rest for about 5 minutes then preheat your air fryer to 350 degrees.
Letting the dough rest allows for the moisture of the milk and eggs to sink into the Jiffy Mix and flour.
Carefully lay the parchment paper rounds down onto the bottom of the air fryer basket and using a cookie scoop or spoon, scoop small rounds into the air fryer, making sure each hush puppy does not touch.
The air fryer hush puppies will spread slightly, but not much.
Cook for about 6 minutes, flipping them with one or two minutes left to cook.
Remove the hush puppies from the air fryer and cook any remaining hush puppy batter the same way.
You can serve the hush puppies warm, refrigerate them for up to 3 days, or freeze up to 3 months (see directions below on how to reheat from frozen).
How Thick Should the Hush Puppy Batter Be?
Air fryers and wet batters don't work perfectly with each other.
This batter is designed to be firm enough that it won't seep through the air fryer basket holes when parchment paper is down, but softer than cookie dough.
It will be much thicker than pancake mix.
How Do You Cook Frozen Hush Puppies in An Air Fryer?
This recipe can be kept in the freezer for up to 3 months and are super easy to reheat in the air fryer.
Simply preheat your air fryer to 350 degrees and cook the hush puppies for 4-5 minutes, until heated thoroughly. No parchment paper is needed for reheating them as they are already cooked.
Carefully remove the hush puppies from the air fryer and enjoy!
Can I Cook These Hush Puppies Without Parchment Paper?
I have cooked these hush puppies several ways and parchment paper following this recipe is the best way.
If you choose to try cooking them without the parchment rounds, the batter will stick on the bottom of the basket and into the air fryer holes.
Spraying the basket with oil will not help much.
I have also cooked this recipe using silicone egg bite molds. They cook thoroughly, but only the tops get crispy while the sides stay soft.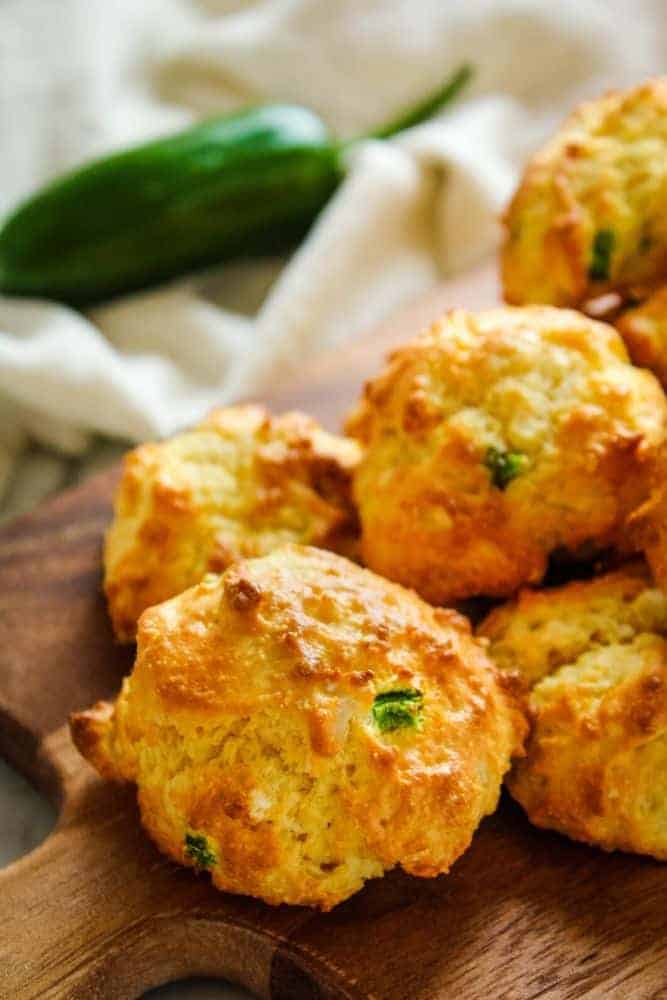 What Recipes Go Well With Hush Puppies?
Hush puppies go perfectly with fish. Here are two of my favorite recipes to enjoy alongside them.
Yield: 16
Air Fryer Hush Puppies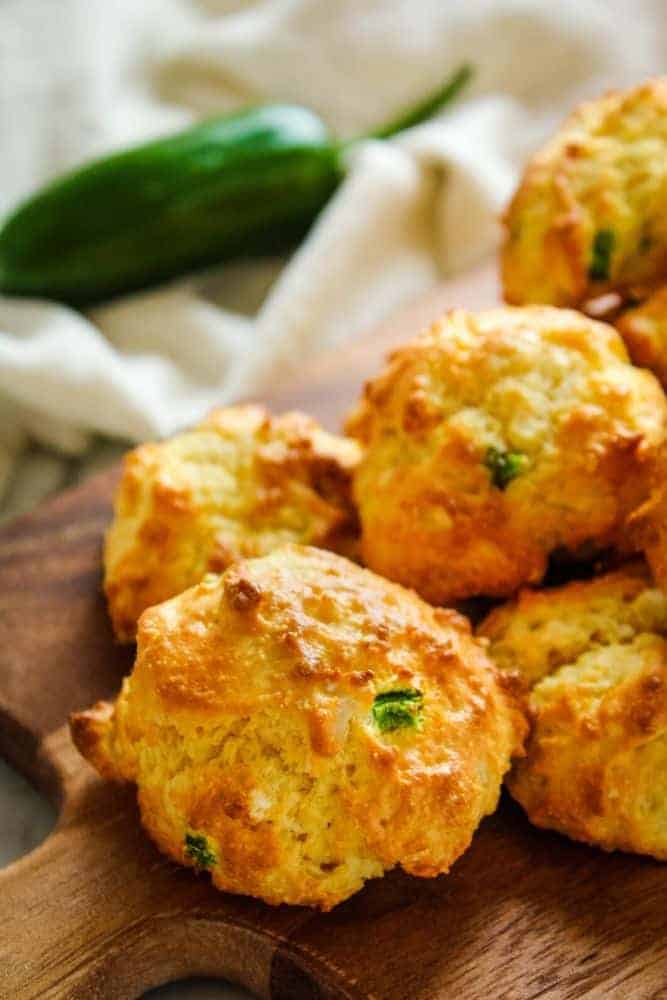 An easy scrumptious seafood side dish. These air fryer hush puppies are the perfect combination of sweet and savory.
Ingredients
1 package of Jiffy Mix
1/4 cup all-purpose flour
1/4 teaspoon garlic powder
1/3 cup whole milk
1 egg
2 tablespoons onion, diced
1-2 tablespoons jalapeno pepper (or sweet pepper), diced
Optional
Instructions
Mix together the Jiffy Mix, flour, garlic powder, and cayenne pepper (if using).
Add in the milk and egg and mix to combine.
Add the diced onions and peppers and mix to just combine.
Preheat the air fryer to 350 degrees and let the mix rest for 5 minutes.
Lay down parchment paper rounds* and place drops of hush puppy dough using a cookie scoop or spoon.
Cook for about 6 minutes, flipping with 1-2 minutes left.
Carefully remove from air fryer and serve.
Refrigerate for up to 7 days or freeze for up to 3 months.
Notes
*must use parchment paper or foil or the mix will stick to the air fryer basket.
To reheat from refrigerated:
Preheat air fryer to 350 degrees and cook for 3-4 minutes until heated thoroughly.
To reheat from frozen:
Preheat air fryer to 350 degrees and cook for 4-5 minutes until heated thoroughly.
Nutrition Information:
Yield:
8 servings
Serving Size:
1
Amount Per Serving:
Calories:

36
Total Fat:

1g
Saturated Fat:

0g
Trans Fat:

0g
Unsaturated Fat:

0g
Cholesterol:

24mg
Sodium:

14mg
Carbohydrates:

5g
Fiber:

0g
Sugar:

1g
Protein:

2g
This nutrition information is based on the exact products I used in this recipe. Brands and sizes of products could alter exact nutrition and should always be calculated independently.