Is air fryer parchment paper really worth it? Find out when you should use it, if it's not necessary and so much more.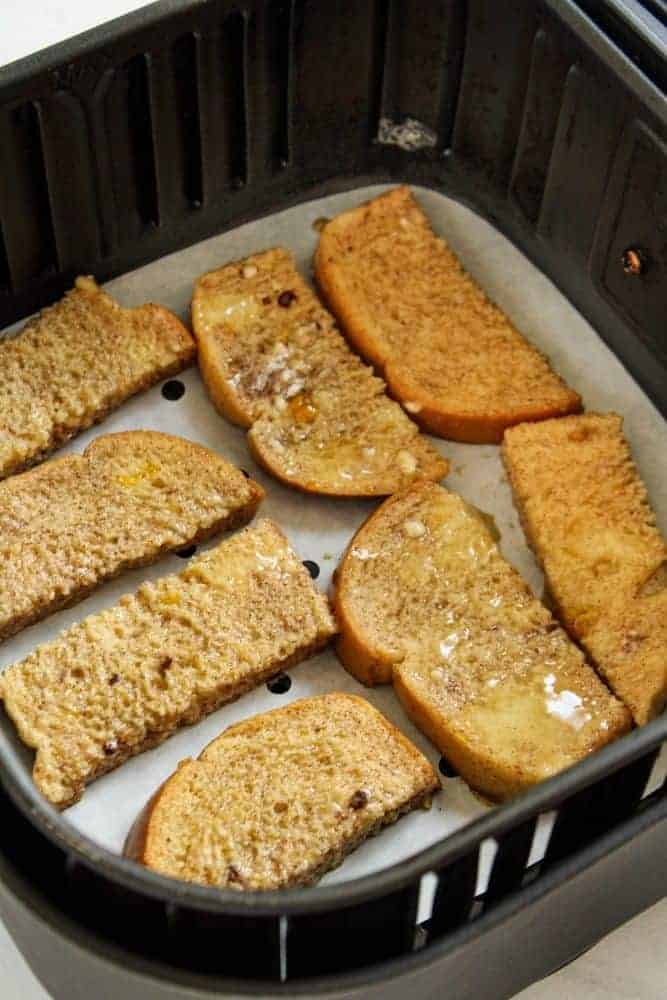 It's no secret that the air fryer is one of the coolest kitchen appliances you can own. No kitchen is complete without one!
An air fryer is a healthy alternative to deep-frying some of your favorite foods. It has the added bonus of being incredibly easy to operate and works within minutes!
As convenient and easy as it is to use the air fryer, the clean-up is often the opposite. While we all love air fryer french fries, we don't especially love cleaning out those pesky crumbs from the fryer basket.
You may have found yourself wondering "Can you put parchment paper in an air fryer?" The answer is yes!
But now you're probably wondering if you need to and why you need to. Well, read on and I will cover all your questions so you can decide if it's worth it to you.
Here's what I'm going to teach you about using parchment paper in your air fryer:
If you actually need to use parchment paper when using your air fryer
How to use parchment paper successfully in your air fryer
Air fryer parchment paper vs. regular parchment paper and which one you should be using
How to make your own perforated parchment paper to allow for evenly crisped food
You'll learn which parchment papers are best and which ones to avoid, as well as an easy how-to to save yourself a little time and money! A cleaner, faster, better air frying experience awaits.
Do I Need to Use Parchment Paper in the Air Fryer?
Parchment paper is an optional accessory for your air fryer that I find extremely useful in certain scenarios. It's used mainly to help with clean up in most recipes and are optional except in a few cases.
I recommend using parchment paper rounds every time you make one of the following to prevent the foods from sticking into the holes in the basket
Cookies
Any other foods that use a raw dough that can stick into the holes
How to Use Parchment Paper in the Air Fryer:
Double-check your paper. Make sure that you're using the right baking paper— wax paper won't work and will damage your fryer.
Measure twice, cut once. To avoid a fire hazard, you don't want paper bunching up in your fryer.

If you're making your own, cut a piece of parchment paper slightly smaller than the basket size itself. This allows the maximum amount of air to flow to perfectly crisp your dish.
Preheat your air fryer FIRST. Adding the parchment paper to the air fryer while preheating will cause the liner to fly up, hit the fan, and burn. When the food is ready to go in, that's when you add the paper.
Air Fryer Parchment Paper Vs. Regular Parchment Paper:
The main difference between air fryer parchment paper and regular baking parchment paper is the perforated holes.
Air fryer parchment paper comes with precut holes in premeasured sheets for better air circulation. Food will be crispier and juicier if you use air fryer parchment paper.
And if you're wondering, yes, you can use parchment paper in the microwave too!
Can I Make My Own Perforated Parchment Paper?
Yes! Follow these simple steps to make your own!
Cut normal parchment paper slightly smaller than the basket size.
Use a small hole puncher to cut holes.
Place the parchment paper in the basket AFTER you're done preheating with food on top.
While it's easy to make your own, it's honestly worth your time to purchase pre-made air fryer paper online.
Amazon has great square or circular air fryer parchment paper in packs of 100 and they're really cheap. I personally use the square ones because my air fryer is square.
Is Parchment Paper Safe In the Air Fryer?
Absolutely! If it's safe for the oven, it's safe for the fryer. Most parchment papers can withstand a heat of over 400 degrees.
Just follow these two rules when it comes to using parchment paper in the air fryer.
Never preheat your air fryer with parchment paper in it. Food must always be on top of it or it will burn the parchment paper.

Only use parchment paper when you have something that will weigh it down enough.

For instance, parchment paper will not work when cooking just one frozen mozzarella stick in the air fryer. The outsides will still fly upward and hit the fan.
Can I Use Wax Paper in the Air Fryer?
No! Wax paper will completely melt in your air fryer.
What Are Some Alternatives To Air Fryer Parchment Paper Sheets?
You can also use aluminum foil in the air fryer with specific foods. You can read more about when and when not to use foil in the air fryer here.
If you're looking for something more sustainable and dishwasher safe, you can use these awesome reusable silicone perforated air fryer liners and baskets.
I personally use a silicone basket which is great for nonstick items.
Other Air Fryer Tips and Tricks You'll Love: