This post may contain affiliate links. If you click on a link and make a purchase, I may receive a small commission at no extra cost to you. For more information, please read my disclaimer here.
Wondering the best way to make a sweet potato? Well, you've found it! This Air Fryer Baked Sweet Potato recipe is roasted until its sugar caramelizes the outside crispy skin. It's the sweetest and fluffiest baked sweet potato you'll ever have!
Enjoying an air fryer baked sweet potato is up there on my list of favorites vegetables to eat. It comes out super sweet and soft on the outside and extra crispy on the outside.
It's easy to want to load these root vegetables up with toppings, but even just enjoying a whole sweet potato with sea salt or butter provides an upgraded flavor when cooked in an air fryer.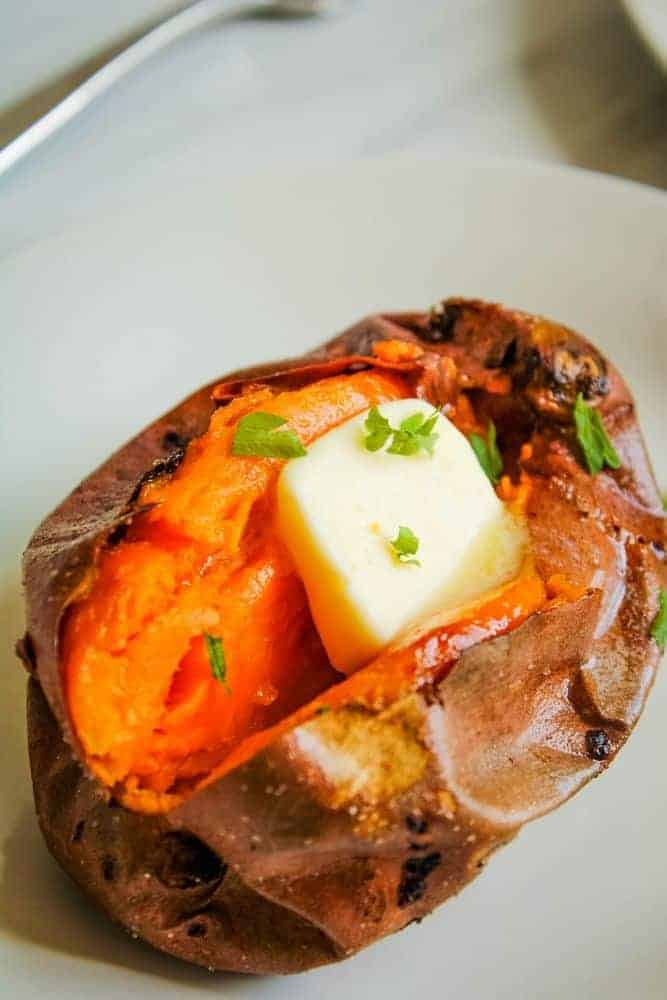 We love sweet potatoes in our house and cook them in everything from Mexican Sweet Potatoes to Sweet Potato and Black Bean Tacos to, of course, Air Fryer Sweet Potato Fries.
I cooked this recipe in our Cosori 5.8QT Air Fryer. I enjoy the square basket since it has enough space to cook for my family of four.
How to Make an Air Fryer Baked Sweet Potato
A full printable recipe is shown at the bottom of this article.
1. Preheat your air fryer to 400 degrees.
2. Wash, scrub and dry your sweet potatoes fully (you can eat the skins!). Read more about that below.
3. Poke holes into each sweet potato using a fork. This is a must. I go over this below as well.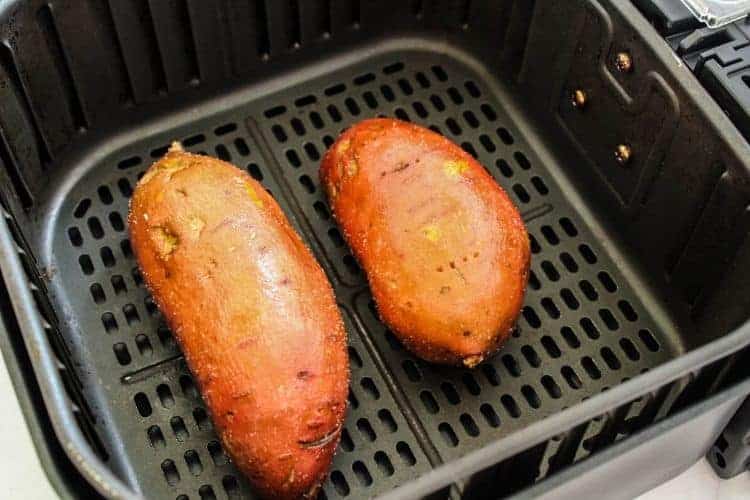 4. Coat the sweet potato skins entirely with oil and salt.
5. Cook the sweet potatoes in the air fryer for 35-40 minutes.
6. Slice the air fryer baked sweet potatoes in half, add desired toppings, and enjoy!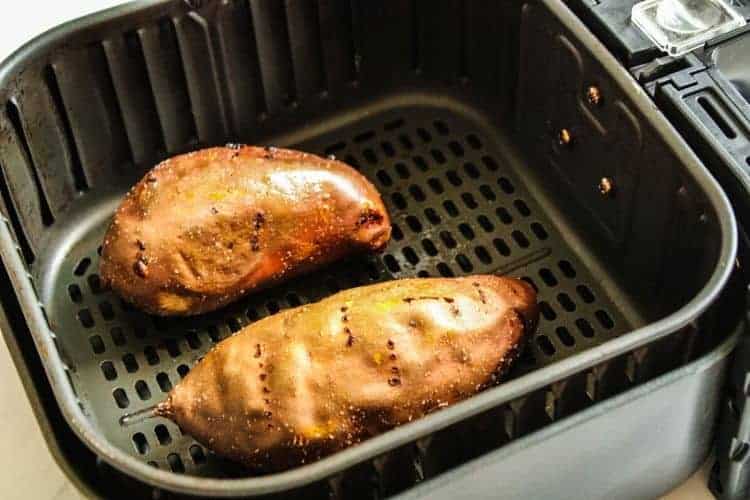 How Do You Know When a Baked Sweet Potato is Done Being Air Fried?
The best part about roasting a sweet potato in the air fryer is the obvious way to know it's done cooking.
The baked sweet potatoes are cooked thoroughly once you see the sweet potato oozing out of the fork holes. It will look like small caramelized areas on the outside skin.
This is what you want to see to know you'll get the sweetest flavor possible.
Why Should I Make These in an Air Fryer Instead of an Oven?
The outside gets an incredible crisp that even an oven can't do. I've never been a big fan of eating the skin of sweet potatoes, but air frying them has changed that.

Air fryers take much less time to preheat than an oven. Most air fryers heat up to 400 degrees within 4-5 minutes. That's the same time it takes to prep this recipe!

You're not heating your entire house. We like to eat sweet potatoes all year round but using an oven in the summer is brutal. Air fryers keep the house at a normal temperature.

You can use your oven for the main entrée. I love the idea of a double-oven and if you have an air fryer, you now have one.

Now you can make any other recipe in your oven with no worry as to what temperature you're cooking two things with!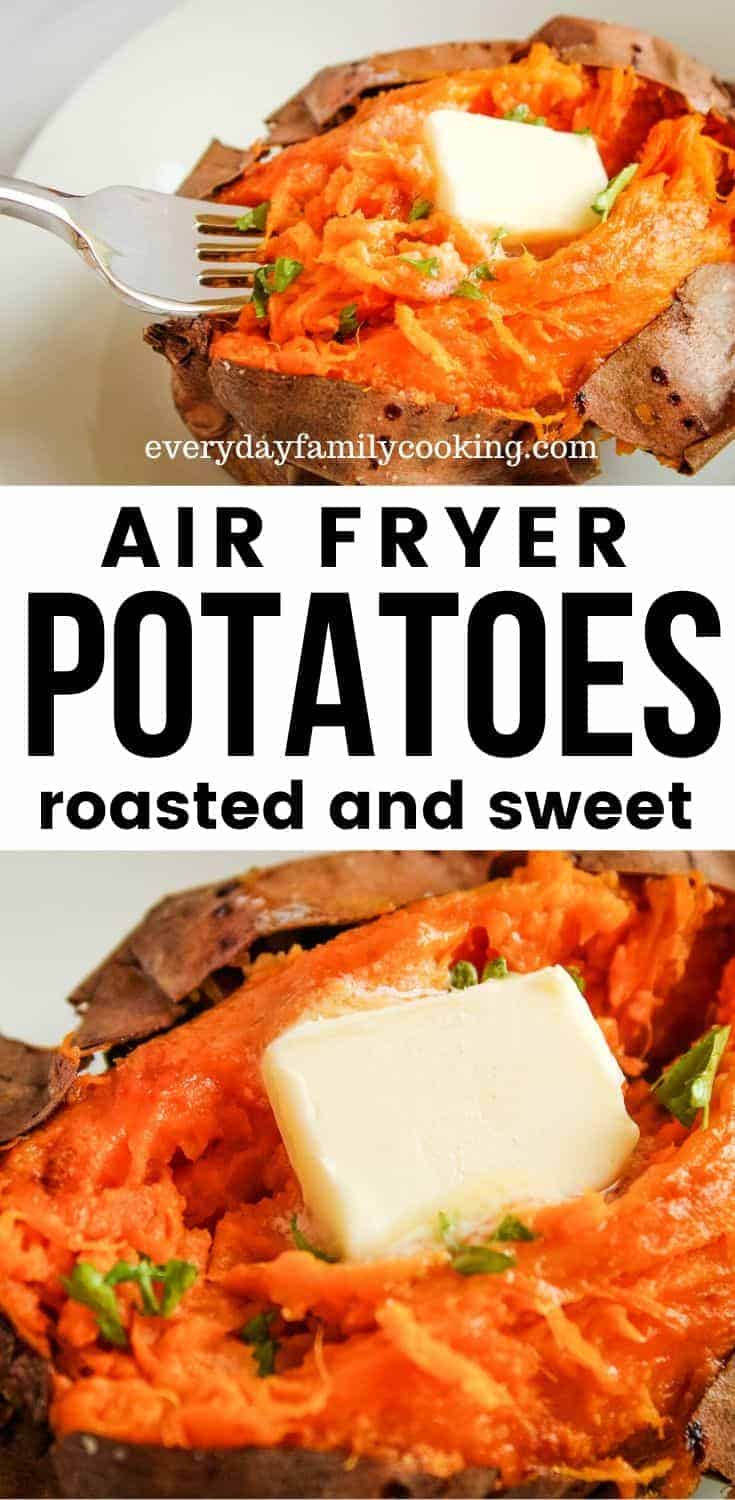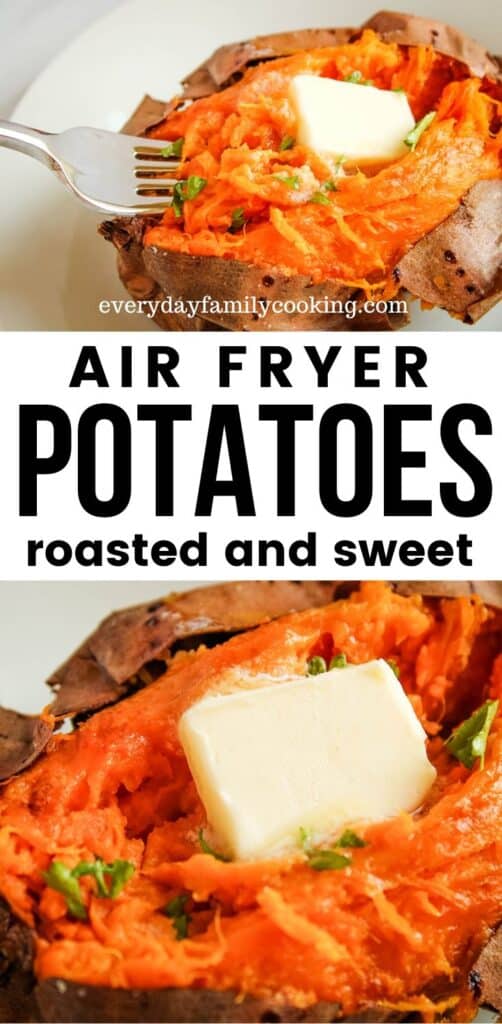 How to Pick the Right Sweet Potatoes to Cook
Find sweet potatoes that are consistent in size.

Speaking of size, pick small to medium-sized ones. They work the best for baked sweet potatoes as they cook a little faster and have a sweet creamier taste.

Look for sweet potatoes that are firm and smooth. These are fresher and will store longer. Soft sweet potatoes are already well past their prime.

Pass on sweet potatoes with bruising or cracks. Bruising can be detrimental to sweet potatoes as one bruise could ruin the entire sweet potato.
What are the Benefits of Eating Sweet Potatoes?
Sweet potatoes are full of vitamins and minerals. Cooking them inside the skin is a great way to keep all those nutritional benefits inside.
They are high in fiber and a great source of Vitamin B and C. They also contain a high amount of beta-carotene that converts to vitamin A when eaten. – that's where they get their orange color from!
The high amounts of fiber help regulate digestion and improve gut health while the magnesium inside has even been said to help reduce stress and anxiety.
See more about the benefits of sweet potatoes here.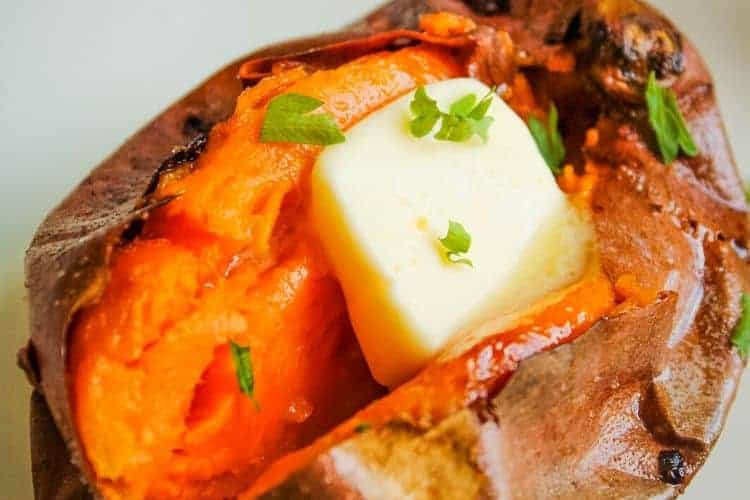 Just one medium sweet potato contains the following:
112 calories
3.9 grams of fiber
2 grams of protein
26 grams of carbs
71 milligrams of sodium
.01 grams of fat
5.4 grams of sugar
Can I Eat the Skin?
Yes! Sweet potato skins are safe and healthy to eat. They contain most of the nutritional value of the sweet potato.
This recipe makes the skin extra crispy with some added flavor to eat.
Why Do I Need to Dry Off My Sweet Potatoes After Cleaning Them?
If your sweet potatoes are wet when you cook them, the peels will get hard and tough. It will also make the oil repel from the sweet potato.
Having a dry sweet potato allows for the oil to stick onto the skin to get that nice crispy outside that's perfect when cooked in an air fryer.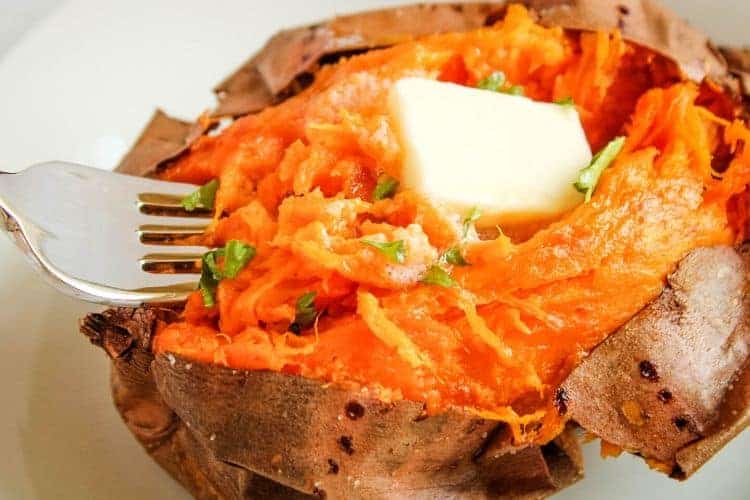 How to Store Sweet Potatoes
Remove them from any plastic bags and place them in a more ventilated place, like a brown paper bag or cloth reusable shopping bag.

Remove any excess dirt with a dry cloth. Sweet potatoes should only be washed right before use as storing a wet potato can lead to a rotted mess.

Store sweet potatoes in a cold and dark environment, such as a basement without moisture or pantry.

Do not store sweet potatoes in the refrigerator. They will get hard and lose flavor.

Do not store your sweet potatoes next to other produce. It will cause your sweet potatoes to ripen more quickly. A big culprit of this? Onions.
Why Do You Need to Poke Holes in Sweet Potatoes?
Poking holes allows the sweet potatoes to let off steam while cooking. As the sweet potato cooks, the inside builds up pressure from the steam.
If the sweet potato doesn't have anywhere to vent that steam, it could explode or just taste and smell horrible.
It's happened to me!
I microwaved a whole sweet potato without poking it and it burned from the inside out. I kid you not.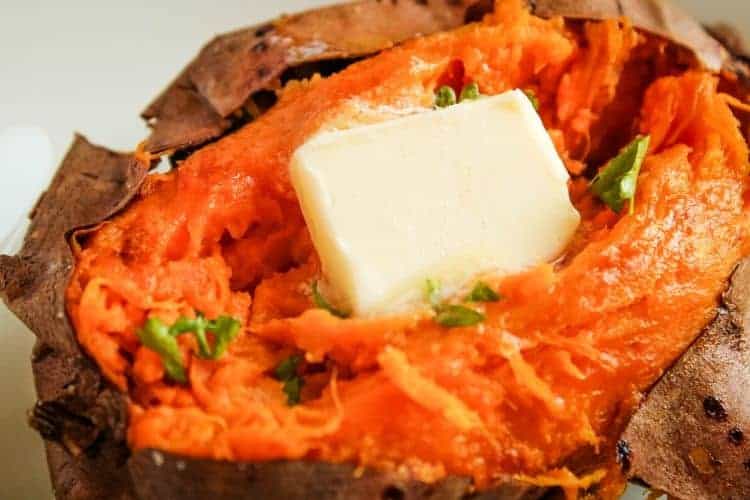 It smelled up the entire house and it tasted horrible. I guess that's what happens when you're distracted with little kids!
I am thankful it didn't explode, but I will never make that mistake again.
It only takes about 15 seconds to prick each potato, so just spend the extra minute and do it.
How to Reheat a Baked Sweet Potato in the Air Fryer
I love making enough food to last us for two days. It makes meal prep so much easier and is a huge time saver.
Since sweet potatoes can take a little more time than other side dishes, like Air Fryer Roasted Carrots or Air Fryer Brussels Sprouts, I love reheating them in the air fryer.
Preheat the air fryer to 350 degrees.

Cut the cooked sweet potato in half if it's not already cut.

Place the sweet potato in the air fryer and cook for 5 to 6 minutes until heated thoroughly.

Other Recipes You'll Love:
The Ultimate List of Vegetables to Make in an Air Fryer
Yield: 2 servings
Air Fryer Baked Sweet Potato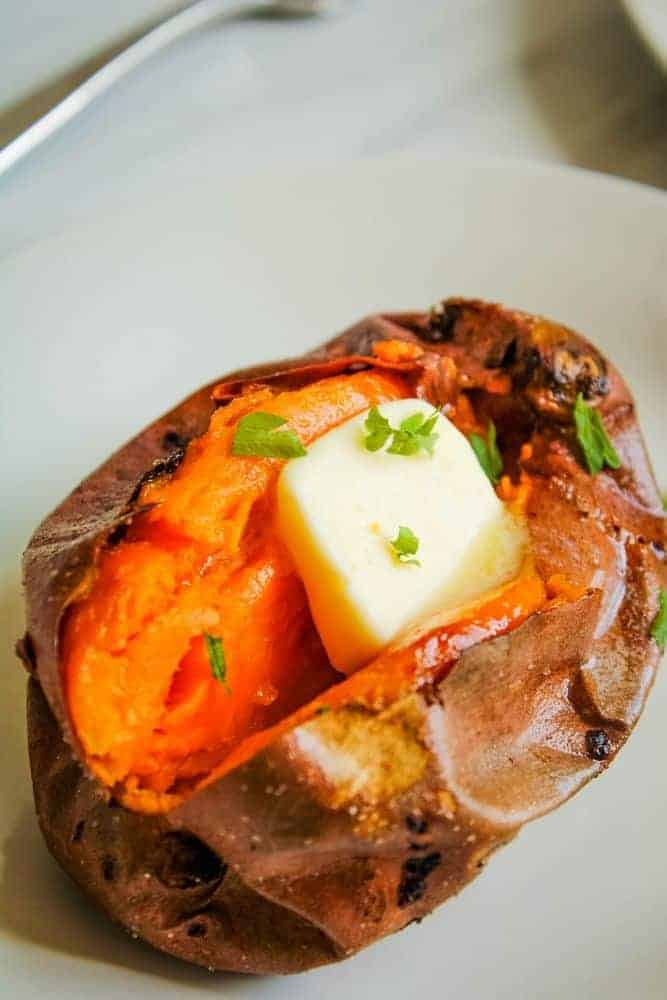 A fluffy roasted sweet potato that is air fried to bring out its sweetest flavor.
Ingredients
2 small sweet potatoes, scrubbed and dried
1 teaspoon oil
1/4 teaspoon salt
Instructions
Preheat the air fryer to 400 degrees.
Using a fork, poke holes into the skin of the sweet potatoes.
Coat sweet potato skins completely with oil and salt.
Carefully place potatoes into the air fryer and cook for 35-40 minutes until a caramelization can be seen around the fork holes and sweet potato is easily pierced with a fork.
Slice in half, let cool until just warm, then enjoy!
Notes
How to Reheat a Baked Sweet Potato in an Air Fryer:
1. Preheat air fryer to 350 degrees.
2. Cut sweet potatoes in half, if not already, then cook in the air fryer for 5 to 6 minutes until warmed.
3. Remove from the air fryer and enjoy!
Nutrition Information:
Yield:
2
Serving Size:
1
Amount Per Serving:
Calories:

75
Total Fat:

2g
Saturated Fat:

0g
Trans Fat:

0g
Unsaturated Fat:

2g
Cholesterol:

0mg
Sodium:

286mg
Carbohydrates:

12g
Fiber:

2g
Sugar:

4g
Protein:

1g
This nutrition information is based on the exact products I used in this recipe. Brands and sizes of products could alter exact nutrition and should always be calculated independently.