Crispy on the outside and fluffy on the inside, this air fryer baby potatoes recipe is the ultimate way to roast your tiny spuds. Prepared with just a few simple ingredients – and done in under 20-minutes!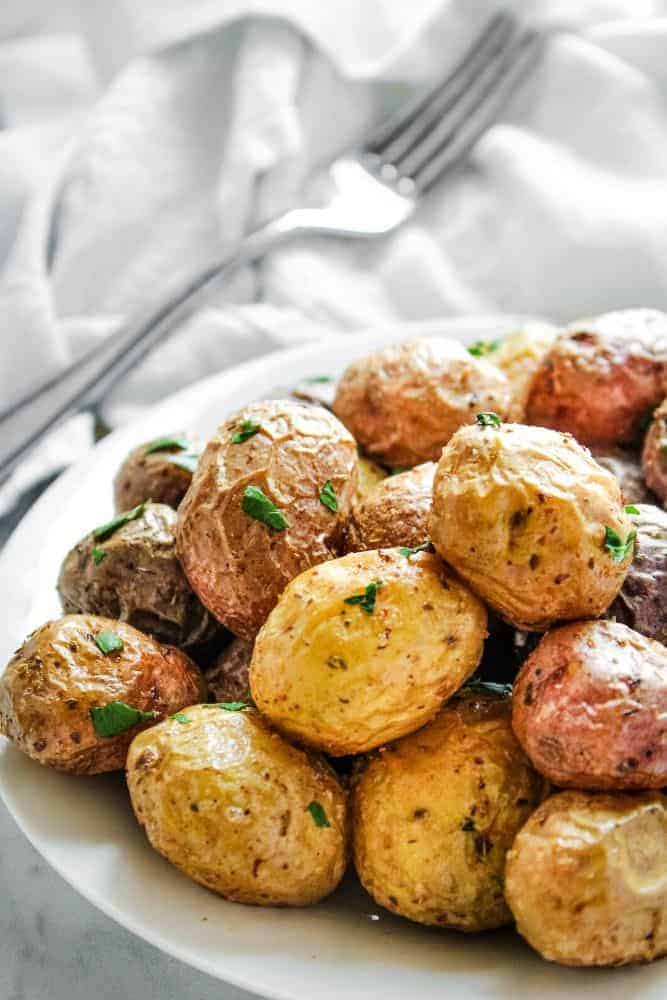 I love roasting vegetables in my air fryer (like these carrots, squash, and green beans recipes).
It takes a lot of the hard work out of roasting (like waiting 45 minutes to an hour) as well as a lot of the excess oil. Roasted veggies are one side dish that makes an appearance in my house at least once a week.
I also have a thing for potatoes – don't we all? I like them baked, mashed, and even in chip form.
In this recipe, I'm bringing my love of potatoes and my air fryer together! Presenting the best way to roast baby potatoes in the air fryer.
It involves a little butter, some salt and oregano, and whole baby potatoes. What's more, there's only 2 minutes of easy prep time and about 14 minutes of cook time. Use my method to achieve perfect and tender roasted baby potatoes every time.
Here's what I'm going to teach you in this post:
The ingredients you'll need to make these easy air fryer potatoes.
How to make the best roasted potatoes in the air fryer plus cook time.
Answers to some commonly asked questions on preparing air fryer roasted potatoes, including whether you need to boil the potatoes first or not.
You don't even need to worry about peeling your baby potatoes before you begin – in fact, the crispy skin is my favorite part of this recipe! Keep reading for everything else you need to know.
I cooked this recipe in my Cosori 5.8QT air fryer. It's perfect for my family of 4 and I could have doubled this recipe in one batch if I wanted!
How to Make Air Fryer Baby Potatoes
A full printable version of this recipe with ingredient measurements is available at the bottom of this post.
STEP ONE: Preheat your air fryer to 400 degrees F. While you wait, make sure to thoroughly clean the baby potatoes to remove any dirt.
STEP TWO: Combine the whole baby potatoes, melted butter, oregano, and sea salt into a large bowl and mix them.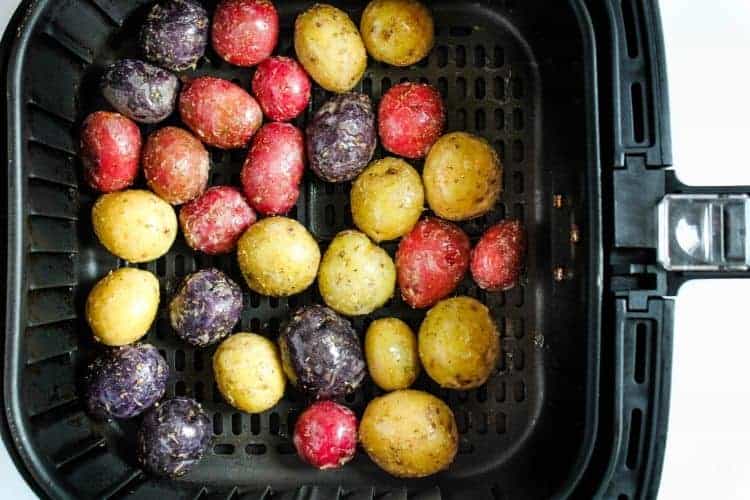 STEP THREE: Place the potato mixture in your air fryer and cook for 13-15 minutes, making sure to shake the air fryer basket halfway through.
Your air fryer potatoes are done when you can easily poke them with a fork. Remove and enjoy immediately.
Remember that if you're using colored baby potatoes, the outer color will fade once cooked. If you're using purple potatoes, the inside will remain a vibrant violet hue!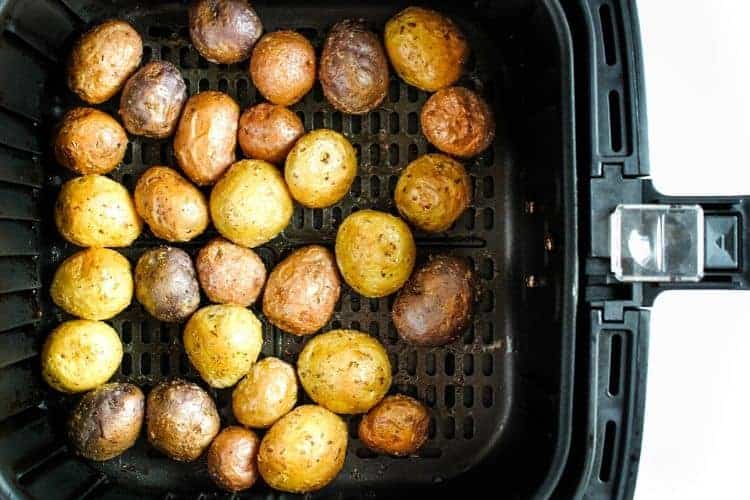 Should You Boil Potatoes Before Air Frying?
Some air fryer potatoes recipes indicate that you should boil your potatoes first. While this may be helpful for certain French fries recipes (except for mine!), you don't need to worry about it for my air fryer baby potatoes recipe.
They cook up – and crisp up – nicely without this extra step. When you use skin-on baby potatoes for my air fryer roasted potatoes recipe, you'll get a crispy outside and a tender inside!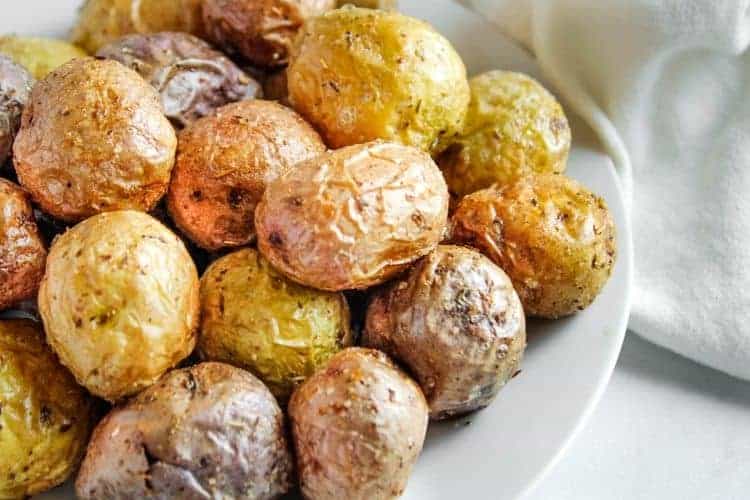 How Do You Clean Baby Potatoes?
Cleaning your baby potatoes before cooking them is essential because this recipe calls for skin-on potatoes. Leftover dirt or other debris is one extra crunch you don't want to find as you eat! If your baby potatoes look relatively clean, you can simply put them in a colander and rinse with cold water.
If you do notice some stuck-on dirt (the sign of a good, organic potato — don't be scared!), use a vegetable scrubber to clean them thoroughly while holding them under cold water.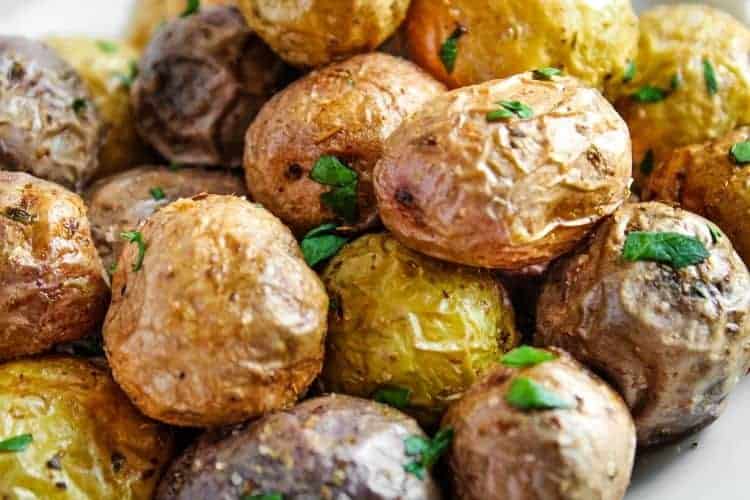 Can You Air Fry Raw Potatoes Without Oil?
Half of the beauty of an air fryer is that you're able to cook most things without any added oil! My recipe calls for a bit of melted butter so that the baby potatoes crisp up nicely.
You could alternatively use a couple of sprays of your oil of choice (I love filling this spray bottle with my favorite olive oil). Remember that when you use oil in your air fryer, you have to spray the food NOT the basket. This is key!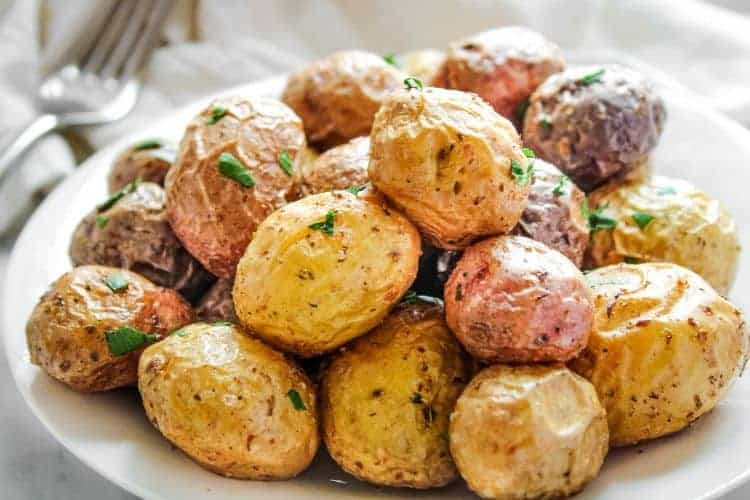 Are Air Fried Potatoes Healthy?
Generally, air-fried foods are considered healthier than traditionally fried foods. This is simply because you use a lot less oil. Traditional frying can cause all sorts of weird chemical reactions between the oil and your food too. You can avoid all of that by using an air fryer!
You can check out our big list of healthy air fryer recipes here!
Be sure to talk to your health provider to get their expert opinion on healthy foods!
How Do I Reheat Baby Potatoes in the Air Fryer?
Reheating foods are one of the best ways to use air fryers. You can reheat everything from pizza, steak, wings, to this baby potato recipe.
Preheat your air fryer to 400 degrees.
Add in the leftover potatoes and cook for approximately 3-4 minutes until heated thoroughly.
Remove from the air fryer and enjoy!
You may need to add a little more salt to the potatoes to recreate the same taste as day one.
Other Air Fryer Recipes You'll Love:
Yield: 4 servings
Air Fryer Baby Potatoes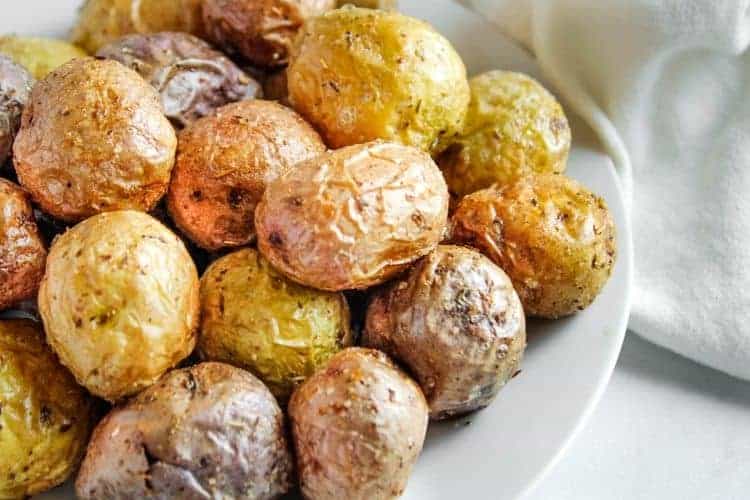 Roasted air fryer baby potatoes are cooked to perfection in this easy flavorful air fryer side dish.
Ingredients
1 pound baby potatoes, cleaned
2 tablespoons butter, melted
1/2 teaspoon oregano
1/4 teaspoon sea salt
Instructions
Preheat air fryer to 400 degrees.
Combine whole baby potatoes, melted butter, oregano, and sea salt in a bowl.
Add baby potatoes to the air fryer and cook for 14-16 minutes until tender when pierced with a fork. Shake basket halfway through.
Carefully remove potatoes from the air fryer and enjoy immediately.
Notes
How to Reheat Baby Potatoes in the Air Fryer:
Cook potatoes in a preheated air fryer at 400 degrees for 3-4 minutes until warmed thoroughly.
Nutrition Information:
Yield:
4
Serving Size:
1
Amount Per Serving:
Calories:

157
Total Fat:

6g
Saturated Fat:

4g
Trans Fat:

0g
Unsaturated Fat:

2g
Cholesterol:

15mg
Sodium:

189mg
Carbohydrates:

24g
Fiber:

3g
Sugar:

1g
Protein:

3g
This nutrition information is based on the exact products I used in this recipe. Brands and sizes of products could alter exact nutrition and should always be calculated independently.