This post may contain affiliate links. If you click on a link and make a purchase, I may receive a small commission at no extra cost to you. For more information, please read my disclaimer here.
I frequent ALDI's to buy a lot of our fresh produce and have been loving their baby potatoes. They're a great price and have been frequently on sale. I decided to make air fryer baby potatoes one day and my usual routine of roasting them completely changed.
The skins get crispy on the outside while the insides stay fluffy and hot. They truly taste like they were oven roasted in half the amount of time of actually roasting the potatoes in the oven.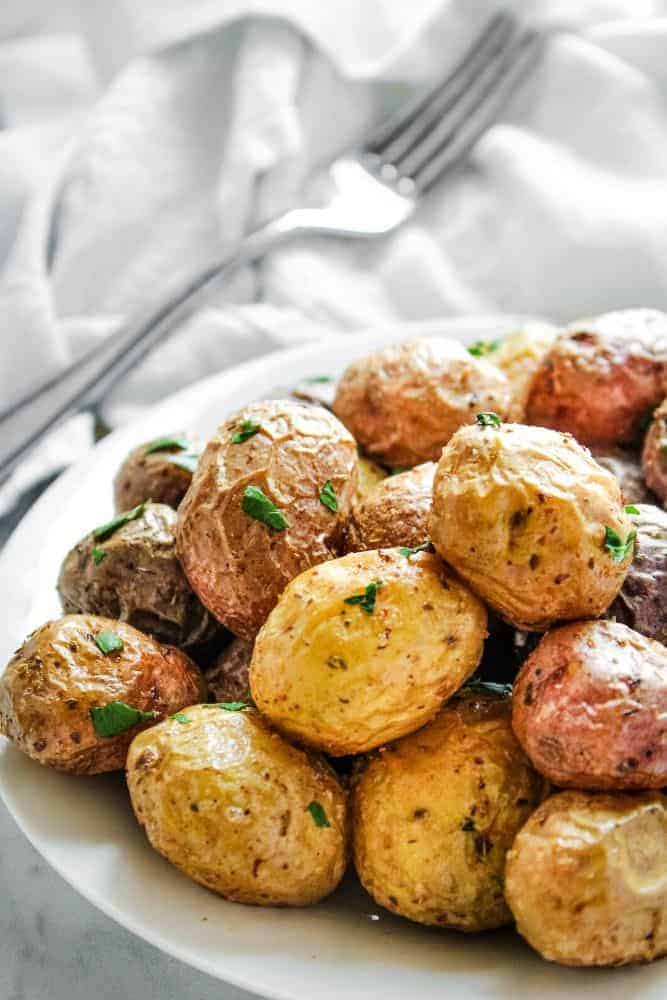 If that doesn't scream weeknight veggie, I'm not sure what does!
They're perfectly seasoned with a little oregano and salt and you can switch out the oregano for rosemary easily without altering any other ingredients.
My favorite part about this recipe is how the potatoes cook completely whole. That means less prep work and an easier side dish.
You just combine everything into a bowl and place it in the air fryer to cook!
Vegetables are one of my favorite things to make in the air fryer. Check out these other 30 vegetable recipes you can easily make in your air fryer.
How to Make Air Fryer Baby Potatoes
Preheat your air fryer to 400 degrees.
Combine the whole baby potatoes, melted butter, oregano, and sea salt into a bowl and mix to combine.
Place the mixture into the air fryer and cook for 13-15 minutes, shaking the basket halfway through.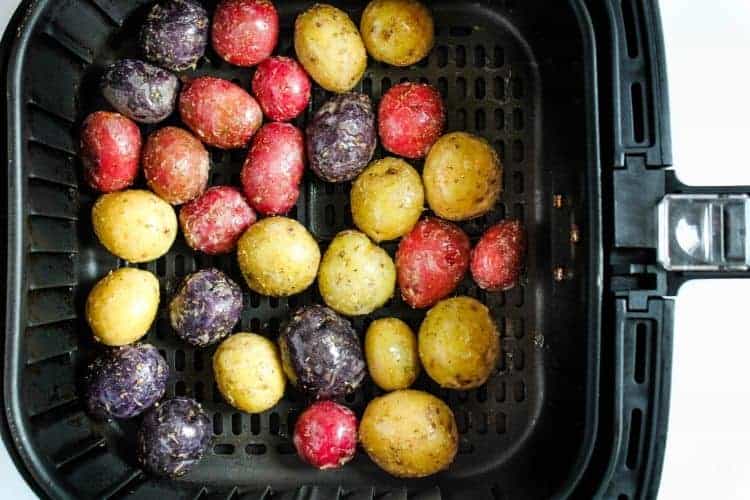 The potatoes are done when they are tender when pierced with a fork.
Carefully remove the baby potatoes from the air fryer and enjoy it immediately.
You'll notice the potatoes lose their vibrant color as they're cooked. This is completely normal. The purple potatoes will still be purple on the inside.
I cooked this recipe in my Cosori 5.8QT air fryer. It's perfect for my family of 4 and I could have doubled this recipe in one batch if I wanted!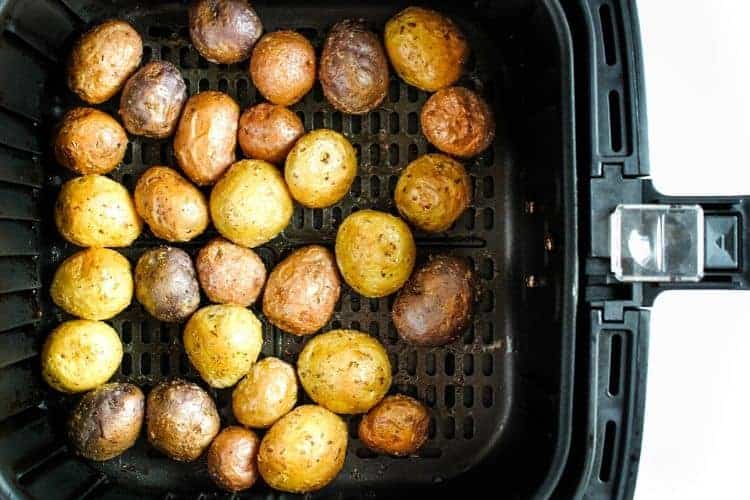 Want to make other potatoes in the air fryer? Try these recipes!
How Do You Clean Baby Potatoes?
If the potatoes look pretty clean already, place them all into a big colander with running water shuffling them around with your hands. This will help get any little bits of dirt off.
If the potatoes look extra dirty or have clumps of dirt on them, use a vegetable scrubber to carefully scrub the outside of the potatoes while running them underwater.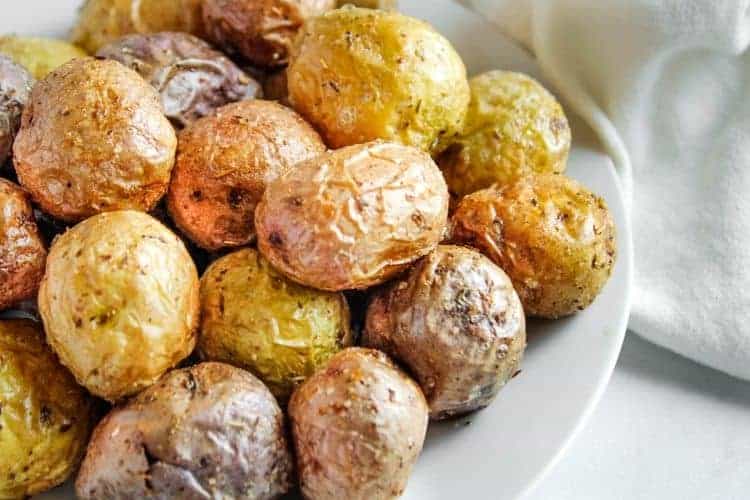 Do I Need to Peel the Baby Potatoes?
No, since the potatoes are so small, it's best not to peel them. They can be cooked and eaten whole with the skins on.
Plus, the skins are the best part when air frying potatoes! They get a little crisp on top.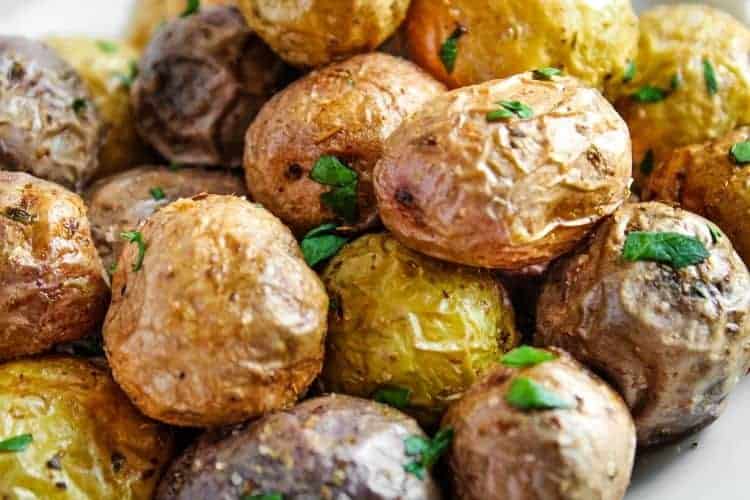 Do I Need to Use Butter?
I love the idea of butter with my potatoes. I eat them with mashed potatoes and just love the sweet creaminess it brings.
If you would prefer to skip the butter, just simply swap it out for your oil of preference, keeping to the 2 tablespoons amount listed on the recipe.
Not sure what oil is okay for the air fryer? Use this air fryer oil guide to help you decide!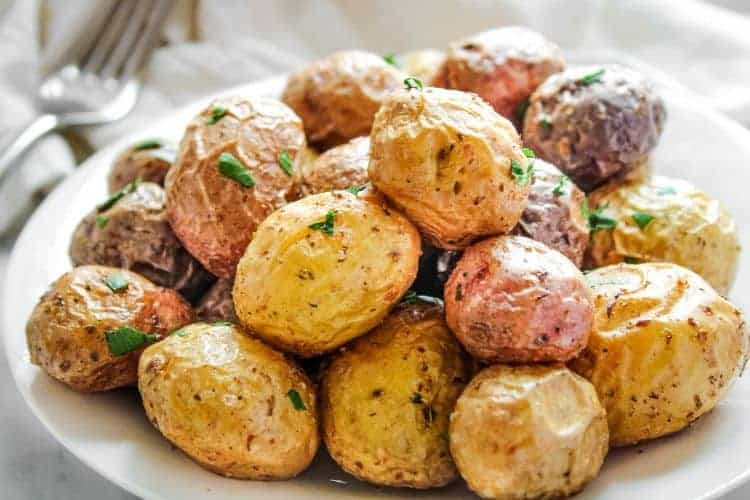 How Do I Reheat This Recipe?
Reheating foods are one of the best ways to use air fryers. You can reheat everything from pizza to this baby potato recipe.
Preheat your air fryer to 400 degrees.
Add in the leftover potatoes and cook for approximately 3-4 minutes until heated thoroughly. I like to check one potato by splitting it in half and carefully touching the inside to make sure they are nice and hot.
Remove from the air fryer and enjoy!
You may need to add a little more salt to the potatoes to recreate the same taste as day one.

Other Air Fryer Recipes You'll Love:
Air Fried Oreos with Just 3 Ingredients!
Yield: 4 servings
Air Fryer Baby Potatoes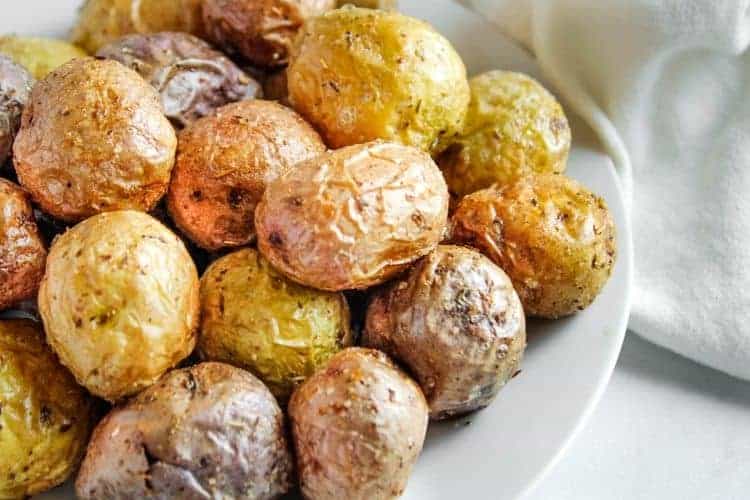 Roasted baby potatoes are cooked to perfection in this easy flavorful air fryer side dish.
Ingredients
1 pound baby potatoes
2 tablespoons butter, melted
1/2 teaspoon oregano
1/4 teaspoon sea salt
Instructions
Preheat air fryer to 400 degrees.
Combine whole baby potatoes, melted butter, oregano, and sea salt in a bowl.
Add baby potatoes to the air fryer and cook for 14-16 minutes until tender when pierced with a fork. Shake basket halfway through.
Carefully remove potatoes from the air fryer and enjoy immediately.
Notes
How to Reheat Baby Potatoes:
Cook potatoes in a preheated air fryer at 400 degrees for 3-4 minutes until warmed thoroughly.
Nutrition Information:
Yield:
4
Serving Size:
1
Amount Per Serving:
Calories:

157
Total Fat:

6g
Saturated Fat:

4g
Trans Fat:

0g
Unsaturated Fat:

2g
Cholesterol:

15mg
Sodium:

189mg
Carbohydrates:

24g
Fiber:

3g
Sugar:

1g
Protein:

3g
This nutrition information is based on the exact products I used in this recipe. Brands and sizes of products could alter exact nutrition and should always be calculated independently.