One of my favorite things to make in an air fryer is vegetables. I always find myself thinking of a healthy side dish as an afterthought when dinner is already in the oven.
That's actually how these Roasted Air Fryer Carrots were created. And if you love these, you will absolutely love my air fryer carrot fries, air fryer carrot chips, and air fryer baby carrots recipes!
I used to end up microwaving frozen vegetables then having to throw away fresh ones when they go bad.
Want to try carrots in your Instant Pot? Check out these Instant Pot Glazed Carrots for the ultimate sweet side dish.
That's no longer a problem with an air fryer, especially with these air fried carrots. Roasting vegetables take half the time and taste just as delicious!
I chose these air fried carrots because they please the entire family. My 3-year-old eats them up and even asks for more.
They truly mimic the sweet taste of roasted carrots and they're so simple to cook in any air fryer from a Nuwave to an Air Fryer Oven!
Join our new FREE Air Fryer Facebook Community to gain access to exclusive recipes, tips, and content!
Roasting carrots is a perfect quick side dish for any meal. It creates a healthy alternative to carbs and complements almost any dinner.
You can use baby carrots as well, you will just need to adjust the cooking time to make sure they are cooked all the way through.
Did you know one carrot only has 25 calories? There's also very low prep involved! That's a win-win for everyone!
We paired our Air Fried Roasted Carrots with Honey Garlic Air Fried Pork Chops. The flavors meshed together perfectly.
You can add a nice dinner roll or mashed potatoes to complete the meal, or serve with a side salad.
Looking for an Air Fryer Cookbook? Check out the best ones here!
How to Cook Carrots in an Air Fryer and Actifry
First, peel your carrots and cut the tops off. I recommend using a Y Peeler to make peeling easier. They're so cheap but useful!
I cut mine into 2-inch chunks. You may need to cut some in half so they are all a similar size.
This is important to ensure each piece cooks at the same speed. Otherwise, some carrots will end up mushy while some still aren't cooked all the way through.
If you're using baby carrots, you can just cut off any tips and make sure they are washed thoroughly (as you do with normal carrots anyway).
Preheat your air fryer to 360 degrees for about 1-2 minutes. This is not mandatory, but I like to heat it up while tossing my food in a little oil.
It doesn't take long to get the heat up in an air fryer, so why not preheat it like an oven?
While the air fryer is preheating, toss the cut carrots in about 1 tsp. oil inside a mixing bowl and toss to coat.
You can choose to omit the oil if you want, but the air fryer carrots can turn out a little drier.
I personally enjoy using a little olive oil in most of my air fryer recipes. It gives that roasted or fried feel without all the greasiness of soaking in oil when being deep fried.
If you've never used oil in an air fryer before, this oil guide will show you how to use it, when to use it, and where you should NEVER put oil.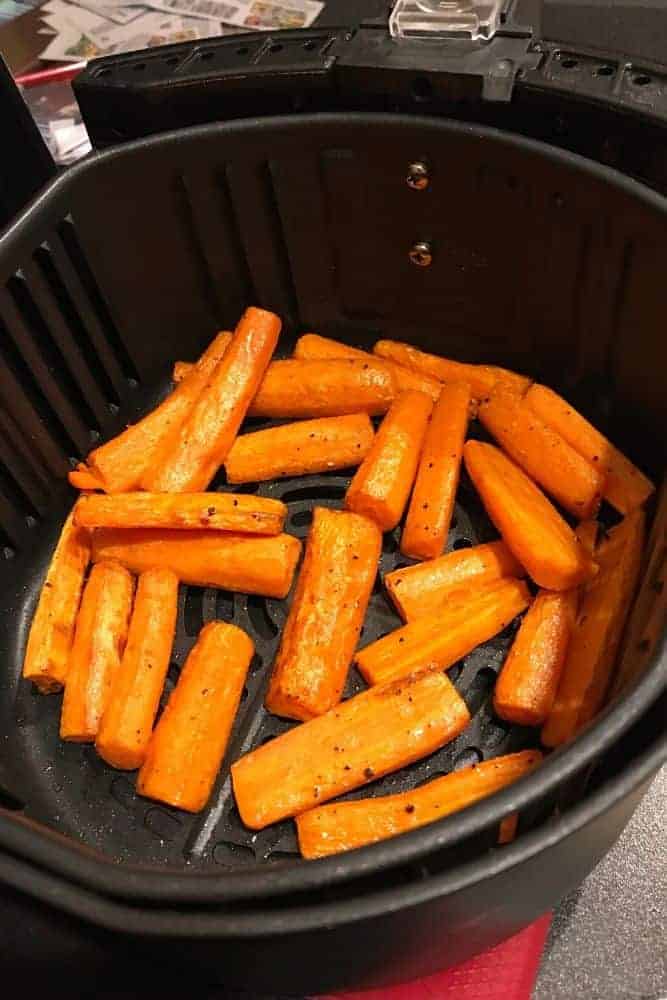 Other Articles You'll Love:
Place the carrots in the air fryer basket and close. Cook carrots for 15-18 minutes until tender. You should be able to glide a fork through the carrot with ease.
I recommend shaking the basket every few minutes to ensure even cooking.
You can test the readiness of baby carrots the same way. The fork should glide through easily.
Season with salt and pepper with 1-2 minutes left and shake the carrots in the basket to coat.
I have found seasoning toward the end of roasting in the air fryer has helped bring out a lot of flavor.

All the shaking can cause the flavors to fall off, especially if you are not using any oil.
Putting seasoning on at the end will allow most of it to stay on, making your dish just that much tastier.
Serve warm and enjoy immediately.
How to Reheat Roasted Carrots in an Air Fryer
Air fryers are the perfect way to reheat everything from pizza to brownies in an air fryer.
To reheat these roasted air fryer carrots, heat your air fryer to 325 degrees F and cook for 5 minutes, shaking halfway.
Can you Air Fry Frozen Vegetables?
Yes! It is completely possible to air fryer frozen vegetables. They will even come out fresher than microwaving them.
When you microwave vegetables, you typically steam them in water, making them watery and mushy.
With an air fryer, any unnecessary water will fall into the drawer under the basket. This will keep your vegetables from becoming waterlogged.
How to Make Air Fryer Frozen Carrots
Air frying frozen carrots is very simple. You don't even need oil!
Just pour the desired amount of carrots in the air fryer. Be careful to not overcrowd the frozen carrots.
To allow them to cook evenly, cook them in batches when cooking more than 2 layers of carrots deep.
Turn your air fryer to 360 degrees F and cook for 15-18 minutes, shaking the basket after 7 minutes.

More Air Fryer Recipes You'll Love:
Love air frying? Join our newsletter! You can also follow us on Facebook, Instagram, or join our free Facebook Air Frying Community.
Air Fryer Weight Watcher Points per serving: 0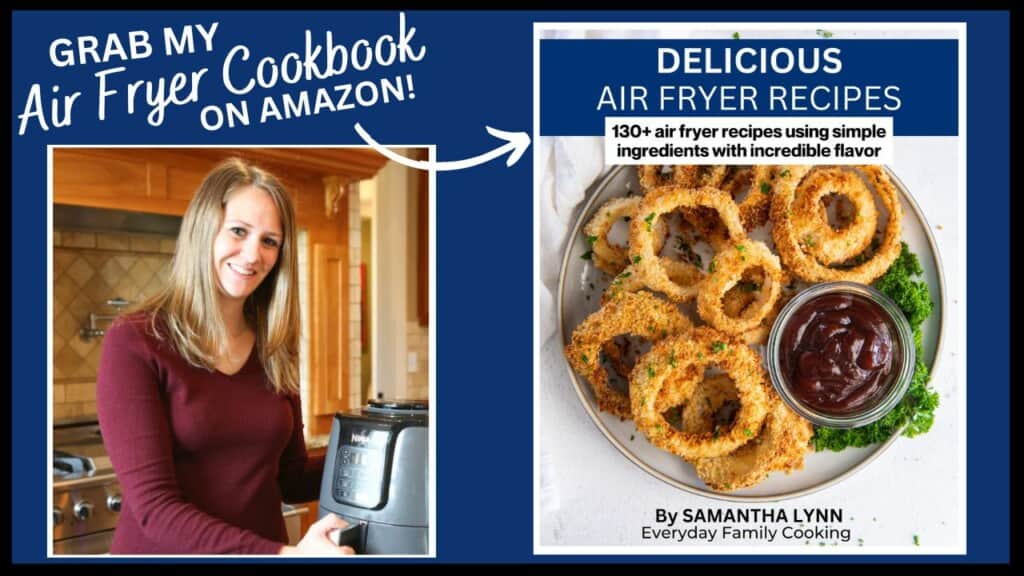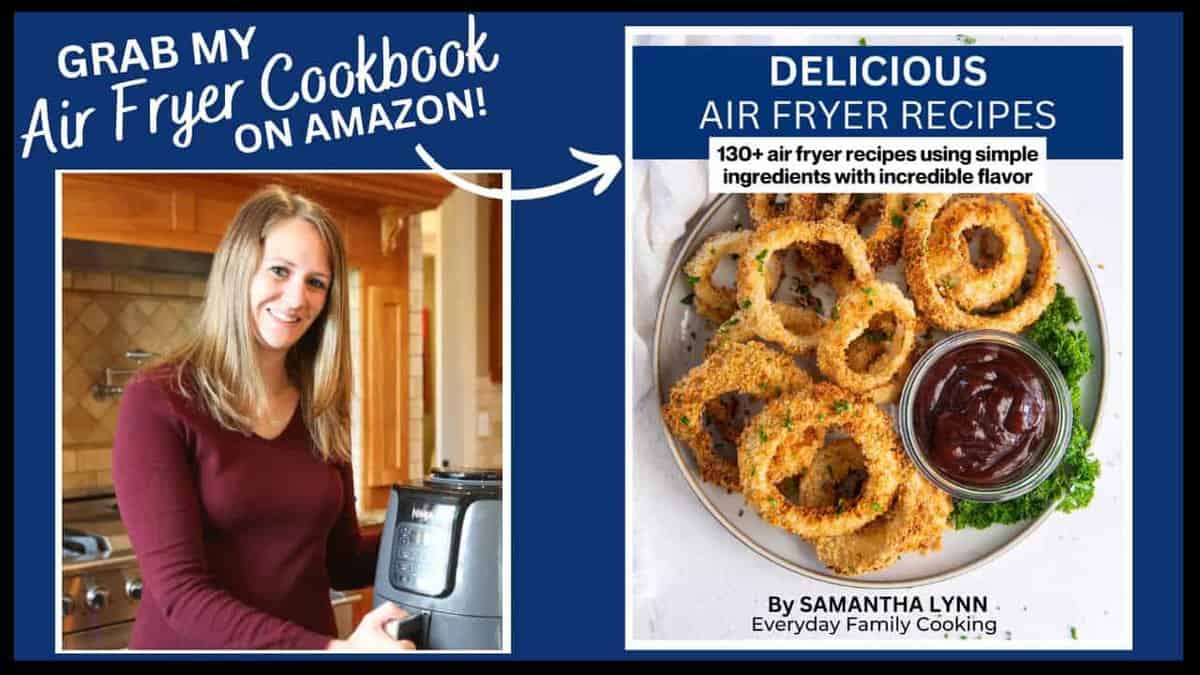 Yield: 4 servings
Roasted Air Fryer Carrots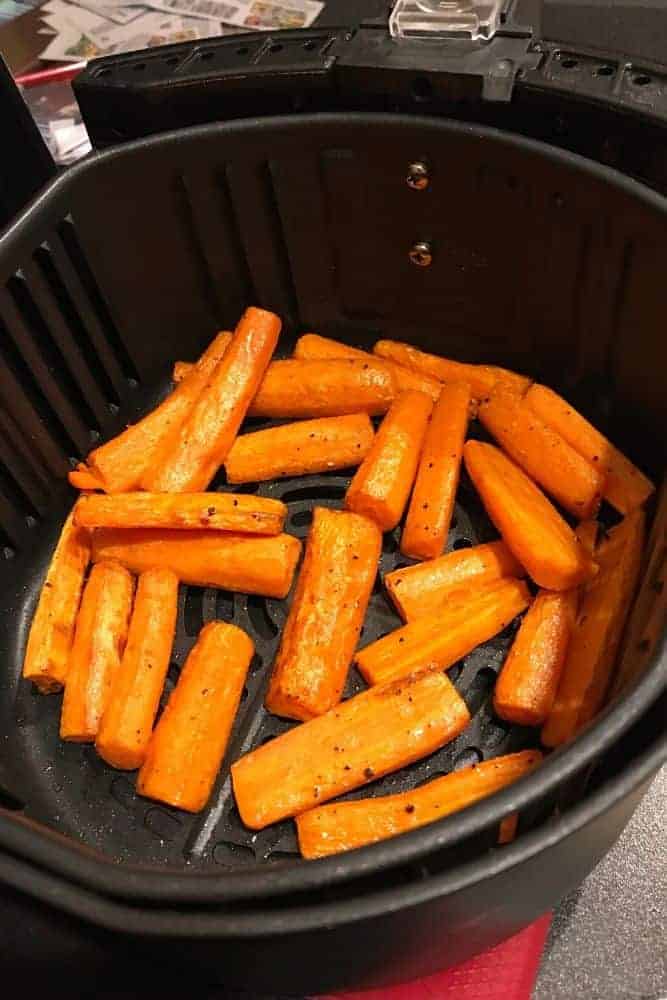 The same great taste of roasted carrots from the oven in less time and less oil.
Ingredients
16 ounces of carrots
1 teaspoon oil
salt and pepper (to taste)
Instructions
Peel carrots and cut into 2-inch chunks. Cut any larger pieces in half to make all pieces a similar size.
Preheat air fryer to 360 degrees.
Toss carrots in about 1 teaspoon of oil.*
Place carrots in air fryer and cook for 15-18 minutes, shaking every few minutes.
Test carrots with a fork for tenderness. They are done when it glides through the carrot easily.
Add salt and pepper to taste and shake basket to coat.
Serve and enjoy immediately.
Notes
*Oil can be omitted from the recipe if you prefer no oil, but the carrots will be drier
Nutrition Information:
Yield:
4
Serving Size:
1
Amount Per Serving:
Calories:

50
Total Fat:

1g
Saturated Fat:

0g
Trans Fat:

0g
Unsaturated Fat:

1g
Cholesterol:

0mg
Sodium:

140mg
Carbohydrates:

9g
Fiber:

3g
Sugar:

4g
Protein:

1g
This nutrition information is based on the exact products I used in this recipe. Brands and sizes of products could alter exact nutrition and should always be calculated independently.