Air Fryer potato chips are super crispy, so easy to make, and much better for you than regular potato chips! Come see how simple it is to indulge your cravings the healthy way.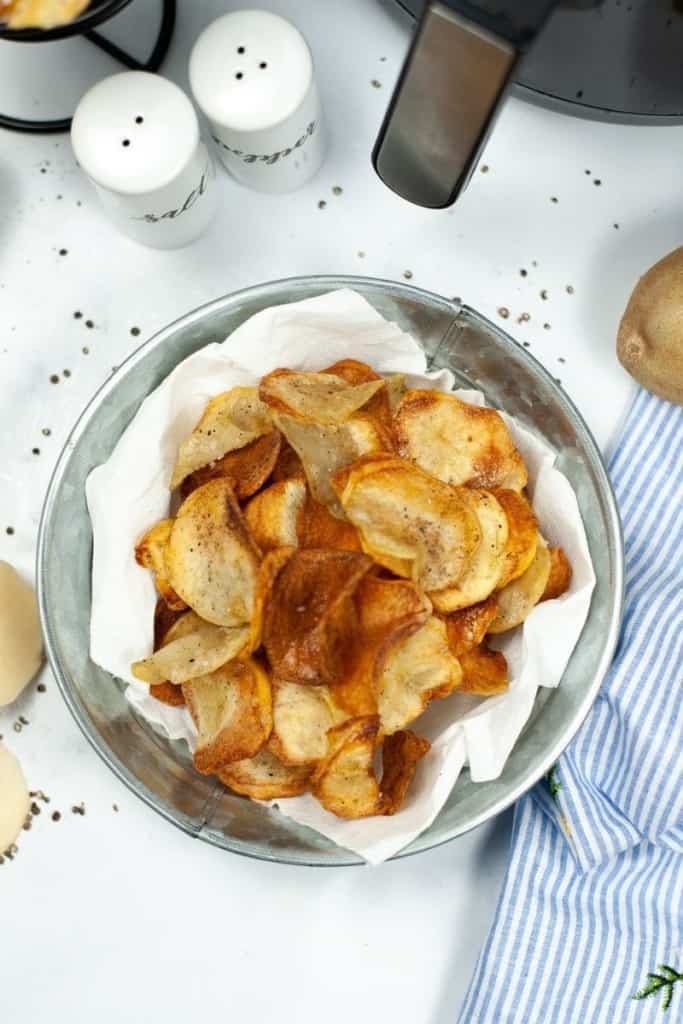 If you know me, you know how much I love my Air Fryer. It's the perfect way to get crispy, crunchy, satisfying food without all the unwanted oil you get from deep frying. And these Air Fryer Potato Chips are a perfect example!
You'll be amazed at how simple it is to make perfect potato chips right at home. Just slice, soak, dry, and fry! It's seriously that easy. Plus, I think the result is so much better than the chips you buy at the store.
Here's what I'm going to teach you in this post:
How to make potato chips in the air fryer
Why it's important to soak your potato slices
Tips for getting the crispiest Air Fryer potato chips
Ideas for seasoning your chips
Why Air Fryer Potato Chips are healthier than store-bought or restaurant chips
I should warn you: once you make these homemade potato chips, your family is going to be begging you to make them all the time!
Thankfully, they're super easy to whip up… so maybe that's not such a bad thing after all.
How to Make Air Fryer Potato Chips
STEP ONE: Using a mandolin slicer or knife, thinly slice peeled or unpeeled potatoes.
STEP TWO: Place the potato slices in cold water and let them soak for at least 30 minutes. After, rinse the slices 2 or 3 times.
STEP THREE: Place the slices on paper towels and let them dry for at least 20 minutes. You want to make sure they're completely dry so you get the crispiest chip.
STEP FOUR: Spray the slices with oil, then season with salt and pepper to taste.
STEP FIVE: Place the slices in the air fryer basket and cook on 300F for 16 minutes. Shake the basket halfway through to ensure even cooking.
STEP SIX: After 16 minutes, shake the chips, then increase the temperature to 400F and cook for 5 more minutes.
STEP SEVEN: Remove the chips and salt to taste.
Do I Really Need to Soak the Potato Slices?
Yes! You definitely don't want to skip this step.
Potatoes are filled with starch, which gives them that creamy texture that's perfect for something like mashed potatoes.
But with potato chips, you want your potatoes to be crispy, not creamy. Soaking the potato slices draws out the starch and allows them to get super crispy.
Tips For Getting Crispy Homemade Potato Chips in the Air Fryer
Use a mandolin slicer to get very thin, even slices. Cutting slices by hand can work, but they will inevitably be thicker, which makes it harder to get them super crispy.
Soak the homemade chips for at least half an hour to draw the starch out. The longer you can soak them, the better.
Make sure the chips are as dry as possible before spritzing them with oil.
Use an oil spritzer, like my favorite EVO Oil Sprayer, to spray the potato chips rather than brushing the oil on. This will evenly coat the potato chips without making them greasy.
Keep a close eye on the chips when you increase the temperature to make sure they don't burn.
Ideas for Seasonings to Add to the Potato Chips
Want to add a little flavor to your chips? Go ahead and have some fun! Here are a few ideas to get you started:
BBQ seasoning
Cajun seasoning
Taco seasoning
Steak seasoning
What To Serve With Homemade Potato Chips
Chips are the perfect side for adding a little crunch to so many dishes. Here are a few of my favorites:
Are Air Fryer Potato Chips Healthier than Normal Potato Chips?
Yes, they are! Normal chips are deep-fried in oil, meaning they retain much more oil than Air Fried potato chips. Even oven-baked potato chips typically contain some sort of preservative in them as well.
That's why making potato chips in the Air Fryer is a great option for indulging your snacky cravings the healthy way.
Other Air Fryer Recipes You'll Love: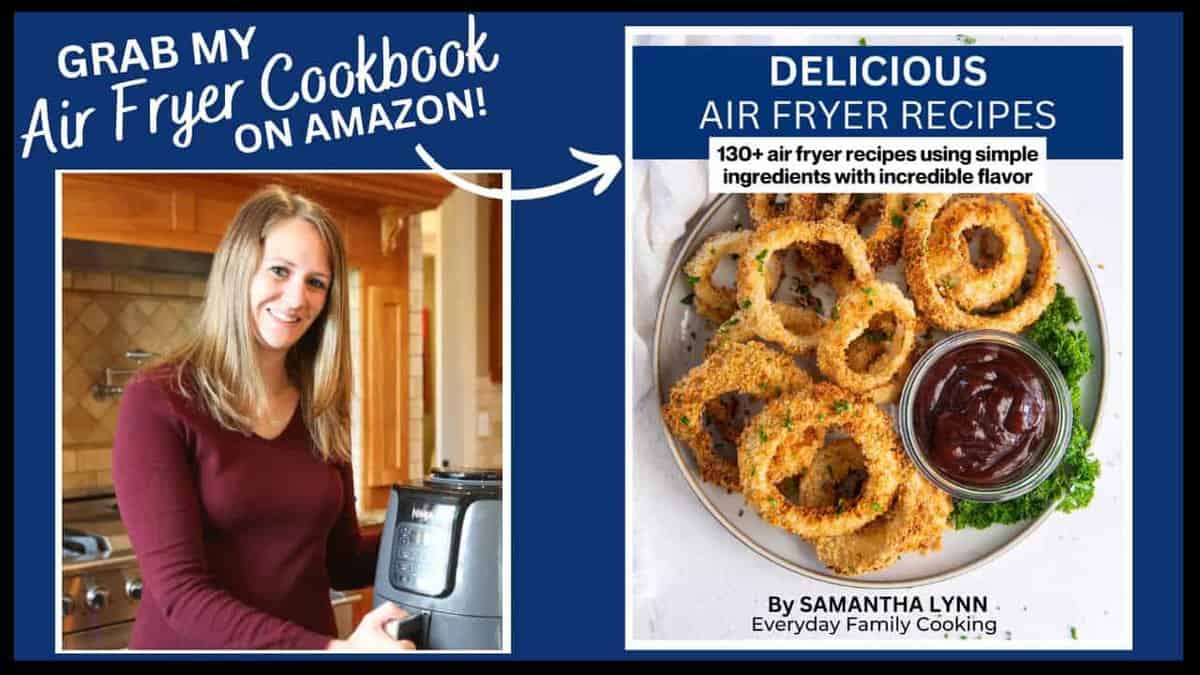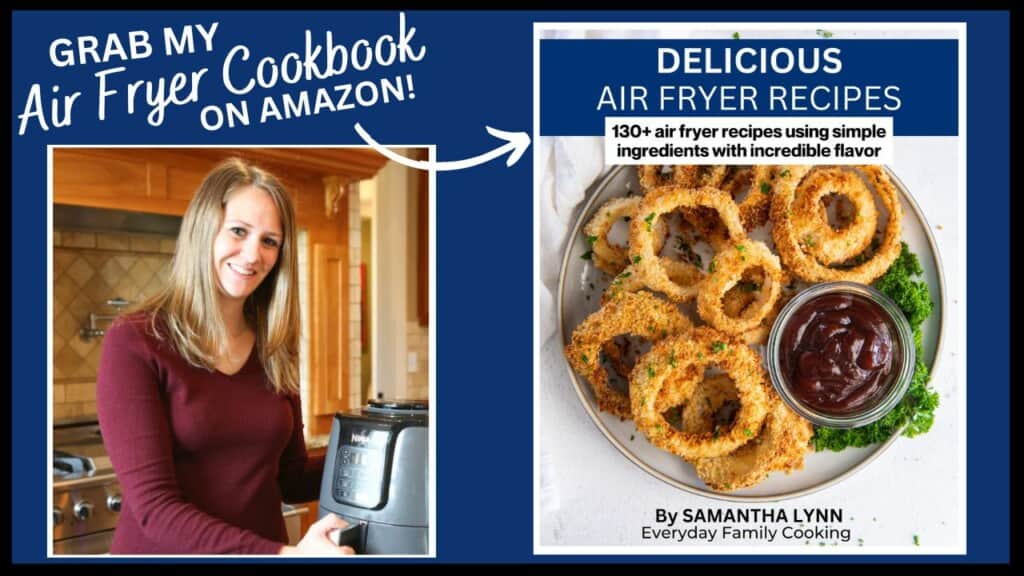 Yield: 4 servings
Air Fryer Potato Chips
Crispy, crunchy, wonderful snacking right at home? It's all possible with these Air Fryer potato chips! So easy to make and healthier than regular potato chips. Win-win!
Total Time
1 hour
21 minutes
Ingredients
2 large potatoes (Russet or Yukon Gold)
1 1/2 teaspoon salt
1 1/2 teaspoon cracked pepper
Oil for misting
Instructions
Using a mandoline slicer, thinly slice peeled or unpeeled potatoes.
Place potatoes slices in cold water to soak for 30 minutes. Rinse 2-3 times after.
Place slices on paper towels and let dry for 20 minutes. – make sure they are completely dry to get the crispiest chip.
Spray slices with oil and season with salt and pepper to taste.
Put potato chips in the air fryer basket and cook on 300 for 16 minutes, shake basket halfway through cooking.
Shake and then cook on 400 for 5 minutes.
Remove the potato chips from the air fryer, salt to taste, then enjoy!
Nutrition Information:
Yield:
4
Serving Size:
1
Amount Per Serving:
Calories:

172
Total Fat:

4g
Saturated Fat:

0g
Trans Fat:

0g
Unsaturated Fat:

3g
Cholesterol:

0mg
Sodium:

808mg
Carbohydrates:

32g
Fiber:

3g
Sugar:

2g
Protein:

4g
This nutrition information is based on the exact products I used in this recipe. Brands and sizes of products could alter exact nutrition and should always be calculated independently.