This post may contain affiliate links. If you click on a link and make a purchase, I may receive a small commission at no extra cost to you. For more information, please read my disclaimer here.
Air Fryer Chicken Breast is perfect year-round. It allows you to cook without heating your entire oven in the summer and delivers the same grilled chicken taste throughout the winter.
This boneless chicken breast recipe contains no breading and is completely keto, using butter as its coating. You can use full chicken breasts or cut the chicken into grilled chicken strips.
I made this recipe in my Cosori Air Fryer. Its square basket makes it convenient to cook 4 chicken breasts for my family of four all at one time.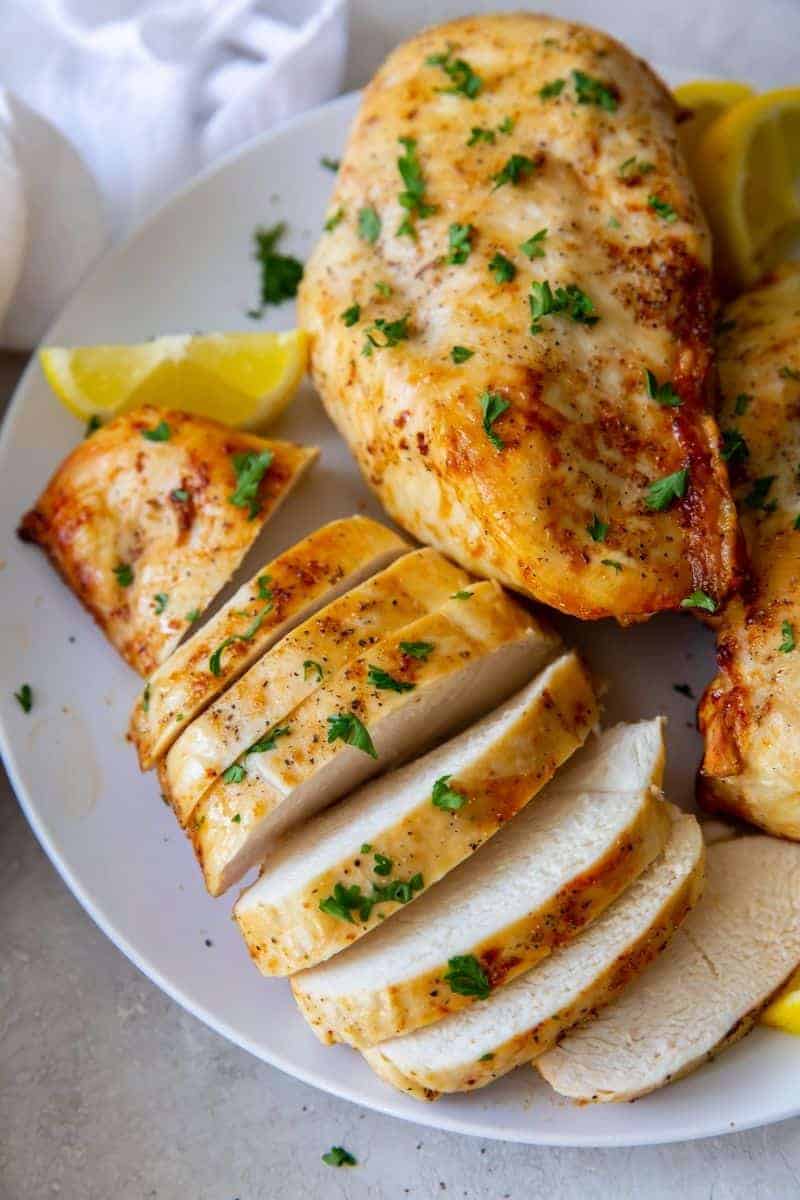 Love chicken? Check out these other 40 air fryer chicken recipes you can make!
How to Cook Chicken Breast in an Air Fryer
STEP ONE: For this recipe, I used thin boneless chicken breasts. If you have bone-in chicken breasts, use these cooking times in this recipe here. Start with thawed chicken in your refrigerator.
If your chicken is still frozen, follow these directions to make frozen chicken in the air fryer.
STEP TWO: Melt the butter in a small bowl in your microwave and add the salt, pepper, and garlic powder. Mix to combine.
STEP THREE: Brush your chicken breasts with the butter mixture on both sides.
STEP FOUR: Place chicken breasts in a single layer on your air fryer basket and cook for 380 degrees F for 10-15 minutes, flipping halfway until they read 165 degrees F at the thickest part.
STEP FIVE: Let the chicken rest for about 5 minutes, then enjoy immediately or keep refrigerated for up to 3 days and eat cold or use the reheating directions below.
Try these chicken breasts chopped up or shredded inside this Buffalo Chicken Wrap or Pesto Chicken Wrap for the ultimate meal-prep idea!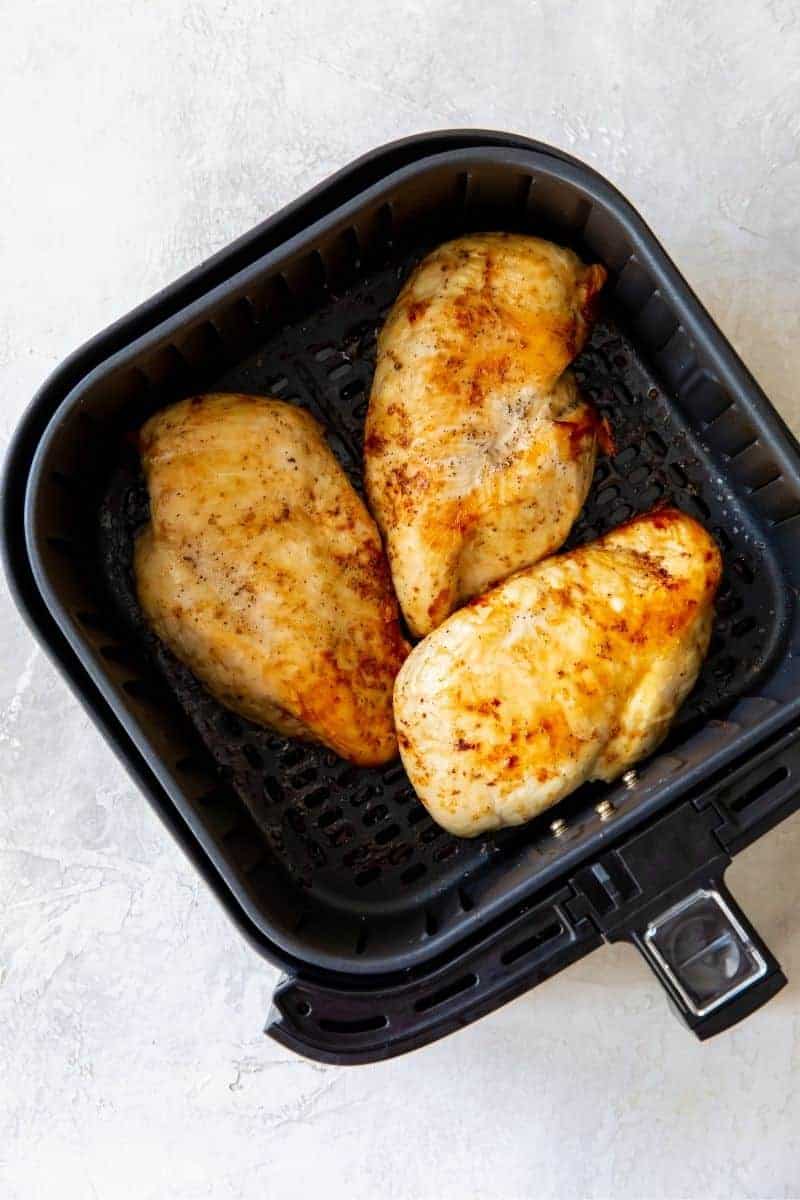 Other Recipes You'll Love:

How Long Do You Cook Chicken Breasts in an Air Fryer?
Air fryer chicken breasts are grilled perfectly at 380 degrees F for 10-15 minutes. The exact time will depend on how big and thick your chicken breasts are.
Your air fried chicken is done when your thermometer reads 165 degrees F at the chicken's thickest point.
Can I Overlap Food in an Air Fryer?
Yes and no. Some foods still cook evenly when air fried, like French fries, air fried veggies, and more. Some foods air fry very poorly when overlapped, like Air Fryer Bacon.
So, can I stack chicken in an air fryer? Raw chicken breasts cook best when cooked in a single layer.
You can stack them but will need to keep rotating the chicken breasts frequently to allow them to cook evenly. Otherwise certain parts can come out raw while other parts can be overcooked and tough.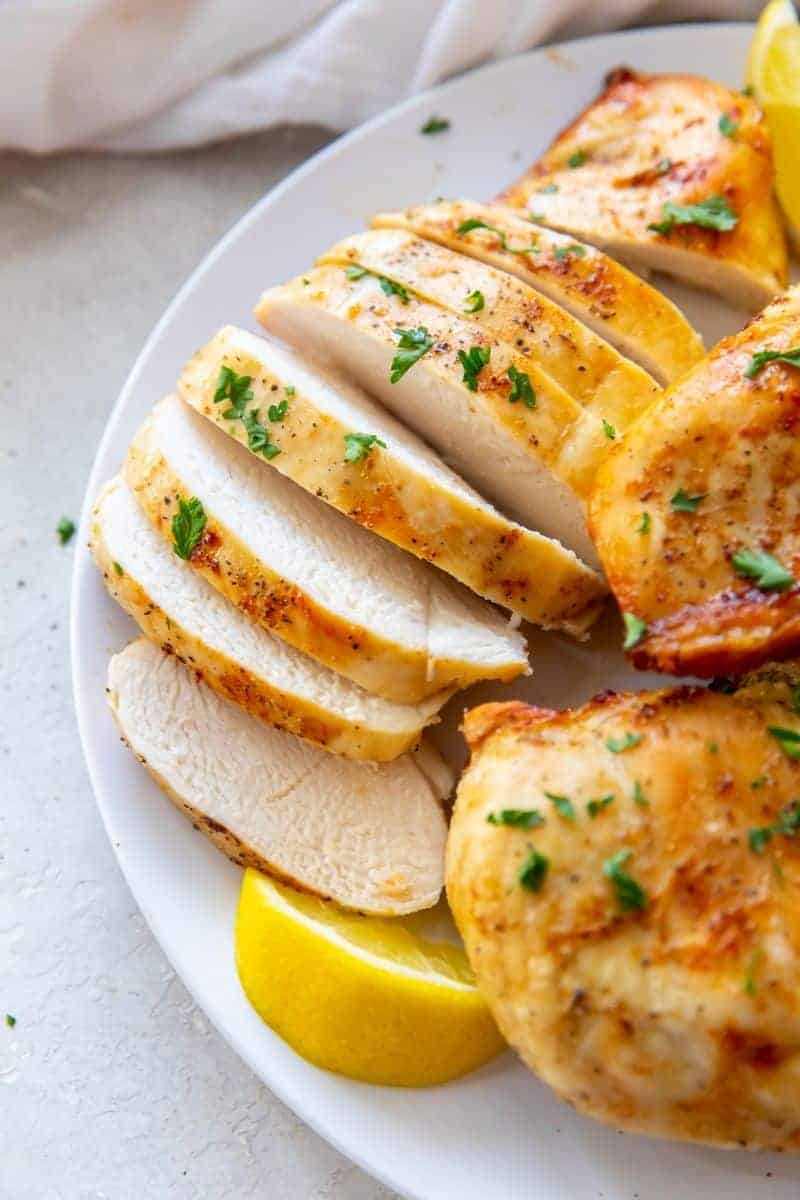 Are Air Fryer Chicken Breasts Healthy for You?
This is an often-asked question. Air fryers are very healthy to use.
Air fryer chicken breasts are just as healthy as chicken breasts cooked on the stove or the skillet when using the same amount of butter or oil.
How Do I Reheat Chicken Breasts in an Air Fryer?
One of my favorite ways to use air fryers is to reheat leftovers. They even reheat pizza in your air fryer and it tastes amazing.
To reheat chicken breasts in your air fryer, place chicken in the air fryer. Since the chicken is already cooked and there's no breading to worry about, the chicken can be stacked slightly.
Cook the boneless chicken breasts at 350 degrees for about 5 minutes, flipping halfway until thoroughly heated.
If you notice the chicken getting darker, turn your air fryer to 325 degrees and continue to cook. Since all air fryers are made differently (Nuwave is made differently than Power Air Fryer Oven and etc.), it can take more or less time to reheat chicken breasts.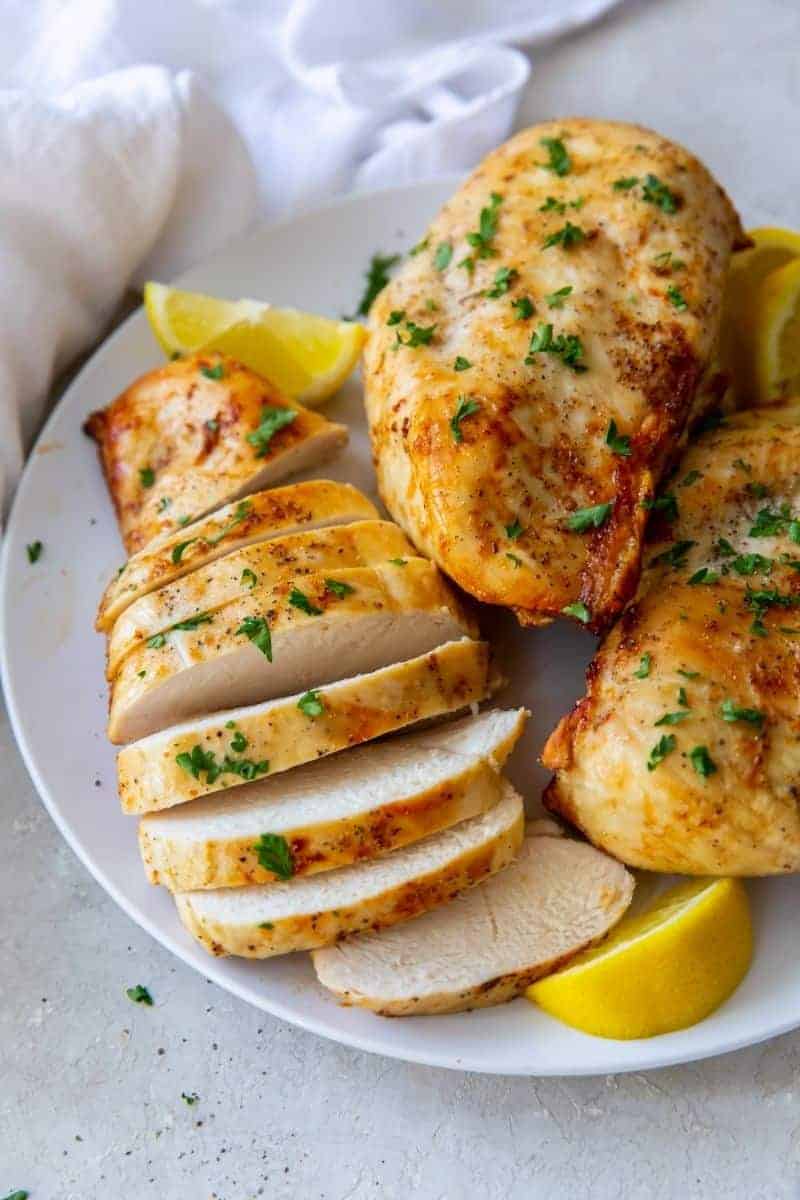 Try These Other Air Fryer Recipes:
Love air frying? Join our newsletter! You can also follow us on Facebook, Instagram, or join our free Facebook Air Frying Community.
Yield: 4 servings
Air Fryer Chicken Breast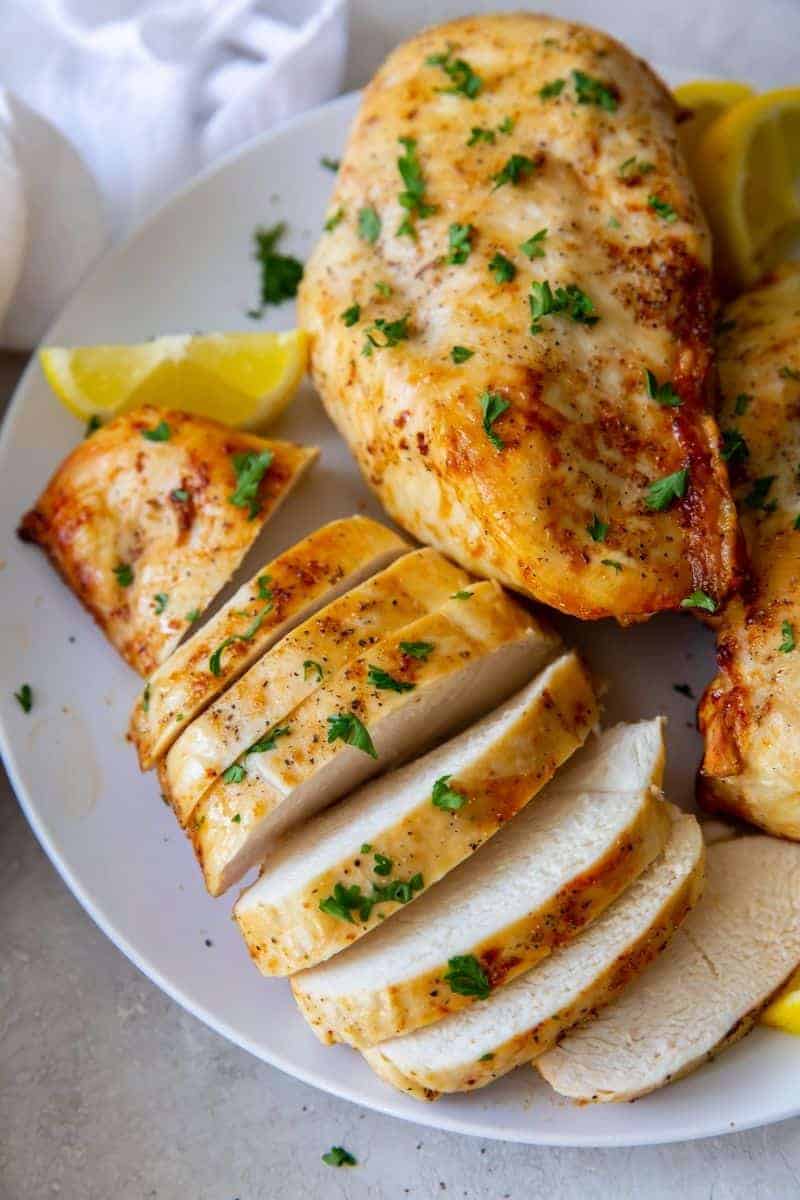 An easy and delicious take on chicken breasts that takes just 12 minutes to make. With a golden brown crusting and a tender inside, these chicken breasts are perfect by themselves or added in a light salad.
Ingredients
4 boneless chicken breasts
2 tablespoons butter
1/4 teaspoon garlic powder
1/2 teaspoon salt
1/4 teaspoon pepper
Instructions
Place boneless chicken breasts on a cutting board.
Melt butter in the microwave and add in garlic powder, salt, and pepper. Mix to combine.
Coat chicken with butter mixture on both sides.
Place chicken in the air fryer in one single layer.
Cook chicken at 380 degrees for 10-15 minutes, flipping halfway. The chicken is done once the chicken reads 165 degrees at its thickest part.
Let chicken rest for 5 minutes.
Enjoy immediately or refrigerate and enjoy cold or using reheated directions above.
Nutrition Information:
Yield:
4
Serving Size:
1
Amount Per Serving:
Calories:

250
Total Fat:

10g
Saturated Fat:

5g
Trans Fat:

0g
Unsaturated Fat:

4g
Cholesterol:

117mg
Sodium:

399mg
Carbohydrates:

0g
Fiber:

0g
Sugar:

0g
Protein:

37g
This nutrition information is based on the exact products I used in this recipe. Brands and sizes of products could alter exact nutrition and should always be calculated independently.