Here is my honest Cosori Air Fryer Review. I have used this air fryer for more than 3 years, so learn the ins and outs of the air fryer and see if this one is for you.
I love the Cosori Air Fryer so much that I use it for a lot of the recipes on Everyday Family Cooking!
In my opinion, it's one of the best air fryers on the market, so read on to see if this is the right air fryer for you!
aQuick Specifications
Size: 5.8 quart
Air Fryer Dimensions: 11.8 x 14.3 x 12.7 in
Basket Dimensions: 11.8″D x 14.3″W x 12.7″H
Button and Screen Type: Digital
Power: 1700 watts
Power Supply: AC 120V, 60Hz
Weight: 11.9 Pounds
What Does the Air Fryer Box CoMe With?
The air fryer comes with the following pieces.
Air Fryer Machine that plugs into an outlet
Air Fryer Inner Basket with Handle
Air Fryer Drawer (where the basket sets into)
Free recipe book with 100 recipes to try
How Many people does the cosori Air Fryer feed?
The Cosori Air Fryer comes with a 5.8-quart square basket. This is enough to feed about 3-4 people in a family.
You can get away with more servings with smaller items, like Hot Dogs or Totino's Pizza Rolls. But bigger items like Pork Chops and Chicken Thighs will need to cook in batches if cooking more than 4.
How Powerful is the Air Fryer?
The Cosori Air Fryer is 1700 watts. This is pretty on par with other air fryers out there.
For comparison, the Ninja Foodi is 1500 watts and the Power Air Fryer Oven is 1700 watts.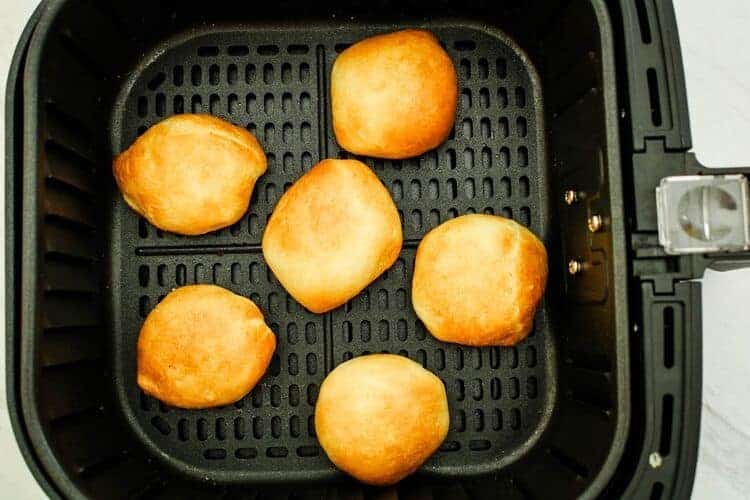 Other Air Fryer Articles to read
How to use the Cosori Air Fryer — Review
I love how easy the Cosori air fryer is to use! And, I'm not just saying that for this Cosori air fryer review!
Remove the air fryer from the box and clean the basket and drawer by hand.
Place the basket in the drawer and place it in the air fryer machine.
Plug the air fryer into the wall.
How to Set The Cooking Temperature:
Put the air fryer basket and drawer in the air fryer.
Turn the air fryer on by selecting the power button.
Push the "Time/Temp" button until the temperature blinks.
Use the plus and minus buttons until you reach your desired temperature.
How to Set The Cooking Time.
Turn the air fryer on, if not already on.
Push the "Time/Temp" button until the time blinks. You may need to hit the button twice.
Use the plus and minus buttons to change the air fryer to your desired cooking time.
Do not hold the "Time/Temp" button down or you will change the air fryer to Celcius. To change back, just hold it back down again.
Other Cosori Air Fryer Options
How to Use the Presets
Turn the air fryer on and choose the preset of choice. This will change the temperature and cooking time to what is needed.
The presets include:
Steak
Poultry
Seafood
Shrimp
Bacon
Frozen Foods
French Fries
Vegetables
Root Vegetables
Bread
Desserts
Preheat
Any presets that need to be shaken during cooking (like french fries) includes a shake reminder feature, which is very unique and useful.
I personally don't use presets for one reason: not all foods are the same. I can't put Air Fried Oreos inside the air fryer and expect them to cook the same as an Apple Crisp just by hitting the desserts button.
The presets are truly a great option for air fryer beginners and to try out a new recipe that you just don't know what temperature to start it at and adjust from there.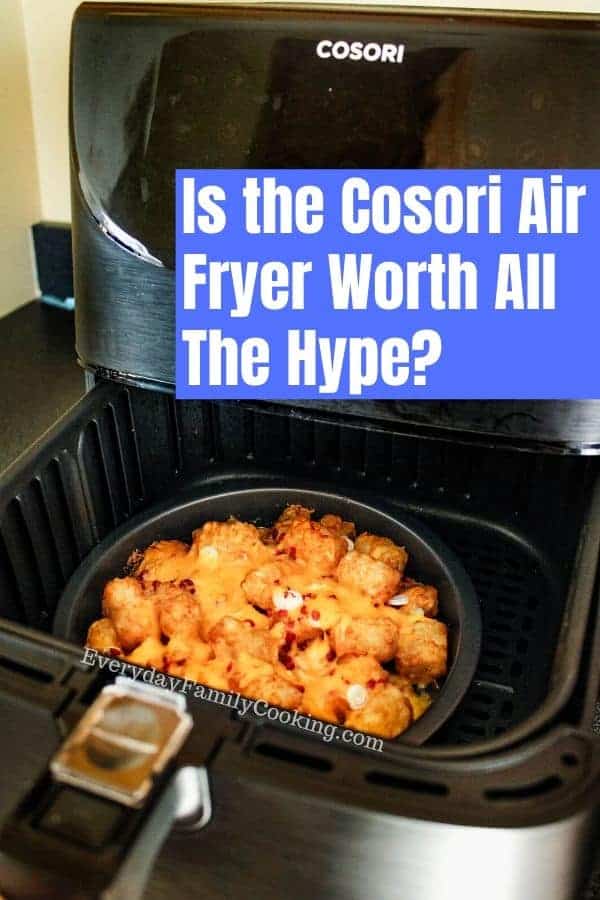 The Pros and Cons of the Cosori Air Fryer
Pros
Digital screen
Big square surface area to cook
The basket and drawer slide in and out without issues
Cooks food evenly and quickly at up to 20% faster than a conventional oven
Comes with 100 recipes to make, such as Chicken Tikka Drumsticks and Lemon Pound Cake
Includes a preheat button
Includes a 2-year warranty and I've experienced impeccable customer service with them in the past!
I cook my recipes on this site with the Cosori Air Fryer, so they'll always turn out perfect when using this air fryer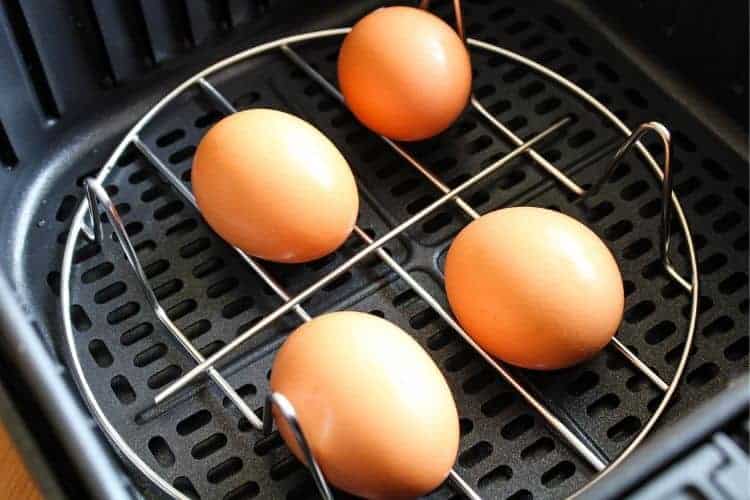 Cons
The touchscreen buttons are very loud and cannot be turned down. You can hold the plus and minus signs down to avoid multiple beeps, but it's still really loud.
It does not have a rotisserie option. If you are looking for this feature, check out the Power Air Fryer Oven. You can still cook a whole chicken in the Cosori though.
Can be tough to clean if not cleaned right after using
It's made with Teflon. If you're looking for a Teflon-free air fryer, the Ninja brand is a great option
Is the Cosori Air Fryer Dishwasher Safe?
Yes and no. While you can wash the basket and drawer in the dishwasher, it can cause the nonstick surface to eventually peel or rust.
All Teflon products have this issue and should always be washed by hand.
Can you put the Cosori air fryer in the dishwasher occasionally? Yes, but do not make it a habit! I recommend silicone liners or parchment rounds to help with cleanup instead.
Common Cosori Air Fryer Problems
Here are some of the issues I've seen and heard about Cosori air fryers. Most of these issues are user errors and can be avoided.
The handle breaks — an air fryer basket should always be held with support on the bottom, and always remove the basket from the drawer when shaking the basket
The basket screws come out — tighten the screws regularly, especially if you notice the basket feels loose
The basket peels or rusts — wash your Cosori air fryer by hand with soapy water and a non-abrasive sponge
Is an Air Fryer Healthier than a Deep Fryer?
Yes! It not only is healthier since it's not loaded with frying oil, but it also saves money on all the oil you would have to buy!
Not all air fryer recipes are healthy though, since you can still cook foods like Cake and Smores in the air fryer.

Does the Air Fryer Come with Accessories?
While the Cosori Air Fryer does not come with accessories, they do have an accessory kit available to enable you to air fry more creatively.
The Accessory Kit Comes with the following:
An Egg Bites Mold to cook eggs and mini muffins in — I wish this was a little bigger
A Skewer Rack with 5 Skewers
A Metal Holder that helps elevate your food (if cooking something flat, you can place that on the bottom while you cook something on top)
A Cake Pan that's perfect for quiches, bread, and more
A Pizza pan that can double as a pie pan
A Silicone Mat — I use this to put the hot air fryer drawer on when shaking the basket and holding the hot pans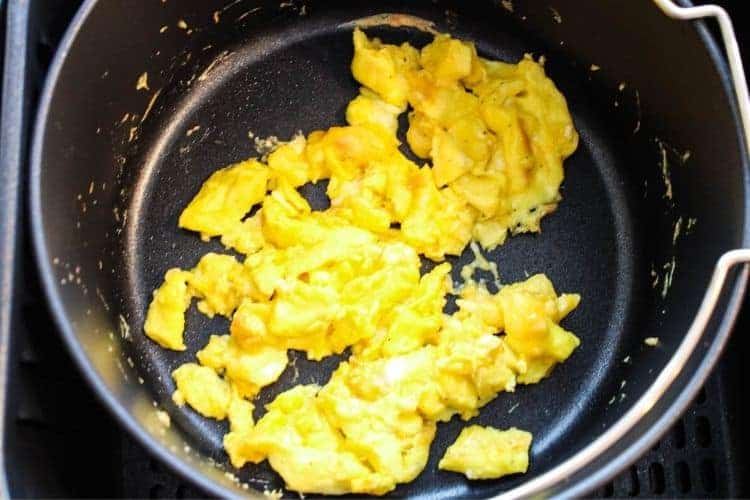 Should You Buy the 5.8 Quart Cosori Air Fryer?
The Cosori Air Fryer is a great air fryer to buy if you are a family of 2-4 people and occasionally cook larger meals.
And, I'm not just saying that for this Cosori air fryer review!
If you are a family of 2-4, please do not buy a smaller air fryer. I promise you within a year you will be back to buy something bigger.
I've seen it time and time again and in the long run, people end up spending more on multiple air fryers than if they just invested in a bigger one for their air frying needs from the start.
It's versatile so you can make everything from Roasted Carrots to Bacon to even Air Fried Oreos inside easily.
I've had my Cosori Air Fryer for about 3 years now and absolutely love it. I've just recently upgraded to the Cosori Dual Blaze Air Fryer which has officially replaced my Cosori 5.8 QT for everyday cooking.
I highly recommend the Cosori Air Fryer as a good air fryer to start with or upgrade to if currently using a smaller one.
Other Popular Air Fryers
Other COsori Air Fryer Recipes