Air Fryer Turkey Bacon is your new go-to breakfast idea that's crispy and easy to make.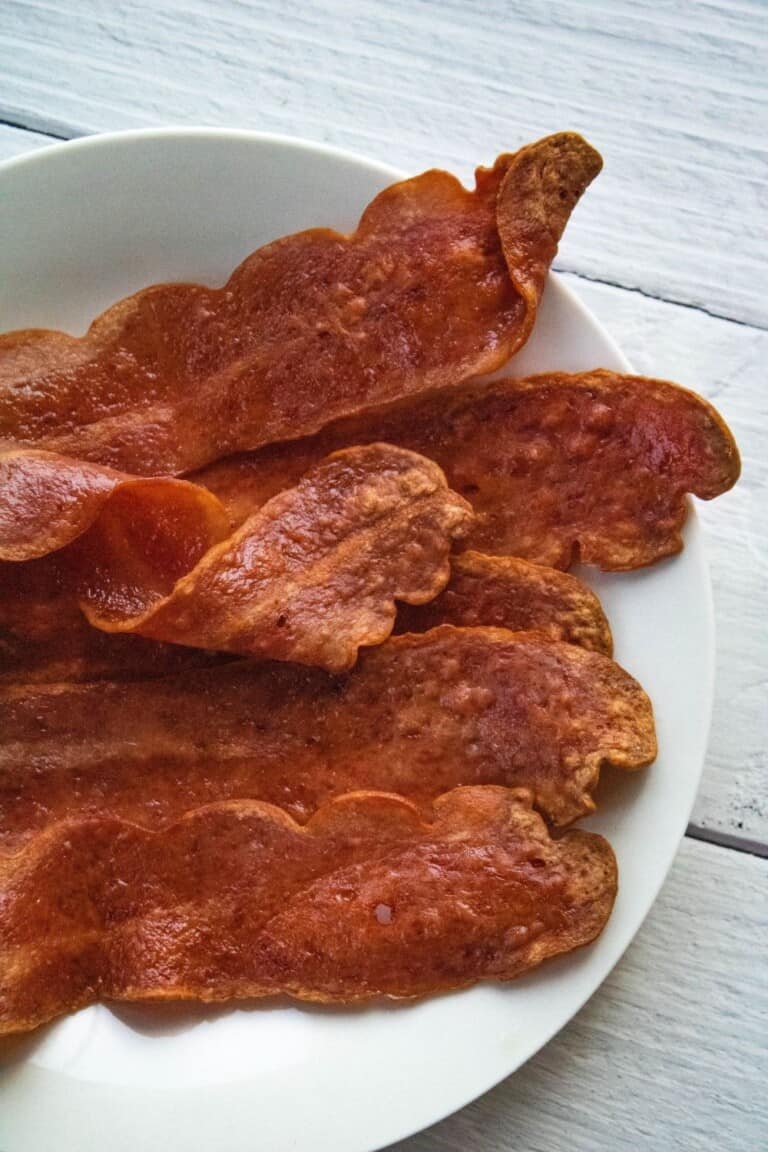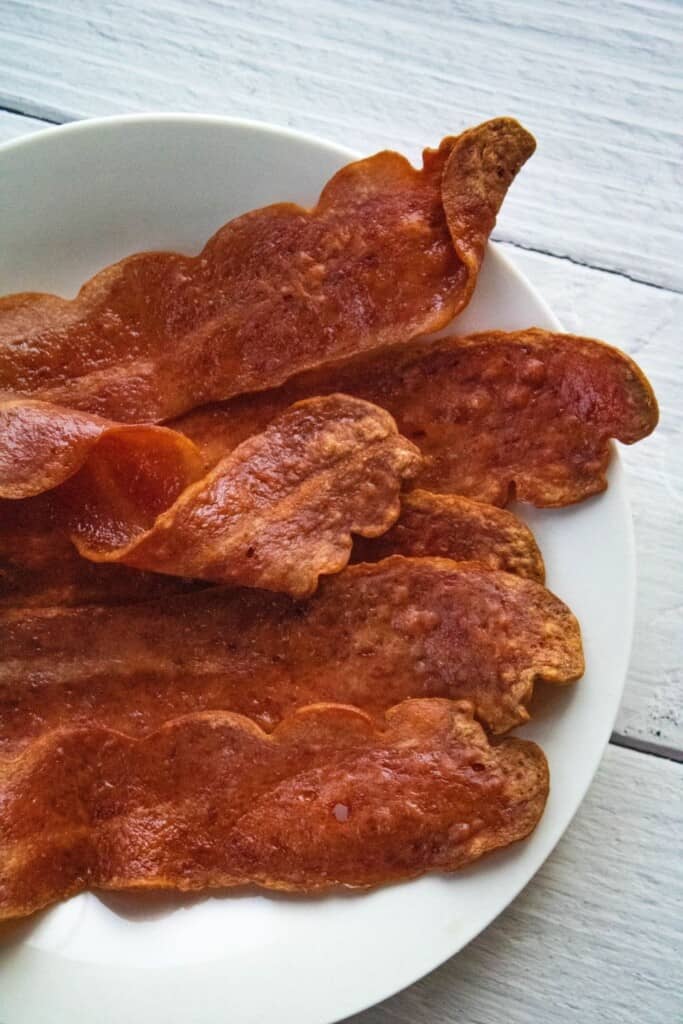 Breakfast is huge in our house. We not only love eating breakfast in the morning, but we also love doing breakfast for dinner too.
Turkey bacon in the air fryer has made it into the rotation and the entire family loves it!
It's a great change-up to normal bacon, is completely keto, and can be cooked alongside other foods when cooking for just a few people – I go over how to do that in this Air Fryer Breakfast Recipes post!
In this post, I will teach you:
What the difference between uncured and cured turkey bacon is
How to make Air Fryer Turkey Bacon
The best turkey bacon brands out there
If it gets crispy in the air fryer
If turkey bacon is healthier than normal bacon
And how to clean your air fryer after making this recipe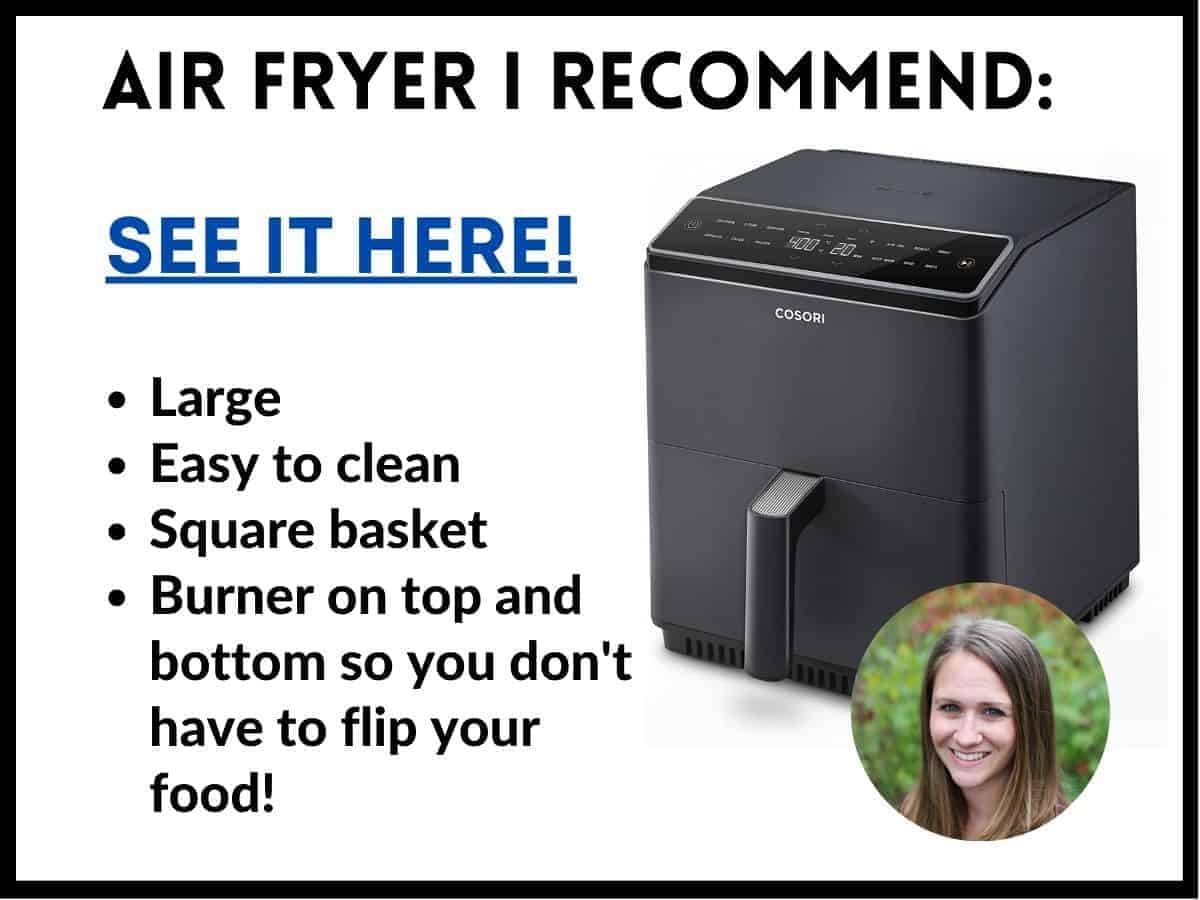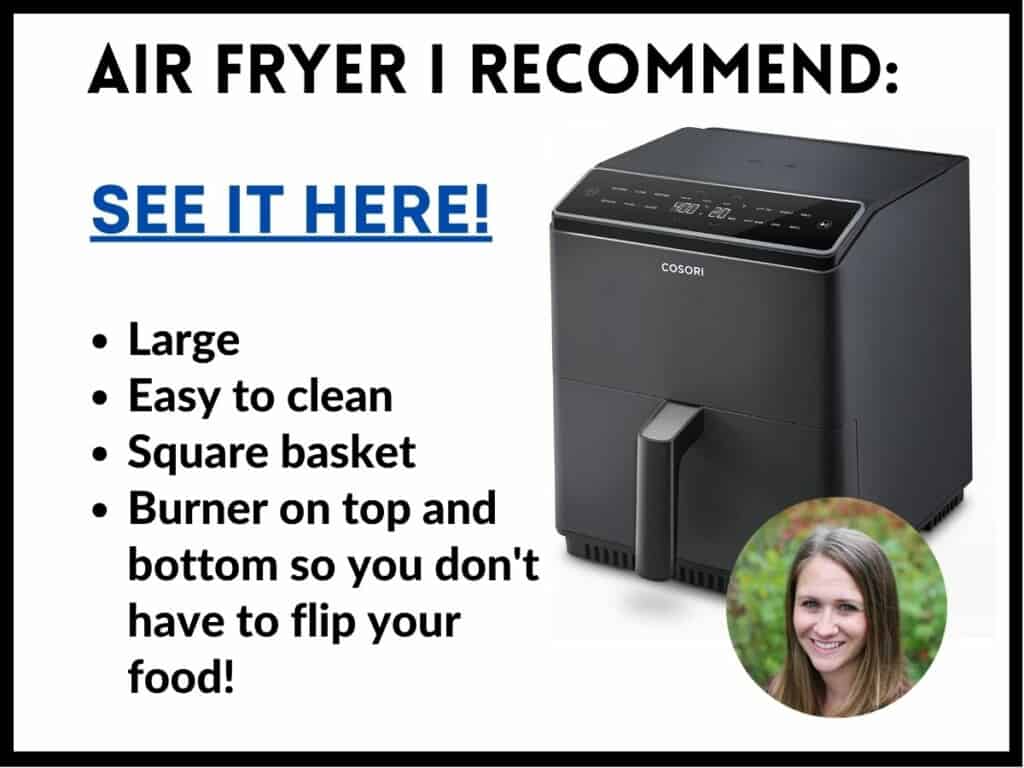 What is the Difference Between Cured and Uncured Bacon?
If you've seen turkey bacon at the grocery store, you may have noticed it comes in two styles – cured and uncured.
Both are true turkey bacon, but the difference comes from how the bacon is preserved.
Cured turkey bacon has added artificial nitrates added in to help preserve the food and adds a little flavor while uncured turkey bacon is usually preserved with salt and celery.
Personal opinion? After having both cured and uncured turkey bacon back-to-back, I enjoy the uncured flavor more.
But if you're looking to mimic the taste of actual bacon and get it super crispy, cured bacon will work best for this.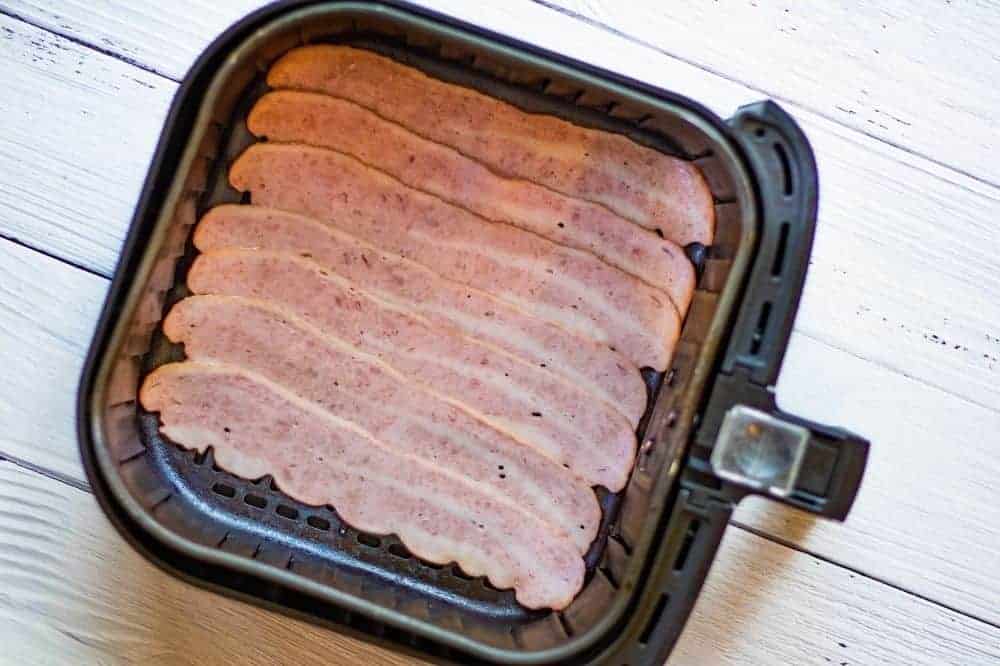 How to Make Turkey Bacon in the Air Fryer
STEP ONE: Preheat your air fryer to 400 degrees.
STEP TWO: Place a piece or two of bread under the basket inside the drawer to avoid the air fryer from potentially smoking then turkey bacon in the air fryer basket or rack in one layer.
You can overlap them slightly, but do not stack them.
STEP THREE: Cook the turkey bacon for 5 to 6 minutes flipping it over with silicone tongs halfway through cooking. If you would like your turkey bacon nice and crispy, add another minute or two of cooking time.
If using uncured bacon that's a little wider, add another 2 to 3 minutes to the cooking time.
STEP FOUR: Remove it from the air fryer and enjoy!
What is the Best Turkey Bacon to Try?
This all comes down to personal preference, but here are my favorites:
Applegate Uncured Bacon
Trader Joe's Uncured Turkey Bacon
Oscar Mayer Turkey Bacon
Butterball Turkey Bacon (Original)

Does Air Fryer Turkey Bacon Get Crispy?
Yes! If you find your turkey bacon is still on the limp side, continue to cook it for another 2 to 3 minutes, then check it again.
How long you cook turkey bacon in the air fryer will depend on how crispy it gets!
Is Turkey Bacon Healthier than Normal Bacon?
Yes! Turkey bacon is a healthier alternative to normal bacon, but not by much.
It is still high in saturated fat and sodium but is a great way to switch out pork bacon sparingly.
You'll notice a big difference when you cook bacon compared to turkey bacon in your air fryer.
Regular air fryer bacon requires you to have bread under the basket to prevent it from smoking, and I recommend doing the same when cooking turkey bacon too.

How to Clean Your Air Fryer After This Recipe
I like to use just the basket or a silicone air fryer basket to make this recipe as it helps any grease drip from the bacon.
If you're just using your normal air fryer basket, simply stick it in the sink with warm water and Dawn soap while eating. After eating, clean with a non-abrasive sponge and it should clean right out. You can also use parchment paper rounds to help with clean up.
If using a silicone basket, you can just stick it right in the dishwasher to clean!
Other Air Fryer Recipes To Try:
Love air frying? Join our newsletter! You can also follow us on Facebook, Instagram, or join our free Facebook Air Frying Community.
Air Fryer Weight Watcher Points per serving: 2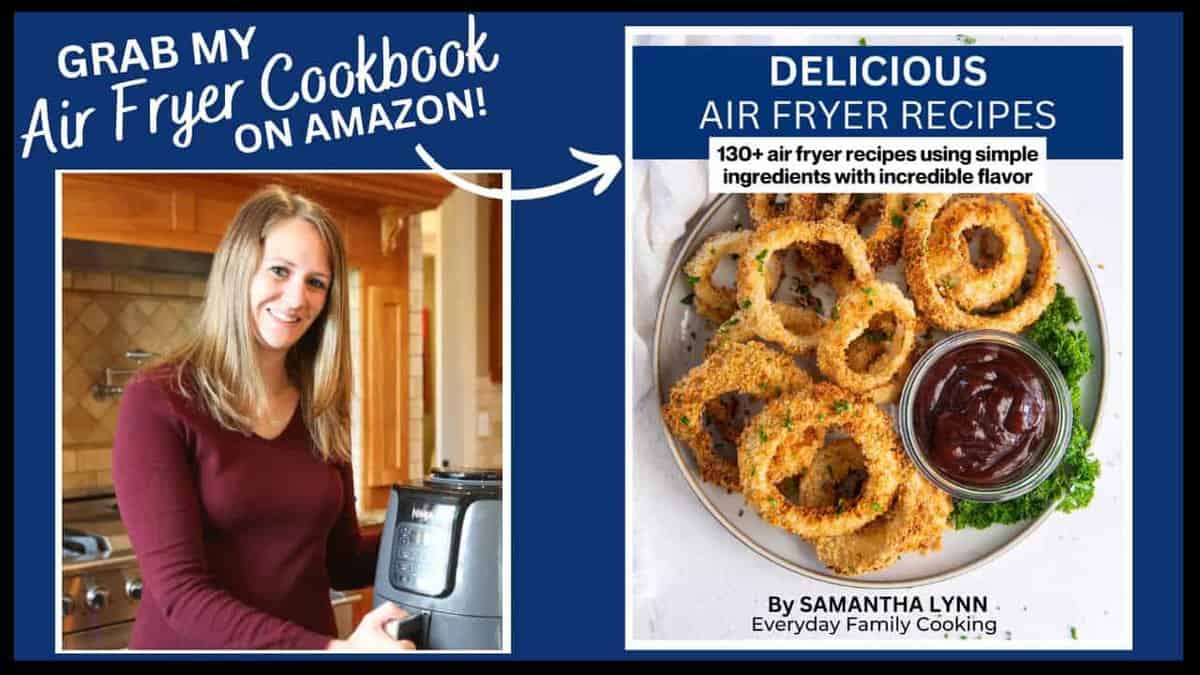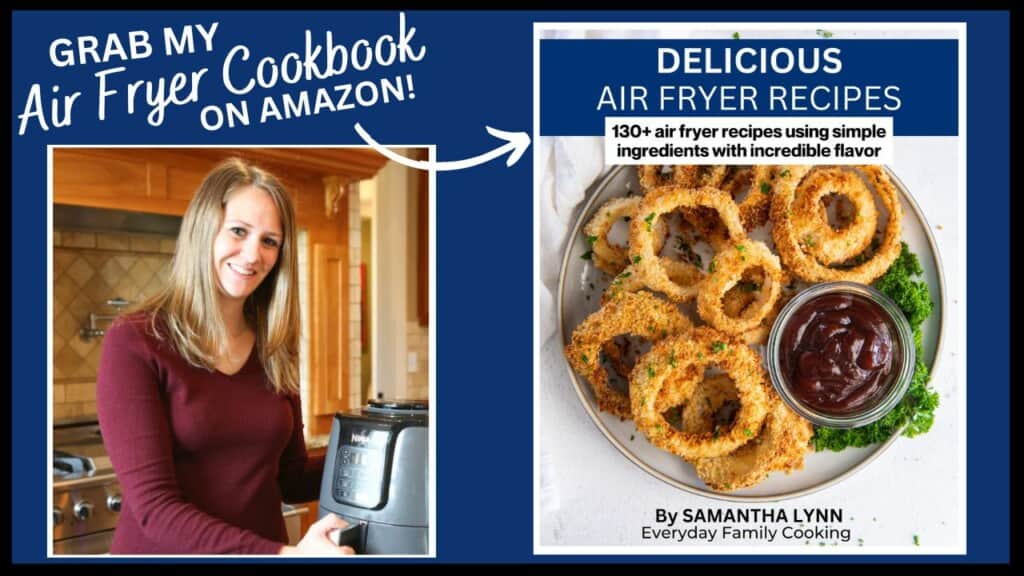 Yield: 4 servings
Air Fryer Turkey Bacon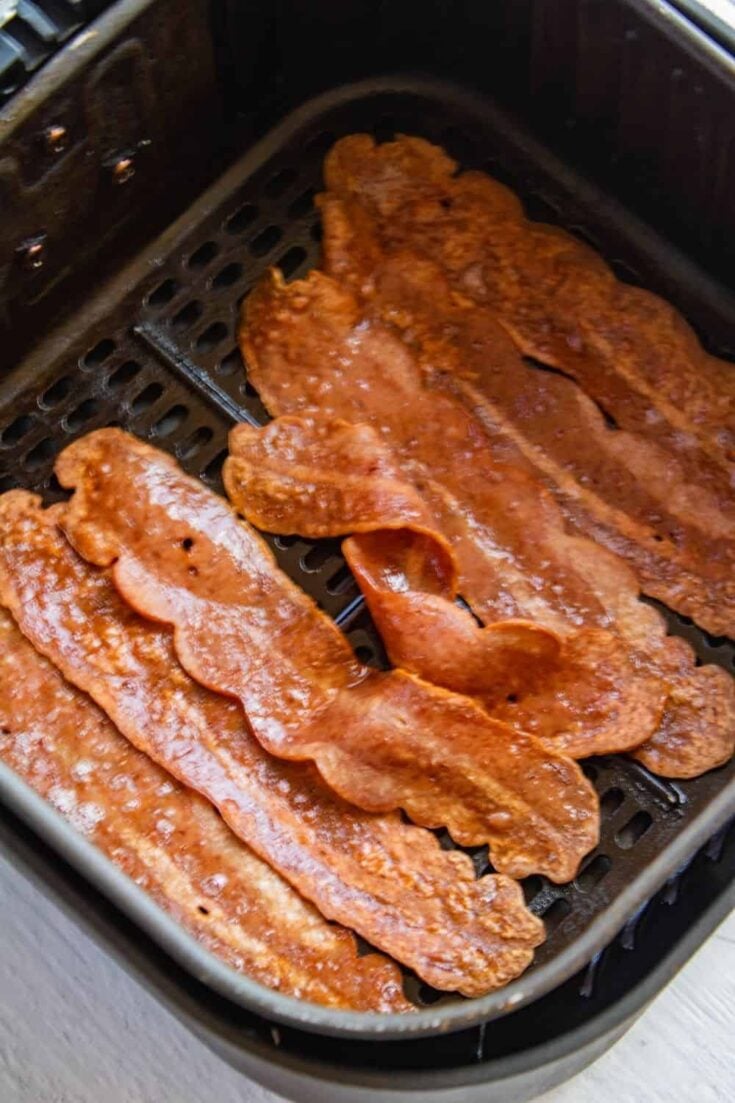 Cook turkey bacon in the air fryer for a delicious and crispy alternative to pork bacon!
Ingredients
8 slices turkey bacon (cured or uncured)
Instructions
Preheat your air fryer to 400 degrees.
Place the turkey bacon in the air fryer and cook for 5 to 6 minutes. Cook uncured bacon that's a little wider for about 8 to 9 minutes. Flip the bacon halfway through cooking.
Remove the turkey bacon from the air fryer and enjoy!
Notes
To make extra crispy turkey bacon slices, add an extra 1 to 2 minutes to the cooking time.
Nutrition Information:
Yield:
4
Serving Size:
1
Amount Per Serving:
Calories:

60
Total Fat:

4g
Saturated Fat:

1g
Trans Fat:

0g
Unsaturated Fat:

3g
Cholesterol:

25mg
Sodium:

327mg
Carbohydrates:

1g
Fiber:

0g
Sugar:

1g
Protein:

5g
This nutrition information is based on the exact products I used in this recipe. Brands and sizes of products could alter exact nutrition and should always be calculated independently.