This post may contain affiliate links. If you click on a link and make a purchase, I may receive a small commission at no extra cost to you. For more information, please read my disclaimer here.
I'm always looking for ways to enjoy healthy vegetables in new ways. The air fryer has incredible versatility to do that, especially with this air fryer buffalo cauliflower recipe.
It's made in only 11 minutes and is the perfect veggie side dish to spice up any meal.
I personally pair these cauliflower bites with blue cheese.
Buffalo sauce and blue cheese are a big deal in Buffalo where my husband grew up and we continue the tradition with any buffalo-style we eat.
This recipe is specifically designed to be keto/low-carb and includes absolutely no breading.
The included homemade buffalo sauce also includes an option to make this side dish completely vegetarian.
I cooked this recipe using my 5.8QT Cosori Air Fryer. It cooks my food evenly and all in one batch with its square basket.
How to Cut Cauliflower Into Florets
First, remove any large leaves from the head of cauliflower.
Next, cut off the large stem as close to the smaller stems as possible. This helps get the cauliflower into smaller pieces more easily.
Now, break off the large florets with your hands. If you're having trouble, you can use a knife, but be careful when cutting on an uneven surface. Then cut off any long stems with a knife.
Since this recipe calls for medium-sized bites, you can either break large florets into smaller pieces with your hands or use a knife to cut them.
I recommend airing on the side of larger florets since the cauliflower cooks down in size.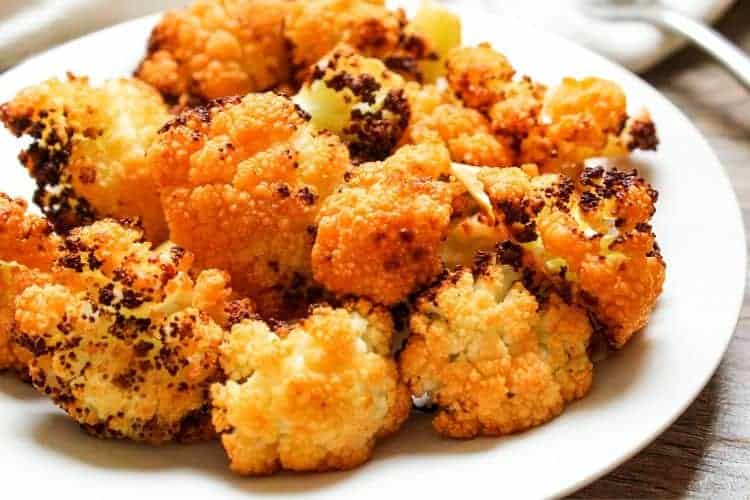 How to Make Air Fryer Buffalo Cauliflower
Once your cauliflower is cut into medium-sized florets, preheat your air fryer to 400 degrees.
Place the cauliflower florets into the air fryer. They can stack but should never fill the basket more than halfway.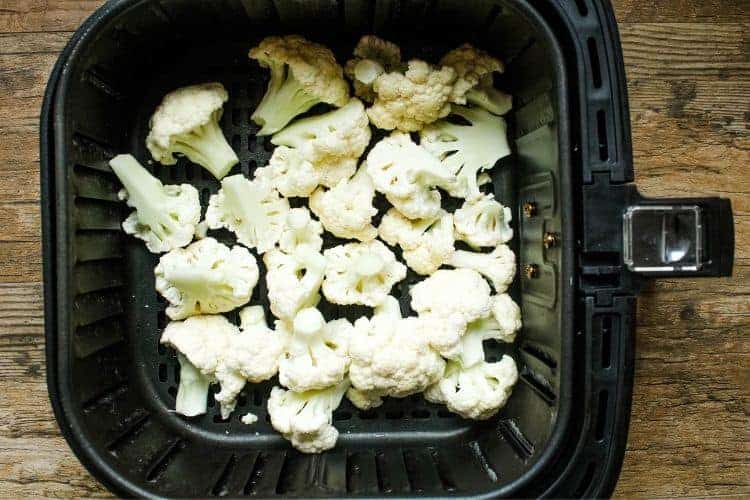 There is no oil needed to cook them!
Cook the florets for about 8 minutes, shaking the basket halfway through. The cauliflower will still be a little firm.
Remove the cauliflower pieces from the air fryer and place them in a bowl. Add in the buffalo sauce and mix to coat.
Pour the cauliflower back into the air fryer and cook for another 3 minutes. Check for readiness by poking the stem of a floret with a fork. They are done when tender.
Remove the buffalo cauliflower from the air fryer and enjoy it with a side of blue cheese.
Are These air fryer Buffalo Cauliflower Bites Spicy?
This air fryer buffalo cauliflower recipe is spicy and I would compare it to hot chicken wings. It can get a little spicy if you're not a spicy food kind of person.
If you want to lower the spice levels, you can do one of three things:
Decrease the buffalo sauce by half to 1/8 cup. There will still be plenty of sauce to coat the cauliflower

Use the directions listed in this homemade buffalo sauce recipe to decrease the spice levels while making the buffalo sauce. It's completely keto-approved.

Use a different buffalo sauce of choice you personally enjoy and know you can tolerate

Eat them with more than just a little blue cheese to help cut the spice
Should You Wash Cauliflower Before Cooking?
Yes, just like most vegetables, it should be washed prior to cooking.
Since there are a lot of nooks and crannies between the cauliflower, it's important to wash the vegetable after you've cut it.
It will help get out any dirt that may be inside the cauliflower when it's whole.
I personally will run the whole head of cauliflower under water to wash it off quickly, cut it into florets, and then put it all in a colander to rinse down well and dry.

Other Air Fryer Recipes You'll Love:
Air Fryer Italian Sausage Sandwiches
Air Fryer Asparagus with Garlic and Parmesan

Yield: 4 servings
Air Fryer Buffalo Cauliflower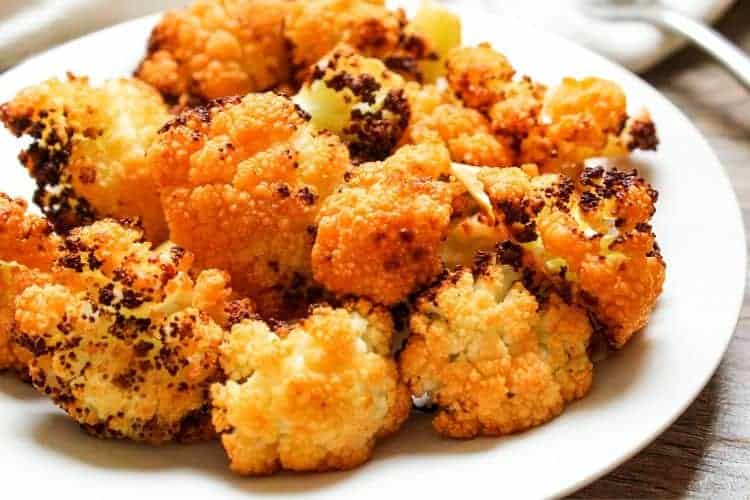 A simple spicy cauliflower side dish made in an air fryer in just minutes!
Ingredients
1 head of cauliflower, cut into florets
Instructions
Preheat air fryer to 400 degrees.
Add cauliflower into the air fryer and cook for 7-8 minutes.
Remove cauliflower from the air fryer and place inside a bowl.
Add buffalo sauce to cauliflower and mix to coat cauliflower evenly.
Add the cauliflower back to the air fryer, turn temperature to 350 degrees, and cook for about 3 minutes.
Remove buffalo cauliflower from the air fryer and enjoy immediately.
Nutrition Information:
Yield:
4
Serving Size:
1
Amount Per Serving:
Calories:

34
Total Fat:

1g
Saturated Fat:

0g
Trans Fat:

0g
Unsaturated Fat:

0g
Cholesterol:

0mg
Sodium:

398mg
Carbohydrates:

6g
Fiber:

3g
Sugar:

3g
Protein:

3g
This nutrition information is based on the exact products I used in this recipe. Brands and sizes of products could alter exact nutrition and should always be calculated independently.