I can't get enough of this buffalo cauliflower in the air fryer! Easy to make and supremely healthy, this tantalizing treat is the ideal combination of buttery, savory, and spicy goodness.
I have a serious obsession with vegetables. I'd call it an unhealthy obsession but, well, it's vegetables!
I absolutely love finding creative ways to get myself and my family excited about veggies. This air fried buffalo cauliflower recipe is a perfect example of how to do just that.
Whether you are looking for a low-carb snack, a creative appetizer, or a flavorful side dish, you are going to quickly adopt this recipe into your regular rotation.
Here's what I'm going to teach you in this post:
All the ingredients you need to make these scrumptious buffalo cauliflower bites.
Step by step instructions on how to make this delicious and easy appetizer.
Ideas on how to serve with air fried buffalo cauliflower.
If you have 11 minutes, an air fryer, and a few simple ingredients, you have everything you need to make this irresistible recipe. Let's do this!
Looking for a breaded recipe? Try our Air Fryer Cauliflower Wings to get that nice crispy texture!
I cooked this recipe using my 5.8QT Cosori Air Fryer. It cooks my food evenly and all in one batch with its square basket.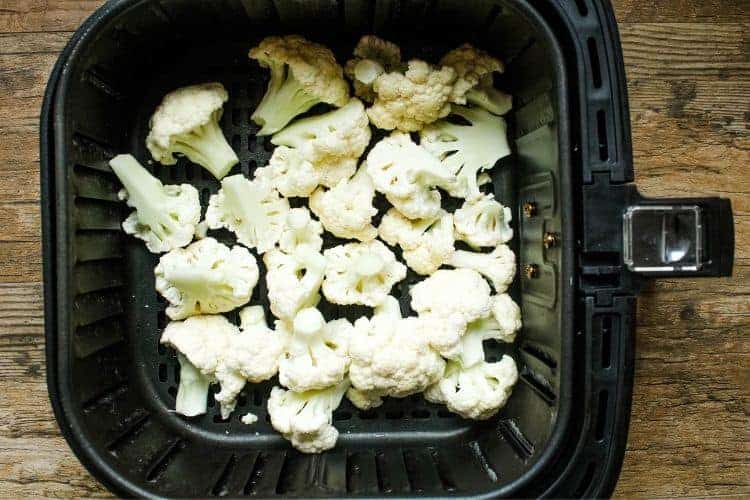 How to Make Buffalo Cauliflower in the Air Fryer
A full printable version of this recipe with ingredient measurements is available at the bottom of this post.
STEP ONE: Preheat your air fryer to 400 degrees F.
STEP TWO: Place the cauliflower florets in the air fryer in a single layer. Cook for 7-8 minutes, shaking the basket about halfway through.
STEP THREE: Transfer the cooked cauliflower from your air fryer to a bowl. Pour the buffalo sauce into the bowl and mix until the cauliflower is even coated. I love to use my easy homemade buffalo sauce recipe.
STEP FOUR: Reduce air fryer temperature to 350 degrees F. Return the florets to the basket and cook for about 3 minutes.
STEP SIX: Remove buffalo cauliflower from your air fryer. Serve and enjoy right away!
How Do You Cut Cauliflower Into Florets?
Breaking up a head of cauliflower into florets is much easier than you might think.
First, expose the stem by removing and discarding any large leaves around the base of the cauliflower. Use a paring knife to cut around and remove the stem.
Next, break the cauliflower into large florets with your hands and remove any large stems with the paring knife. Continue breaking or cutting florets until they are the desired size.
This recipe suggests medium-sized florets but feel free to experiment. Keep in mind that the florets tend to reduce in size after cooking so I tend toward slightly larger pieces.
Is Air Fryer Buffalo Cauliflower Healthy?
Sure it is! Seriously, this recipe fits perfectly into just about any dietary preference or restriction and is a great way to get more veggies into your life.
This recipe, as is, is low fat, low carb, gluten free, paleo and keto! Air fryer buffalo cauliflower can easily be made vegetarian and/or vegan as well with special attention to your choice of sauce.
This recipe calls for our homemade buffalo sauce, containing Worcestershire sauce that's flavored with anchovies. Either make the homemade sauce with a vegan Worcestershire sauce or opt for a premade vegan buffalo sauce to make it a fully vegan option.
No friend or family member is left behind when it comes to enjoying this spicy treat!
How Should I Serve Buffalo Cauliflower Bites?
This recipe is perfect if you want a healthy and satisfying appetizer, and it also makes a wonderful spicy side dish. It is a great addition to lots of bright, zesty chicken and fish recipes.
If you are following a keto or paleo diet, this recipe can take the place of Spanish rice in certain dishes.
I enjoy serving this fun dish the same way I would serve buffalo chicken wings. Actually, sometimes I dish up buffalo chicken wings and buffalo cauliflower bites side by side to have the best of both worlds.
Try dipping these delicious morsels in ranch, blue cheese, or more buffalo sauce for an added kick. More veggies are always better, so don't forget the iconic carrot and celery sticks!
How Spicy is Buffalo Cauliflower in the Air Fryer?
I like things ridiculously spicy, so I had to ask around for this one. The general consensus is that it has a decent amount of heat to it, especially for more sensitive palates.
The good news is that this recipe is easily customizable, and you can experiment until you find the perfect level of spiciness for you and your family.
If you find the recipe has a bit too much heat, you can choose to make or buy a milder version of buffalo sauce. Or, simply reduce the amount of sauce you use!
A little extra ranch or blue cheese dressing can also help to cool your palate when things get a little too heated.
Other Easy Air Fryer Recipes You'll Love:
Love air frying? Join our newsletter! You can also follow us on Facebook, Instagram, or join our free Facebook Air Frying Community.
Yield: 4 servings
Air Fryer Buffalo Cauliflower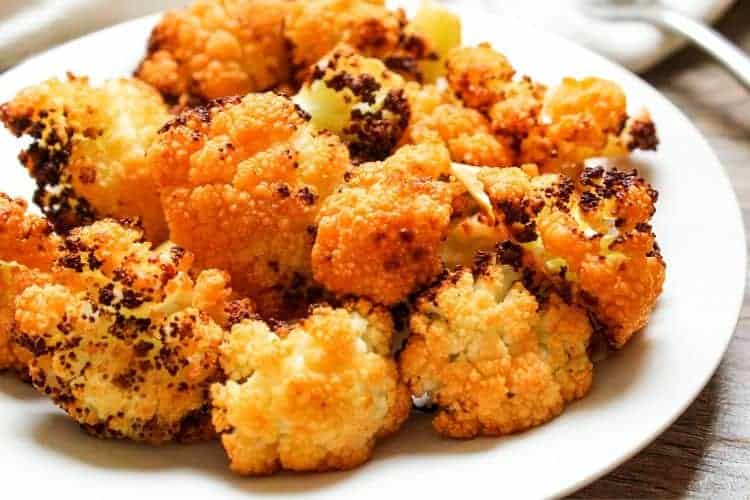 A simple spicy cauliflower side dish made in an air fryer in just minutes!
Ingredients
1 head of cauliflower, cut into florets
Instructions
Preheat air fryer to 400 degrees.
Add cauliflower into the air fryer and cook for 7-8 minutes.
Remove cauliflower from the air fryer and place inside a bowl.
Add buffalo sauce to cauliflower and mix to coat cauliflower evenly.
Add the cauliflower back to the air fryer, turn temperature to 350 degrees, and cook for about 3 minutes.
Remove buffalo cauliflower from the air fryer and enjoy immediately.
Nutrition Information:
Yield:
4
Serving Size:
1
Amount Per Serving:
Calories:

34
Total Fat:

1g
Saturated Fat:

0g
Trans Fat:

0g
Unsaturated Fat:

0g
Cholesterol:

0mg
Sodium:

398mg
Carbohydrates:

6g
Fiber:

3g
Sugar:

3g
Protein:

3g
This nutrition information is based on the exact products I used in this recipe. Brands and sizes of products could alter exact nutrition and should always be calculated independently.