This recipe for brussel sprouts in the air fryer delivers the perfectly crispy and tender results your whole family will love. They are bursting with flavor, packed with nutrition, and versatile enough to fit any diet.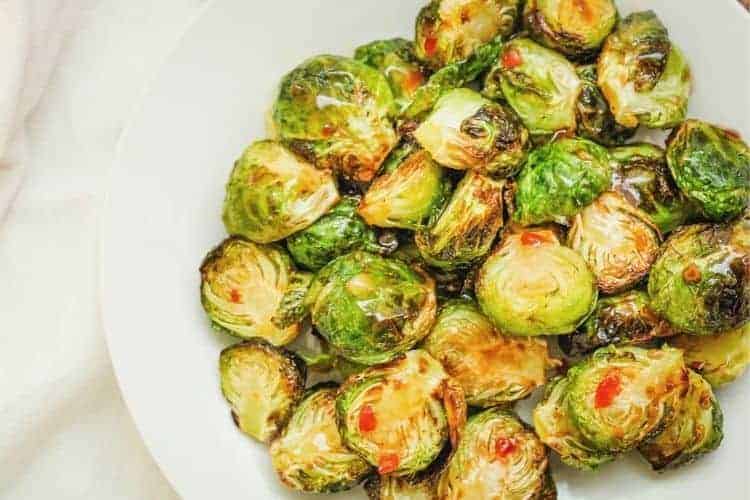 These air fried brussel sprouts are naturally gluten-free, vegan, and keto. Without changing a thing, every friend and family member can share in the veggie goodness. Even picky teenagers go nuts for this recipe!
Get ready to add this spicy, sweet, and scrumptious side dish to your favorite recipe rotation. It is fast and easy enough to whip up on a weeknight and delicious enough to bring to any potluck.
Here's what I'm going to teach you in this post:
Everything you need to make these spicy, sweet, and savory brussel sprouts in the air fryer.
Irresistible serving suggestions to serve alongside your air fried brussel sprouts.
Tips for making the best possible air fryer brussel sprouts every time.
With a few simple ingredients and 15 minutes, you can make this quick and easy brussel sprouts air fryer recipe. Pull out your air fryer and get ready to wow your taste buds!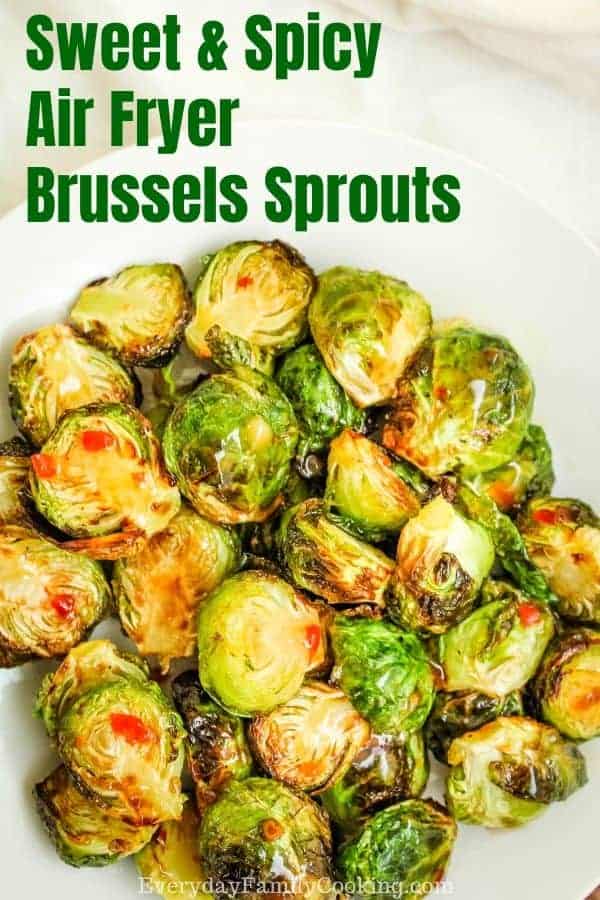 How to Make Brussel Sprouts in the Air Fryer
STEP ONE: Preheat your air fryer to 400 degrees F.
STEP TWO: In a medium bowl, add halved brussel sprouts, oil, salt, and pepper. Gently toss together to coat.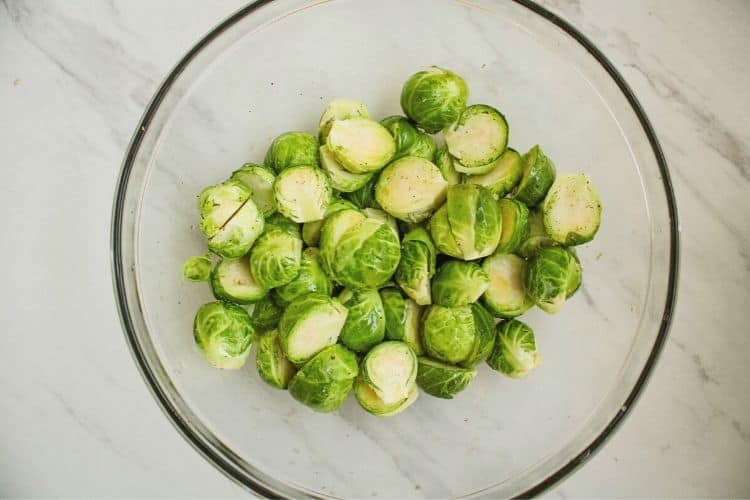 STEP THREE: Place brussel sprouts in your air fryer basket and set the bowl aside. A bit of overlapping is okay as long as you don't overfill your air fryer. Be sure to not fill it more than halfway.
STEP FOUR: Set your timer for 8-10 minutes and give the air fryer basket a shake about halfway through.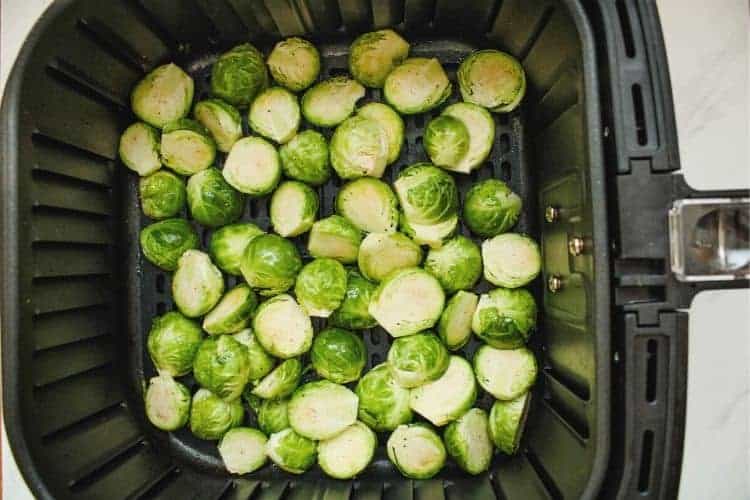 STEP FIVE: After 8-10 minutes, transfer brussel sprouts from the air fryer back to the bowl. Toss sprouts with sweet chili sauce and red pepper flakes, mixing to combine. 
STEP SIX: Place brussel sprouts back into the air fryer and cook for an additional 1-2 minutes, just enough time to warm up the sauce.
STEP SEVEN: Turn off air fryer, remove brussel sprouts, and enjoy immediately.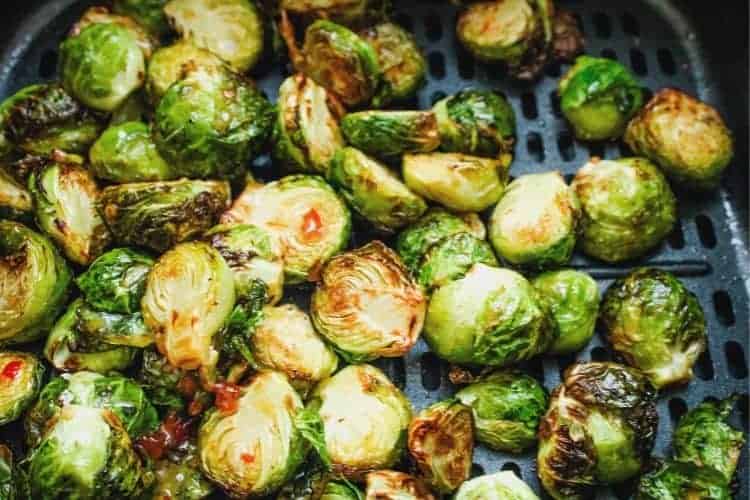 Are Air Fryer Brussel Sprouts Healthy?
Absolutely, they are! Not only are these air fried brussel sprouts bursting with flavor, they are also packed with several vitamins, minerals, fiber, and other health-promoting nutrients.
This fiber-rich, nutrient-dense side dish is packed with vitamins A, B, C, and K to name a few. When it comes to minerals, our lovely brussel sprouts provide a healthy dose of copper, calcium, potassium, iron, manganese and phosphorus. What a nutritional resume!
We haven't even mentioned the impressive list of antioxidants our little sprouts can boast. You may have heard of lutein, zeanthanin, or DIM, just to name a few key players.
This recipe will also fit well with any dietary restrictions your friends or family might have. They are naturally gluten-free, vegan, and low in carbohydrates. Everyone can enjoy it!
Do I Need to Wash Brussel Sprouts?
While brussel sprouts don't usually have a bunch of dirt on them, washing them is very important, just as it is with all vegetables.
Simply use a colander to rinse your trimmed brussel sprouts, moving it around and tossing your sprouts for good measure.
If possible, rinse ahead of time to allow for drying.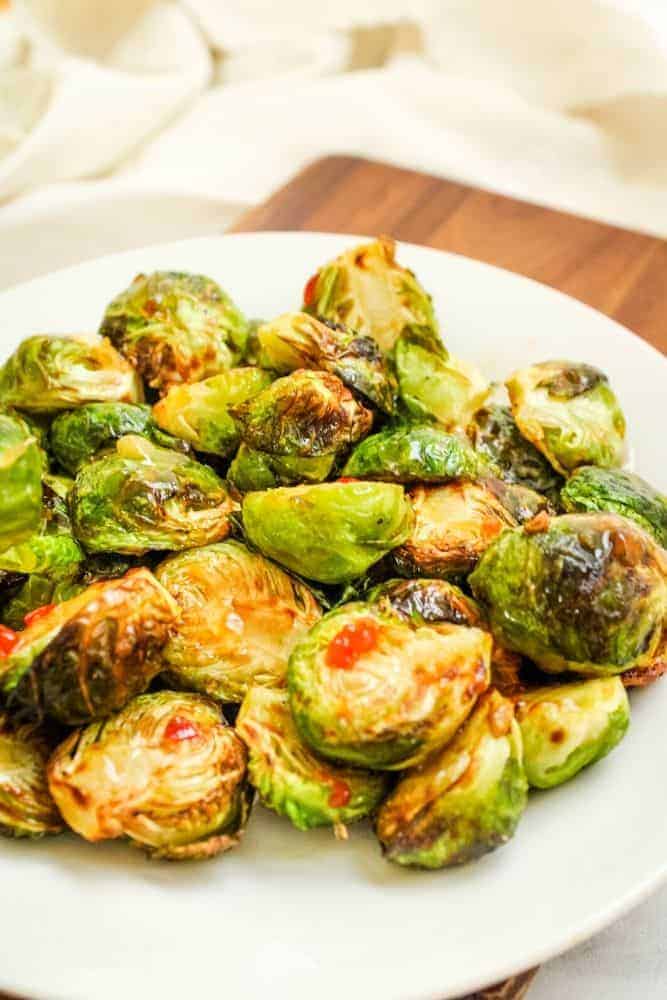 How Do I Make the Best Brussel Sprouts in the Air Fryer?
To get brussel sprouts that are irresistibly crispy on the outside and perfectly tender on the inside, high heat is essential.
Be sure your air fryer is properly calibrated and completely preheated to at least 400 degrees F before adding your veggies.
Be sure not to overcrowd your basket and give it a shake halfway through cooking. Follow these simple steps for excellent results every time.
What Do I Serve With Air Fried Brussel Sprouts?
This brussel sprouts air fryer recipe goes well with just about any main course you can imagine. Here are some fantastic recipes to get you inspired: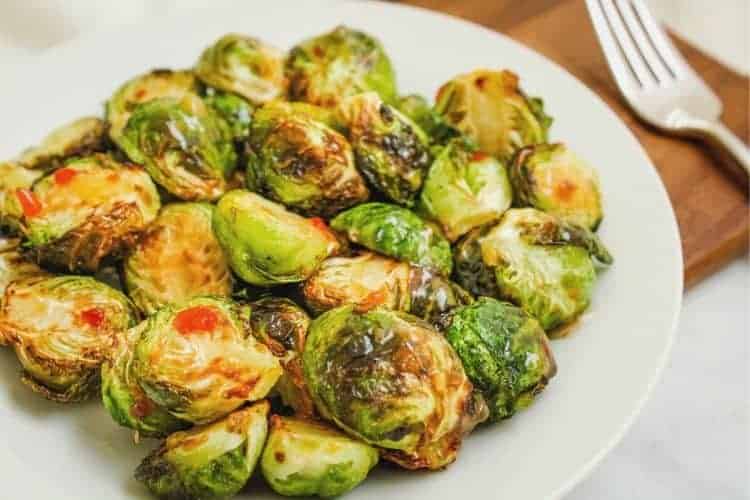 What To Do With Leftover Air Fryer Brussel Sprouts
Leftover, cooked brussel sprouts will last for 3-5 days in the refrigerator when stored properly in an airtight container. To reheat, pop your brussel sprouts in the air fryer until crispy and warmed through.
Freezing is not recommended for this recipe since the texture of your brussel sprouts will change significantly once frozen and thawed. Make smaller batches and eat to your heart's content!
Other Air Fryer Side Dishes You'll Love:
Yield: 4 servings
Air Fryer Brussel Sprouts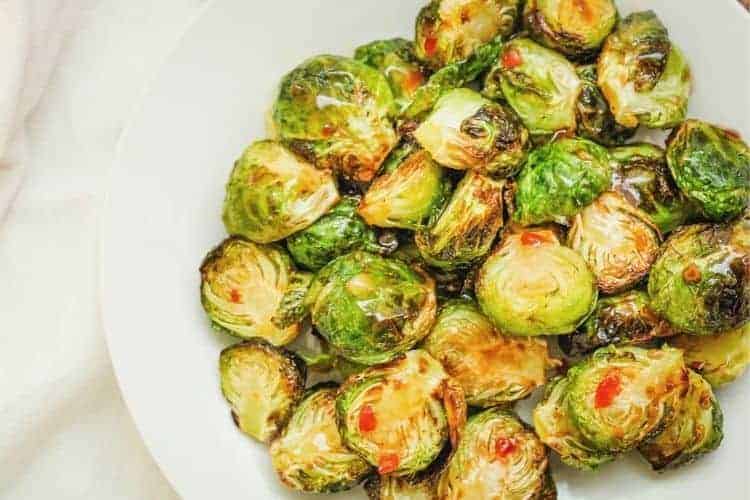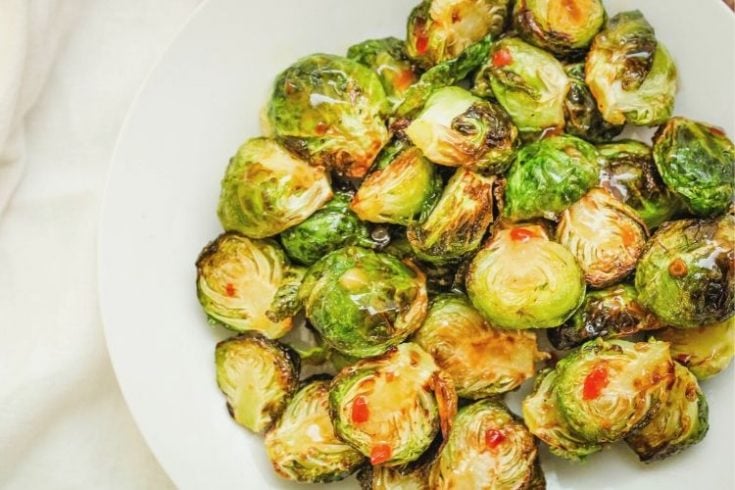 A sweet and spicy air fryer side dish that creates crispy brussels sprouts with a nice kick in flavor.
Ingredients
1 pound brussel sprouts, trimmed and halved
2 tablespoons oil
1/4 teaspoon salt
pepper to taste
pinch of red pepper flakes
Instructions
Preheat air fryer to 400 degrees.
Add halved Brussels sprouts into a bowl with oil, salt, and pepper. Mix to combine.
Place Brussels sprouts into the air fryer and set the bowl aside. It's okay if they overlap, just do not fill your air fryer more than halfway.
Cook brussels sprouts for 8-10 minutes, shaking the basket halfway through.
Remove brussels sprouts from the air fryer and put back into the bowl. Toss in sweet chili sauce and add red pepper flakes if using. Mix to combine.
Put brussels sprouts back into the air fryer and cook for 1-2 minutes to heat up the sauce.
Remove from the air fryer and enjoy immediately.
Nutrition Information:
Yield:
4
Serving Size:
1
Amount Per Serving:
Calories:

122
Total Fat:

8g
Saturated Fat:

1g
Trans Fat:

0g
Unsaturated Fat:

7g
Cholesterol:

0mg
Sodium:

158mg
Carbohydrates:

13g
Fiber:

3g
Sugar:

6g
Protein:

3g
This nutrition information is based on the exact products I used in this recipe. Brands and sizes of products could alter exact nutrition and should always be calculated independently.