This Ninja Foodi Baked Potato recipe gives you crispy, delicious potato skin while the inside turns out so soft and fluffy. And it takes less time than traditional oven-roasting!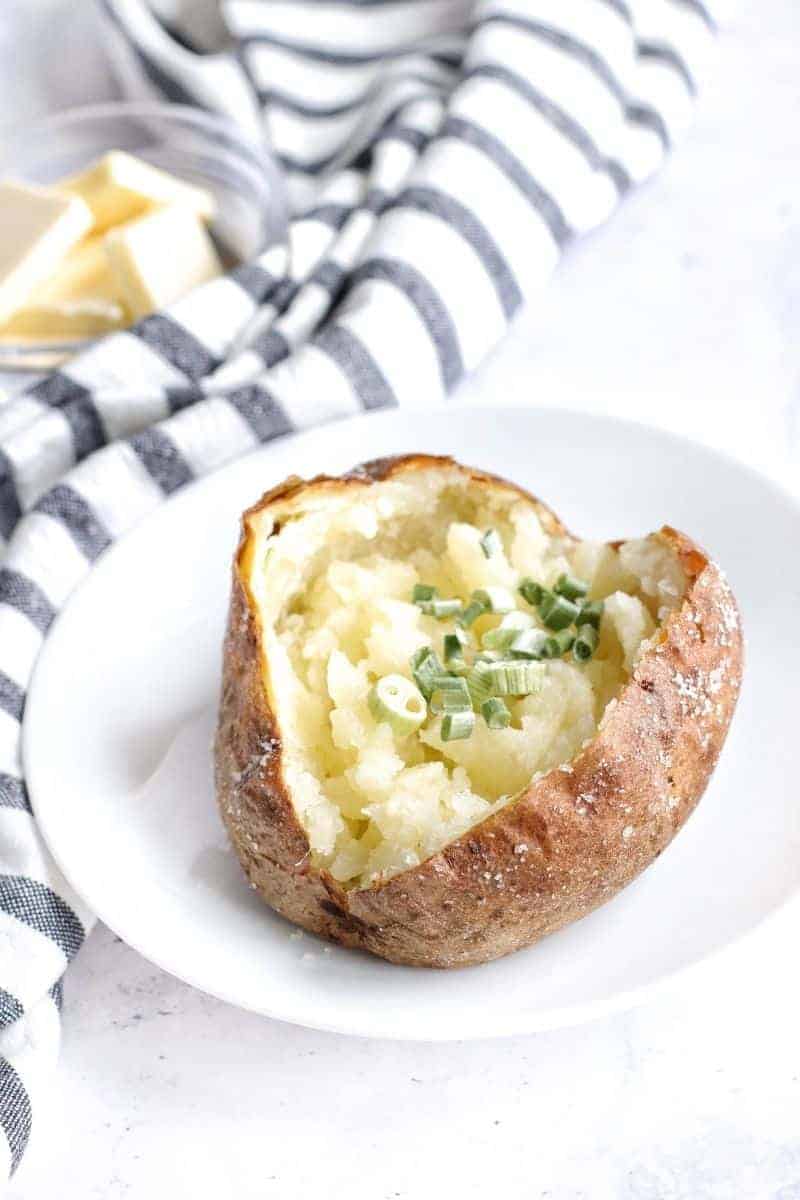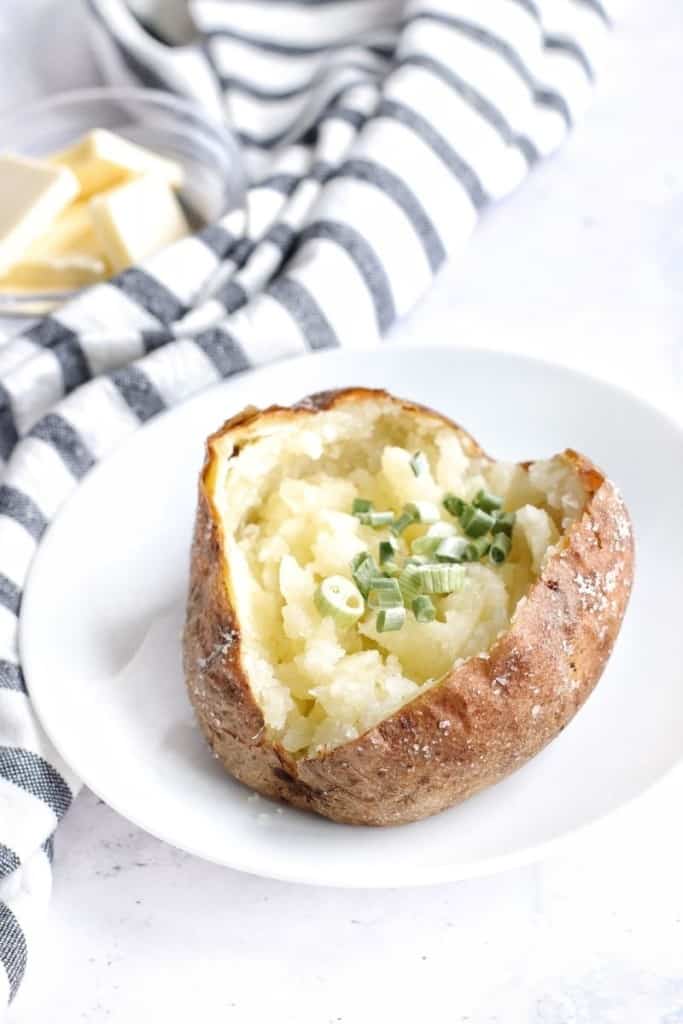 Love baked potatoes, but don't love roasting them in the oven for at least an hour? These Ninja Foodi baked potatoes are done in 45 minutes flat and turn out perfectly every time!
Without a doubt, this is my family's favorite way to enjoy potatoes.
Rubbing a little oil and salt on the potatoes helps get the skin nice and crispy while the inside of the potato stays moist and fluffy. And in terms of hands-on cooking time, prep takes five minutes or less. How can you beat that for a weeknight veggie?
Here's what I'm going to teach you in this post:
How to make air fryer baked potatoes using the Ninja Foodi grill
Which type of potatoes work best for this recipe
A few tricks for making the best Ninja Foodi baked potatoes
How to make an air fryer twice baked potato
Topping ideas for your Ninja Foodi baked potatoes
How to reheat baked potatoes in the Ninja Foodi air fryer
These Ninja baked potatoes are so good, I usually add a little butter and dig right in. But you can just as easily load them up with all your favorite toppings or even use the Ninja Foodi grill to turn them into twice-baked potatoes!
It's truly the best way to enjoy this classic food.
And if you love this recipe, you'll love my Ninja Foodi Mac and Cheese recipe too!
I used the Ninja Foodi 11-in-1 6.5 QT Pressure Cooker and Air Fryer for this recipe. I find this to be a great size for my family of four!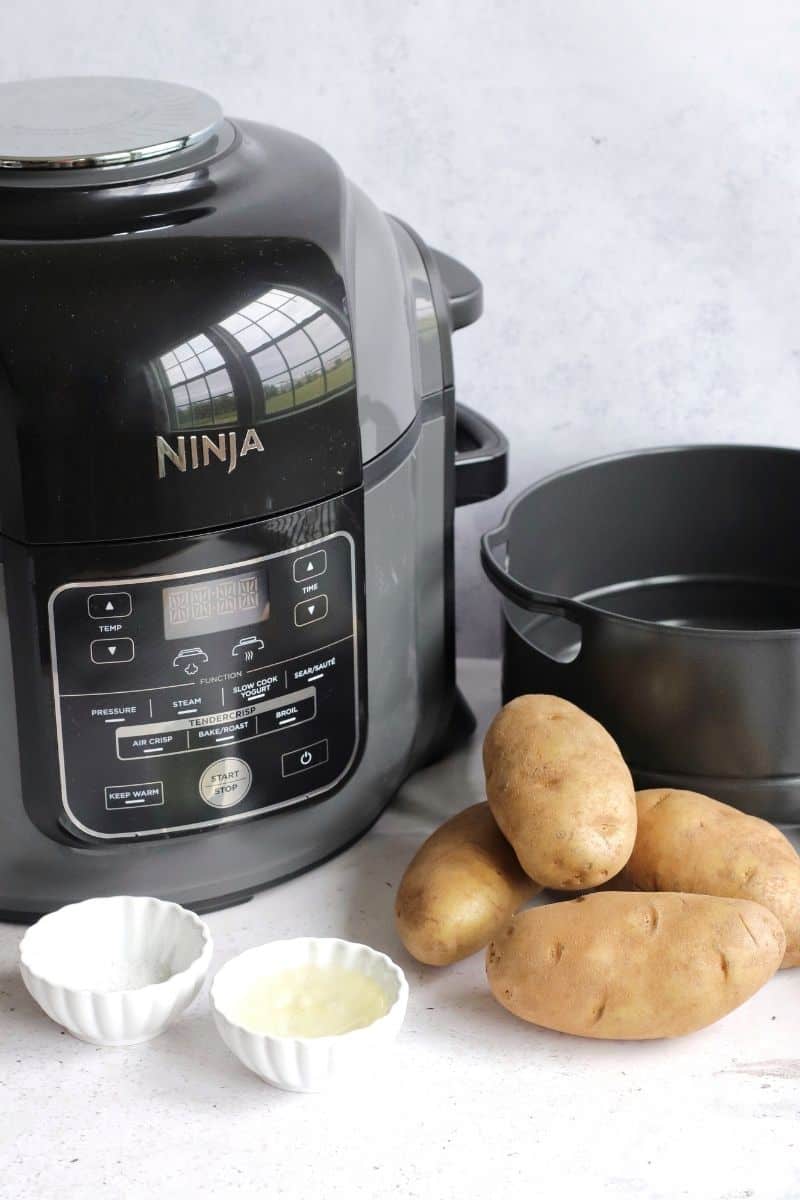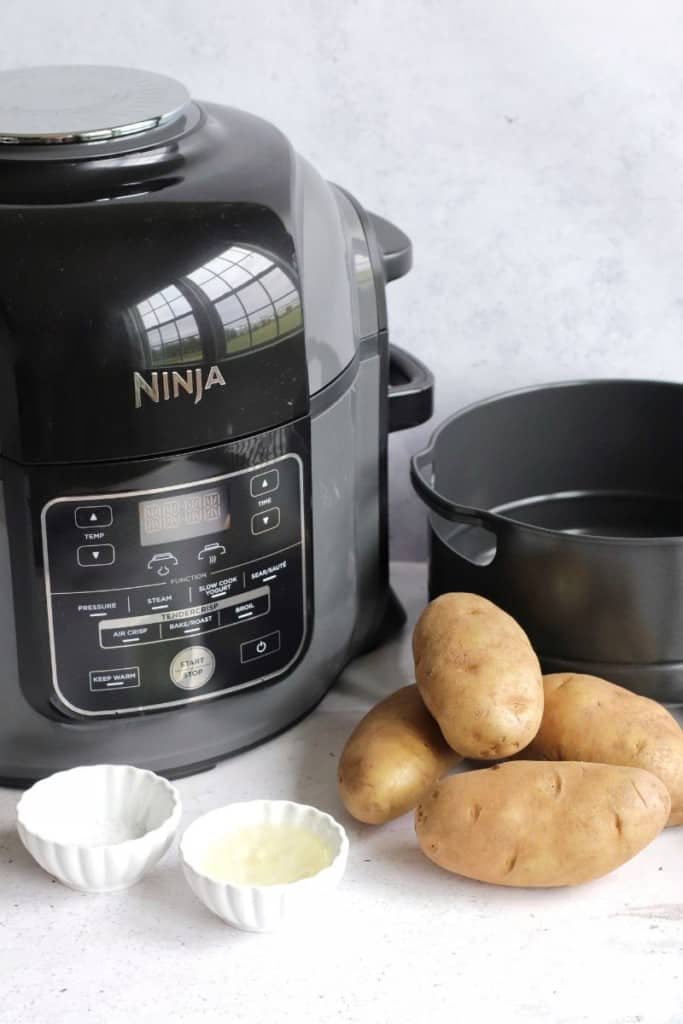 How To Make Baked Potatoes in the Ninja Foodi
A full printable version of this recipe with ingredient measurements is available at the bottom of this post.
STEP ONE: Wash each potato, then pat it dry thoroughly.
STEP TWO: Poke each potato a few times with a fork to ensure it cooks evenly and doesn't explode from a pressure build-up while cooking.
STEP THREE: Rub the outside of each potato with olive oil. Once well-coated, rub with sea salt.
STEP FOUR: Place the potatoes in the Ninja Foodi's air fryer basket.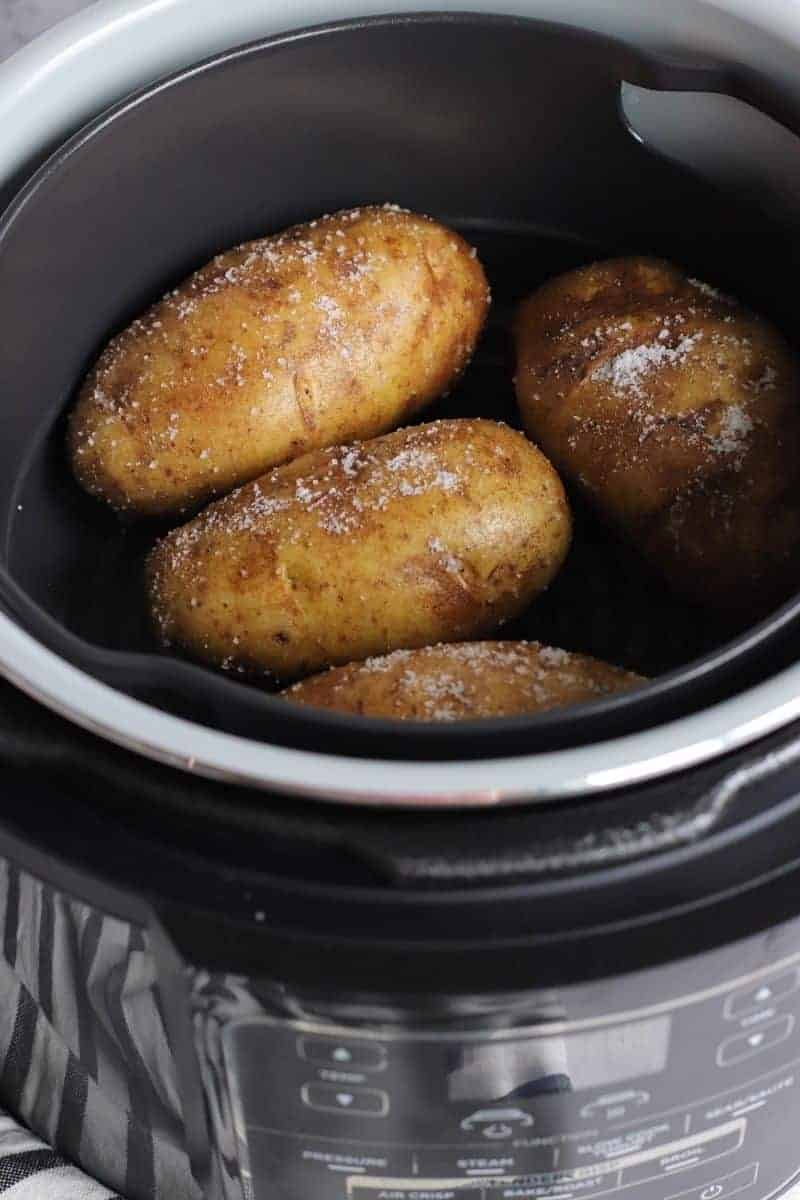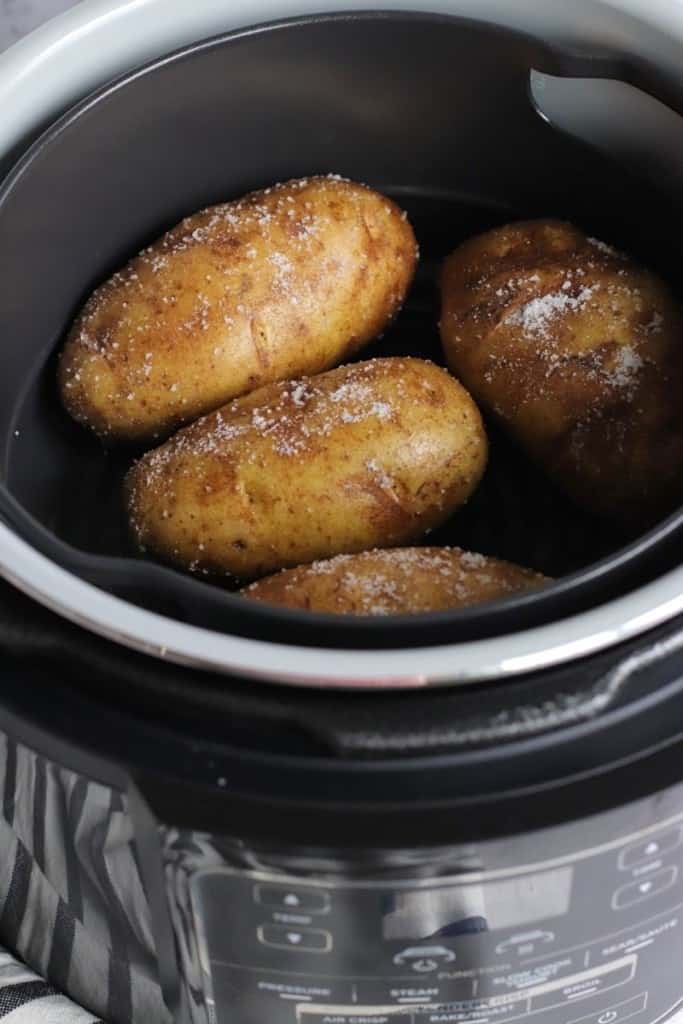 STEP FIVE: Cook on "Air Fry" at 400 degrees for about 45 minutes or until you can easily poke the potatoes with a fork. Medium and large potatoes could take 50-60 minutes.
STEP SIX: Remove the potatoes from the Ninja Foodi, cut in half, and enjoy!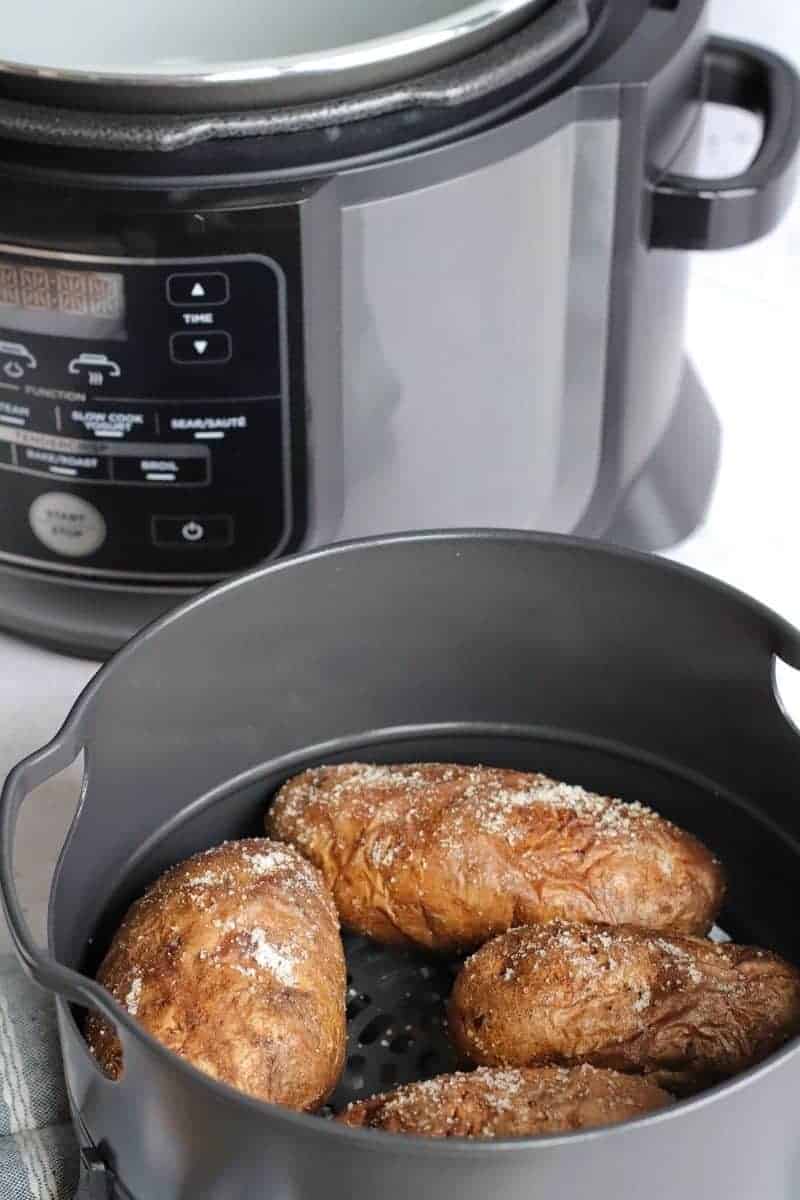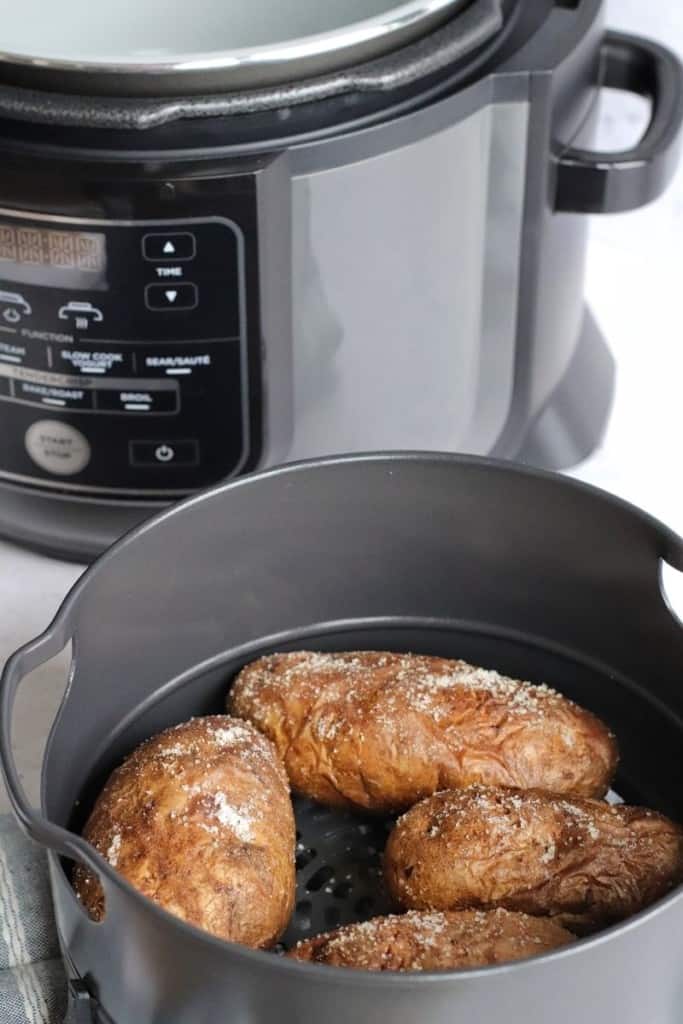 Can I Use Other Potatoes Besides Russet Potatoes?
Personally, I think russet potatoes are the best option for this recipe. They get such a good crisp on the outside while maintaining a perfect level of fluffiness on the inside.
That being said, you can certainly use a different kind of potato if you prefer. A medium-starch potato, like Yukon Gold, would be a good substitute.
Just make sure the potatoes are fully cooked, as different varieties may require different cooking times.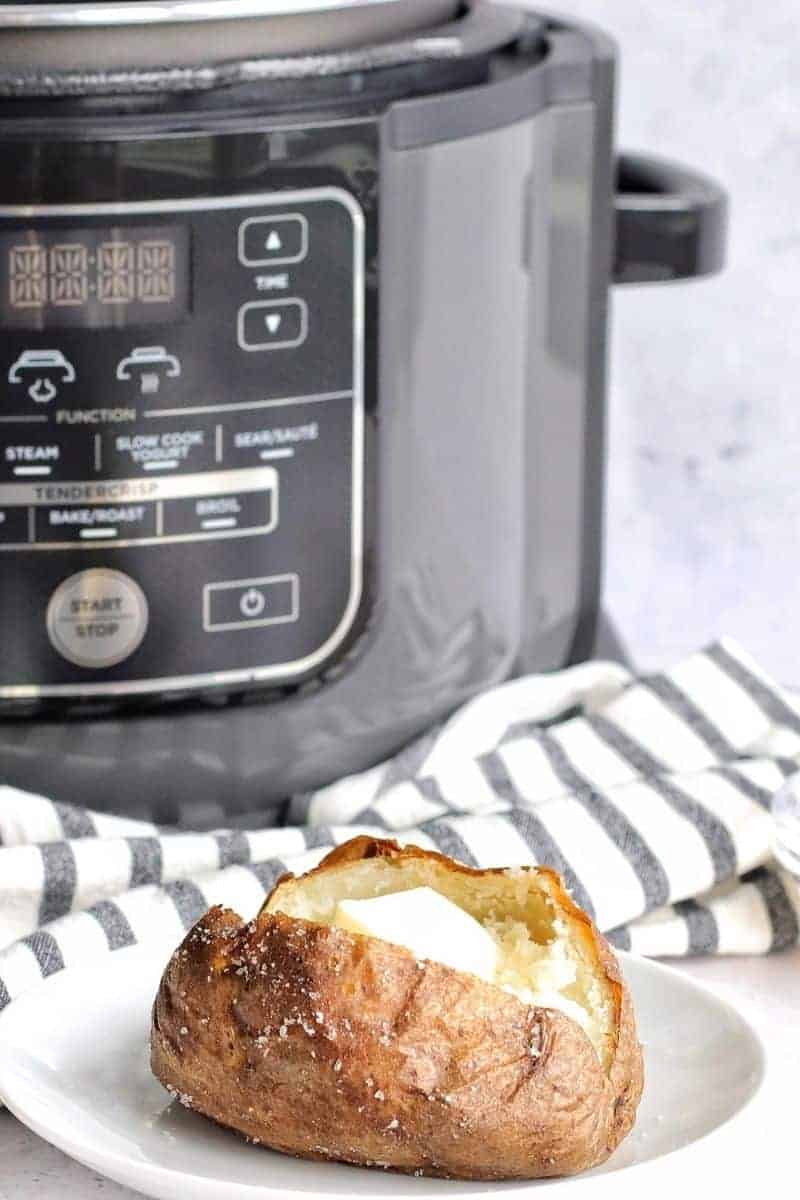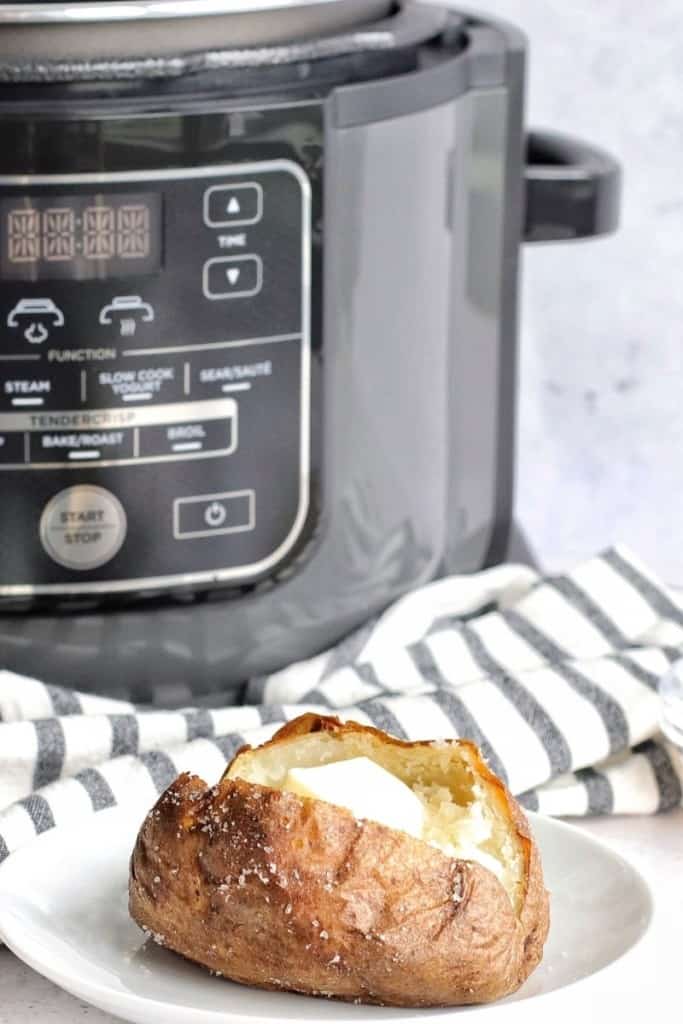 Can I Use a Regular Air Fryer to Make Baked Potatoes Too?
Yes! This recipe works in the regular air fryer as well!
Just follow the same directions listed in this recipe in your basket or air fryer oven!
Tips For Making the Best Ninja Foodi Baked Potato
The Ninja Foodi Grill takes so much of the guesswork out of making perfect baked potatoes. However, I do have a few tips for you to make sure these turn out as amazing as possible!
Look for small to medium-sized potatoes that are all around the same size to ensure similar cooking times.
Poke each potato with a few holes before cooking. This allows it to release steam as it cooks, which will give you the fluffiest potato.
Check for doneness by poking the potato with a fork. It should pierce the potato easily once you break through the crispy skin.
When in doubt, air fry it for a few more minutes. Fluffy potatoes are much tastier than undercooked ones.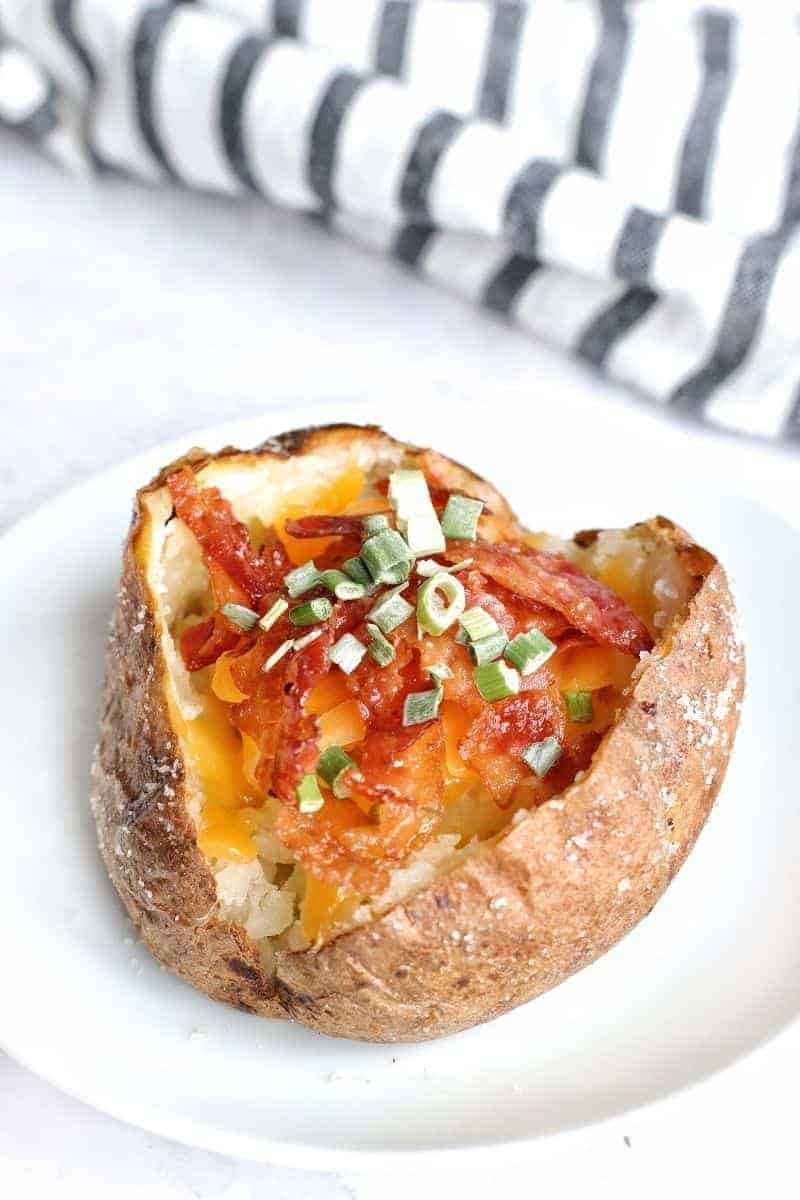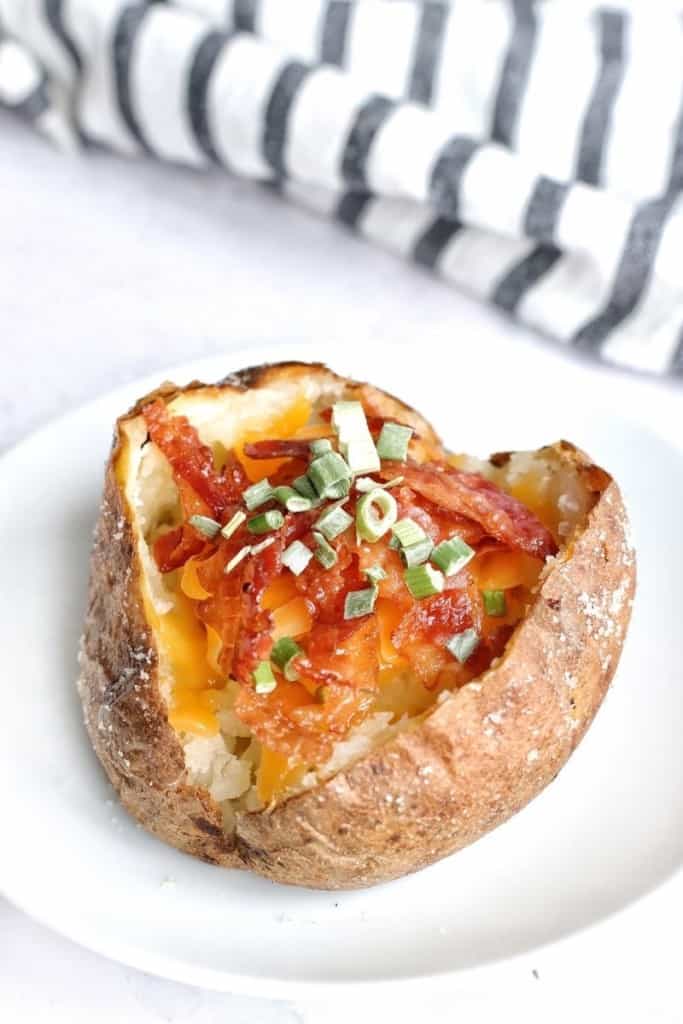 How to Turn These into Twice Baked Potatoes
Who doesn't love a twice-baked potato? Good news: all you need are a few extra minutes and your favorite toppings!
Once the baked potatoes have finished cooking, slice them in half and let them cool for a few minutes.
Carefully scoop the insides into a bowl.
Add your desired toppings, then stir to mix everything.
Transfer the potato filling back into the potato skins.
Set the Ninja Foodi air fryer at 350 degrees and cook for about 3 to 5 minutes.
Topping Ideas For Your Ninja Baked Potato
You can dress these potatoes with anything you'd like! It's all about your perfect baked potato.
Feel free to keep it simple by just adding a little butter, or you can get crazy and load it up with cheddar, chives, and bacon. You could even add sour cream or ranch!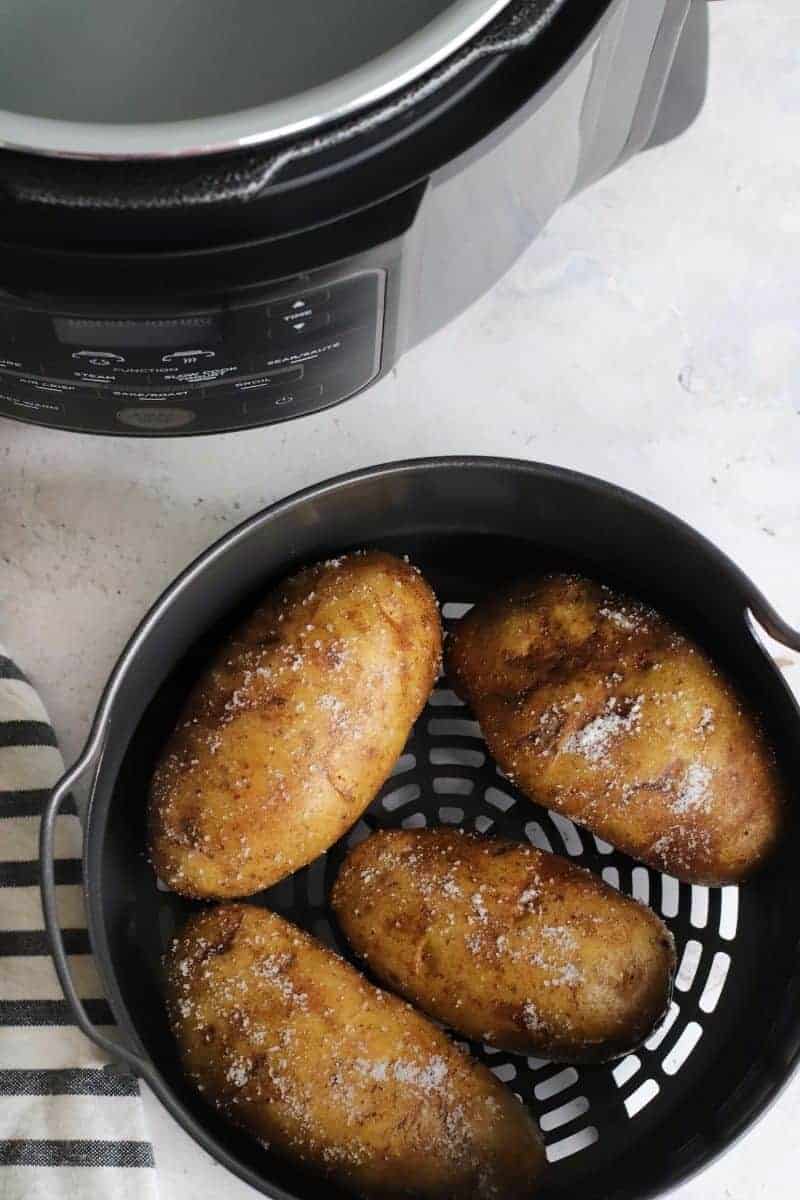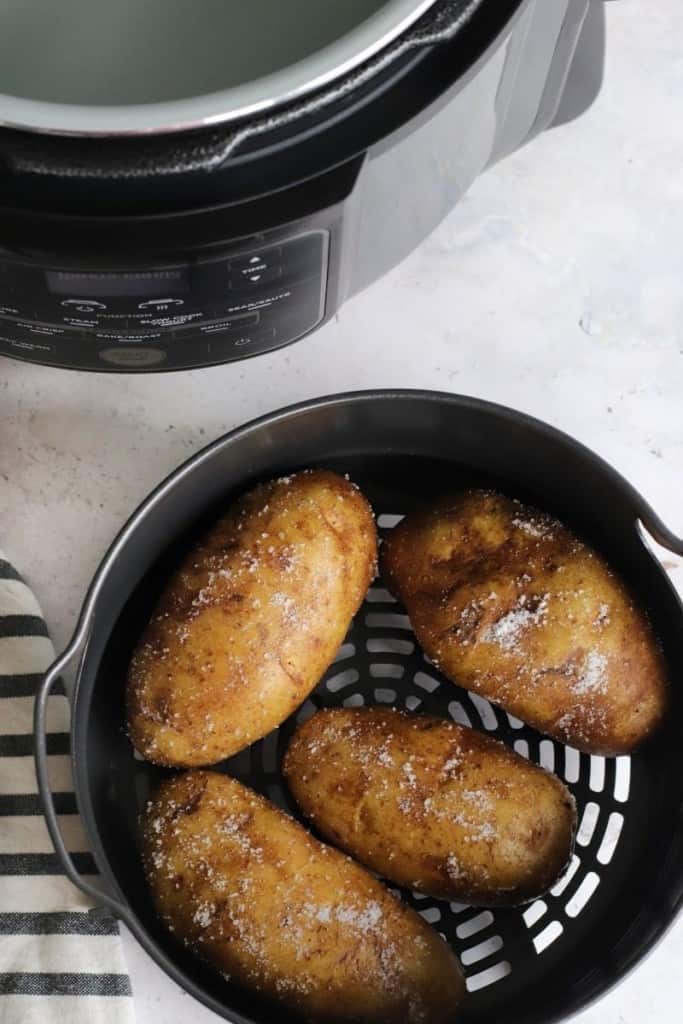 How to Reheat Baked Potatoes in the Ninja Foodi Grill
Baked Potatoes are best eaten right away. That's when the skin will be the crispiest and the inside will be hot and fluffy.
If you do have leftovers, you can store them in an airtight container in the refrigerator for a day or so.
To reheat, place them back in the air fryer at 400 degrees and cook for 5-6 minutes.
Other Potato Recipes You'll Love:
Love air frying? Join our newsletter! You can also follow us on Facebook, Instagram, or join our free Facebook Air Frying Community.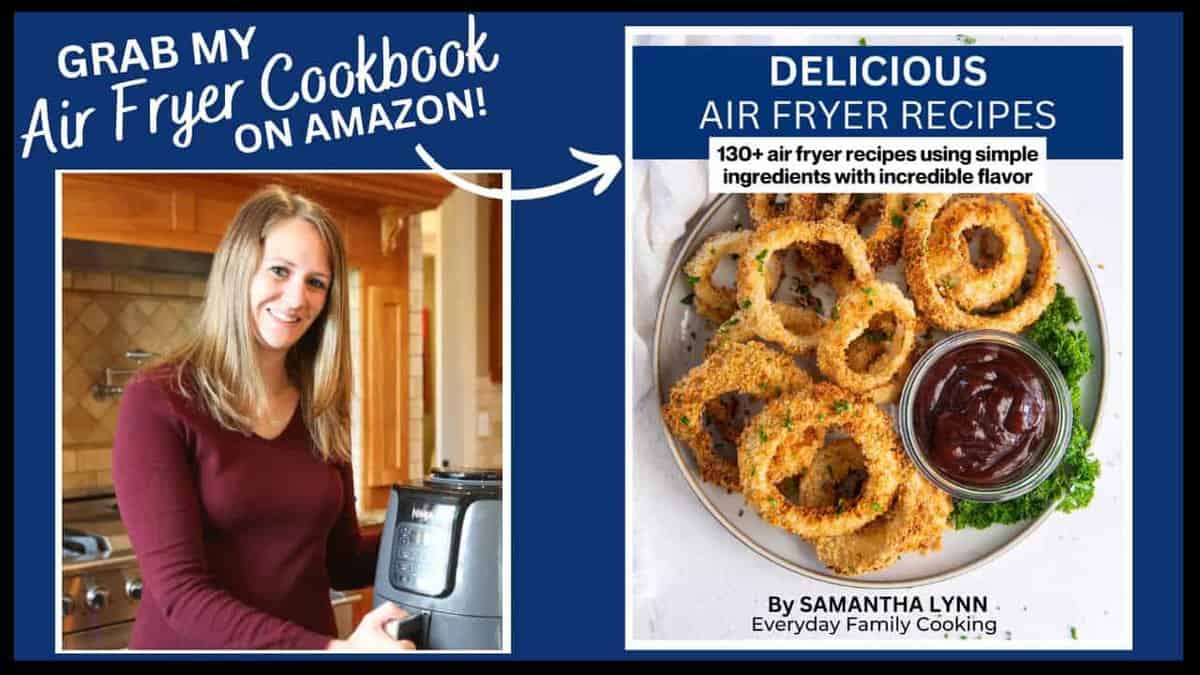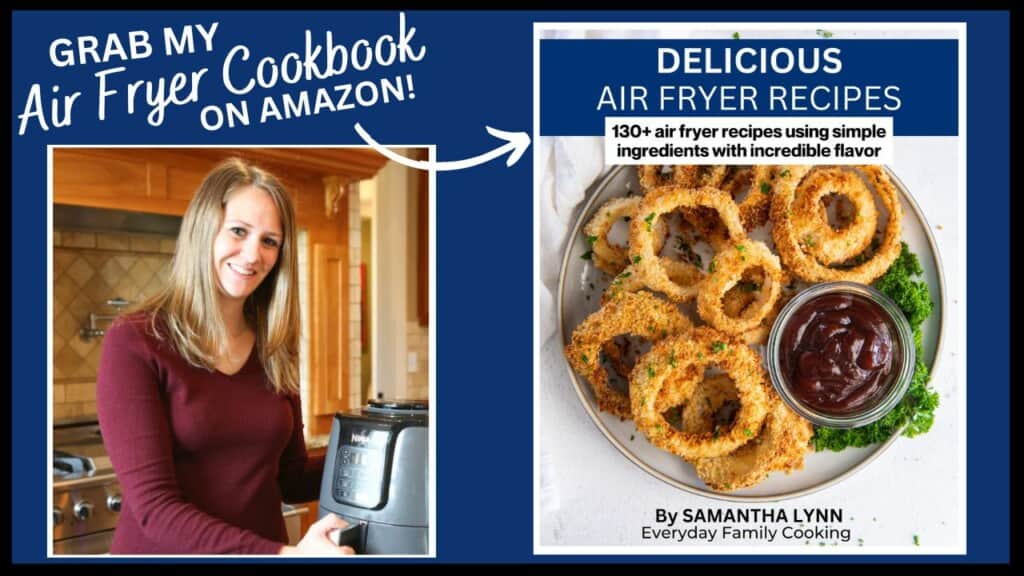 Yield: 4 servings
Ninja Foodi Baked Potato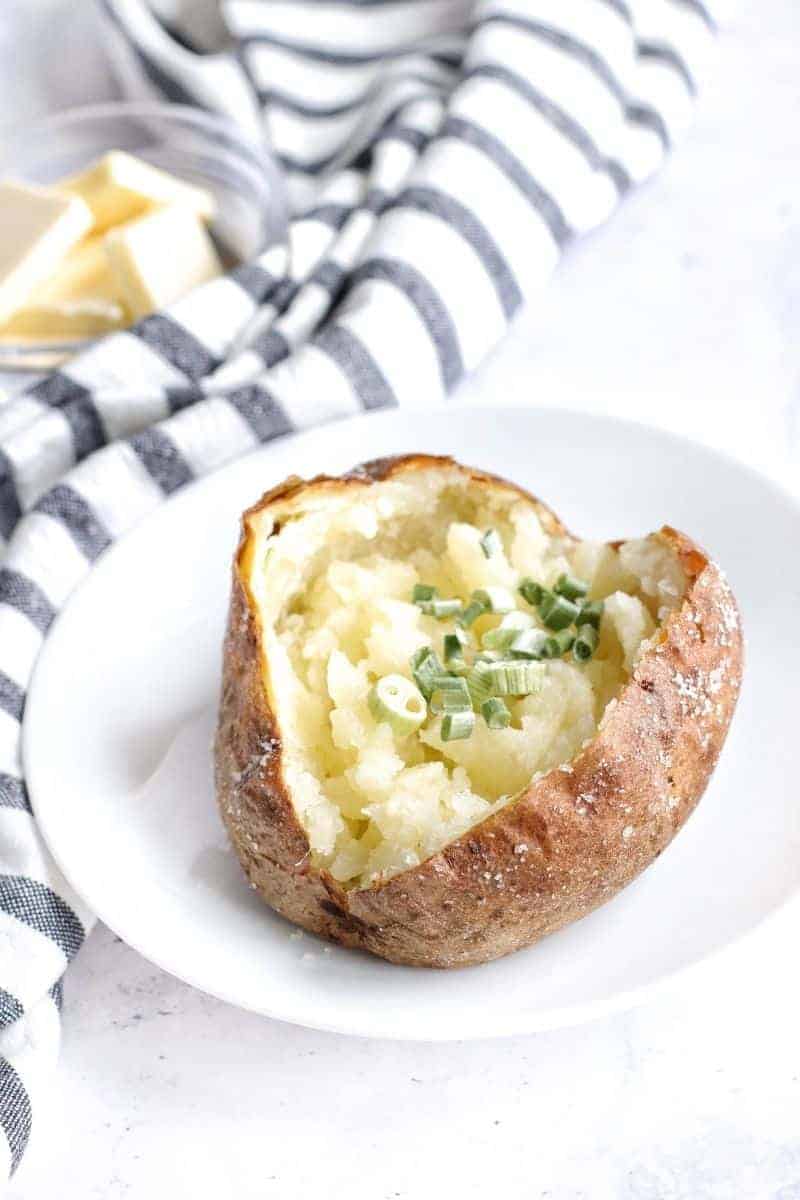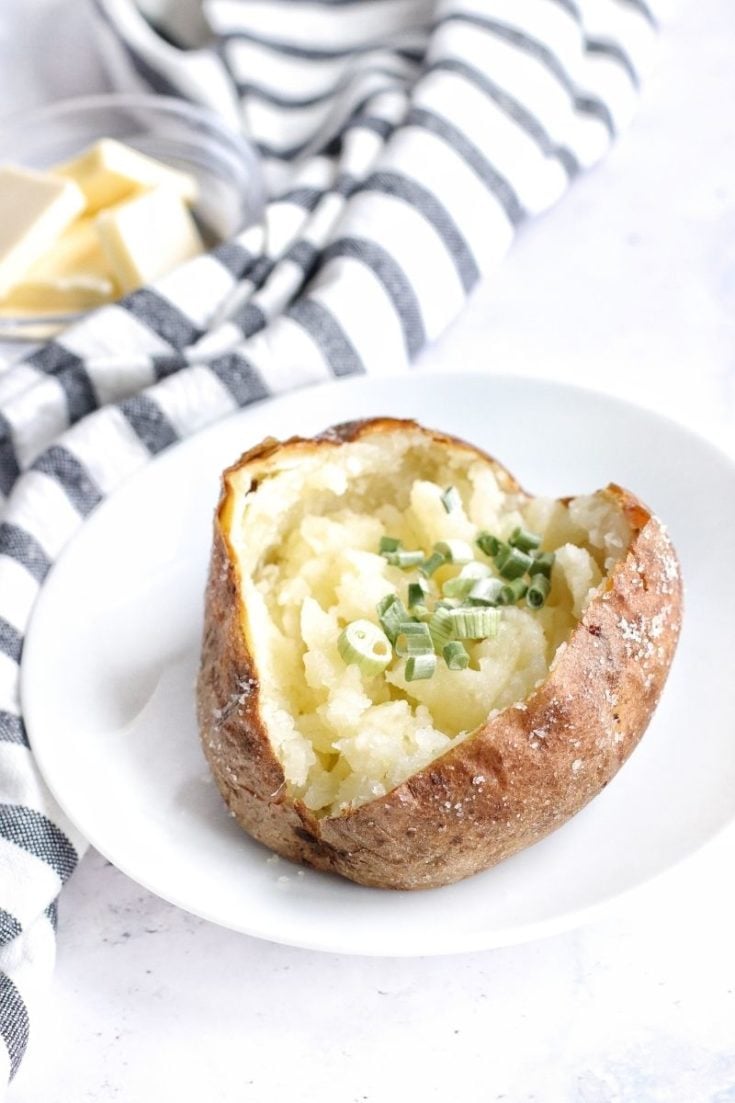 You only need 3 ingredients to make these amazing Ninja Foodi
Baked Potatoes! The skin gets perfectly crispy while the inside turns out so
soft and fluffy.
Ingredients
4 Russet potatoes
1 1/2 tablespoons olive oil
1 1/2 tablespoons sea salt
Instructions
Preheat your Ninja Foodi to 400 degrees on "Air Fry."
Poke each potato, then rub them with olive oil and sea salt all around the outside.
Place the baked potatoes in the air fryer basket and cook for about 45 minutes until easily pierced with a fork. Medium and large potatoes could take 50-60 minutes.
Remove the baked potatoes from the Ninja Foodi, split them in half, and top them with desired toppings!
Notes
How to Reheat a Baked Potato in the Ninja Foodi Air Fryer:
1. Preheat your Ninja Foodi to 400 degrees.
2. Place the already cooked baked potatoes in the air fryer and cook for 5 to 6 minutes until heated thoroughly.
Nutrition Information:
Yield:
4
Serving Size:
1
Amount Per Serving:
Calories:

213
Total Fat:

5g
Saturated Fat:

1g
Trans Fat:

0g
Unsaturated Fat:

4g
Cholesterol:

0mg
Sodium:

2404mg
Carbohydrates:

37g
Fiber:

4g
Sugar:

2g
Protein:

5g
This nutrition information is based on the exact products I used in this recipe. Brands and sizes of products could alter exact nutrition and should always be calculated independently.