This Ninja Foodi rice recipe is the fastest way to whip up fluffy and delicious jasmine rice! It's an easy side that's always a crowd pleaser.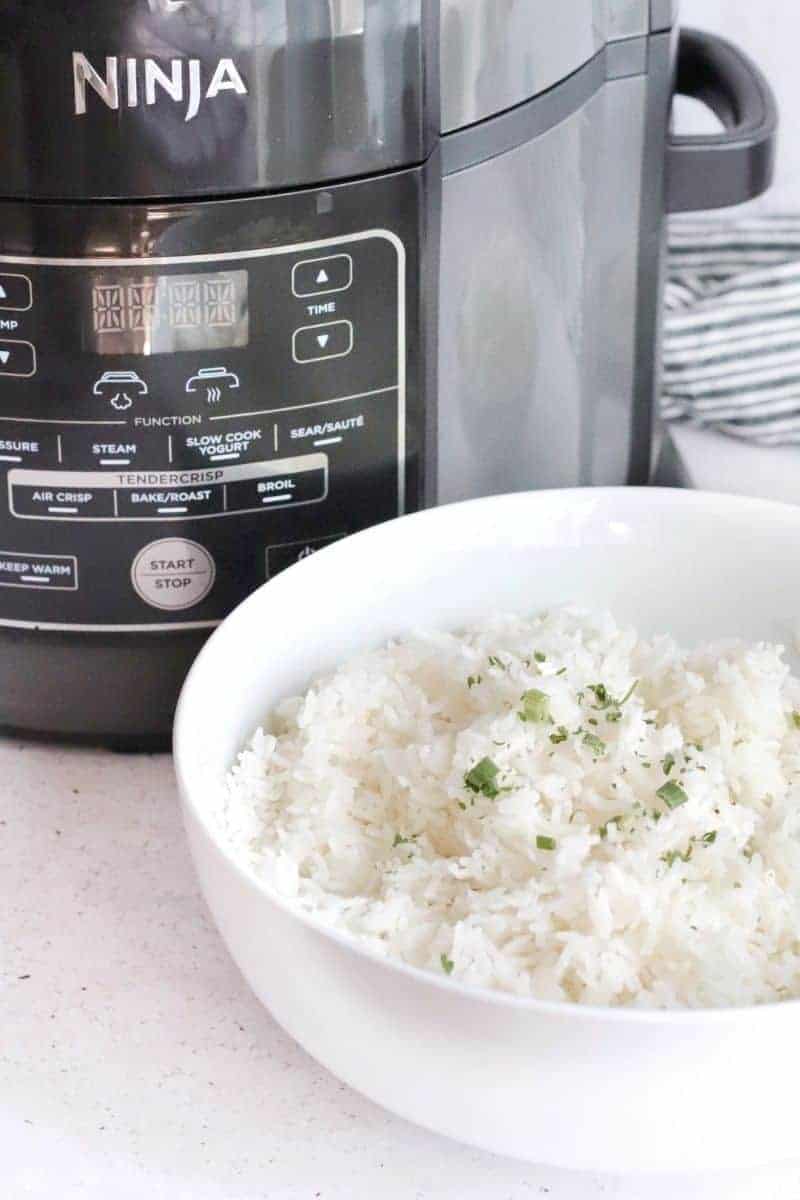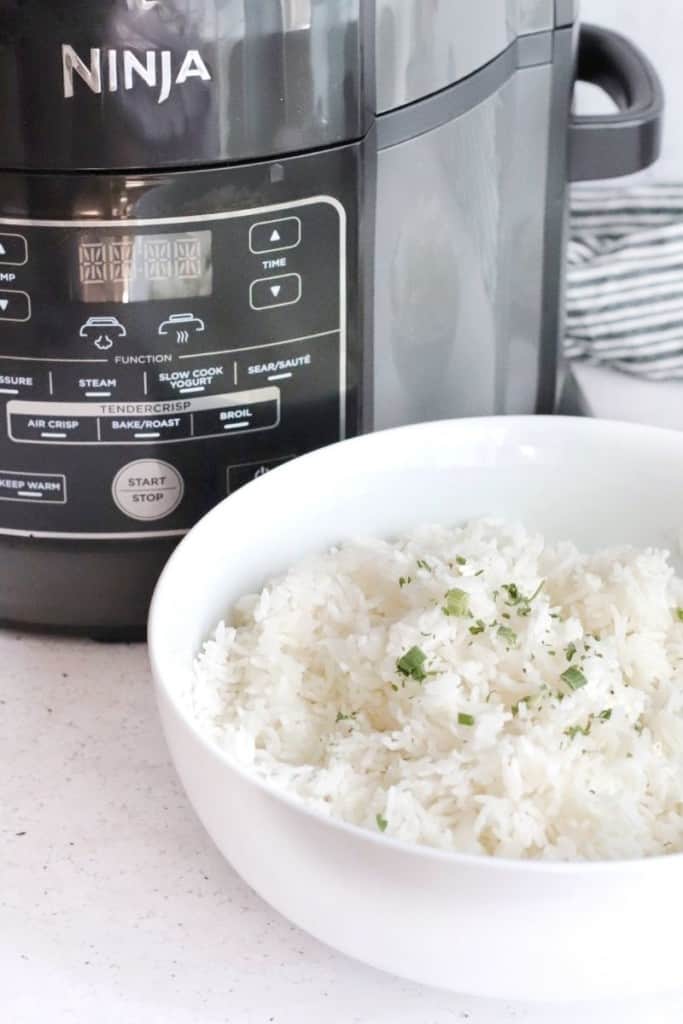 When I found out that the Ninja Foodi combines an air fryer AND pressure cooker appliance into one (hello, more counter space), I just had to try it!
This Ninja Foodi rice recipe was one of my first experiments, and let me tell you, it did not disappoint.
By using the Ninja Foodi's electric pressure cooker function, it's similar to making jasmine rice in the Instant Pot.
That means fluffy, delicious sticky rice in less than 30 minutes!
Here's what I'm going to teach you in this post:
How to make rice in the Ninja Foodi
Why I recommend jasmine rice to make sticky rice
Why it's important to wash your rice before cooking
What to do if you want to use a different type or amount of rice
How to make your Ninja Foodi white rice more flavorful
Tips for making the best Ninja Foodi rice
How to store jasmine rice once it's been cooked
The wonderful texture and mildly-sweet flavor of jasmine rice make it an instant crowd pleaser that you can serve with almost any meal.
From rich roasts to hearty stews and everything in between, you'll never run out of ways to dish up Ninja Foodi white rice!
I used the Ninja Foodi 11-in-1 6.5 QT Pressure Cooker and Air Fryer for this recipe. I find this to be a great size for my family of four!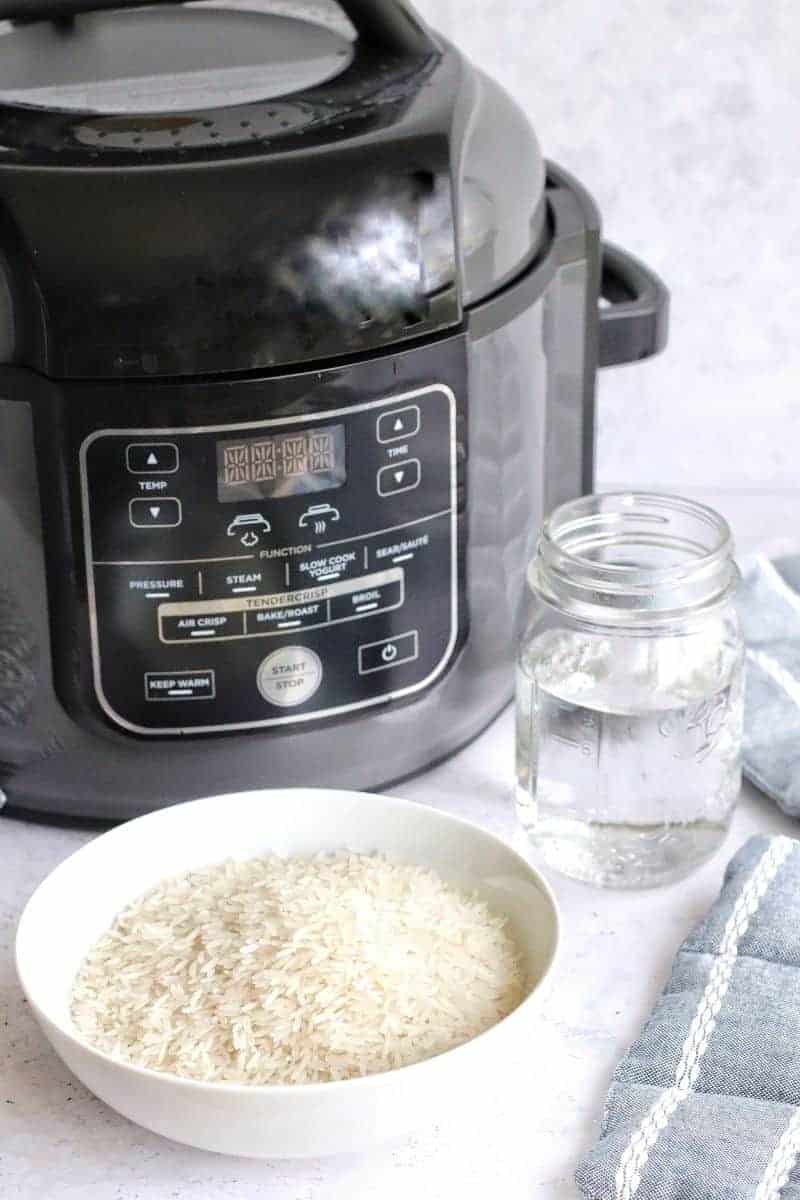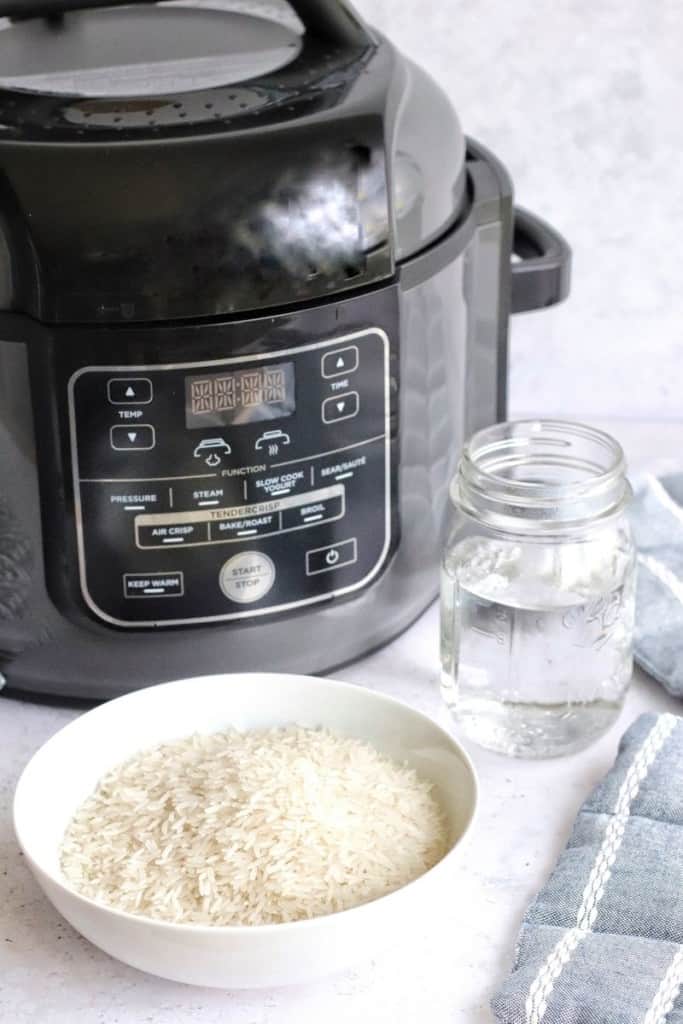 How to Make Ninja Foodi Rice
STEP ONE: Add 3 cups of rice to the Ninja Foodi pot.
STEP TWO: Add 3 cups of water to the pot and salt if using. Room temperature or cold water will work. Carefully push down the rice cover it all with water. If the rice is not covered with water, that rice will not cook evenly or at all. Do not stir it.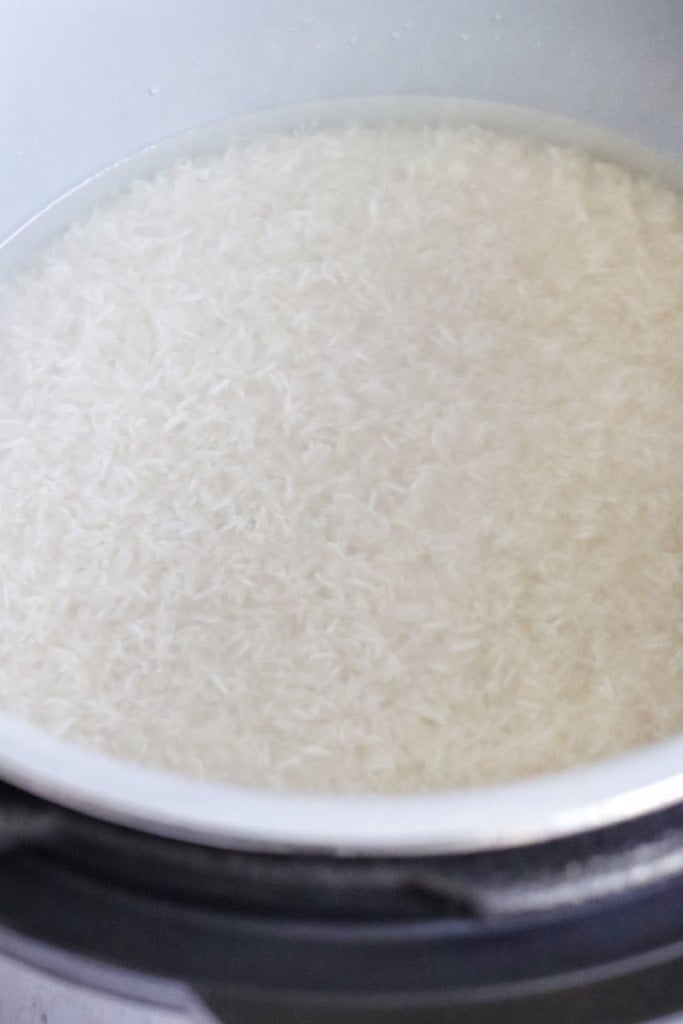 STEP THREE: Secure the pressure cooker lid on the Ninja Foodi. Make sure the valve is set to "Seal."
STEP FOUR: Cook on "Pressure" for 4 minutes.
STEP FIVE: Once the cooking time is complete, allow the Ninja Foodi to do a natural steam release for ten minutes.
STEP SIX: Carefully move the valve to "Vent" to release any remaining steam. Remove the lid, fluff the rice with a spoon or spatula, and serve.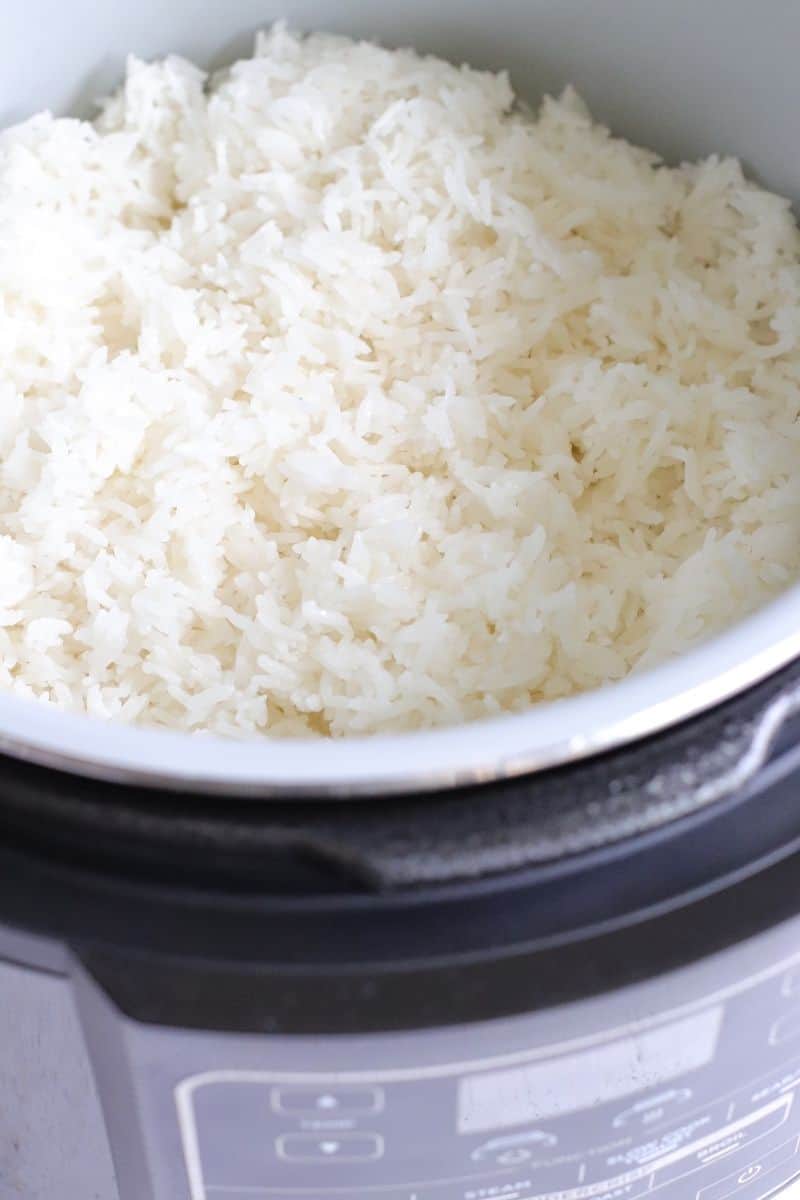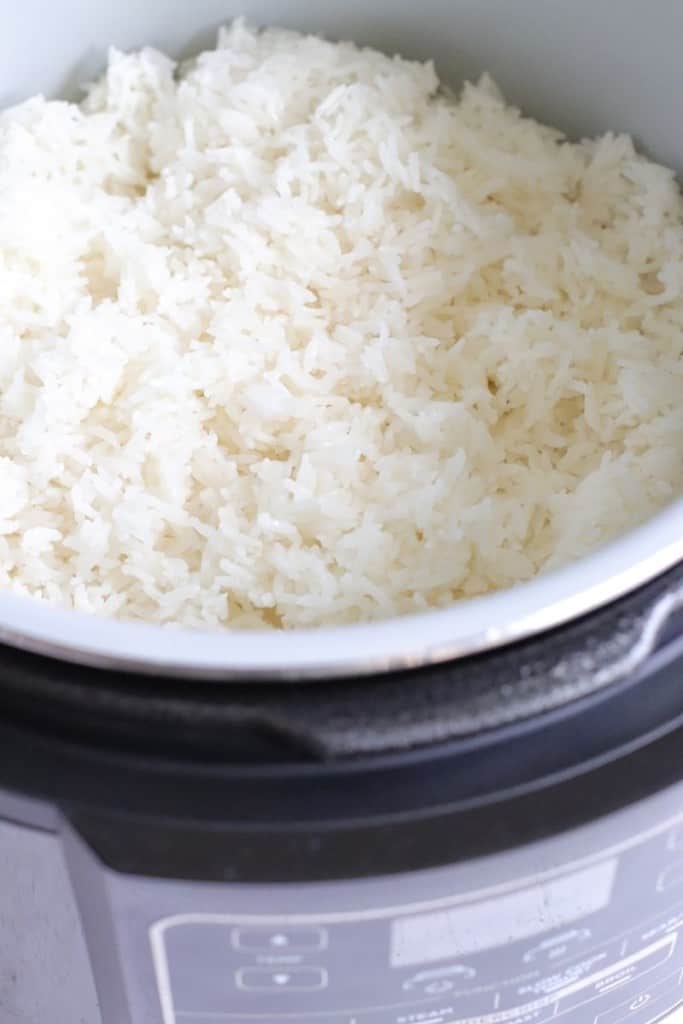 Using the Ninja Foodi Pressure Cooker
Have you ever used an Instant Pot or other electric pressure cooker? Then the Ninja Foodie pressure cooker setting should feel very familiar to you!
However, it's important to note that the pressure cooker lid is the second lid that comes with the appliance, NOT the lid that's already attached to the pot.
If you have the wrong lid attached and hit the "Pressure" button, the Ninja Foodi will flash "LID" on the screen to indicate that you need the correct one.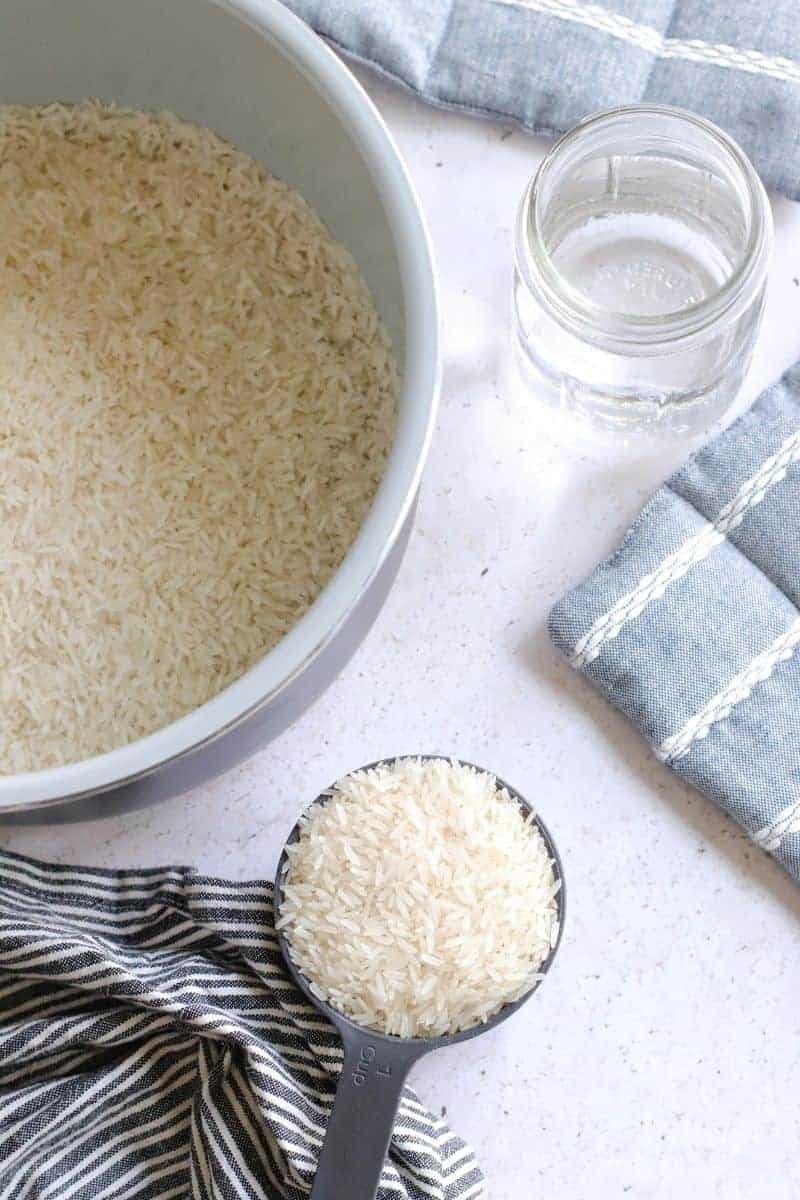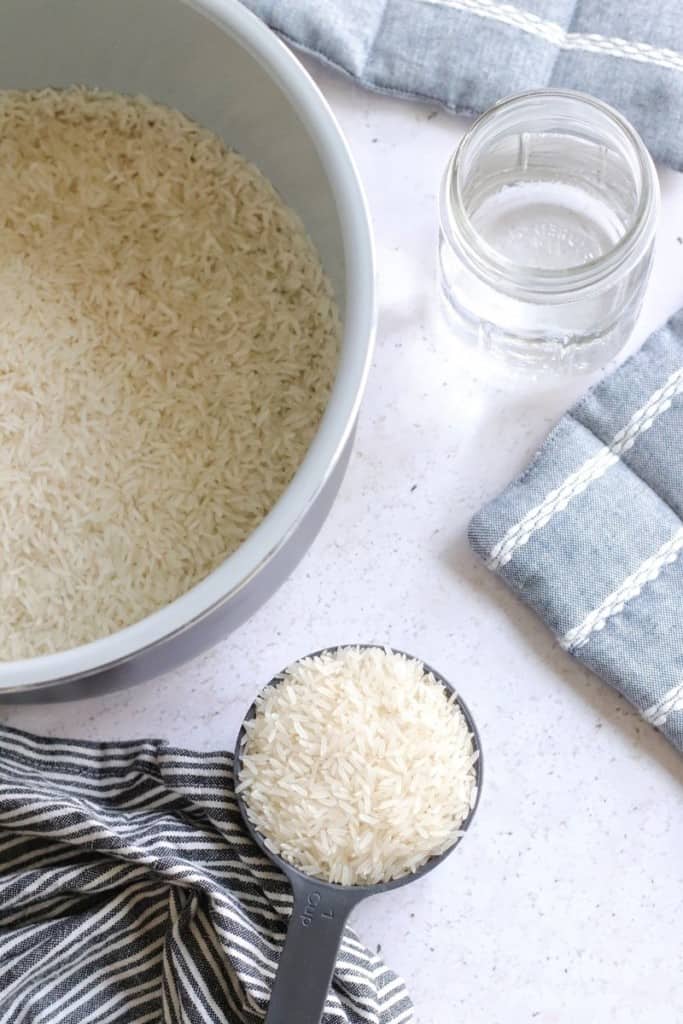 What is Jasmine Rice?
Jasmine Rice is a long grain form of white rice. Because it's typically grown in Southeast Asia and popular with Thai or Vietnamese dishes, some refer to it as "Asian rice." However, it is different than short grain sushi rice.
I love making jasmine rice because the mildly-sweet and nutty flavor is just so versatile. It goes just as perfectly with Southeast Asian dishes as it does with American roasts or stews!
Do I Need to Wash Rice Before Cooking?
Yes, I would absolutely recommend rinsing your jasmine rice. This helps remove some of the excess starch, which makes the rice a bit more fluffy after cooking. Who doesn't love soft, fluffy rice?
One option is to put the rice in a strainer or sieve and wash it directly in the sink. I like to use this sieve as the rice is too large to get through and doubles for washing quinoa too.
Alternatively, you could transfer the rice to a pot, add water, swirl the rice with a spatula, then drain. If you use this method, you'll want to repeat several times until the water drains clear.
Can I Make This Jasmine Rice Recipe in the Instant Pot?
Yes! These are the exact directions I use to make white jasmine rice in the Instant Pot as well!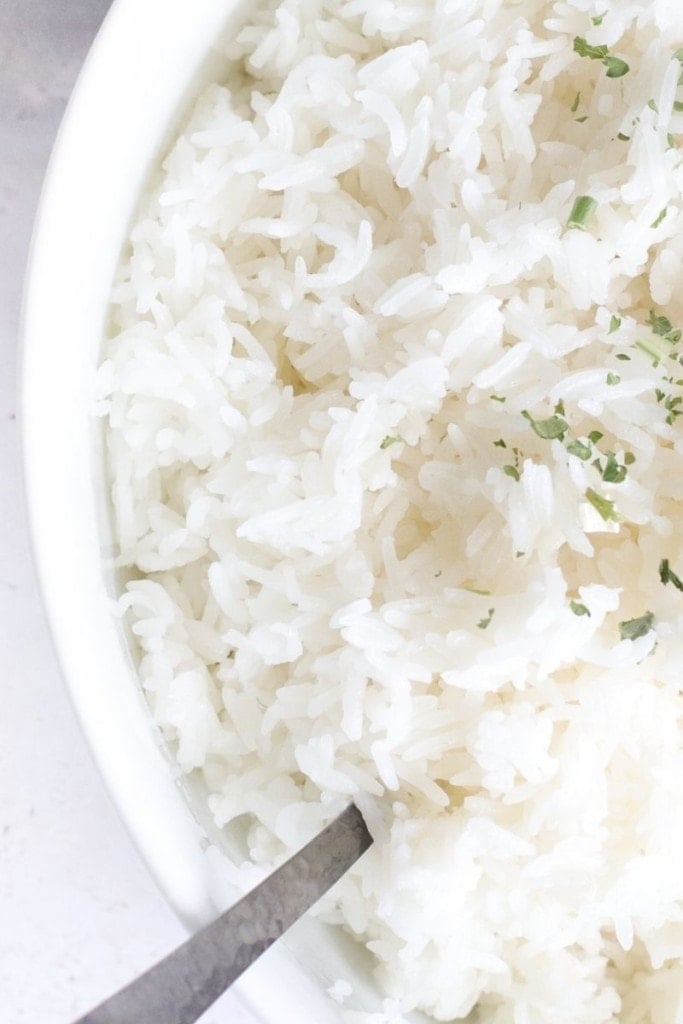 Can I Use a Different Kind of Rice?
When it comes to making rice in the Ninja Foodi, you can absolutely try different varieties! It's such a great option for cooking rice.
However, this recipe was created specifically for jasmine rice. Different varieties are going to need a different water-to-rice ratio and may have different cooking times, so make sure to do your research first.
Can I Use a Different Amount of Rice?
Absolutely! In fact, you can make any quantity of rice you like as long as you use a 1:1 ratio of rice to water, and the cook time will stay exactly the same. How easy is that?
I like to use 3 cups of dried rice, which yields 9 cups of cooked rice. For my family of four, this is the perfect amount to feed us over two nights.
But if you're cooking for less people or don't want to deal with leftovers, you could reduce to 2 cups of dried rice with 2 cups of water.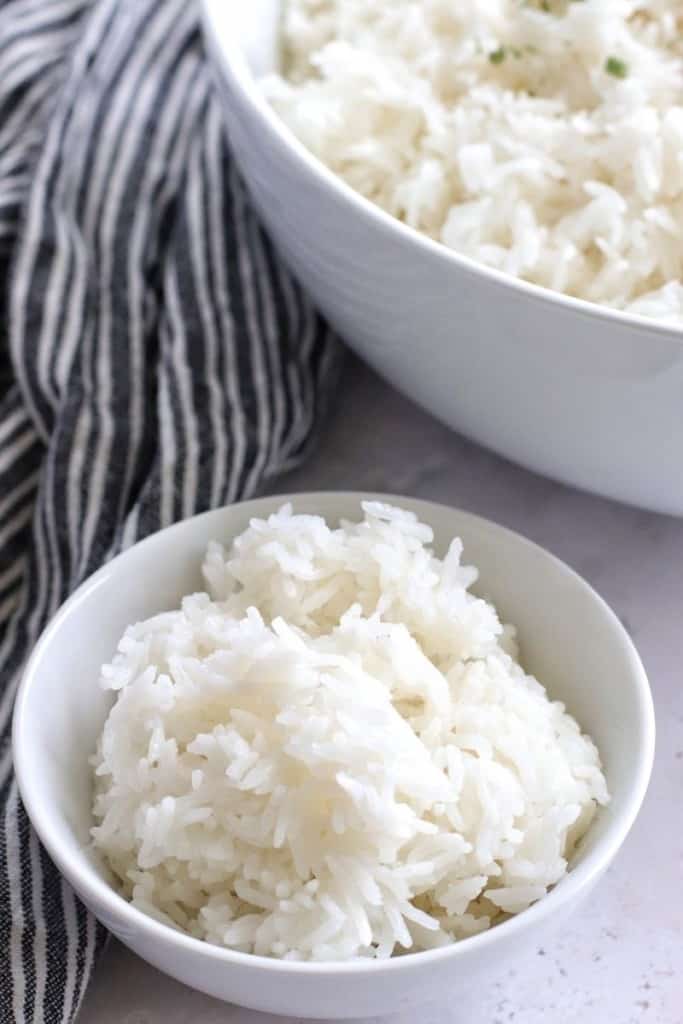 How to Make Your Ninja Foodi Jasmine Rice More Flavorful
Cooking the jasmine rice in water will give you fluffy, steamed rice that goes so well with hearty and flavorful dishes. But if you want your rice to have a little more flavor on its own, that's no problem!
Simply switch out some or all of the water for chicken or vegetable broth.
You could do a half and half substitution where you use 1½ cups of water and 1½ cups of broth, or you could switch all 3 cups to broth.
Tips for the Best Ninja Foodi Rice
Make sure all of the rice is covered with water prior to cooking. Rice that sticks out of the water will NOT cook
Add ¾ of a teaspoon of salt to the rice before cooking for even more flavor
Measure your rice with a dry measuring cup and your water with a liquid measuring cup for best results
As soon as the rice is done cooking, transfer to a serving dish to avoid any rice sticking to the pot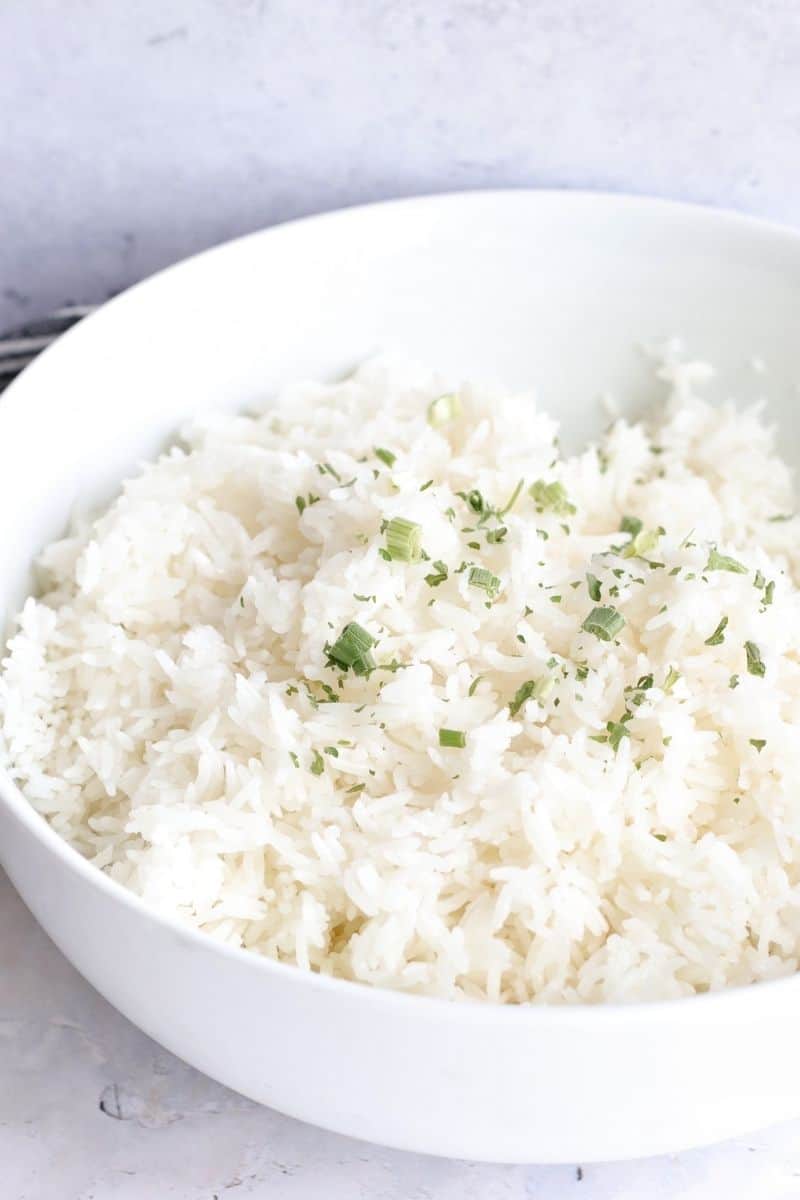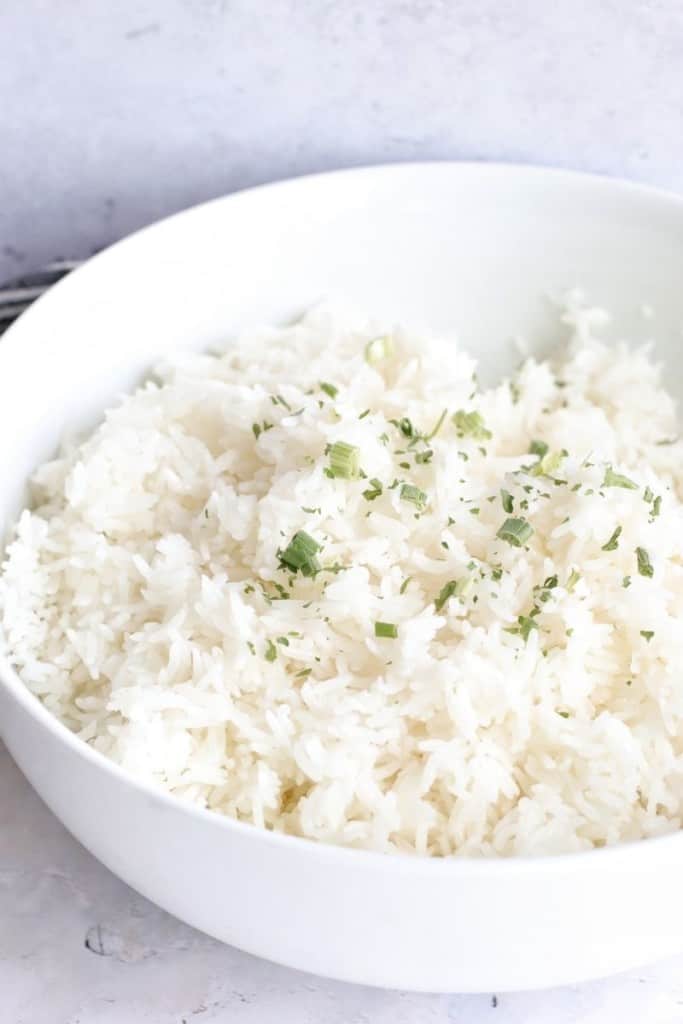 Recipes to Serve with Ninja Foodi Rice
How to Store Jasmine Rice After Cooking
I love having leftover rice for future meals! You just want to make sure it's stored properly to prevent any bacteria growth.
Cooked rice can be stored in the fridge in an airtight container for about 4 days. For longer storage, you can also freeze it for up to one month.
Other Side Dish Recipes You'll Love: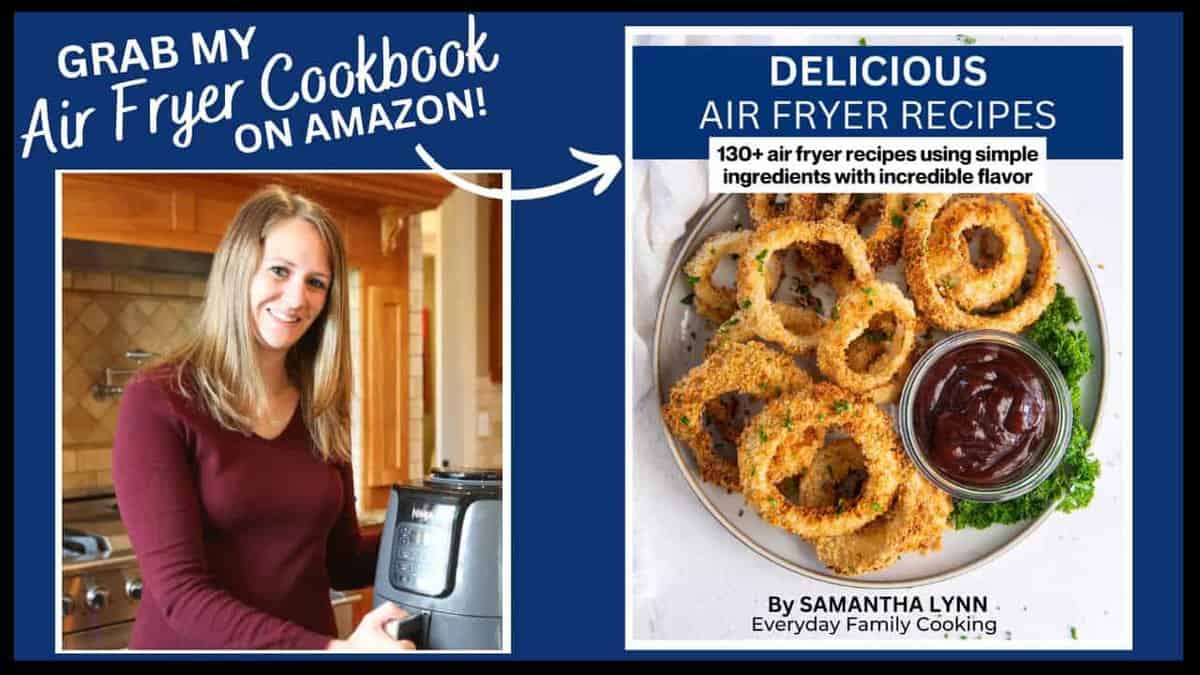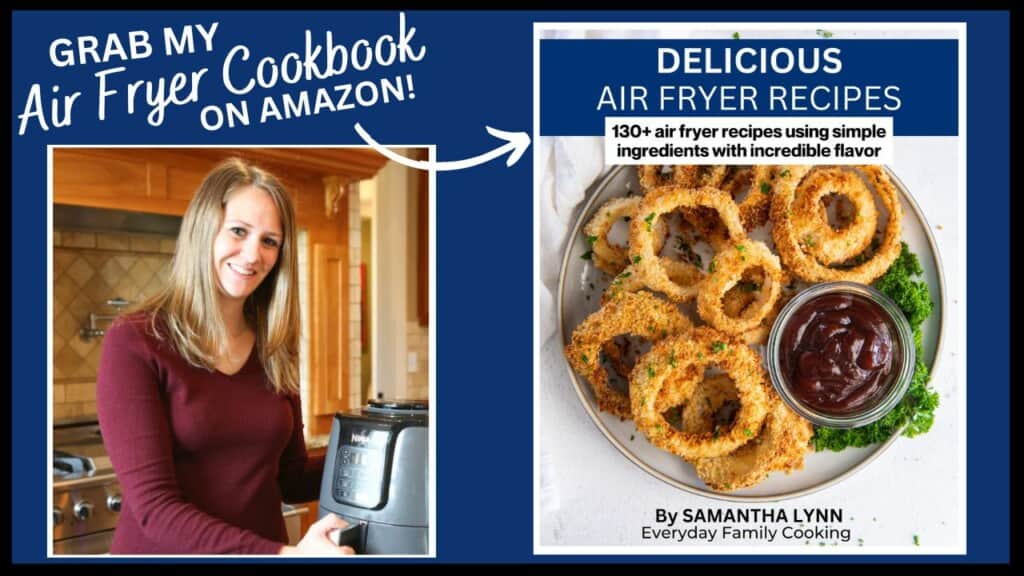 Yield: 8 servings
Ninja Foodi Rice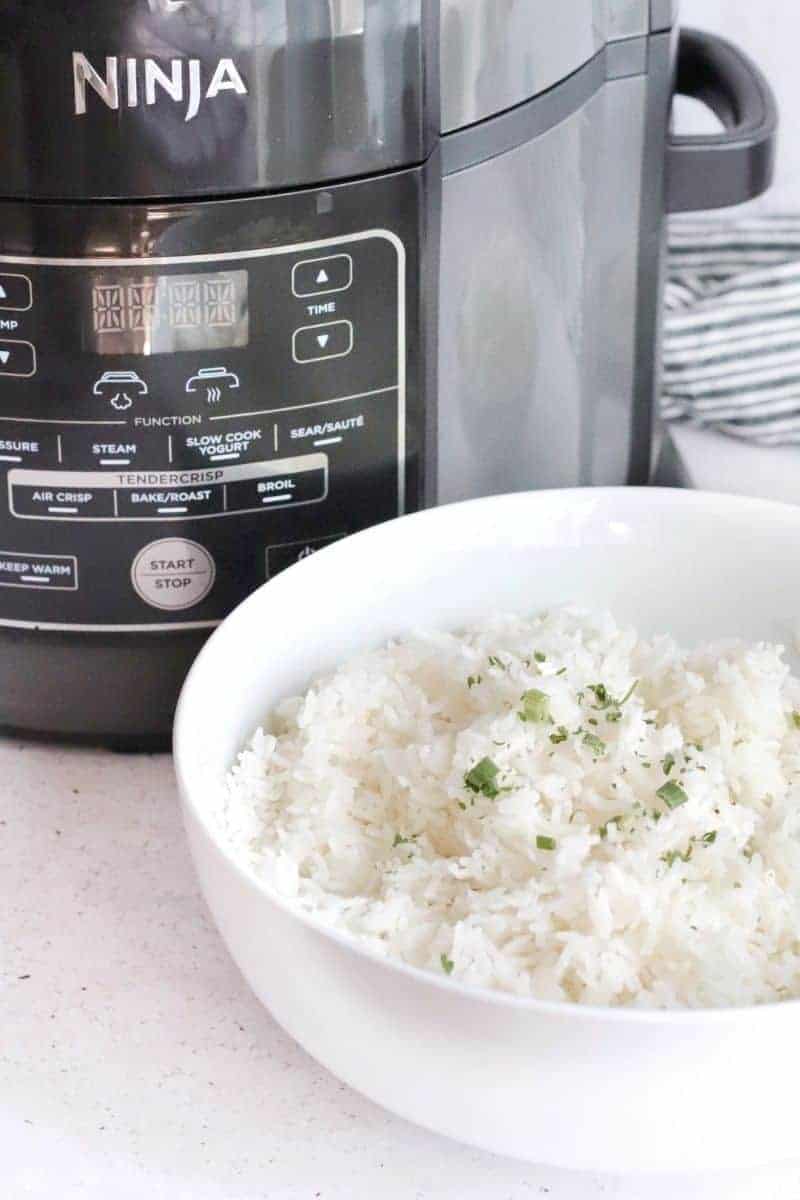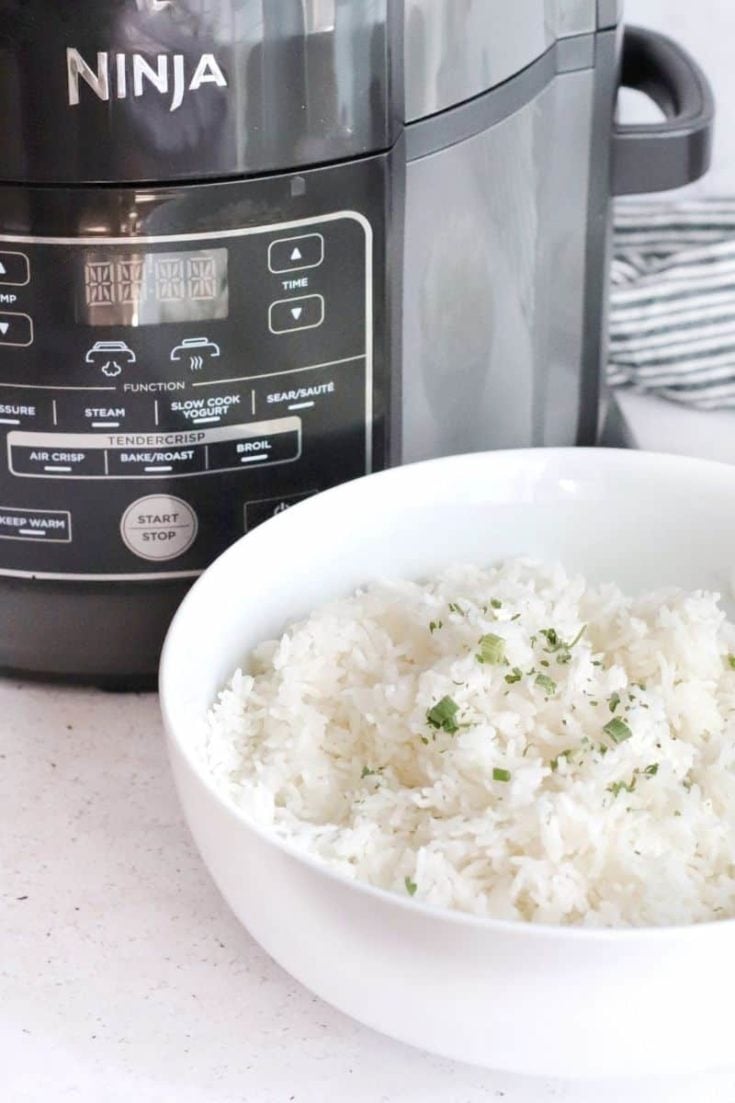 If you love jasmine rice, you have to try this Ninja Foodi rice recipe! You'll have sticky, fluffy, perfect rice in half the time of a traditional rice cooker.
Additional Time
20 minutes
Ingredients
3 cups white jasmine rice
3 cups water
Optional
Instructions
Place 3 cups of rice into the Ninja Foodi pot.
Add 3 cups of water and salt if using, then lightly press down the rice to make sure it is all covered with water. Do not stir. Uncovered rice will NOT cook.
Place the pressure cook lid on securely and set the valve to seal.
Pressure cooker for 4 minutes.
Let natural release for 10 minutes, then carefully move the valve to ent to make sure all of the steam has been released.
Remove the lid and fluff rice with a spoon or spatula. Enjoy!
Nutrition Information:
Yield:
8
Serving Size:
1
Amount Per Serving:
Calories:

77
Total Fat:

0g
Saturated Fat:

0g
Trans Fat:

0g
Unsaturated Fat:

0g
Cholesterol:

0mg
Sodium:

202mg
Carbohydrates:

17g
Fiber:

0g
Sugar:

0g
Protein:

2g
This nutrition information is based on the exact products I used in this recipe. Brands and sizes of products could alter exact nutrition and should always be calculated independently.