Air fryer Uncrustables are a rich treat packed with nostalgic flavor! Toasty bread with a hot, gooey peanut butter and jelly center makes them outrageously delicious.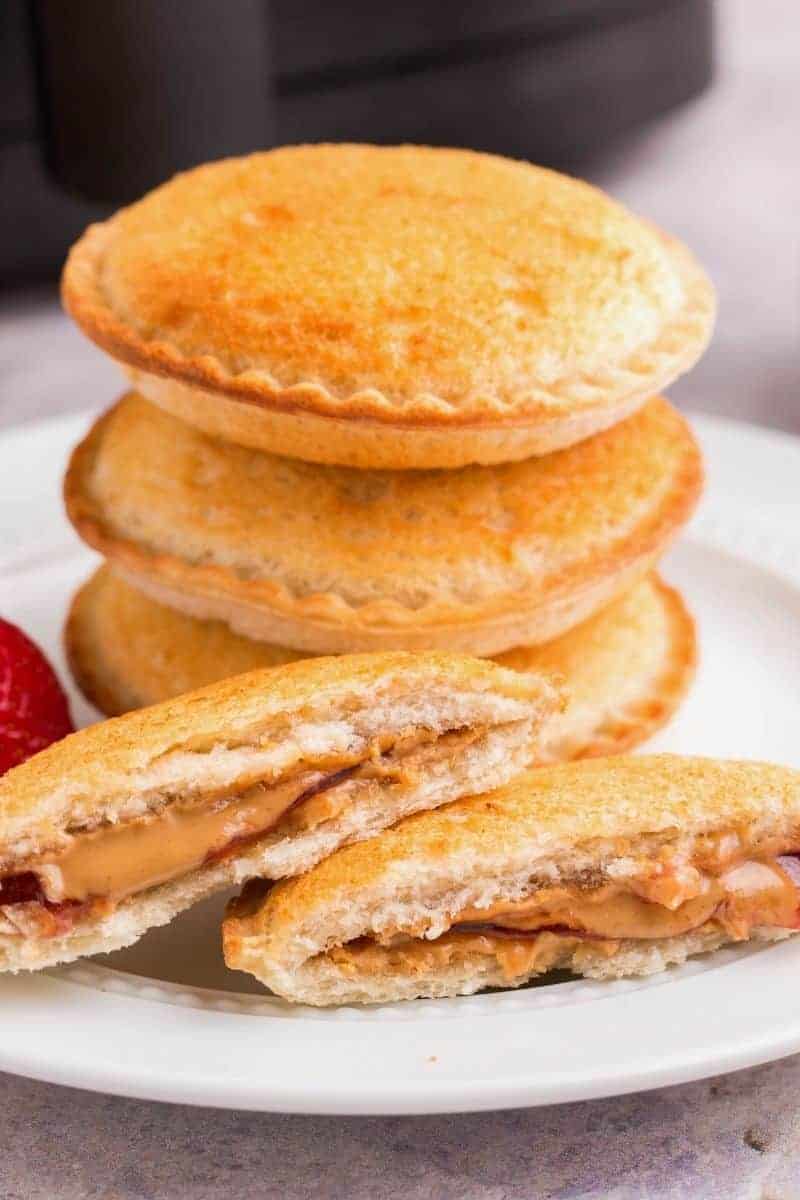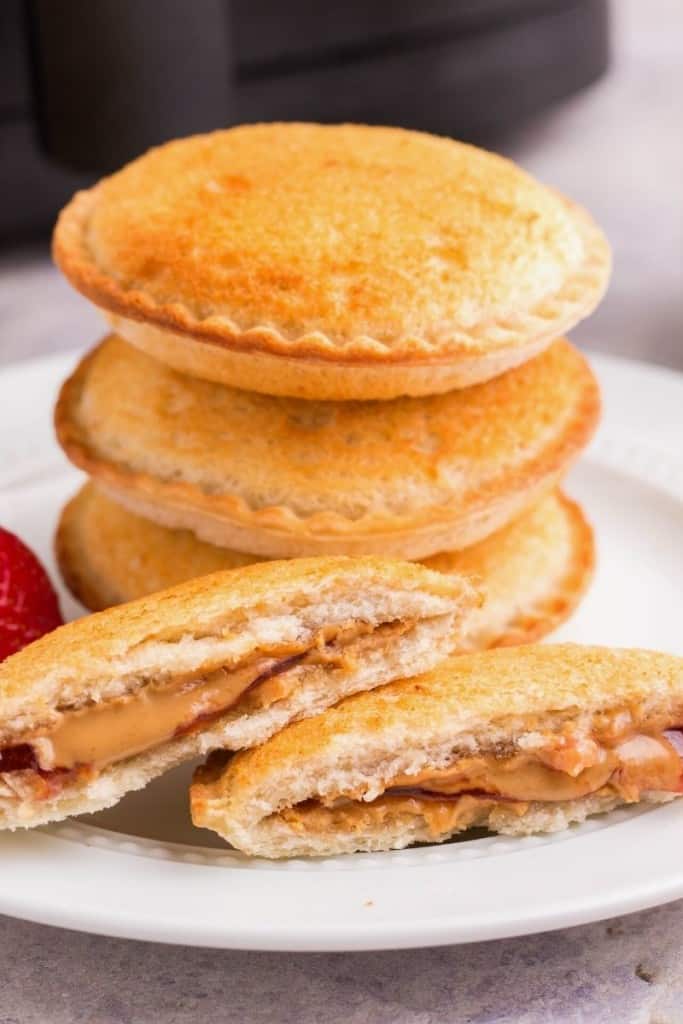 One of my favorite things about the air fryer is how it can make fried foods just a little bit healthier. But, truth be told, I also love how it can make some indulgent treats even MORE delicious.
These air fryer Uncrustables are a perfect example. The bread on the outside gets toasty and golden while the inside turns into warm, gooey, melty decadence. It's like a peanut butter and jelly lava cake!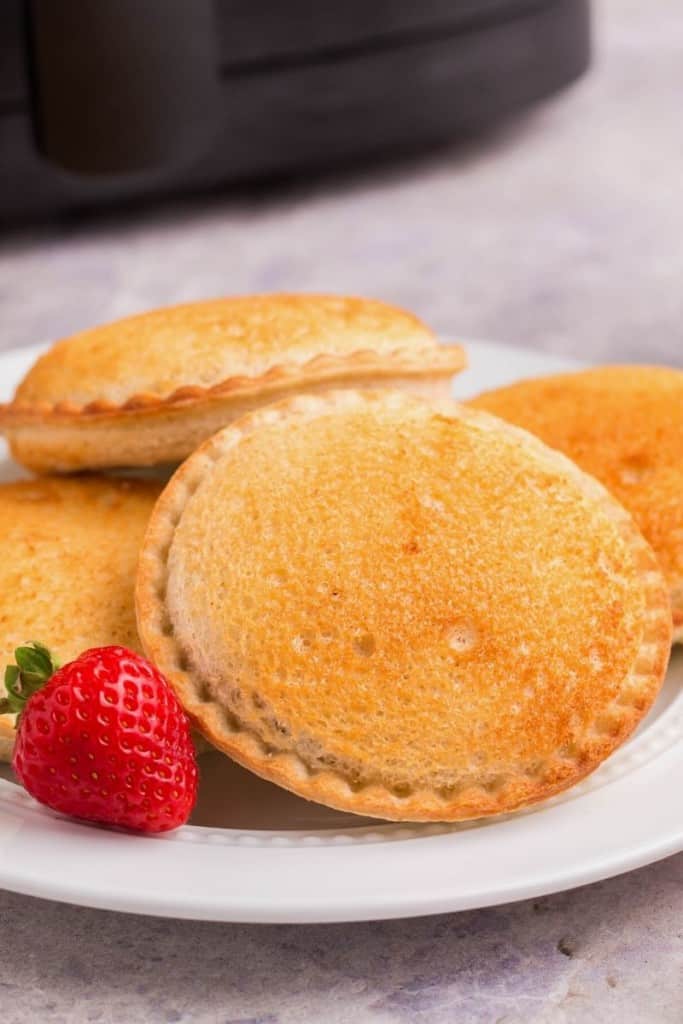 Here's what I'm going to teach you in this post:
The super easy way to air fry Uncrustables
Tips for making the best Uncrustables in the air fryer
Whether you need to thaw your Uncrustables before cooking
What to serve with this tasty treat
How to use the air fryer to make other flavors of Uncrustables
My family simply can't get enough of these. They want them for breakfast, as a snack, even for dessert! Personally, I love all the nostalgic flavors. I had no idea my favorite childhood sandwich could get even better, but these air fryer Uncrustables take peanut butter and jelly to a whole new level!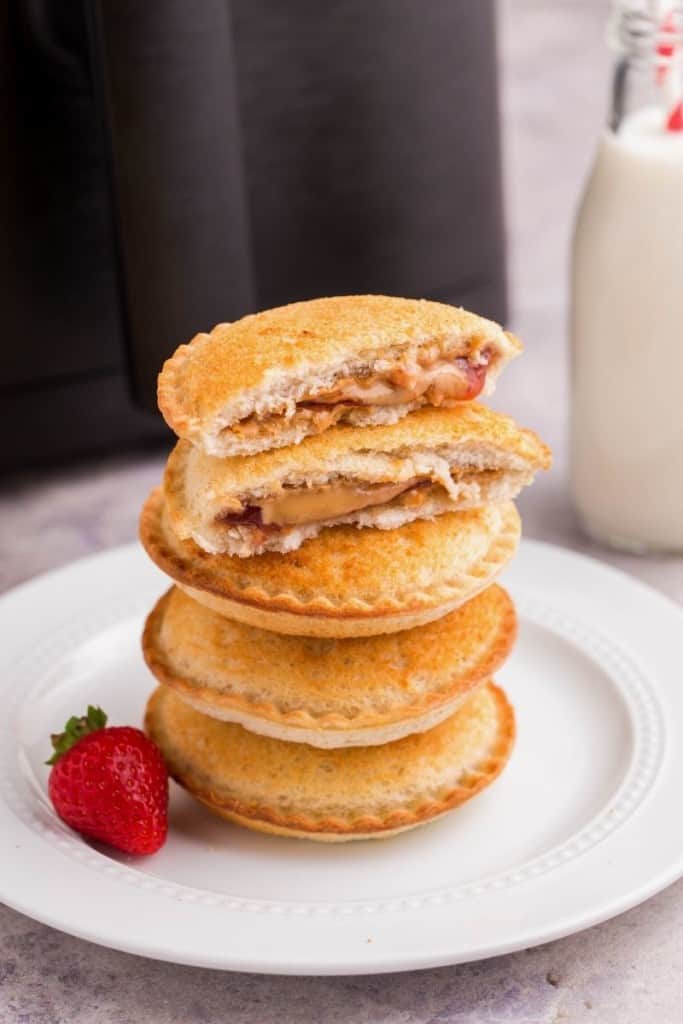 What Do Uncrustables in the Air Fryer Taste Like?
So what happens when you air fry Uncrustables? Spoiler alert: they turn into absolute magic!
The bread gets golden and toasty, especially if you brush the tops with a little butter. Meanwhile, the center turns into melted peanut butter and jelly deliciousness. It's truly a perfect combination.
It reminds me a little bit of stuffed French toast, actually. Except air fryer Uncrustables can be ready in a fraction of the time and without any of the prep work!
The flavor is perfect for any time of day. They're sweet enough to be a dessert, but not so sweet that you can't enjoy them for breakfast or a tasty snack. And, as I mentioned, my family asks for them at pretty much all hours.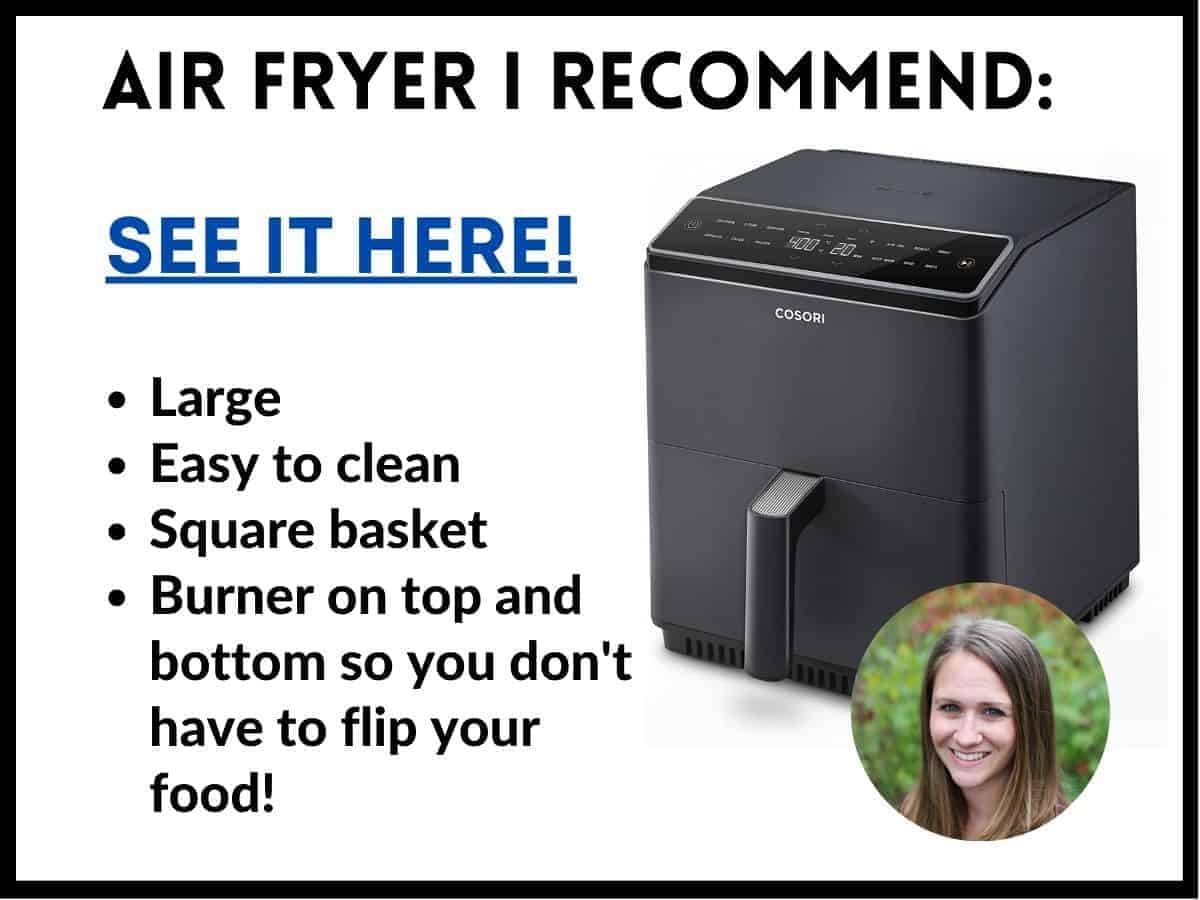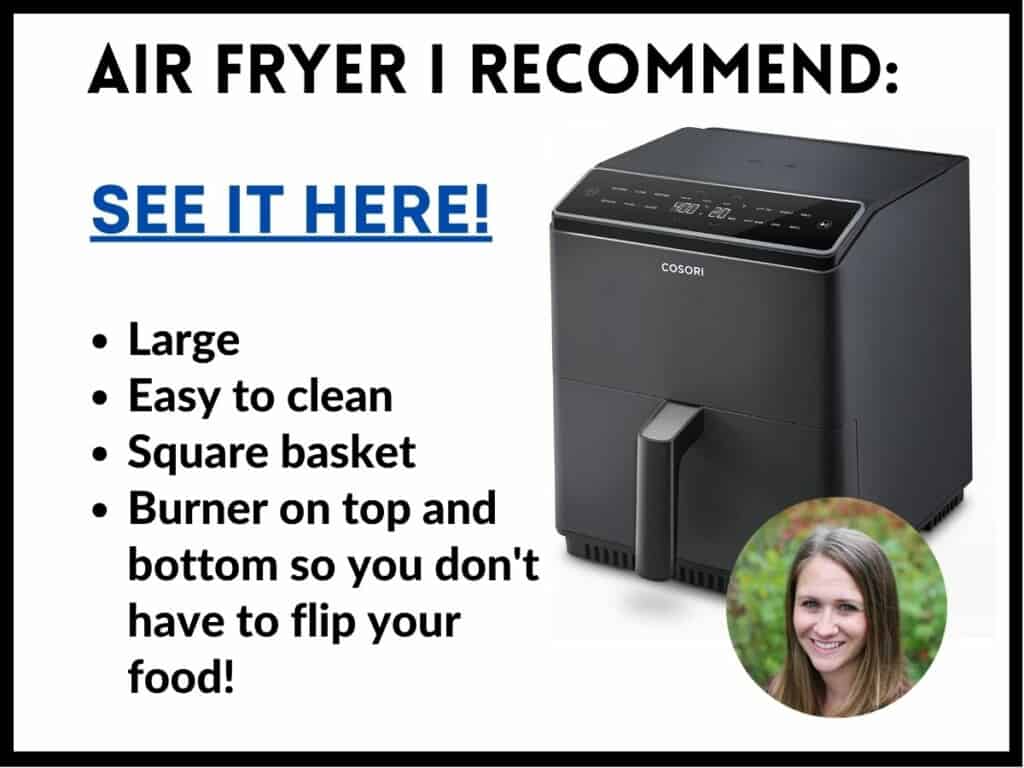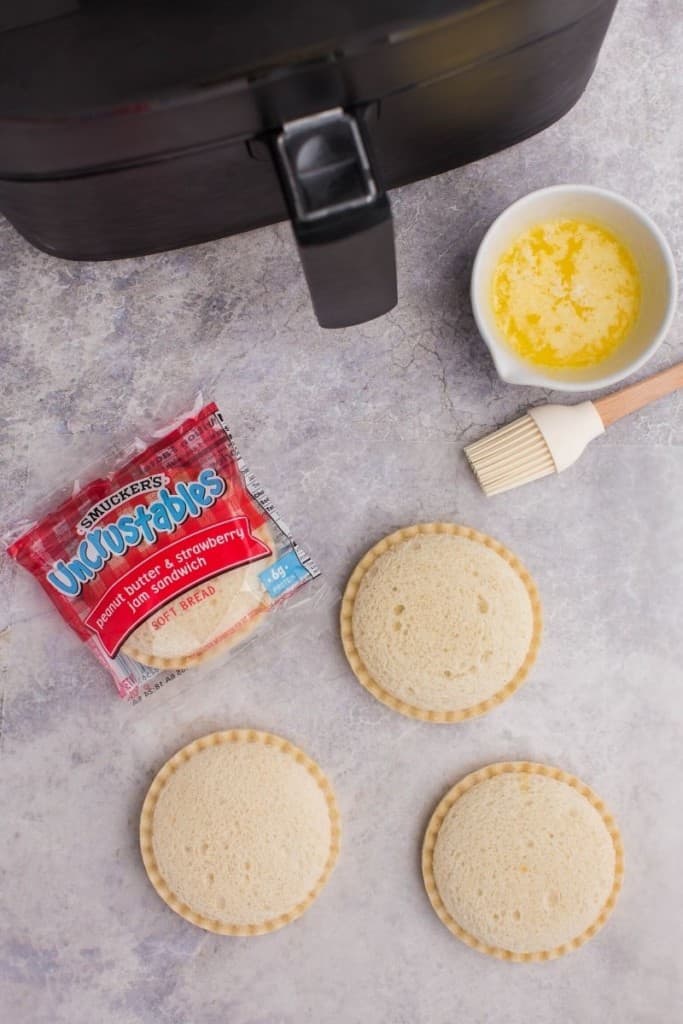 How to Make Air Fryer Uncrustables
A full printable version of this recipe with ingredient measurements is available at the bottom of this post.
STEP ONE: Brush the tops of your frozen Uncrustables with melted butter, if desired. It's not required, but I do love the extra golden topping and extra flavor it gives.
STEP TWO: Place the Uncrustables in the air fryer basket, leaving a little space between each one.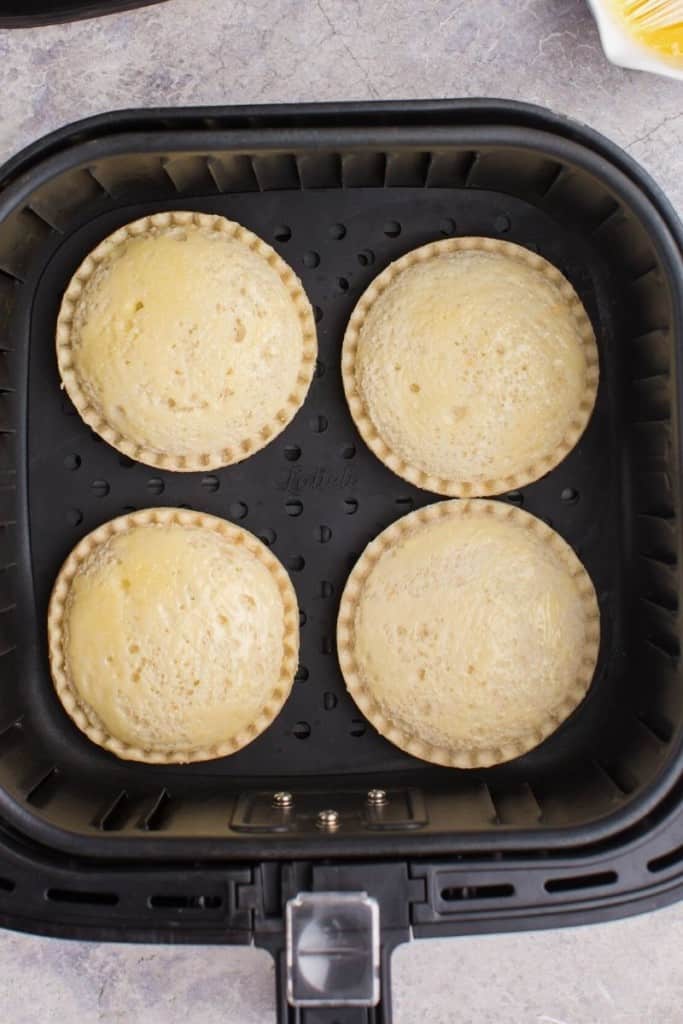 STEP THREE: Turn your fryer to 350 degrees F and cook for 6-8 minutes.
STEP FOUR: Serve and enjoy!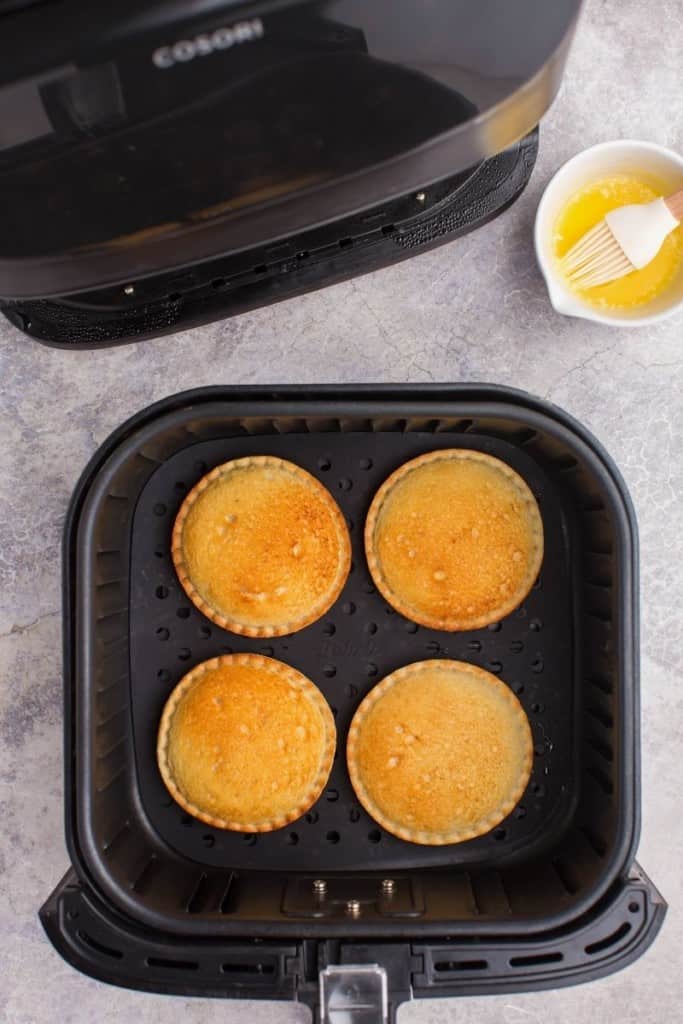 Tips for Making the Best Uncrustables in the Air Fryer
Brush the tops with butter. This will keep the bread soft as it toasts, but the tops will get a nice, golden crunch. The bottoms will remain soft.
Leave a little space between each Uncrustable in the air fryer basket so the hot air can properly circulate.
Right when the Uncrustables come out of the air fryer, sprinkle them with a little cinnamon or powdered sugar for an added boost of flavor.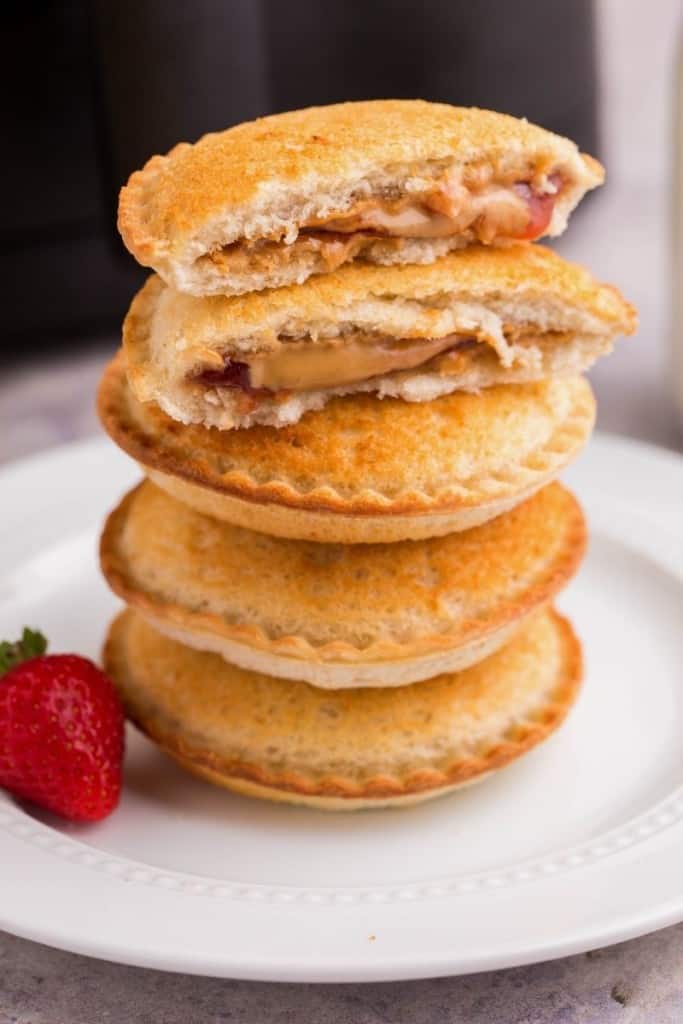 Do You Need To Thaw Uncrustables Before Air Frying?
Nope! This recipe is for frozen Smuckers Uncrustables, so they can go straight from the freezer to the air fryer. No need to wait for them to thaw.
I almost always have a box of Uncrustables sitting in my freezer, which makes this recipe so convenient. Whether the kids need a snack fast or I want a little treat for myself, I always know these can be ready in a matter of minutes.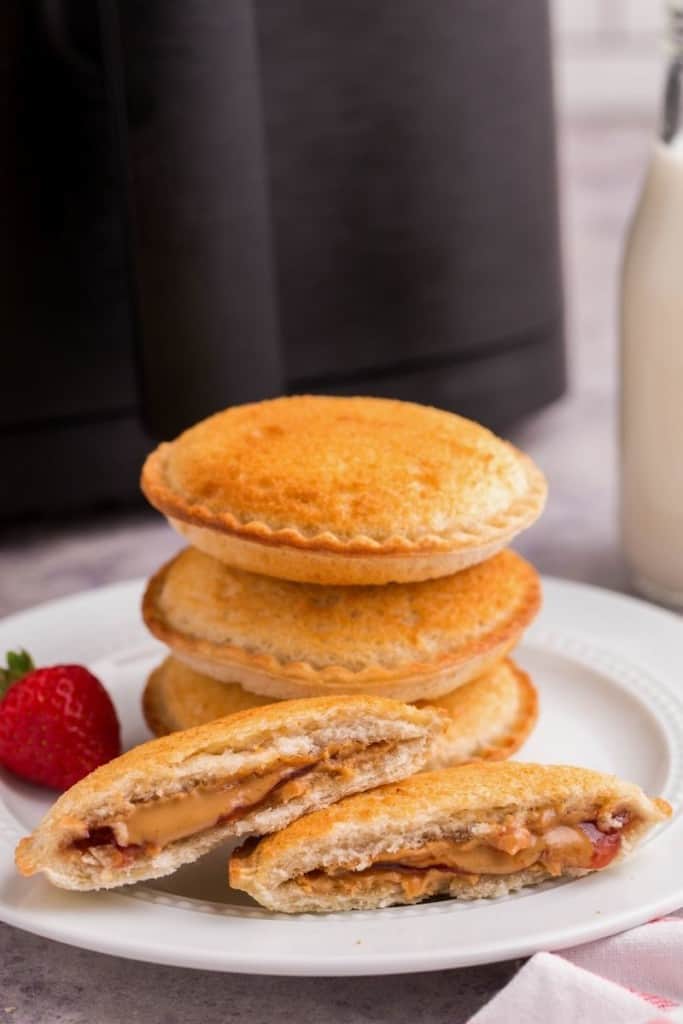 Flavors of Uncrustables Available
Want to mix it up with your flavors? Smucker's Uncrustables come in a few variations, all of which can be made in the air fryer:
Peanut Butter and Grape Jelly
Peanut Butter and Strawberry Jelly
Chocolate Flavored Hazelnut Spread
Peanut Butter and Honey
Did you know Uncrustables also come in a few savory flavors? These can be made following the same instructions! Keep in mind that you may want to increase the cooking time to 8-10 minutes to make sure they're warmed all the way through:
Uncured Pepperoni Bites
Taco Bites
BBQ Chicken Bites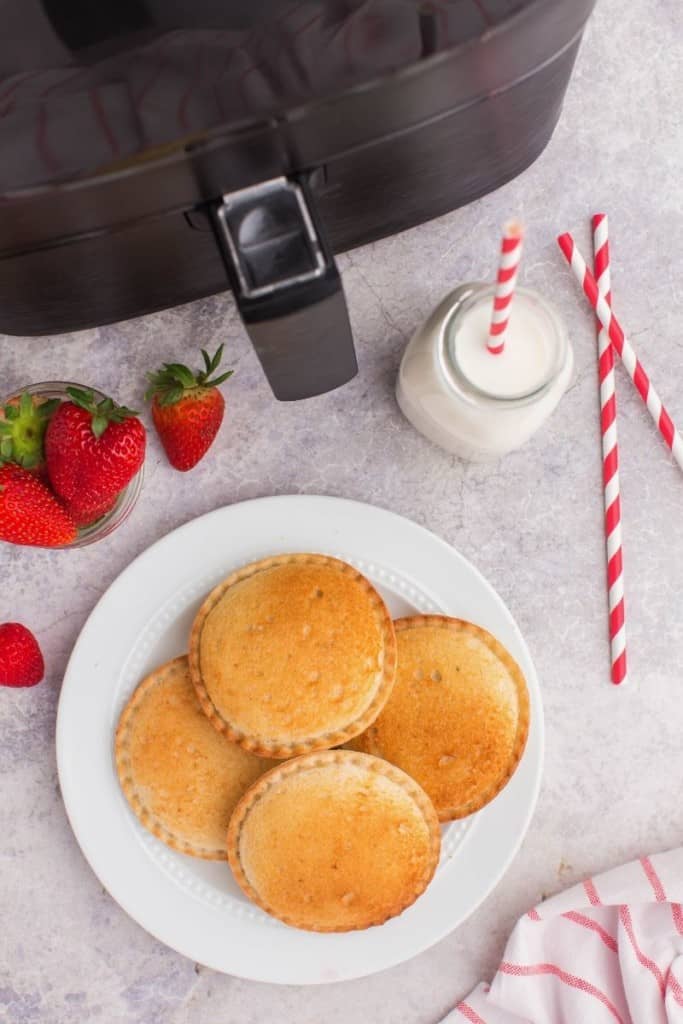 What To Serve With Air Fried Uncrustables
Peanut butter
Jelly or jam
Honey
Nutella
Caramel sauce
Powdered sugar
Other Indulgent Air Fryer Recipes You'll Love:
And be sure to check out these lists of other Frozen Foods to Cook in Your Air Fryer and Kid-Friendly Air Fryer Recipes for more ideas!
Love air frying? Join our newsletter! You can also follow us on Facebook, Instagram, or join our free Facebook Air Frying Community.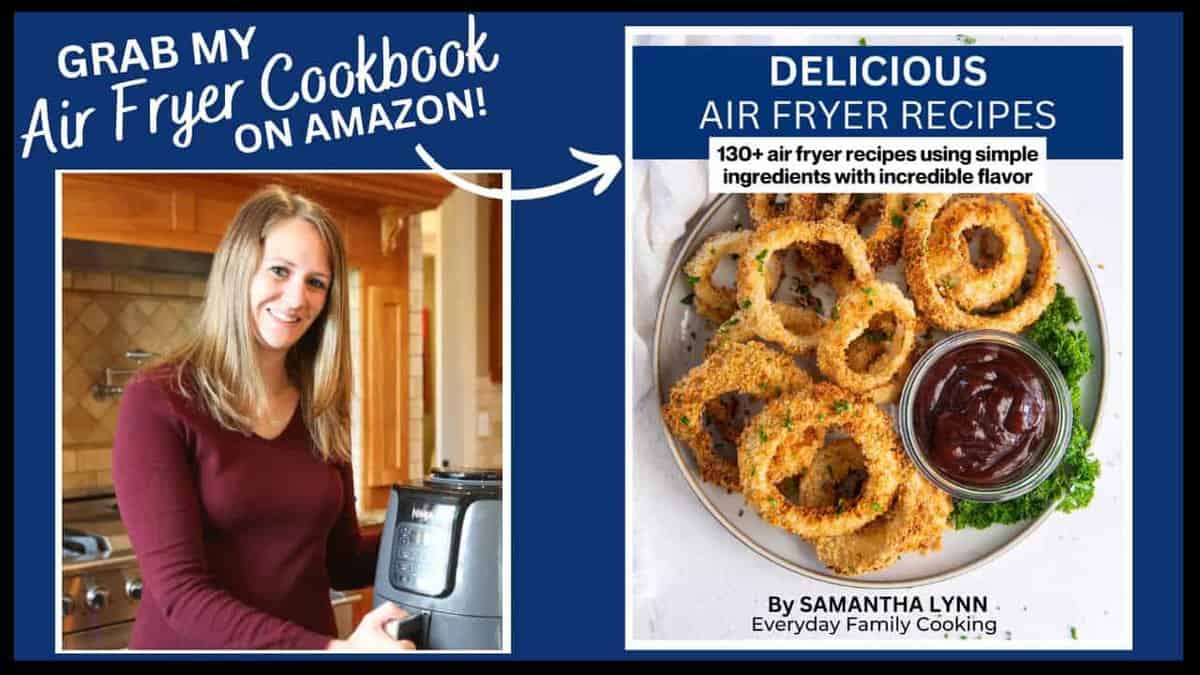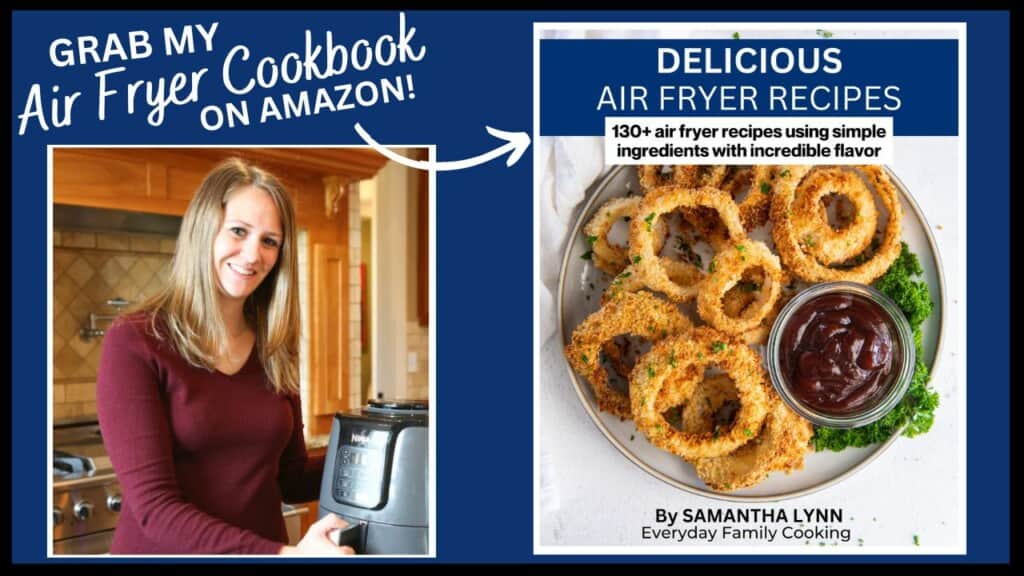 Yield: 4
Air Fryer Smuckers Uncrustables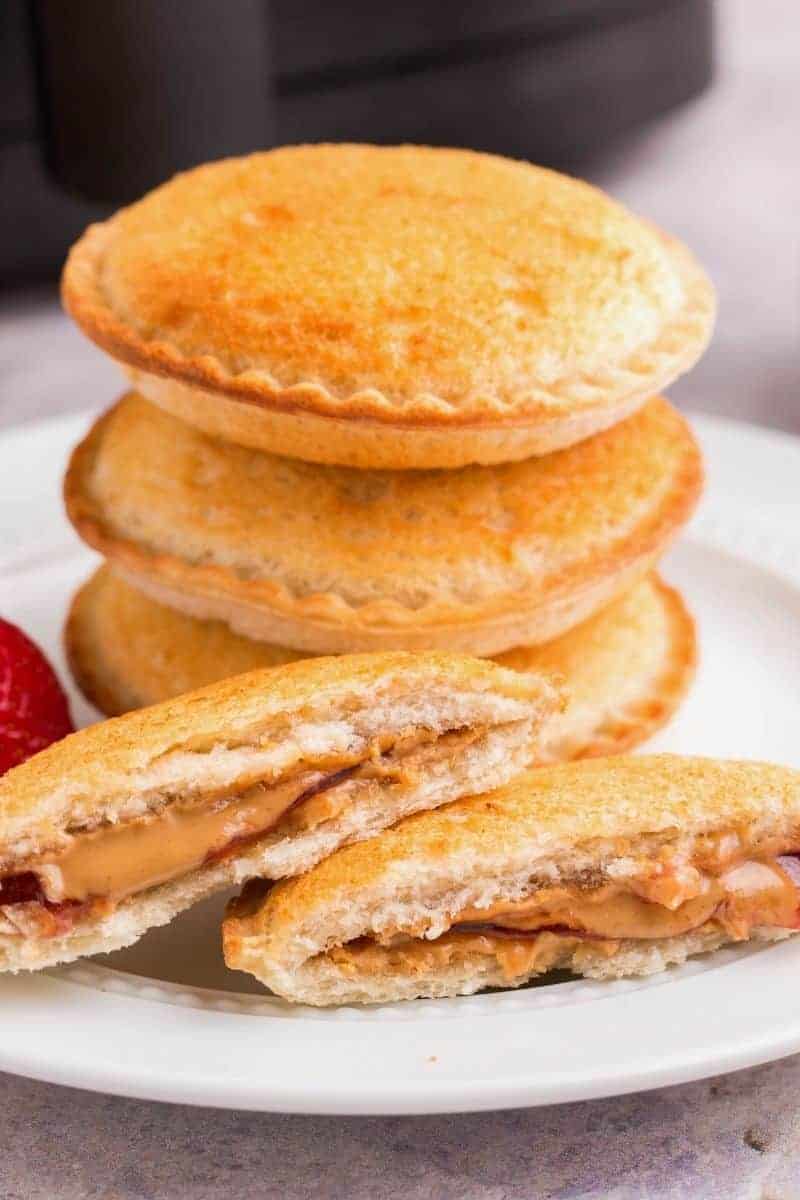 A quick and easy lunch recipe for the kids that comes out crispy and takes these Uncrustables to okay to gourmet!
Ingredients
2 to 4 Frozen Uncrustables
2 tablespoons butter, melted (optional)
Instructions
Brush the tops of your frozen Uncrustables with your melted butter (optional), to make the Uncrustables a little less dry.
Place them in your air fryer basket leaving space around them for the air to circulate. Turn your fryer to 350 and cook for 6-8 minutes, flipping them halfway through cooking.
Remove the Uncrustables from the air fryer and enjoy!
Notes
Tips:
Brushing just the tops with butter gives it the golden crunchy side. The bottom remains soft but it is a perfect combination with the gooey center.
Nutrition Information:
Yield:
2
Serving Size:
1
Amount Per Serving:
Calories:

316
Total Fat:

22g
Saturated Fat:

9g
Trans Fat:

0g
Unsaturated Fat:

10g
Cholesterol:

31mg
Sodium:

321mg
Carbohydrates:

26g
Fiber:

2g
Sugar:

8g
Protein:

7g
This nutrition information is based on the exact products I used in this recipe. Brands and sizes of products could alter exact nutrition and should always be calculated independently.