This post may contain affiliate links. If you click on a link and make a purchase, I may receive a small commission at no extra cost to you. For more information, please read my disclaimer here.
You might call me a lazy cook, but I hate waiting for a pot to boil on my stove to make just 2 hard-boiled eggs. That's why I decided to make these air fryer hard-boiled eggs.
It takes less time than waiting for the water to boil THEN letting it simmer. Now I just take my air fryer, place a rack inside (air fryer accessories are life-changing!) and let them cook.
Join our new FREE Air Fryer Facebook Community to gain access to exclusive recipes, tips, and content!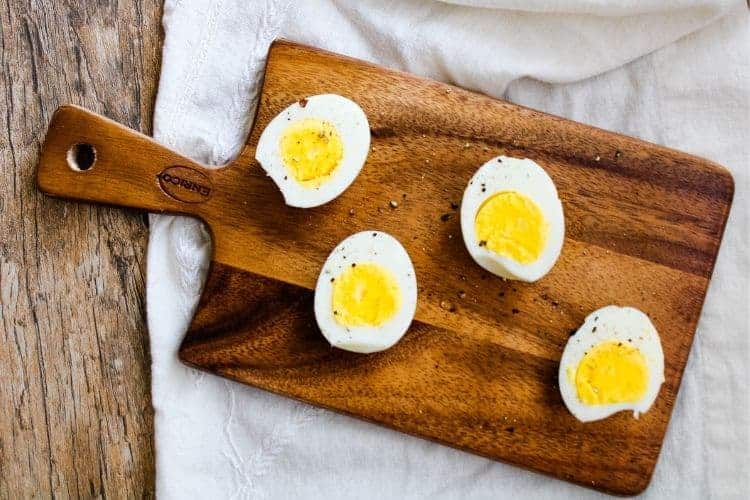 I mean I'm a mom of a 3-year-old and 7-month-old baby. I find any way to make cooking easier and faster, which was a huge selling point about an air fryer to me.
Whether you make this recipe in a Power Air Fryer Oven, Ninja Foodi, or Power XL Air Fryer, this recipe is a breakfast keeper.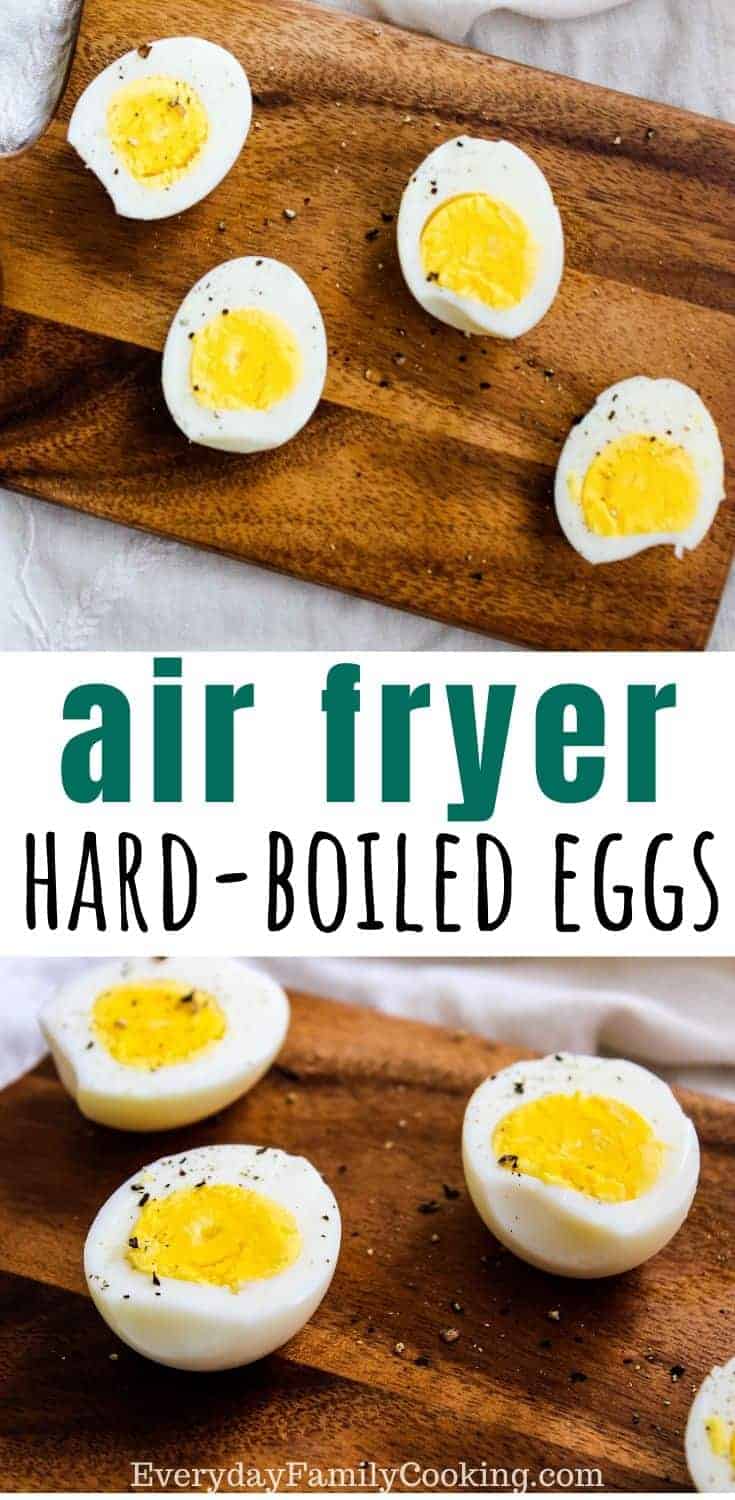 How to Make Air Fryer Hard-Boiled Eggs
Preheat your air fryer to 270 degrees. Then place the eggs inside the basket of the air fryer. I like to use a wired rack to keep the eggs in place to avoid cracking, but you can still cook them without a rack.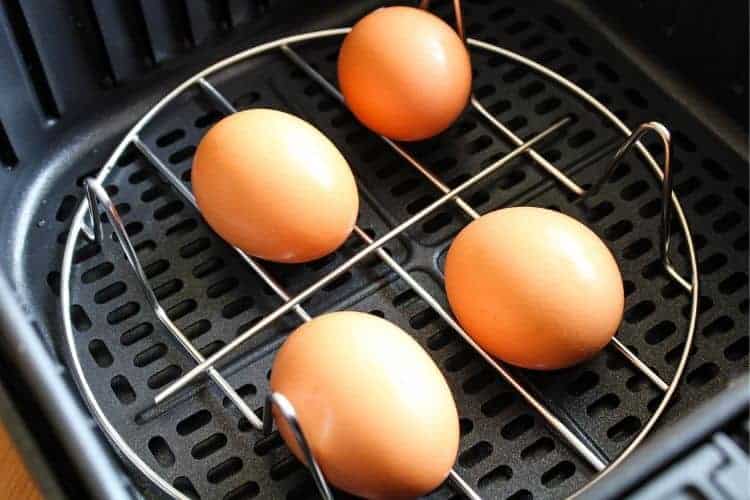 Cook the eggs on 270 degrees for 15 minutes. This gives you a nice cooked yolk. If you prefer a stiffer yolk, I've found cooking just an extra two minutes will do the trick.
Fill a bowl with cold ice water and gently place the hard-boiled eggs from the air fryer to the water. Let the eggs sit in the ice water for at least 5 minutes.
This allows the air fryer hard-boiled eggs to cool off and stop cooking inside so your eggs are air-fried perfectly.
Crack eggs and enjoy immediately or keep uncracked and store in a refrigerator for up to one week.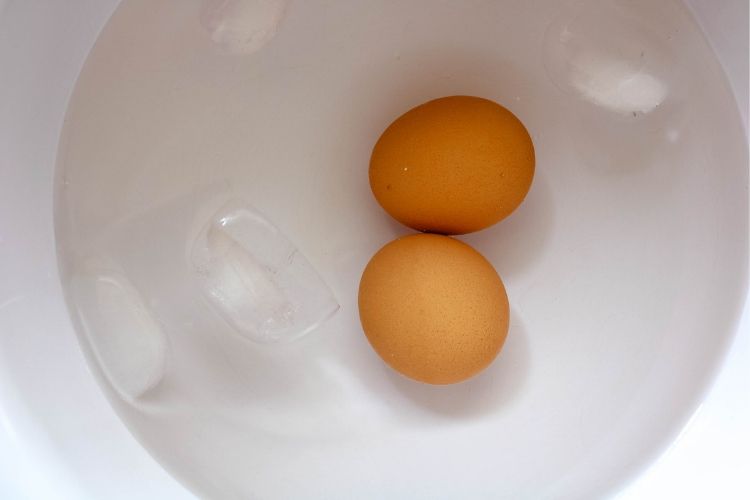 Other Delicious Air Fryer Recipes
Delicious juicy pork chops in a honey garlic sauce perfect for gluten-free and paleo diets.
A simple side dish with a powerful flavor that mimics oven roasted swet potatoes. Work as a great addition to tacos, burritos, quinoa bowls, and more.
Roasted jalapenos are filled with cream cheese and wrapped in thinly sliced bacon. It's the perfect party food!
How Long Do You Ice Bath Hard-Boiled Eggs?
Using an ice bath is a crucial part of cooking perfect hard-boiled eggs in an air fryer. After a hard-boiled egg is removed from your air fryer (or boiling water if you are not air frying them), they actually continue to cook.
In order to stop the cooking and avoid overcooking your air fryer hard-boiled eggs, have an ice bath ready to gently drop your eggs into.
It's important to keep them in an ice bath until the eggs are fully cooled. This typically takes around 5 minutes.
It can take more time if the water isn't as cold, there isn't enough water, or there are too many eggs for the bowl.
To check the eggs, remove one egg from the bowl and hold it in your hand for a few seconds. If it still feels warm, let them sit another minute or two and check again.
How Do You Easily Peel a Boiled Egg?
Hard-boiled eggs can be a pain to peel when not doing it right especially when peeling dozens of them to make deviled eggs. Here are 4 main tips on how to peel an egg easily.
Preheat Your Air Fryer
Preheating your air fryer is a key to making your air fryer hard-boiled egg peel easily (keep reading to find out how). When you start cooking your eggs in a hot temperature, it helps the egg bond together rather than trying to bond with the shell.
Ice Bath Them… and Immediately
Right before the eggs are finished cooking, set up your ice bath so it's ready to go. The faster you can get them cool, the easier they will peel. And the smoother the eggs will be after peeling.
Cool Them Completely
Hard-boiled eggs peel best after they've been fully cooled. I even recommend cooling them for a few hours to overnight in the fridge before peeling.
If you are crunched for time, leave them in an ice bath for a good 30 minutes until they are fully cooled.
Use Running Water
To peel a hard-boiled egg, gently crack all sides of the egg. You can roll the egg instead, but you run the risk of smushing the egg.
Peel a little part of the egg to get started. Then continue to peel the egg under some running water. This allows those tiny small egg pieces to fall off easily.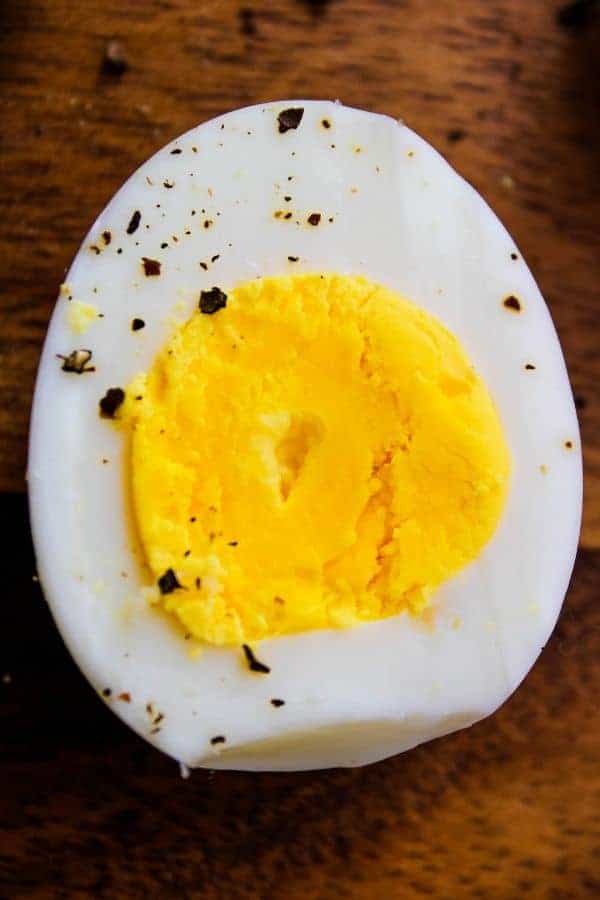 How Do You Preheat an Air Fryer?
While preheating an air fryer isn't always a necessity, I find it helps cook air fried food faster and more evenly.
Some air fryers, like the Cosori Air Fryer I personally own, have a preheat option included. This allows you to choose the temperature and it sets the time needed to preheat.
If your air fryer does not have this feature, simply set your air fryer to the temperature needed and let it run for the following times:
Less than 350 degrees: 3 minutes
350 degrees and higher: 5 minutes
I like to start preheating my air fryer when prepping the food so making the entire dish doesn't take any longer than needed.
In this case, I would start my air fryer first, then start getting the eggs out of the refrigerator.
Yield: 4 servings
Air Fryer Hard-Boiled Eggs
An easy way to make a healthy hard-boiled egg breakfast in an air fryer.
Additional Time
5 minutes
Ingredients
4 eggs
salt and pepper to taste
Instructions
Preheat air fryer to 270 degrees.
Place eggs in the air fryer, preferably on a wire rack, and cook for 15-17 minutes.
Immediately place eggs in a bowl full of cold water and ice until cool, at least 5 minutes.
Peel eggs and top with salt and pepper or refrigerate up to one week.
Nutrition Information:
Yield:
4
Serving Size:
1
Amount Per Serving:
Calories:

72
Total Fat:

5g
Saturated Fat:

2g
Trans Fat:

0g
Unsaturated Fat:

3g
Cholesterol:

186mg
Sodium:

145mg
Carbohydrates:

0g
Fiber:

0g
Sugar:

0g
Protein:

6g
This nutrition information is based on the exact products I used in this recipe. Brands and sizes of products could alter exact nutrition and should always be calculated independently.