Leftover steak fajitas are a quick and delicious way to use up extra flank steak. Onions and peppers give this dish an amazing burst of flavor!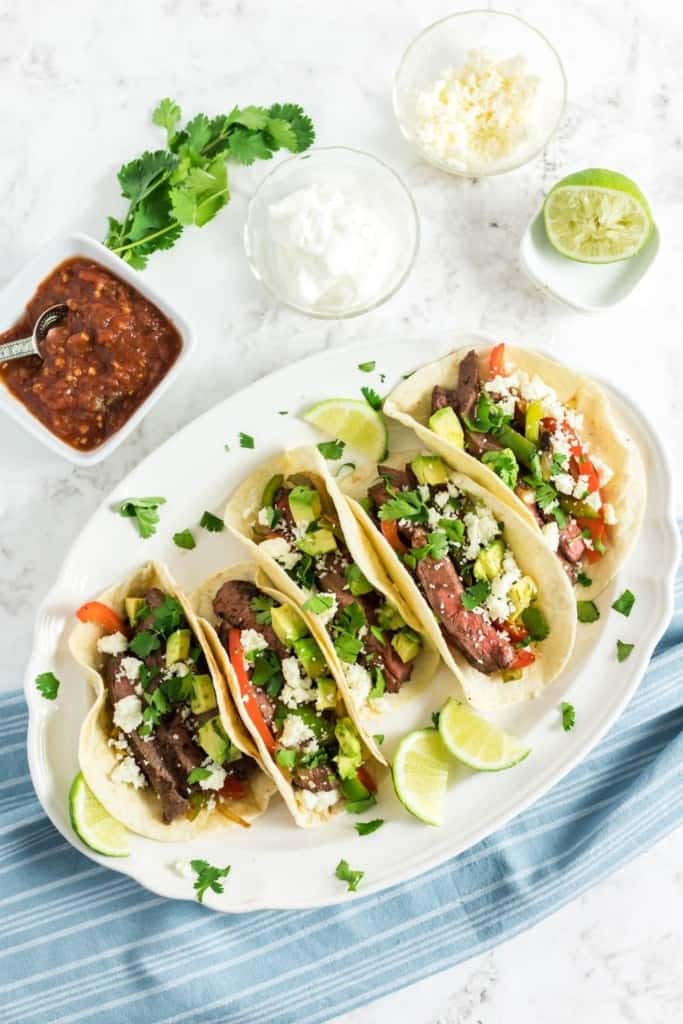 I hate letting food go to waste. Whenever I have extra servings after a meal, I'm always looking for fun ways to use them up in the future. That's how these leftover steak fajitas came to be!
Sliced peppers and onions are cooked with garlic, cumin, lime juice, and red pepper for an amazing burst of fajita flavor. Then, just add your leftover steak to the pan to warm it up, fill your tortillas, grab your favorite toppings, and dig in!
Here's what I'm going to teach you in this post:
How to make this steak fajita recipe
The best kinds of steak to use for leftover steak fajitas
What to use if you don't have a cast-iron skillet
What to do if you don't have leftover steak
Other ingredients and toppings you can use in this steak fajita recipe
This dish is a delicious, hearty dinner that's so easy to throw together on a busy weeknight. Not to mention, I think my family enjoyed leftover steak fajitas more than they liked the original steak dinner!
How To Make Leftover Steak Fajitas
STEP ONE: Slice the leftover flank steak into thin strips, cutting against the grain. If the steak was on the thicker side, you can also slice each strip in half lengthwise.
I used leftover air fryer flank steak to make this recipe.
STEP TWO: In a medium bowl, combine the sliced peppers, onions, 1 tablespoon olive oil, garlic, cumin, lime juice, and red pepper. Toss until the peppers and onions are well-coated.
STEP THREE: Heat a cast-iron skillet or non-stick pan over medium heat. Add the remaining 1 tablespoon of olive oil.
STEP FOUR: Add the pepper and onion mixture to the pan. Saute until the onions are opaque and the peppers have softened.
STEP FIVE: Once the peppers and onions have just about finished cooking, add the steak to the pan to warm up.
STEP SIX: Warm the tortillas. You can do this in the oven wrapped in foil, on a skillet sprayed with olive oil cooking spray, or in the air fryer (directions in my Instant Pot Tilapia Fish Tacos recipe)
STEP SEVEN: Add the flank steak, peppers, onions, and queso fresco in each tortilla.
STEP EIGHT: Top with sour cream and fresh cilantro, along with other desired toppings such as salsa, freshly squeezed lime wedges, and diced avocado. Enjoy!
Choosing The Best Toppings For Leftover Steak Fajitas
I included a few of my favorite toppings in the recipe, but those are just for inspiration. Feel free to make your fajitas however you like!
Switch up parsley instead of cilantro
Make a delicious Avocado Lime Crema in place of sour cream and avocado
What If I Don't Have Queso Fresco?
Queso fresco is a mild, creamy cheese. This means it can easily be substituted with another type of cheese if you prefer.
For a simple switch, cheddar or Mexican cheese will still taste amazing. Or, if you have a different kind of cheese in your fridge, feel free to use that instead.
Do I Need To Use Leftover Steak?
Nope! This steak fajita recipe will work just as well with freshly-cooked meat.
If you don't have any previously cooked steak, just grill or air fry the steak while the vegetables are cooking in the pan. You'll still have a quick and easy dinner the whole family will love.
You can even choose to reheat the steak in the air fryer instead of the cast-iron skillet to save time!
Can I Use A Different Kind of Steak?
Absolutely! I used flank steak because it's what I happened to have in my refrigerator, but you can certainly use a different cut.
Skirt steaks are another great option for a tender and flavorful steak. Plus, if you don't have any leftover steak, skirt steak will cook up quickly when cut into strips.
I've even used the leftovers of my air fryer skirt steak from this recipe and it works great!
I Don't Have A Cast Iron Skillet. What Else Can I Use?
I love cooking with a cast-iron skillet because it heats up evenly every time. Plus, they're actually pretty inexpensive and already come pre-seasoned.
But if you don't have a cast iron, you can use any non-stick skillet for this recipe. This skillet is a great option and one I use in my kitchen all the time.
How Can I Switch Up These Leftover Steak Fajitas?
Have leftover chicken or pulled pork? Go ahead and use that instead of steak for your fajita filling!
Want a fun dish for the family to share? Turn this steak fajita recipe into nachos! Instead of filling tortillas, just add the ingredients over chips. Top with extra cheese, broil in the oven for 2-3 minutes to melt, then dig in.
Looking for a low-carb option? You can ditch the tortillas and enjoy a hot and tasty fajita bowl if you prefer.
Other Mexican-Inspired Recipes You'll Love:
Looking for other ways to use leftover steak? Check out these 25 easy ideas!
Yield: 4 servings
Leftover Steak Fajitas
Not sure what to do with extra flank steak? These leftover steak fajitas are bursting with flavor for an easy weeknight dinner the whole family will love!
Ingredients
3/4 pound leftover flank steak, cut against the grain into strips
2 tablespoons oil, divided
1 red bell pepper, cut into strips
1 green bell pepper, cut into strips
1 medium onion, sliced
1 tablespoon lime juice (1/2 lime)
2 cloves of garlic, minced
1/4 teaspoon cumin
1/8 teaspoon crushed red pepper
salt and pepper to taste
8 tortilla shells (corn or flour)
1/2 cup queso fresco (or shredded Mexican cheese)
Optional Toppings
4 stems fresh cilantro, chopped
Sour cream
Salsa
Avocado, diced
Instructions
In a medium bowl, combine the peppers, onion, 1 tablespoon oil, minced garlic, cumin, lime juice, and red pepper. Toss to coat.
Preheat a cast iron skillet over medium heat with remaining 1 tablespoon of oil.
Add the pepper and onion mixture to the pan and saute until the onions are opaque and the peppers have softened, about 5 to 10 minutes.
Push the peppers and onions to one side of the skillet and add the sliced leftover steak to the other side to warm it up.
Warm tortillas in the oven or air fryer wrapped in foil, on a skillet sprayed with oil, or in the microwave covered with a damp paper towel.
Add the flank steak, peppers, onions, and queso fresco into each tortilla and serve!
Notes
Use a tender slice of steak, like a flank or skirt steak for a flavorful and tender fajita.
Nutrition Information:
Yield:
4
Serving Size:
1
Amount Per Serving:
Calories:

708
Total Fat:

44g
Saturated Fat:

13g
Trans Fat:

1g
Unsaturated Fat:

27g
Cholesterol:

118mg
Sodium:

860mg
Carbohydrates:

41g
Fiber:

11g
Sugar:

6g
Protein:

41g
This nutrition information is based on the exact products I used in this recipe. Brands and sizes of products could alter exact nutrition and should always be calculated independently.