This post may contain affiliate links. If you click on a link and make a purchase, I may receive a small commission at no extra cost to you. For more information, please read my disclaimer here.
In the past few years, I've gotten into roasted Brussels sprouts. I love the way they crisp up and lose their bitter taste. I knew I had to create an air fryer sweet and spicy Brussels sprouts recipe because it's my favorite way to enjoy them!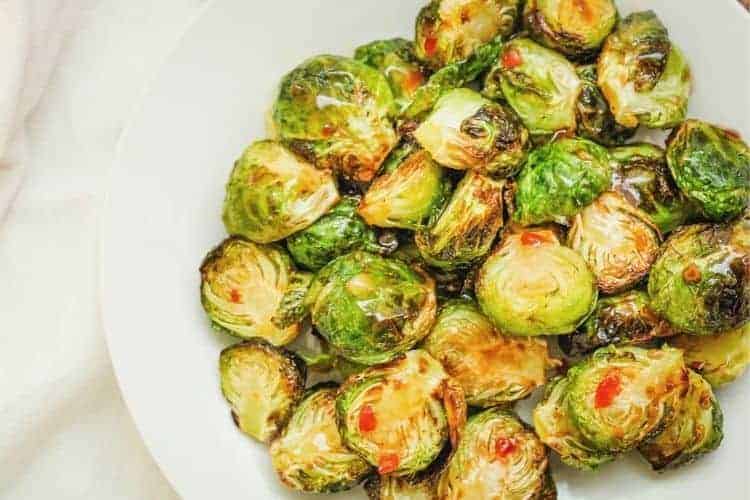 You might call me crazy, but I didn't try sweet and sour sauce until I was 26. The only time I ever saw it was in those little packets of Chinese takeout that don't have the ingredients listed, so I never tried it.
Yes, I'm one of those people who needs to know exactly what's in my food before I eat it. I don't diet and definitely eat my sweets, but I still like to watch things like sodium in the foods I eat.
If you are dieting on either a low carb or keto, diet, you can enjoy these Brussels sprouts. While the sweet chili sauce contains carbs, it comes down to only about 4.5 grams of carbs per serving.
If you don't want to use olive oil while on keto, switch it out for 1 tablespoon melted butter.
I made this recipe in my Cosori Air Fryer. I love that it has a square basket and can hold more food. It's perfect for my family of 4.
Don't have a Cosori Air Fryer? (I highly recommend it and it's a cheaper brand) You can make this air fryer recipe with a Ninja Foodi, Power Air Fryer Oven, and more.
Have frozen brussel sprouts? Try our frozen brussel sprouts in the air fryer recipe instead!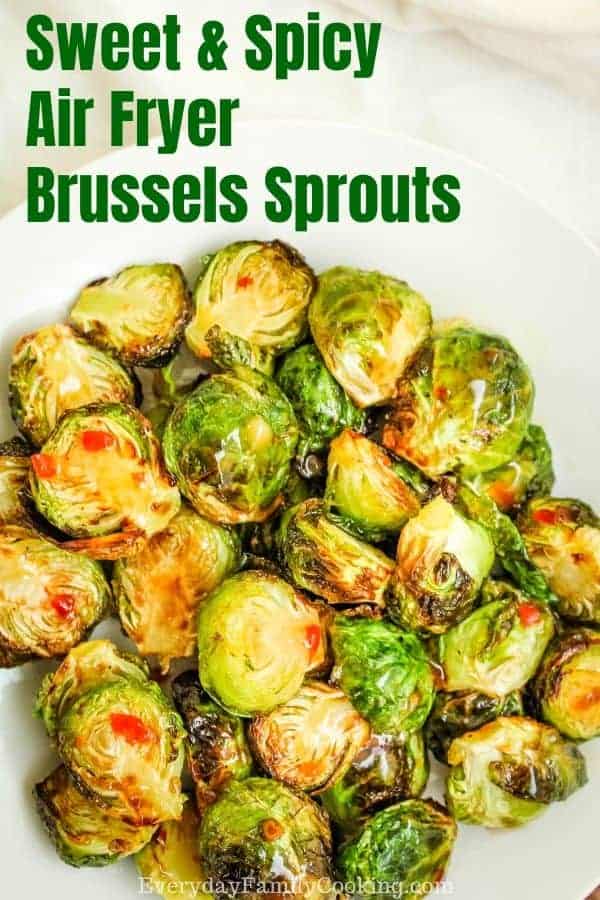 How to Make Air Fryer Sweet and Spicy Brussels Sprouts
If you are picking Brussels sprouts out in bulk, try to pick smaller ones keeping consistent on size. This allows the Brussels Sprouts to cook evenly.
My local Wegmans carries a family size of Brussels sprouts for cheaper than a normal package, so I bought 2 pounds worth and kept the other half for another recipe a few days later.
Trim the Brussels Sprouts at the bottom, remove the outside layers, and then cut each one in half. Some people will say to keep smaller ones full, but my favorite part about air frying this delicious vegetable is getting the inside nice and crispy.
Put the Brussels Sprouts in a bowl and mix with the oil, salt, and pepper.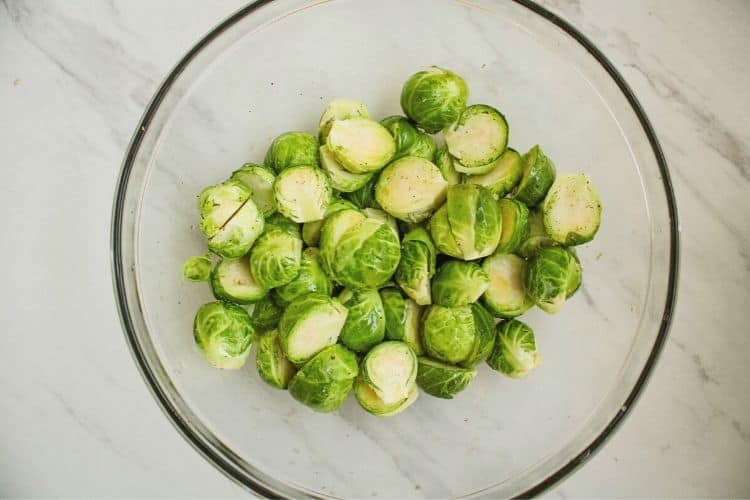 Preheat your air fryer to 400 degrees while prepping your veggies. It creates a more even cooking environment.
Put the air fryer Brussels sprouts into the air fryer basket. They can be touching and stacked, but should never fill your air fryer basket more than halfway.
Set the bowl aside as you will use it again.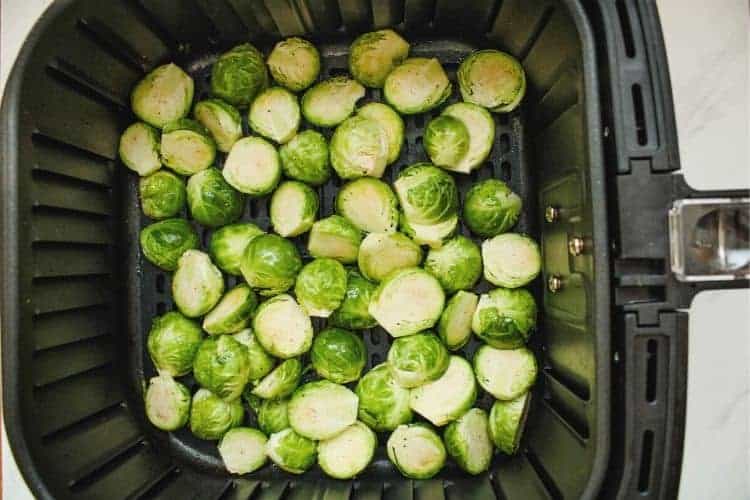 Cook the Brussels sprouts for 8 to 10 minutes shaking the basket halfway through their cooking time.
Take the Brussels Sprouts out of the air fryer and place back into the bowl. Add the sweet chili sauce and mix to coat. I love using this Frank's Red Hot Sweet Chili Sauce.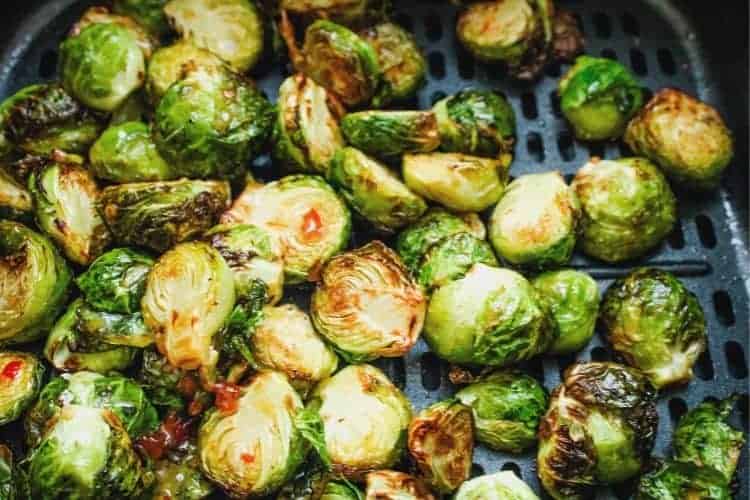 I can not tolerate overly spicy foods, so just the Sweet Chili Sauce is enough for me. If you like it a little spicier, add a small pinch of red pepper flakes to take the heat up a notch.
Add the air fryer sweet and spicy Brussels sprouts back to the air fryer and cook on 400 degrees for another 1 to 2 minutes.
Remove from the air fryer and enjoy it immediately!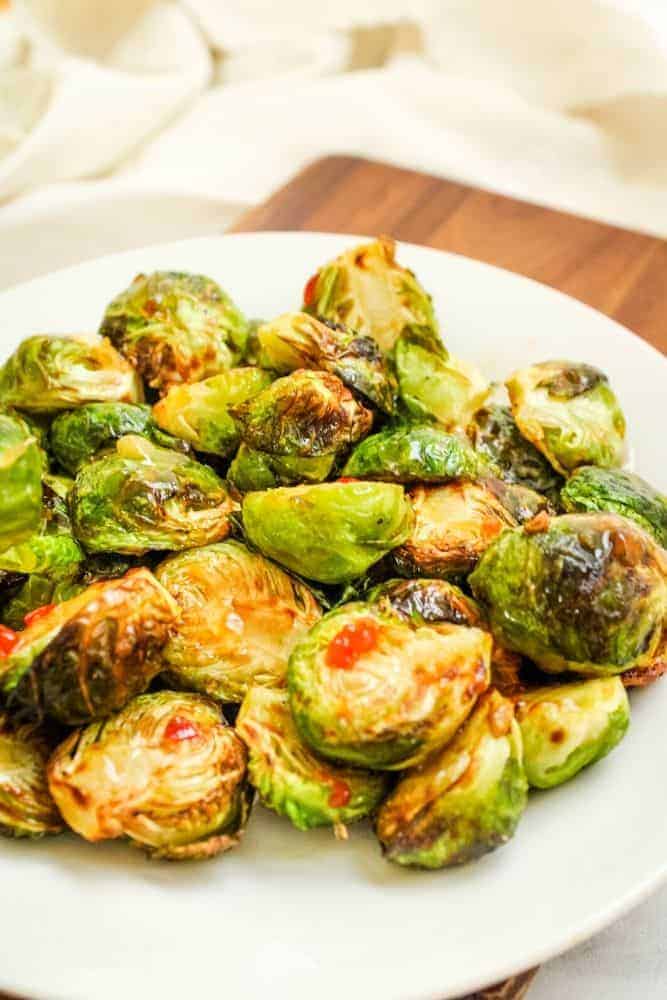 Do I Need to Wash Brussels Sprouts?
Just like any vegetable, Brussels sprouts should be washed before being cooked.
Although they are not typically a dirty vegetable, you should rinse them under cold water to get any remaining dirt off.
I use a colander and wash them with cold water under the faucet for a minute moving them around. This way the dirt falls out of the colander leaving them clean.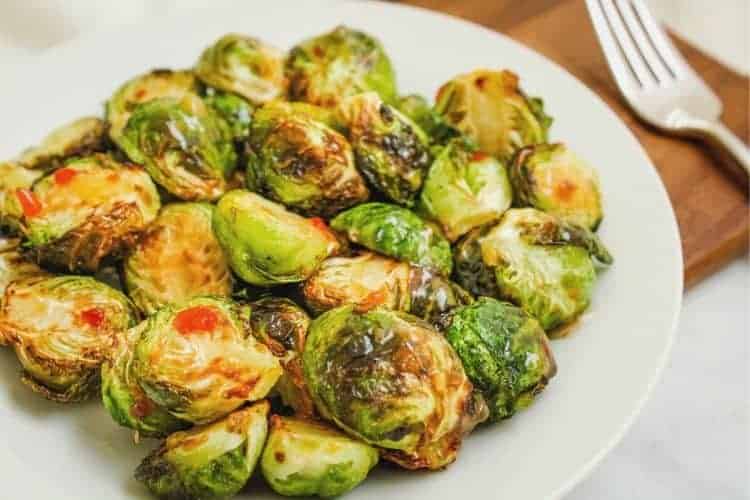 Other Air Fryer Recipes You'll Love:
Freezable Air Fryer Fried Green Tomatoes

Yield: 4 servings
Air Fryer Sweet and Spicy Brussels Sprouts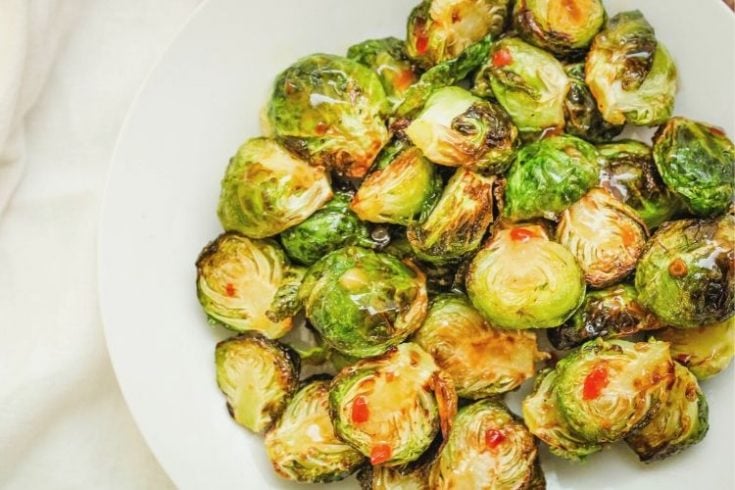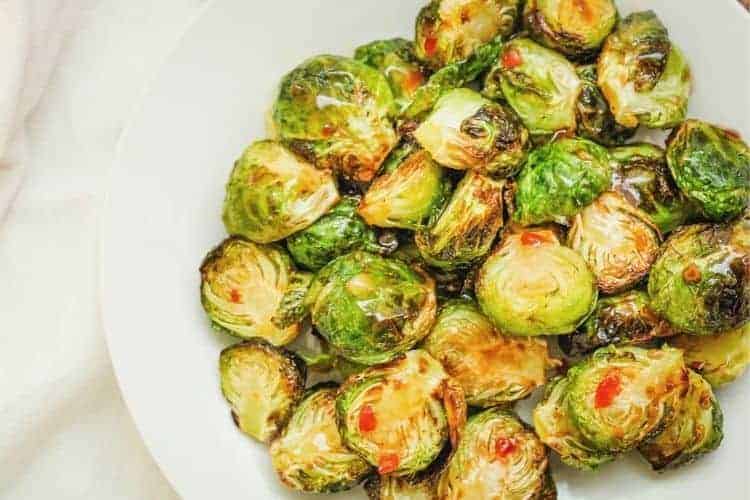 A sweet and spicy air fryer side dish that creates crispy brussels sprouts with a nice kick in flavor.
Ingredients
1 pound brussels sprouts, trimmed and halved
2 tablespoons oil
1/4 teaspoon salt
pepper to taste
2 tablespoons sweet chili sauce (like Frank's Red Hot Sweet Chili Sauce)
pinch of red pepper flakes
Instructions
Preheat air fryer to 400 degrees.
Add halved Brussels sprouts into a bowl with oil, salt, and pepper. Mix to combine.
Place Brussels sprouts into the air fryer and set the bowl aside. It's okay if they overlap, just do not fill your air fryer more than halfway.
Cook brussels sprouts for 8-10 minutes, shaking the basket halfway through.
Remove brussels sprouts from the air fryer and put back into the bowl. Toss in sweet chili sauce and add red pepper flakes if using. Mix to combine.
Put brussels sprouts back into the air fryer and cook for 1-2 minutes to heat up the sauce.
Remove from the air fryer and enjoy immediately.
Nutrition Information:
Yield:
4
Serving Size:
1
Amount Per Serving:
Calories:

122
Total Fat:

8g
Saturated Fat:

1g
Trans Fat:

0g
Unsaturated Fat:

7g
Cholesterol:

0mg
Sodium:

158mg
Carbohydrates:

13g
Fiber:

3g
Sugar:

6g
Protein:

3g
This nutrition information is based on the exact products I used in this recipe. Brands and sizes of products could alter exact nutrition and should always be calculated independently.