This 5-ingredient instant pot mac and cheese came out when we were low on food. We needed to go grocery shopping because the fridge and freezer were basically empty.
Or at least the kids didn't want anything we had.
I'm sure you heard that one before!
It was a big win because I prefer macaroni and cheese as easy and healthy as possible. This includes just 5 ingredients: pasta, butter, salt, cheese, and milk.
They're ingredients that are staples in our family, so we can make it for the kids whenever we want. That's more often than I care to admit, but hey, I love it too!
The best part is, if you have a favorite cheese you love adding to your mac and cheese, you can also add it in!
Now, I've scoured the internet looking for macaroni and cheese recipes and they always include weird and processed ingredients.
I also wanted one without evaporated milk and no sour cream. It just needed to be easy, but still delicious.
I created a stove-top variety without the processed food as well, but I had that urge to create it in the Instant Pot, so it had to be made a little differently.
The idea of a one-pot mac and cheese really spoke to me.
I made this in my 6-Quart Instant Pot Duo Nova. It has the same functions as the normal Instant Pot Duo but has an improved seal that will last longer.
How to Make 5-Ingredient Instant Pot Mac and Cheese
Place the inner pot into your Instant Pot. This is the pot you will cook inside. Add the pasta, butter, salt, and water.
Do not stir, but you can slowly move the noodles around to make sure the water covers them as best as possible.
Close the lid and push the pressure cook button for high pressure and turn it to 4 minutes. It may also show as manual mode.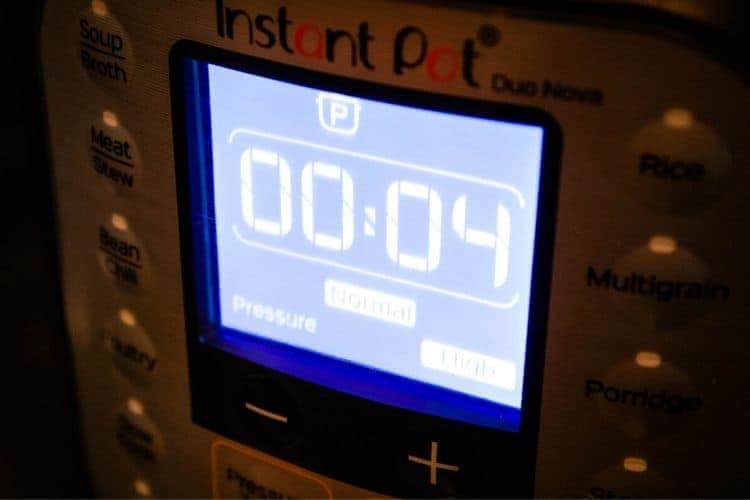 It will take about 10 minutes for the pressure to build in the pot and then the clock will start counting down.
The little metal knob will also pop up when it's officially at pressure.
When the Instant Pot beeps and the time is at zero, carefully use the quick release to release the pressure.
When the knob drops back down, the pressure has been released and you can open the lid.
Change the Instant Pot to Saute mode and add in cheddar cheese and milk and stir to combine until fully melted.
Turn Instant Pot off.
Transfer the 5-ingredient Instant Pot Mac and Cheese into a serving dish away from the heat and enjoy it immediately.
Can I Make This If I Don't Have the Saute Feature?
If you do not have a Saute mode, change it to a high slow cook and add the milk in slowly until the cheese is fully melted to avoid it getting soupy.
You may end up using less milk than called for using this method.
How to Quick Release the Instant Pot
A quick-release refers to when you immediately remove the pressure from the Instant Pot instead of waiting for it to go down on its own over time (a natural release).
Take an oven mitt or some sort of heat resistant glove/mitt and flip the venting switch to vent. It will let out a lot of steam, so be careful if this is your first time using a quick release.
Allow for enough room above the pressure cooker for the steam to vent. I turn mine backward so the steam faces forward instead of under the cabinets.
If it starts to spray water, close the vent back up, wait 15-20 seconds and try the quick release again until it no longer sprays.
Can I Cover the Vent with a Towel to Stop it From Steaming?
While it can be tempting to cover the vent with a towel of some sort, it is not safe. Keep the vent open and steaming by itself.
If it is spraying water, butter, or any other liquid in another recipe, close the vent and try again in 30 seconds or so.
This Makes A Lot of Mac and Cheese, Can I Make Less?
As you can see, this recipe makes more than the average family needs for one night of dinner. That's because our family loves to eat leftovers.
We made this 5-ingredient Instant Pot mac and cheese one night and used the leftovers to eat quickly after my daughter's dance class the next night,
If you're making this recipe in a 6-quart Instant Pot, you can half or even quarter the recipe without issues.
This size only requires 1 cup or more of water to pressure cook food successfully.
If you have an 8-quart pressure cooker, you can still half this recipe without issues.
Can I Cook the Pasta in Milk Instead?
Cooking pasta in milk is a great trick to making your macaroni and cheese extra creamy on the stove.
Unfortunately, it doesn't work like that in a pressure cooker. Putting milk into a pressure cooker will cause the milk to curdle and separate.
I don't know about you, but I want cheesy smooth macaroni and cheese, not curdled cheese.
Adding the milk and cheese at the end of this recipe helps it stay creamy while getting the macaroni and cheese you know and love.
Other Recipes You'll Love:
Yield: 8 servings
5-Ingredient Instant Pot Mac and Cheese
A simple pressure cooker pasta dish made with ingredients you'll already have in the house.
Additional Time
10 minutes
Ingredients
16 ounces elbow macaroni
4 tablespoons unsalted butter, cut into 4 chunks
1/2 teaspoon salt
4 cups water
2 cups shredded cheddar cheese
1/2 cup whole milk
Instructions
Add elbow pasta, butter, salt, and water in the Instant Pot. Do not stir the pasta, but gently use a spoon to make sure all pasta is covered with water.
Cook on high pressure for 4 minutes, then quick release carefully.*
Change to "saute mode" and add in cheddar cheese and milk.
Stir to combine until fully melted then remove from heat.
Enjoy immediately!
Notes
* If releasing the pressure causes splatter, stop the release and try again in 10-15 seconds
Nutrition Information:
Yield:
8
Serving Size:
1
Amount Per Serving:
Calories:

264
Total Fat:

16g
Saturated Fat:

9g
Trans Fat:

0g
Unsaturated Fat:

5g
Cholesterol:

45mg
Sodium:

329mg
Carbohydrates:

19g
Fiber:

1g
Sugar:

1g
Protein:

10g
This nutrition information is based on the exact products I used in this recipe. Brands and sizes of products could alter exact nutrition and should always be calculated independently.