This post may contain affiliate links. If you click on a link and make a purchase, I may receive a small commission at no extra cost to you. For more information, please read my disclaimer here.
Imagine sitting your family down for a nice meal, maybe even Thanksgiving or Christmas. Someone usually brings the rolls that you might toast in the oven for a few minutes. Now swap those rolls out for a homemade garlic cheese bread.
Sounds amazing, but it also sounds like more work, right? Wrong.
This easy Homemade Garlic Cheese Bread is so easy, I will show you how to make the garlic seasoning ahead of time so you can just brush it on top of the bread, coat it with cheese, and bake it.
You can serve it alongside your meal or even as an appetizer.
It's the best garlic bread recipe I've had and will impress your entire family close to you or extended.
What Kind of Bread Should You Use for Cheesy Garlic Bread?
While this recipe is homemade, the bread is store-bought. I like the light and fluffy Italian bread we have at our local Wegmans, but any fresh Italian loaf of bread will do.
French bread also works great. I live in Western New York and oddly enough French bread is not something most people buy here.
I've gone to a few stores without any luck finding it before asking the Wegmans Bakery, who said it's not offered around here due to lack of interest. Who knew?!

Other Recipes You'll Love:
All the BEST Vegetables to Make in Your Air Fryer!
How to Make Homemade Garlic Cheese Bread
Preheat your oven to 425 degrees.
Heat oil and butter in a pan on medium/low heat.
While the pan is heating up, mince the garlic. I love using a garlic chopper. My husband bought me this one for Christmas years back and it's such a time saver.
It minces garlic in about 10 seconds and is completely dishwasher safe. We put the blades underneath the silverware rack to keep it contained.
Once the butter has melted, add the minced garlic, Italian seasoning, and red pepper flakes to the pan and cook for 2-3 minutes, until garlic is fragrant. Do not let the garlic brown or burn. Take the garlic seasoning off the stove.
Turn the Italian bread or French bread to its side and cut it in half longways. Place both sides on a baking sheet with the cut side up.
Press down in the middle of both bread halves.
Baste the oil and herb mixture on top of the bread and spread the shredded mozzarella cheese evenly on top.
Cook in the oven for 9-11 minutes, until the outside crusts start to turn a golden brown.
Cut into slices. Enjoy immediately or refrigerate for up to 3 days, reheating by air fryer, oven, or microwave before eating.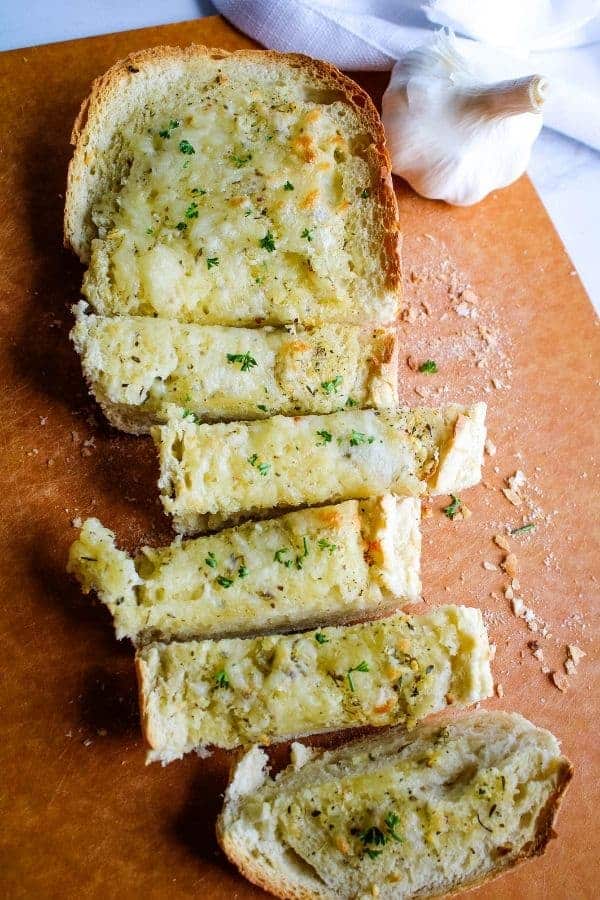 Make-Ahead Garlic Spread
The garlic spread in this recipe can be made ahead of time as is. Just simply cook it on the stove then store the mixture in a bowl within the fridge for up to 3 days.
When you're ready to finish the recipe, reheat the spread for about 20 seconds in the microwave then continue the recipe as normal.
What Goes Well with Garlic Bread?
Garlic Bread is a good meal option for plenty of dishes. Any Italian foods pair perfectly with this garlic bread, such as pasta, manicotti, chicken parmesan, and more.
Cheesy garlic bread goes well with winter main dishes such as chili, minestrone soup, and stews.
Is Garlic Bread Good for Your Health?
Garlic bread is as healthy as the ingredients included in the recipe. To make cheesy garlic bread healthier, choose a whole-grain Italian or French bread.
You can also swap out the butter for more extra virgin olive oil to cut out excess fat.
Homemade Garlic Cheese Bread is much healthier than store-bought frozen bread. It will typically contain fewer ingredients and calories with a lack of preservatives needed.
It also contains all fresh ingredients.
If on a diet, enjoy cheesy garlic bread on occasion while keeping your serving to one or two small slices.
Yield: 8 servings
Homemade Garlic Cheese Bread
A homemade garlic cheese bread that is so easy to make with a make-ahead garlic sauce.
Ingredients
1 fresh loaf of Italian or French Bread
3 tablespoons olive oil
3 tablespoons unsalted butter
4 cloves garlic, minced
1 teaspoon Italian seasoning
Small pinch of red pepper flakes
1/2 cup shredded mozzarella cheese
Parsley (optional)
Freshly grated Parmesan (optional)
Instructions
Cut the bread in half lengthwise.
Preheat oven to 425 degrees.
Heat olive oil and butter in a pan on low/medium heat until the butter has melted.
Add garlic, Italian seasoning, and red pepper flakes to the pan and cook for 2-3 minutes until garlic is fragrant. Stir frequently, so the garlic does not brown or burn.*
Push down the middle of the bread on both sides and place on a baking sheet.
Baste oil and herb mixture on top of the bread and spread shredded cheese evenly over top. Add Parmesan if using.
Cook in the oven for 9-11 minutes, until the degrees start to turn golden brown.
Top with parsley if desired.
Cut in slices and serve immediately.
Notes
*Sauce can be made ahead and stored in a refrigerator for up to 5 days. To use, microwave until mixture is melted then baste on top of bread as normal.
Nutrition Information:
Yield:
8
Serving Size:
1
Amount Per Serving:
Calories:

264
Total Fat:

12g
Saturated Fat:

4g
Trans Fat:

0g
Unsaturated Fat:

7g
Cholesterol:

15mg
Sodium:

403mg
Carbohydrates:

32g
Fiber:

1g
Sugar:

3g
Protein:

8g
This nutrition information is based on the exact products I used in this recipe. Brands and sizes of products could alter exact nutrition and should always be calculated independently.