Fresh, fluffy garlic cheese bread is one side dish that always becomes the highlight of the meal! Forget the frozen stuff – make this marvelous cheesy bread in less than 15 minutes.
There are some dishes I just have to serve with bread – pasta, stew, and baked chicken and beef, for example. While a plain baked loaf is all well and good, sometimes I just want to go all out and make something extraordinary!
And, as it turns out, "going all out" means just adding a few more ingredients to the mix.
Olive oil, butter, Italian seasoning, and red pepper flakes – all things you almost always have in your cabinet. With a bit of fresh garlic, you can make the most tantalizing spread that smells amazing and tastes even better. The only other fresh ingredients you need are bread and cheese.
It's really easy to freeze homemade garlic cheese bread before baking, so you can save it for a rainy, lazy day when dinner is the last thing on your mind!
Here's what I'm going to teach you in this post:
All the ingredients and steps needed to make robust, crunchy, garlicky cheesy bread.
How to make your homemade cheesy garlic bread prep-ahead friendly.
Some tips on how to go the extra mile and make your garlic cheese bread even better!
Melty, creamy cheese and a rich, herbal garlic spread can turn an average loaf into something incredible! Match it with pastas, soups, and stews for the ultimate comfort meal.
How to Make Garlic Cheese Bread
STEP ONE: Preheat the oven to 425 degrees. Meanwhile, cut the bread in half lengthwise and press down on the middle, opening it up. Place it on a baking sheet.
STEP TWO: Add the olive oil and butter to a pan on medium-low heat. Once the butter melts, add the garlic, Italian seasoning, and red pepper flakes. Saute for 2-3 minutes until garlic becomes fragrant.
I use my garlic chopper to chop garlic cloves quickly. I just toss it in the dishwasher afterward.
STEP THREE: Brush the garlic butter sauce on top of the bread and follow with a sprinkling of the shredded cheese. Grate fresh parmesan on top if desired.
STEP FOUR: Slide the sheet into the oven and bake for around 10 minutes until the edges brown. 
STEP FIVE: Remove from the oven and garnish with fresh parsley. Slice and serve immediately while hot.
What Kind of Bread Should You Use for Homemade Cheesy Garlic Bread?
I recommend using Italian or French loaves to make garlic cheese bread.
Italian bread is soft and rather fluffy. It also tends to be squat and wide, so it's perfect for larger, thinner slices of cheesy bread.
French bread, on the other hand, has a thicker crust. It's narrower and longer and tends to be a bit chewier. It won't be as crumbly or messy as Italian loaves.
It's a matter of preference! Either option is delicious and holds up under the oil, herbs, and cheese.
Can You Freeze Garlic Cheese Bread?
You absolutely can, and it's a dinner life-hack that I 100% recommend!
Wrap tightly in plastic wrap or tin foil, unbaked. If your wrapping is airtight, the bread should keep well for up to 6 months. 
I would like to note that French bread, due to its thicker crust, does not freeze as well and will start to lose its texture after 3 or so months in the freezer.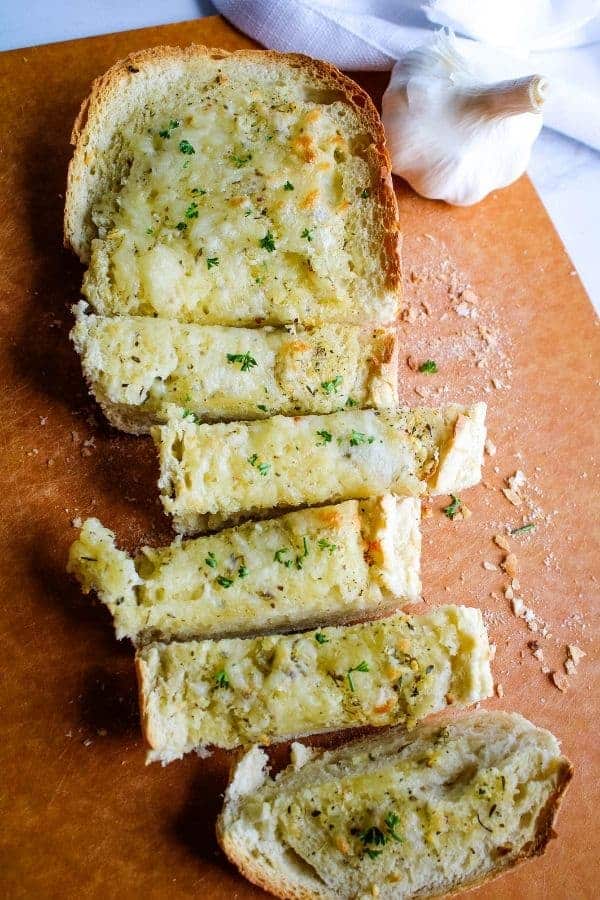 What Do You Eat With Garlic Cheese Bread?
Homemade cheesy garlic bread is a flawless side dish for Italian pasta dishes, bakes, and skillets — particularly saucy dishes with plenty of marinara or alfredo sauce to go around!
In the colder months, it's nice to serve a slice of cheesy bread with hearty chilis, soups, and stews.
It can also be nice to serve up a side of marinara as a dipping sauce with your homemade cheesy garlic bread when you need an easy appetizer.
Tips & Variations For Making Cheesy Bread:
You can make the oil, butter, and herb spread ahead of time. Simply transfer to a bowl and refrigerate for up to 3 days before applying it to the bread! For easy spreading, microwave for about 20 seconds.

You can also use a simple storebought white pizza sauce, like Beano's pizza sauce. I always keep this one in my fridge for an easy alternative.
Play around with other cheeses! Provolone, Colby Jack, and cheddar are three that I'd add in a heartbeat. And some chunks of goat cheese on top, browned in the oven, would be absolutely mouthwatering!  Pick one that suits the main dish you're serving with — don't be afraid to experiment. 
Herbs make a big difference. Try adding fresh thyme, oregano, and/or parsley to the butter mixture to spread the herbal flavor throughout.
Other Baked Recipes You'll Love:
Yield: 8 servings
Garlic Cheese Bread
A homemade garlic cheese bread that is so easy to make with a make-ahead garlic sauce.
Ingredients
1 fresh loaf of Italian or French Bread
3 tablespoons olive oil
3 tablespoons unsalted butter
4 cloves garlic, minced
1 teaspoon Italian seasoning
Small pinch of red pepper flakes
1/2 cup shredded mozzarella cheese
Parsley (optional)
Freshly grated Parmesan (optional)
Instructions
Cut the bread in half lengthwise.
Preheat oven to 425 degrees.
Heat olive oil and butter in a pan on low/medium heat until the butter has melted.
Add garlic, Italian seasoning, and red pepper flakes to the pan and cook for 2-3 minutes until garlic is fragrant. Stir frequently, so the garlic does not brown or burn.*
Push down the middle of the bread on both sides and place on a baking sheet.
Baste oil and herb mixture on top of the bread and spread shredded cheese evenly over top. Add Parmesan if using.
Cook in the oven for 9-11 minutes, until the degrees start to turn golden brown.
Top with parsley if desired.
Cut in slices and serve immediately.
Notes
*Sauce can be made ahead and stored in a refrigerator for up to 5 days. To use, microwave until mixture is melted then baste on top of bread as normal.
Nutrition Information:
Yield:
8
Serving Size:
1
Amount Per Serving:
Calories:

264
Total Fat:

12g
Saturated Fat:

4g
Trans Fat:

0g
Unsaturated Fat:

7g
Cholesterol:

15mg
Sodium:

403mg
Carbohydrates:

32g
Fiber:

1g
Sugar:

3g
Protein:

8g
This nutrition information is based on the exact products I used in this recipe. Brands and sizes of products could alter exact nutrition and should always be calculated independently.