Cream cheese fruit dip is a delightful addition to any fruit platter. It's a quick and easy crowd-pleaser that elevates your fruit-snacking experience.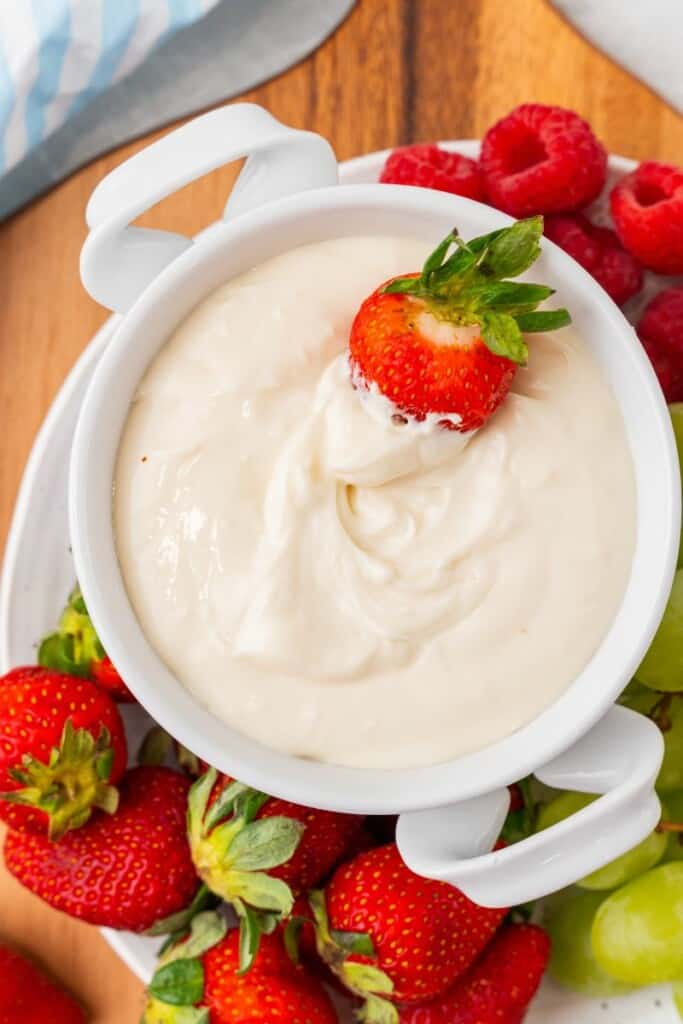 Cream cheese fruit dip with powdered sugar is a homemade classic that's as delicious as it is easy to whip up.
It's a go-to choice for those who want the best fruit tray dip that's also quick to prepare. This creamy delight is a real crowd-pleaser at gatherings and events of all kinds!
What makes this homemade fruit dip recipe so fantastic is its simplicity.
With just a few ingredients, including cream cheese and powdered sugar, you can create a creamy, dreamy dip that pairs perfectly with a variety of fresh fruits. It's versatile, accommodating everything from strawberries and pineapple to apple slices and grapes.
So, if you're looking for a quick and well-loved addition to your fruit tray, consider making this classic cream cheese fruit dip without marshmallow cream! It's a timeless favorite that everyone will enjoy, and it's sure to become a regular guest at your gatherings.
And to change things up, try my chocolate or yogurt fruit dip versions!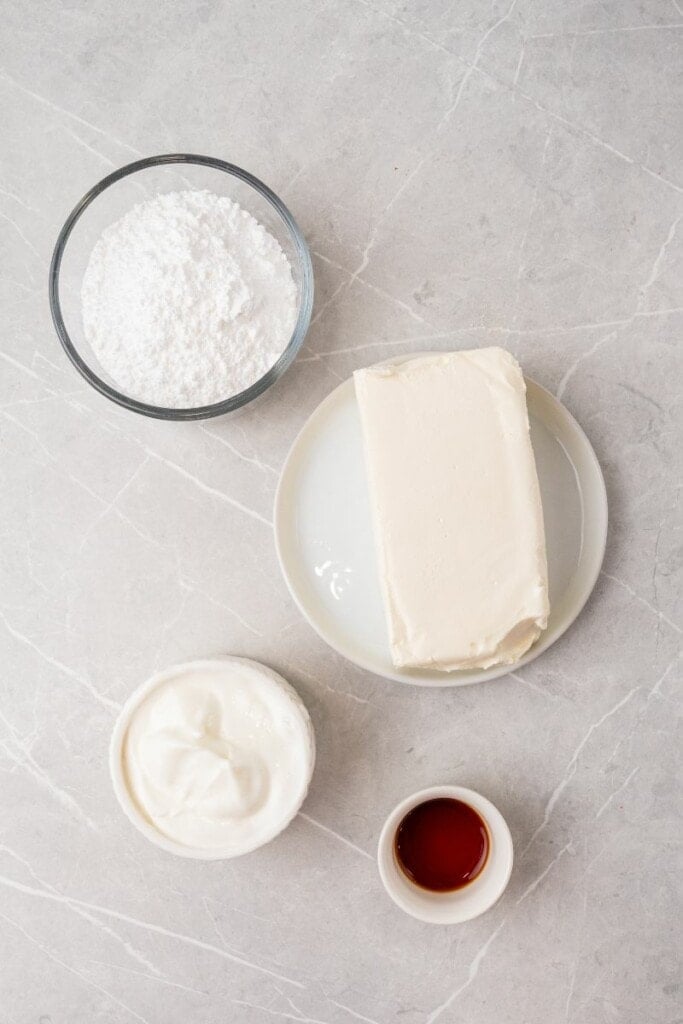 How to Make this Cream Cheese Fruit Dip Recipe
A full printable version of this recipe with ingredient measurements is available at the bottom of this post.
STEP ONE: In a large bowl, combine the cream cheese with Greek yogurt. Mix these together until you achieve a smooth and consistent texture.
STEP TWO: Next, add the powdered sugar. Stir it into the mixture, making sure it's fully incorporated.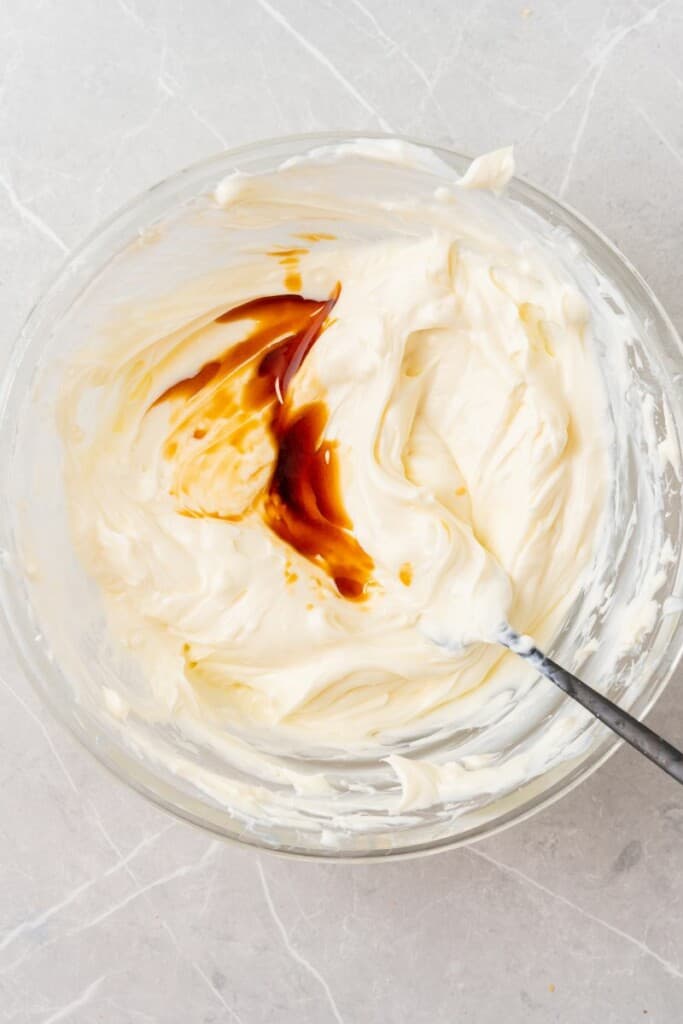 STEP THREE: Then, introduce the vanilla extract and continue mixing until everything is well blended.
STEP FOUR: Serve this delightful fruit dip recipe immediately for a quick and easy treat. If you prefer it chilled and firm, place it in the refrigerator until it's ready to be served!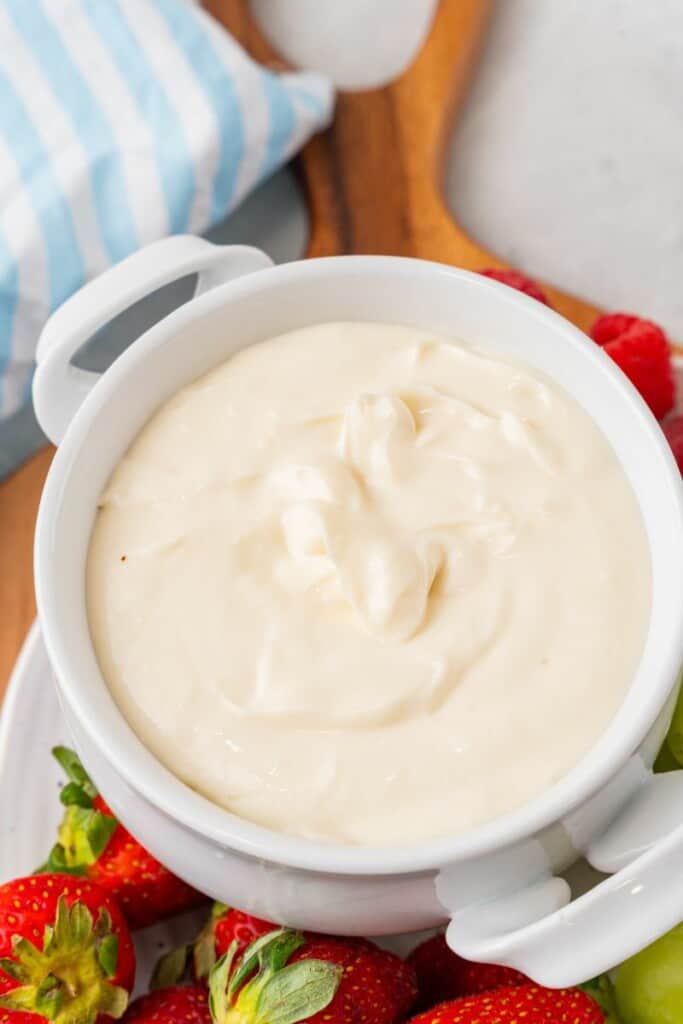 Tips for Cream Cheese Dip for Fruit
Use a hand mixer to whip up the fruit. It can make blending easier and ensure a smoother consistency.
Take your time mixing the cream cheese and Greek yogurt until there are no lumps, so you're left with a creamy fruit dip.
Gradually add powdered sugar and taste as you mix to adjust the sweetness of your creamy fruit dip.
Use plastic wrap or airtight containers to store the dip in the fridge to prevent any odors from seeping in.
Make sure the cream cheese is at room temperature for easy mixing and a smoother texture.
Sifting the powdered sugar can prevent any clumps in your dip and make it blend in more easily.
More Fruit Dip Recipes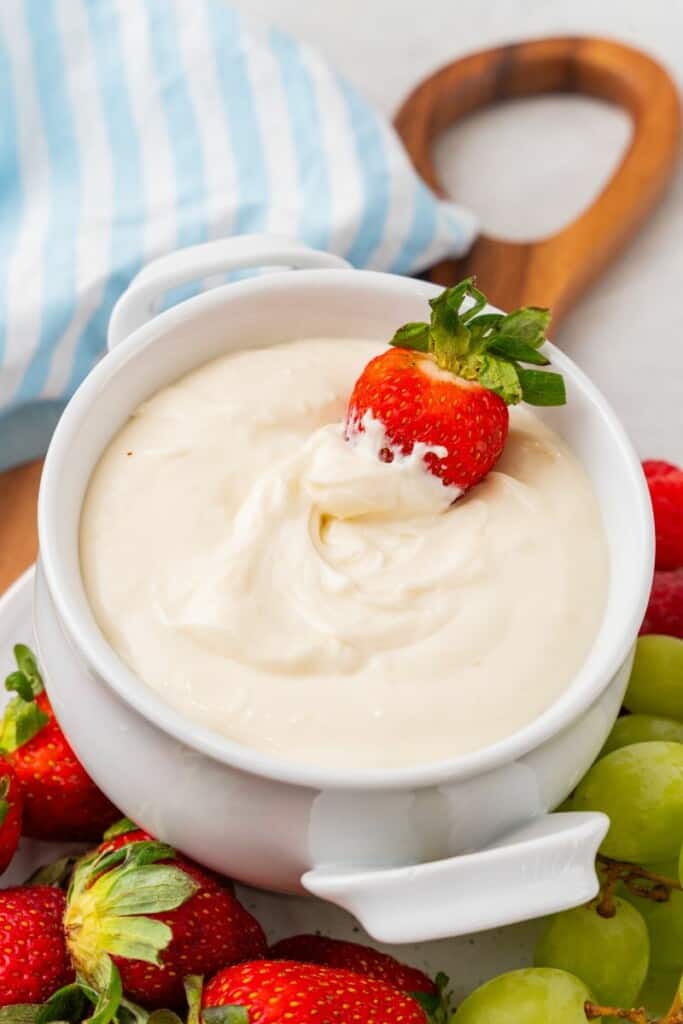 Variations to This Fruit Dip Recipe
Choose low-fat or fat-free cream cheese and Greek yogurt if you're looking for a lighter variation to this cream cheese fruit dip recipe like in my yogurt fruit dip.
A touch of citrus zest, like lemon or orange, can provide a refreshing twist to your dip.
Flavored cream cheese, like strawberry or honey, can add an extra dimension of flavor to this sweet dip recipe.
Add ½ teaspoon of ground cinnamon and ¼ teaspoon of ground nutmeg to the marshmallow fruit dip for a fall-spiced version like my pumpkin fruit dip.
Don't hesitate to try different fresh fruit for dipping. Apples, grapes, strawberries, and pineapple are great choices to pair with this cream cheese fruit dip with powdered sugar.
What Should I Do if My Cream Cheese Dip for Fruit is Too Sweet?
If your fruit dip comes out too sweet, no worries at all! You can balance the sweetness by adding a bit more Greek yogurt or cream cheese and giving it a good mix.
Taste as you go to find the perfect ratio for your preferences.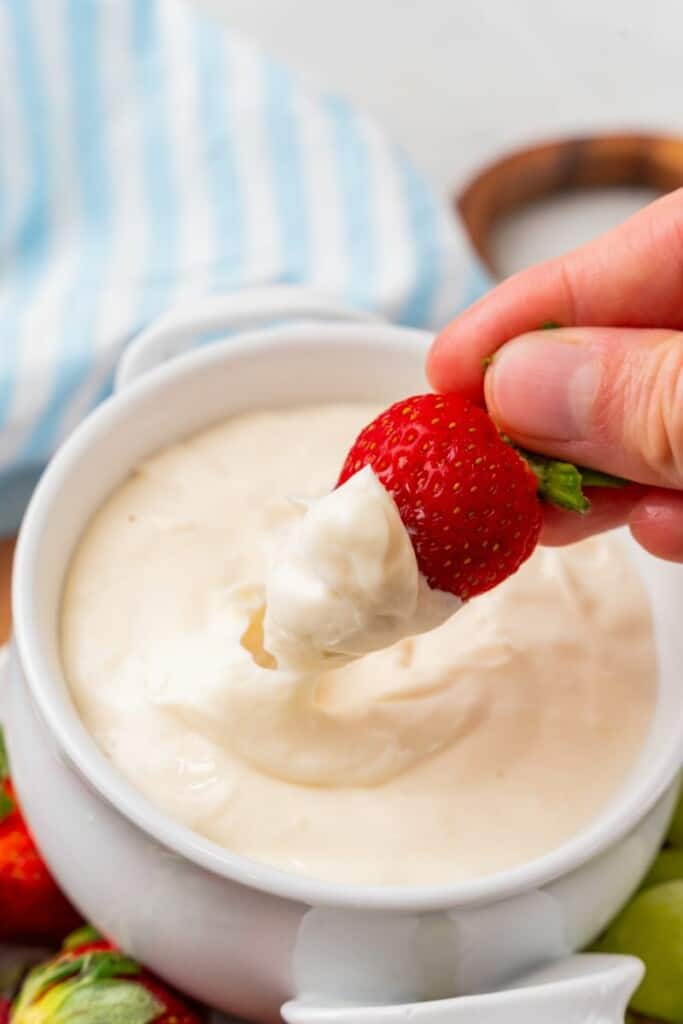 Is it Safe to Leave Cream Cheese Fruit Dip Out at Room Temperature During a Party?
It's a good idea to keep creamy dip chilled in the fridge as long as possible to keep it fresh and safe to enjoy. If it happens to sit out for an extended period, especially on a hot day, discard it after 2 hours to avoid any risks.
When you're outdoors, like at a picnic or barbecue, place the dip container in a cooler with some ice packs or keep it in the shade to maintain that delightful coolness. This way, your dip will be at its best for everyone to savor!
What to Serve with Fruit Dip
Cream cheese fruit dip with powdered sugar tastes good with such a large range of fruits — it's hard to only name a few! I find that this sweet dip recipe is perfect for strawberries, grapes, apples, and pineapple.
It also works to pair with other desserts like Fruitcake Cookies, Strawberry Cheesecake Cookies, or Vanilla Crinkle Cookies!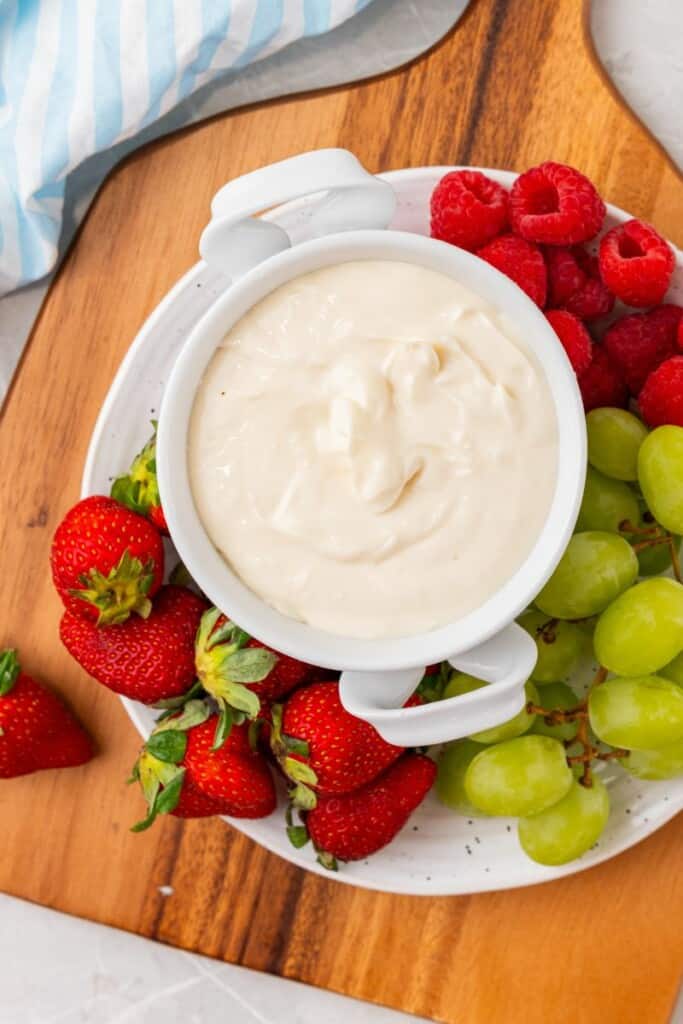 More Easy Dessert Recipes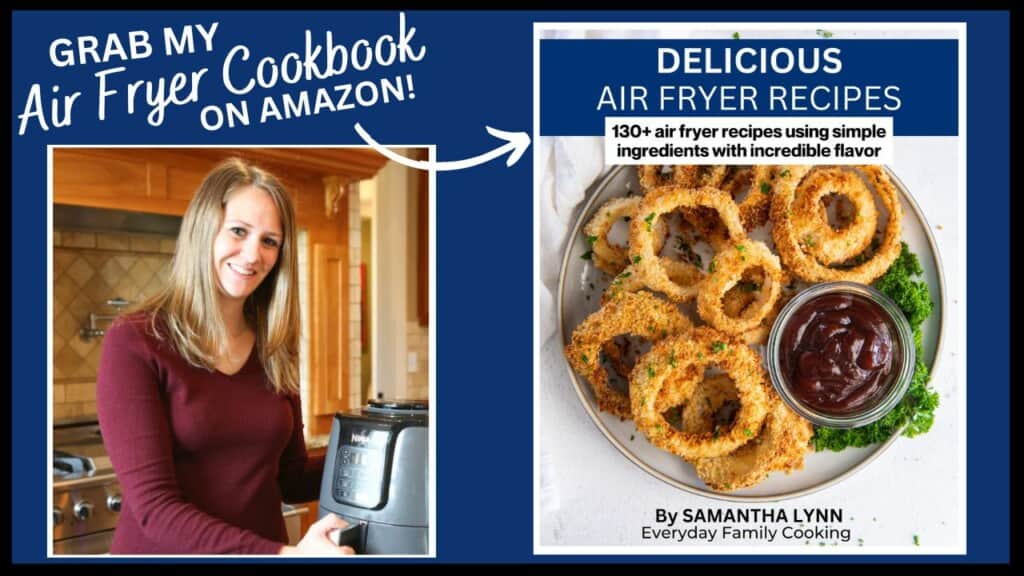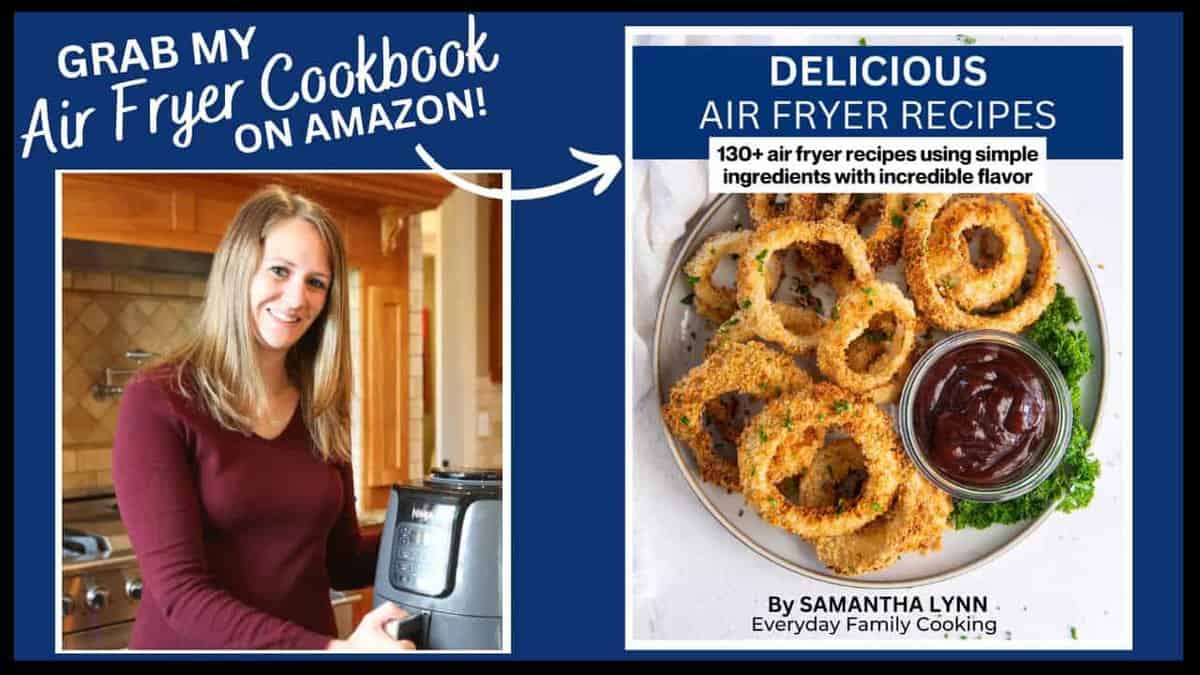 Yield: 8 servings
Cream Cheese Fruit Dip
A sweet way to enjoy fruit with this easy cream cheese fruit dip perfect for strawberries, grapes, and even graham crackers!
Ingredients
8 oz cream cheese, softened to room temperature
½ cup plain greek yogurt, room temperature
½ cup powdered sugar
½ teaspoon vanilla extract
Instructions
1. In a large bowl, mix together the cream cheese and Greek yogurt until smooth.
2. Stir in the powdered sugar, followed by the vanilla extract, until fully combined.
3. Serve immediately or chill in the fridge until ready to serve with fruit.
Nutrition Information:
Yield:
8
Serving Size:
1
Amount Per Serving:
Calories:

135
Total Fat:

10g
Saturated Fat:

6g
Trans Fat:

0g
Unsaturated Fat:

3g
Cholesterol:

29mg
Sodium:

94mg
Carbohydrates:

9g
Fiber:

0g
Sugar:

8g
Protein:

3g
This nutrition information is based on the exact products I used in this recipe. Brands and sizes of products could alter exact nutrition and should always be calculated independently.