This post may contain affiliate links. If you click on a link and make a purchase, I may receive a small commission at no extra cost to you. For more information, please read my disclaimer here.
This 3 ingredient stir fry sauce will help take your stir fry recipes up a notch! Using pantry ingredients that you likely already have at home, it's so easy to make.
One of my favorite weeknight dinners is stir fry! It's simple, filling, and gives you the freedom to get really creative. You can make stir fry with a variety of meat, like chicken or beef. You can also use seafood like shrimp. If you're vegetarian, tofu works wonderfully too! Then, simply load up your favorite veggies and you're in business. It's a one-pan meal that has become a staple in my house.
I'm always looking for ways to bring my recipes to the next level, and sauces are a great way to do it. When I discovered how easy it is to make this quick stir fry sauce, I knew I had to try it myself! It's made with just 3 simple pantry ingredients: cornstarch, soy sauce, and sesame oil. Yup, that's it! Add this homemade condiment to your stir fry recipes and taste the difference!
Here's what I'm going to teach you in this post:
The minimal ingredients (remember, you only need 3 things!) for this stir fry sauce recipe.
Some yummy add-ons you can try to make this easy stir fry sauce even better.
Advice on how to make my 3 ingredient stir fry sauce at home and answers to the most frequently asked questions about the process.
You won't believe how delicious such a simple sauce will make your stir fry recipes. Plus, you can throw it together in less than 10 minutes!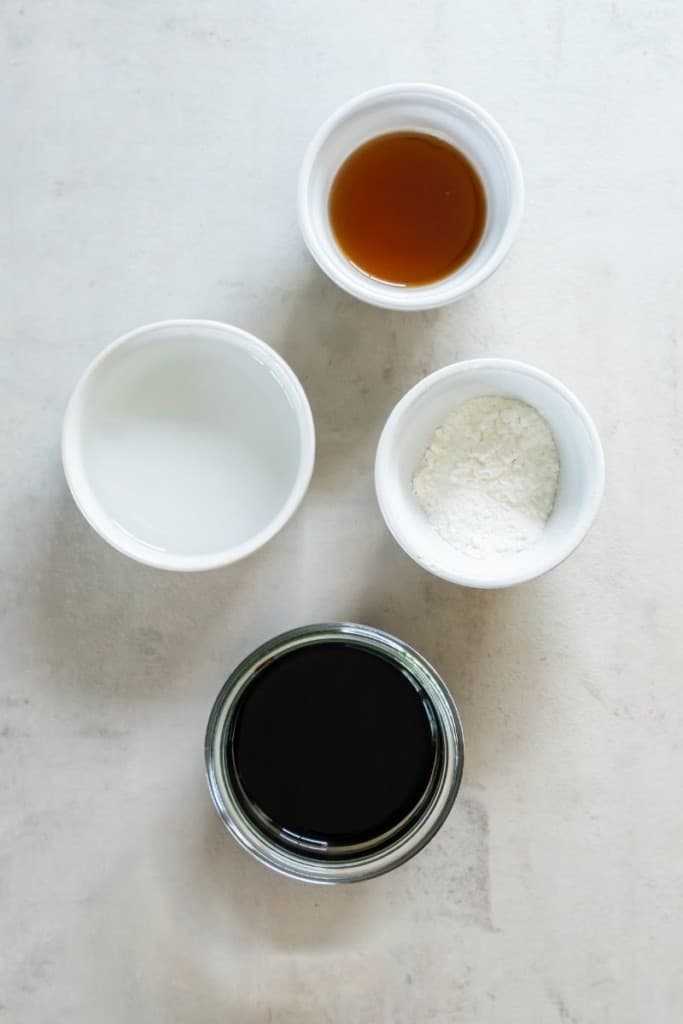 How to Make 3 Ingredient Stir Fry Sauce
A full printable version of this recipe with ingredient measurements is available at the bottom of this post.
STEP ONE: Place your cornstarch in a bowl or mason jar and add some cold water. Whisk until the mixture is smooth.
STEP TWO: Add the soy sauce, sesame oil, and any other seasonings (more on your options below) and whisk until combined. If you're using a mason jar, simply close the lid and shake until well combined.
STEP THREE: Refrigerate your 3 ingredient stir fry sauce in an airtight container (a mason jar is best) until you're ready to use. Make sure to shake thoroughly before adding to your stir fry recipes!
Optional Ingredient Add-Ons for Stir Fry Sauce
Brown sugar
Granulated garlic
Ground ginger
Red pepper flakes
Honey
Cayenne pepper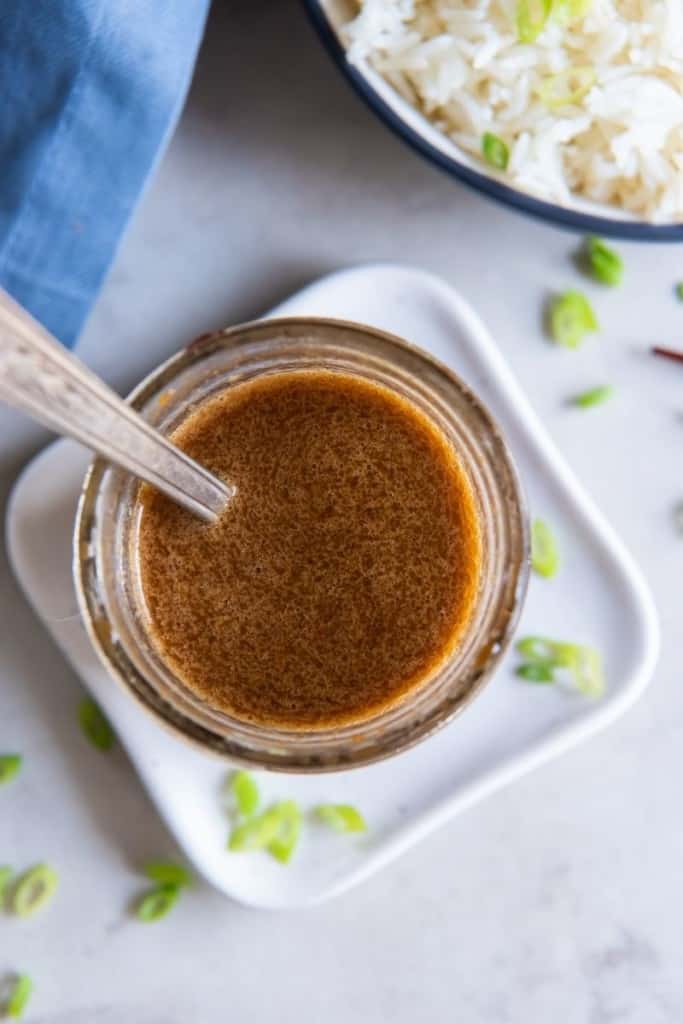 What is Stir Fry?
Stir fry originated in China and refers to a method of cooking. The ingredients are fried in a small amount of oil in a large frying pan or a wok. It's called "stir fry" because you're required to stir everything together in order to cook it. A typical stir fry includes protein, vegetables, seasonings, and a sauce, like my easy stir fry sauce!
What Liquid Do You Use For Stir Fry?
My 3 ingredient stir fry sauce is a great option! It combines soy sauce and sesame oil, both sauces that are often seen in Asian-inspired cooking. I also add a bit of cornstarch which acts as a thickener.
It will give your stir fry recipes the flavor and texture that you know and love. Some chefs like to add a bit of vinegar too, but that's totally optional. My quick stir fry sauce is delicious on its own!
Ideas to Enjoy Your Homemade Stir Fry Sauce With
What Can I Add to Stir Fry For Flavor?
In addition to my easy stir fry sauce, you can add a variety of spices and seasonings to add a bit of extra flavor to your recipes. Things that come to mind are cilantro, cumin, cardamom, garlic, ginger, and citrus juice.
Get creative with your dishes and opt for your flavor preference! You also want to make sure to add plenty of veggies, no matter what you're using for protein. I love using mushrooms, carrots, broccoli, bell peppers, and water chestnuts in mine — to name a few!
When Making Stir Fry When Do You Add the Sauce?
Now that you've made your 3 ingredient stir fry sauce, I'm sure you're itching to use it! A key trick to adding it to your recipes is to wait until the very end of the cooking time. You want the rest of your ingredients to be almost completely cooked before you add in any type of liquid, including your quick stir fry sauce!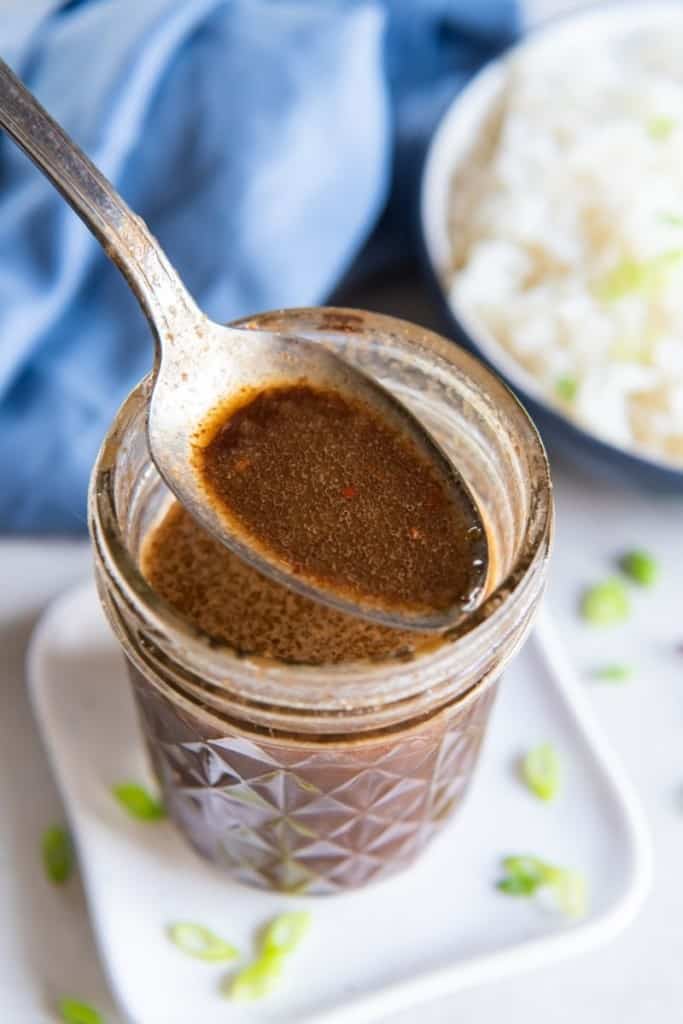 Other Sauce Recipes You'll Love:
Yield: 1 cup
3 Ingredient Stir Fry Sauce
This 3 ingredient stir fry sauce will help take your stir fry recipe up a notch! Using pantry ingredients that you likely already have at home, it's so easy to make.
Ingredients
¼ cup cold water
2 tablespoons cornstarch
⅓ cup reduced sodium soy sauce
2 tablespoons toasted sesame oil
Optional
2-3 teaspoons brown sugar
½ teaspoon granulated garlic
½ teaspoon ground ginger
Pinch crushed red pepper flakes
Instructions
Add the water and cornstarch to a bowl or mason jar; whisk until smooth, then add the soy sauce, sesame oil, and any optional ingredients. Whisk well or seal the jar and shake until combined.
Refrigerate in a sealed jar until ready to use. You will need to shake the jar well to recombine the ingredients before using.
Nutrition Information:
Yield:
4
Serving Size:
1
Amount Per Serving:
Calories:

100
Total Fat:

7g
Saturated Fat:

1g
Trans Fat:

0g
Unsaturated Fat:

6g
Cholesterol:

0mg
Sodium:

759mg
Carbohydrates:

8g
Fiber:

0g
Sugar:

3g
Protein:

2g
This nutrition information is based on the exact products I used in this recipe. Brands and sizes of products could alter exact nutrition and should always be calculated independently.