Ditch the canned stuff and indulge in this vibrant, delicious, one-pot cranberry orange sauce instead! It takes less than 30 minutes to make and keeps in the freezer for up to 2 months.
For me, there's nothing better than gathering with family around the holidays to indulge in all our favorite traditional foods. If it's a small group, I do most of the cooking, but if there are more of us, everyone always contributes a few dishes.
Let me tell you, no matter what size our gathering is, the family always asks me to make my fresh cranberry sauce! It's so much better than the canned cranberry sauce.
The orange zest gives it such a wonderful, vibrant flavor, while the sugar adds just the right amount of sweetness to balance the cranberries. And would you believe that everything comes together in one pot with just five ingredients? Plus, it takes less than half an hour to make!
Here's what I'm going to teach you in this post:
How to make the best homemade cranberry sauce with orange zest
How to substitute orange juice if necessary
How to make this cranberry sauce without a cinnamon stick
How to cook with frozen or fresh cranberries
What to serve with your cranberry orange sauce recipe
How to store cranberry sauce in the refrigerator or freezer
This cranberry sauce recipe adds so much flavor to your holiday meals, and no one will ever believe how easy it is to make! After one taste, you'll never want to go back to the canned stuff again.
How To Make This Cranberry Orange Sauce
STEP ONE: In a saucepan over medium heat, combine the cranberries, orange zest and juice, sugar (to taste), and ground cinnamon. I love using fresh whole cranberries, but I've used frozen cranberries as well.
STEP TWO: Stir, add a cinnamon stick (if using), and simmer for 15 to 20 minutes, or until the cranberries burst and the sauce thickens.
STEP THREE: Remove from heat, discard the cinnamon stick, and allow the sauce to cool to room temperature.
STEP FOUR: Serve or refrigerate until you're ready to enjoy!
Can I Make Cranberry Sauce With Orange Juice Instead?
In a pinch and wondering if you can use some orange juice instead of zesting and juicing a fresh orange? The answer is yes… BUT, the sauce won't be quite as bright and flavorful. I really suggest buying the fresh orange and using that rind for maximum flavor!
I actually tried this recipe with orange juice so I could compare the results. It was still tasty, but just not quite as vibrant. I find that using a freshly-squeezed orange creates a brighter-tasting cranberry sauce, and the zest REALLY takes it to the next level.
If you do need to use orange juice, look for one without any fillers. You want the sole ingredient to be orange juice, like Tropicana's 100% Orange Juice. This will give you the freshest taste.
How to Make Cranberry Sauce with No Cinnamon Stick
The main reason I love this recipe is because it tastes great with or without a cinnamon stick.
If you don't have one on hand or can't find one at the store, just skip it and make it as usual!
I do love the extra cinnamon flavor the cinnamon stick brings, but it tastes just as great without it too.
Can I Use Frozen Cranberries Instead Of Fresh?
You bet! This recipe can be made with fresh or frozen whole cranberries.
Just keep in mind that if you use frozen cranberries, the sauce may take a little longer. You want to keep cooking it until all the cranberries burst and the sauce is nice and thick.
Can I Make This Recipe Ahead of Time?
Yes! Making a full Thanksgiving or Christmas dinner can get overwhelming so I am always looking for dishes that can be made ahead of time.
This cranberry orange sauce stays fresh in the fridge for up to 3 days!
Should I Serve This Sauce Warm or Cold?
That's what I love about this homemade cranberry sauce recipe. It can be served warm or cold based on your preference.
If you've made the cranberry sauce ahead of time, just place it in a microwaveable bowl and heat it up for about 1 to 2 minutes, stirring to make sure it's warmed all the way through.
If you love it cold, just throw it in the fridge the night before you want to eat it and you're good to go!
What Can I Serve With Homemade Cranberry Sauce?
What CAN'T you serve with cranberry sauce? Honestly, I would eat it as soup. For the holidays, here are some of the most common pairings: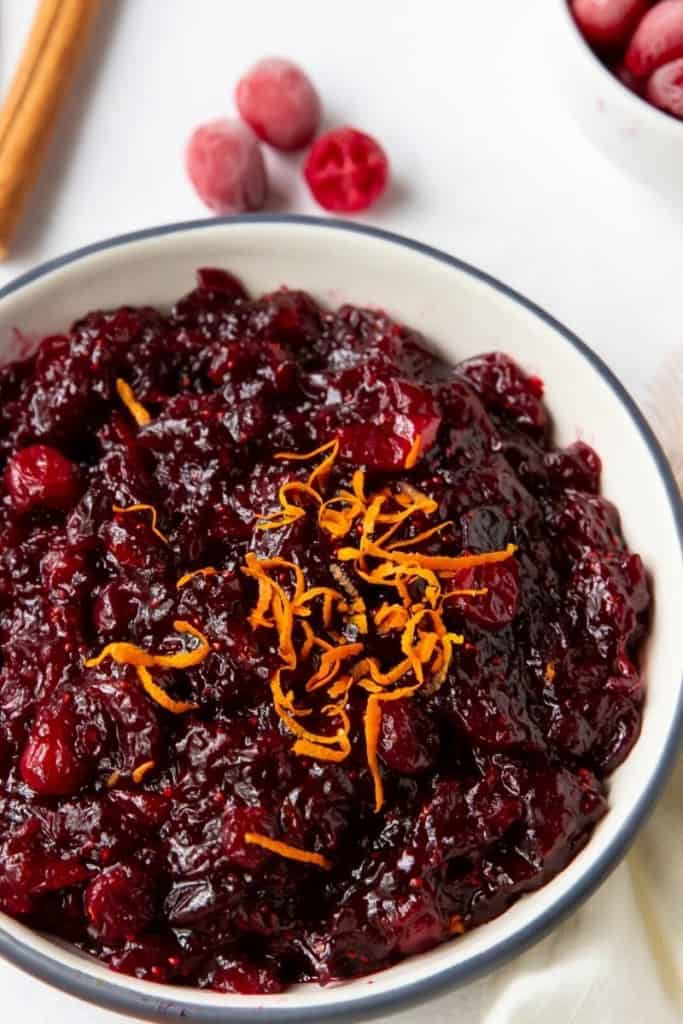 How Do You Get The Bitterness Out of Cranberry Sauce?
Fresh whole cranberries can get a bit bitter or tart depending on how ripe they are. If the cranberry sauce tastes a little bitter, you can add a tablespoon of maple syrup or honey into the sauce to sweeten it up.
You can also add a pinch of salt to the sauce to help enhance the sweet flavor.
How Do You Store Cranberry Sauce?
First, make sure the sauce has fully cooled. After that, simply transfer to an airtight container or heavy-duty sealable plastic bag. Properly stored, your cranberry orange sauce recipe will keep in the refrigerator for up to two weeks.
Ways to Use Leftover Cranberry Sauce
Leftovers of this recipe go well with so many other recipes after the holiday. I make double the recipe just so I can have leftovers and use them in new recipes. Here are just a few options:
Can I Freeze The Fresh Cranberry Sauce After It's Made?
No, I do not recommend freezing cooked cranberry sauce. It starts to get a watery consistency that just doesn't taste or look good. I recommend freezing the fresh cranberries until you're ready to make the full recipe.
Other Recipes To Make For The Holidays: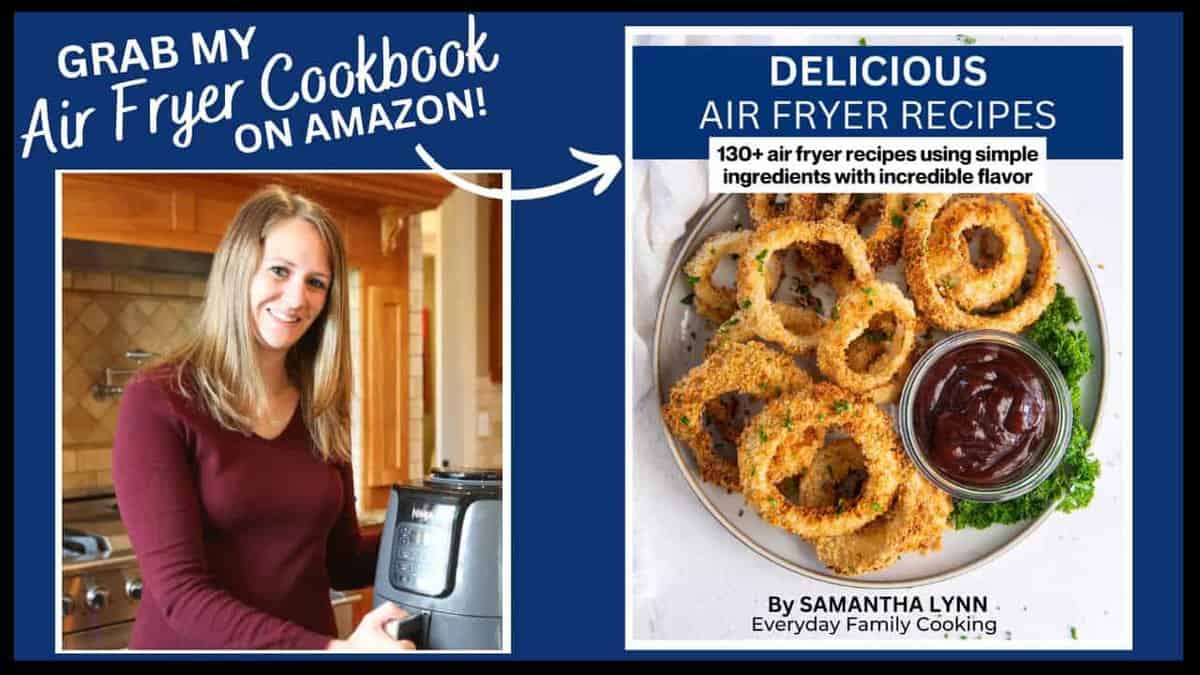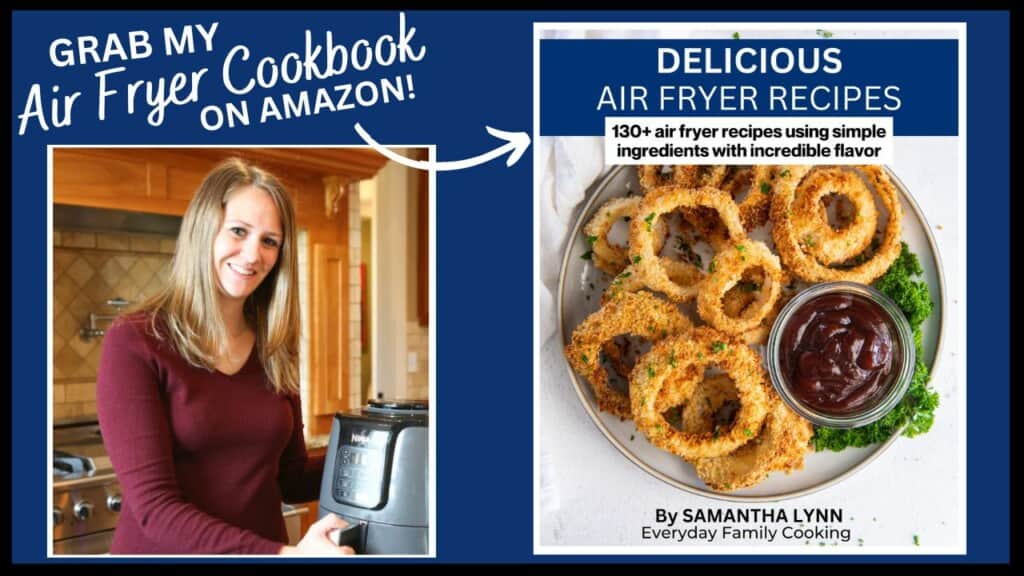 Yield: 6 servings
Cranberry Orange Sauce
A delicious one-pot cranberry orange sauce, you'll never go back to the canned stuff again! So simple to make and perfect for holiday meals.
Additional Time
6 minutes
Ingredients
12 ounces cranberries (fresh or frozen)
1 large orange, zest and juiced (4-5 tablespoons of juice)
1/2-1 cup sugar
1/2 teaspoon ground cinnamon
Optional
Instructions
Place cranberries, orange zest and juice, sugar (to taste), and ground cinnamon in a saucepan set over medium heat.
Stir, add a cinnamon stick (if using), and simmer 15-20 minutes, or until the cranberries burst and the sauce thickens.
Remove from heat, remove and discard the cinnamon stick, and allow to cool to room temperature. Serve or refrigerate until ready to serve.
Nutrition Information:
Yield:
6
Serving Size:
1
Amount Per Serving:
Calories:

93
Total Fat:

0g
Saturated Fat:

0g
Trans Fat:

0g
Unsaturated Fat:

0g
Cholesterol:

0mg
Sodium:

1mg
Carbohydrates:

24g
Fiber:

2g
Sugar:

19g
Protein:

0g
This nutrition information is based on the exact products I used in this recipe. Brands and sizes of products could alter exact nutrition and should always be calculated independently.