Whether you're looking for a low-carb substitute for potatoes or just want a colorful and fun side dish, air fryer radishes are easy to make and sure to satisfy!
Looking for a low-carb alternative to potatoes that still packs in all that savory, tender goodness?
Air fryer radishes are a crispy-on-the-outside, tender-on-the-inside substitute that mimics the texture of potatoes beautifully while delivering big on flavor!
By roasting the radishes in the air fryer, we remove a lot of that sharp, peppery taste associated with raw radishes.
Combined with the light seasonings, their milder flavor and soft texture are simply delightful. And they're ready in just 20 minutes!
Here's what I'm going to teach you in this post:
The quick and easy way to whip up air fryer radishes for a colorful and tasty side dish
How long to cook radishes in the air fryer
Whether radishes are healthier than potatoes
What to serve with air fryer roasted radishes
Ideas to play around with the seasonings and flavors of this recipe
Radishes' bright color make them a super fun side dish that will brighten up any holiday table.
But you can also whip them up any time you're craving potato wedges without all the carbs! This is the kind of easy and satisfying side you'll want to make all year round.
I made this recipe using the 5.7 QT Instant Pot Air Fryer. Its square basket makes it the perfect size for our family of 4.
How to Make Air Fryer Radishes
A full printable version of this recipe with ingredient measurements is available at the bottom of this post.
STEP ONE: Preheat the air fryer to 400 degrees F.
STEP TWO: In a medium bowl, toss the chopped radishes with olive oil and seasonings until the radishes are well-coated.
STEP THREE: Add the radishes to the air fryer in a single layer.
STEP FOUR: Cook for 8-10 minutes, shaking the basket at the halfway mark until the radishes are crispy on the outside and tender on the inside.
How Long Do You Cook Radishes in the Air Fryer
We want our radishes to crisp up on the outside and cook to fork-tender perfection on the inside, just like roasted potatoes.
Because of their smaller size, I find that 8-10 minutes in the air fryer is plenty of time. Just be sure your radishes are cut as evenly as possible so they'll cook at the same rate.
What Do Air Fried Radishes Taste Like?
Raw radishes are known for having a peppery kick, but cooking them at a high temperature really mellows out the flavor.
They become a little sweeter and actually taste very mild. I find the flavor very similar to roasted potatoes or even cauliflower.
I know some people are skeptical of radishes because their flavor is so sharp when raw.
But I promise, even if you hate raw radishes, you may find yourself loving air fried radishes!
Are Radishes Healthier Than Potatoes?
This all depends on your version of healthy!
Radishes happen to be much lower in carbs and calories than potatoes, so if you're eating a low-carb diet or watching your caloric intake, they can be a great option.
Radishes are also rich in vitamins and minerals such as vitamin C, vitamin K, Niacin, Magnesium, and Zinc.
This makes them a great addition to any diet regardless of whether you're watching your carbs.
If you've been looking for a fun way to incorporate them into your weekly menu that doesn't involve eating them raw, definitely give this recipe a try!
What to Serve with Air Fryer Radishes
Variations for this Recipe
Want to mix up your flavors? Feel free to get creative and play around with your seasonings for this recipe!
For example, I love making air fryer radishes with taco seasoning. Just add a tablespoon or so when you're mixing the chopped radishes with the oil and seasonings.
Because cooked radishes make a great potato substitute, you can really use any seasonings you would normally use in a potato recipe.
This is a great recipe for experimenting with different flavors!
Other Air Fryer Side Dish Recipes You'll Love:
Love air frying? Join our newsletter! You can also follow us on Facebook, Instagram, or join our free Facebook Air Frying Community.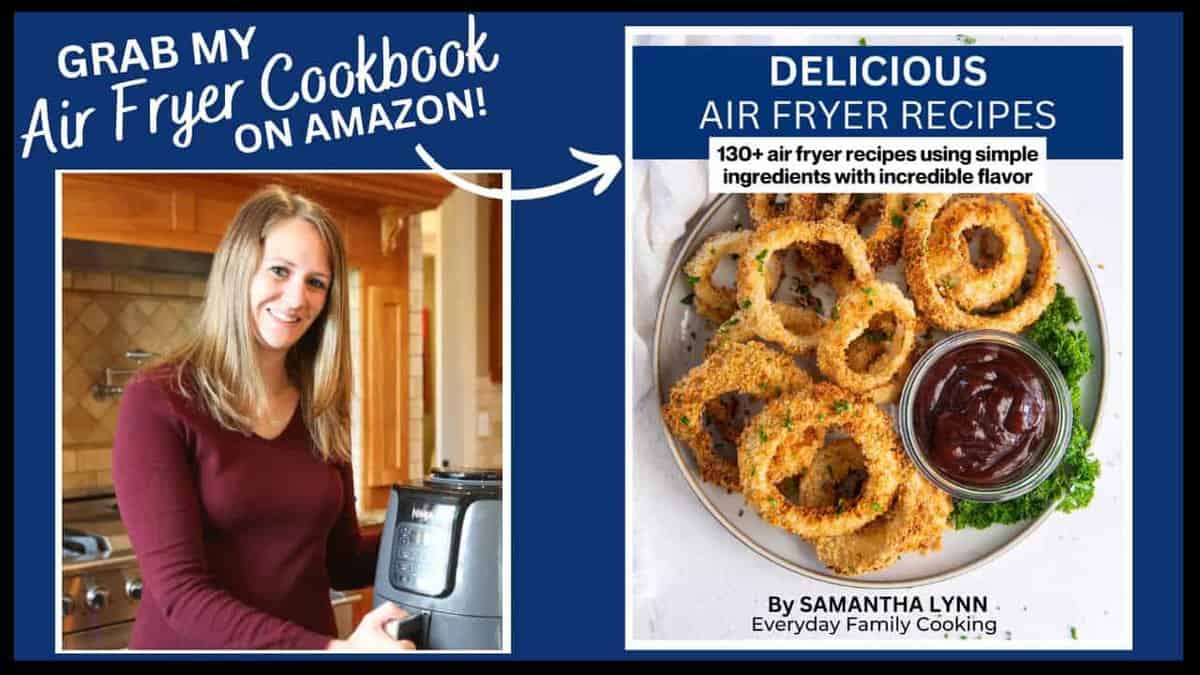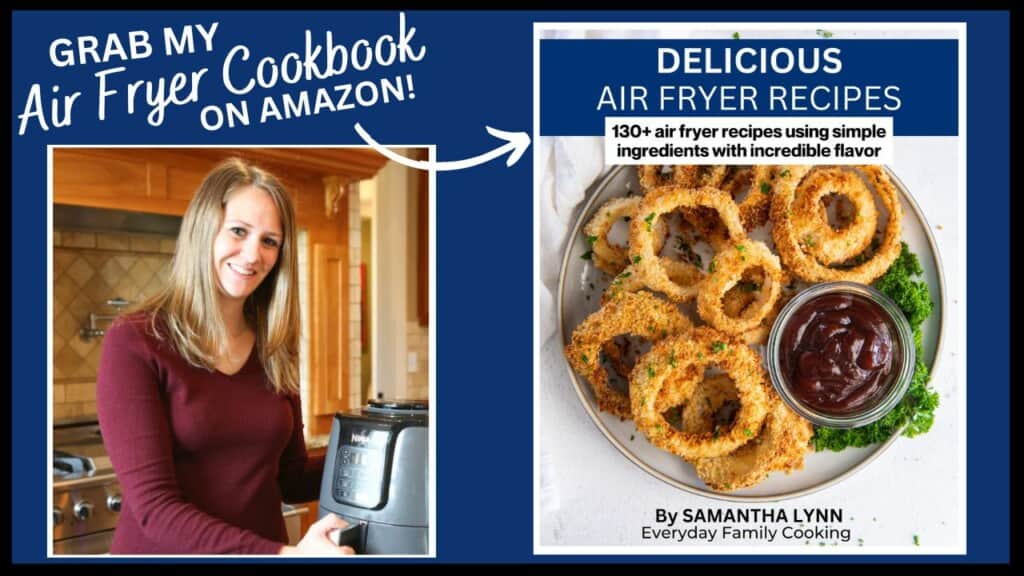 Yield: 4 servings
Air Fryer Radishes
Air fryer radishes are crispy on the outside, tender on the inside, perfectly seasoned, and ready in just 20 minutes! They're a great low-carb option to replace traditional potatoes.
Ingredients
1 bunch radishes, washed, trimmed and quartered (about 12-15 radishes)
2 tablespoons olive oil
½ teaspoon garlic powder
½ teaspoon salt
¼ teaspoon black pepper
Fresh parsley for garnish (optional)
Instructions
Preheat air fryer to 400 F.
In a medium bowl, toss the chopped radishes with olive oil and seasonings until everything is uniformly mixed.
Add the radishes to the air fryer in a single layer and cook 8-10 minutes, shaking the basket at the halfway mark, or until tender on the inside.
Nutrition Information:
Yield:
4
Serving Size:
1
Amount Per Serving:
Calories:

62
Total Fat:

7g
Saturated Fat:

1g
Trans Fat:

0g
Unsaturated Fat:

6g
Cholesterol:

0mg
Sodium:

266mg
Carbohydrates:

0g
Fiber:

0g
Sugar:

0g
Protein:

0g
This nutrition information is based on the exact products I used in this recipe. Brands and sizes of products could alter exact nutrition and should always be calculated independently.