It's officially pumpkin season and I love all things Fall. You name it and I love it – pumpkin patches, hayrides, corn mazes, the list just goes on. That's why I had to make a seasonal dessert with these air fryer pumpkin pie twists.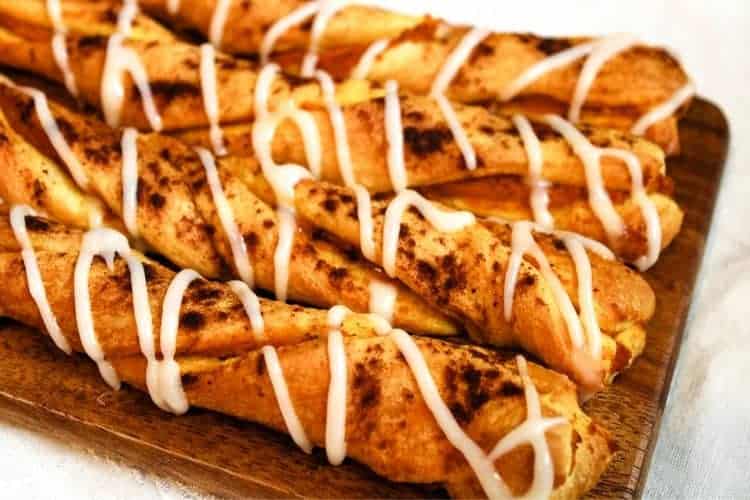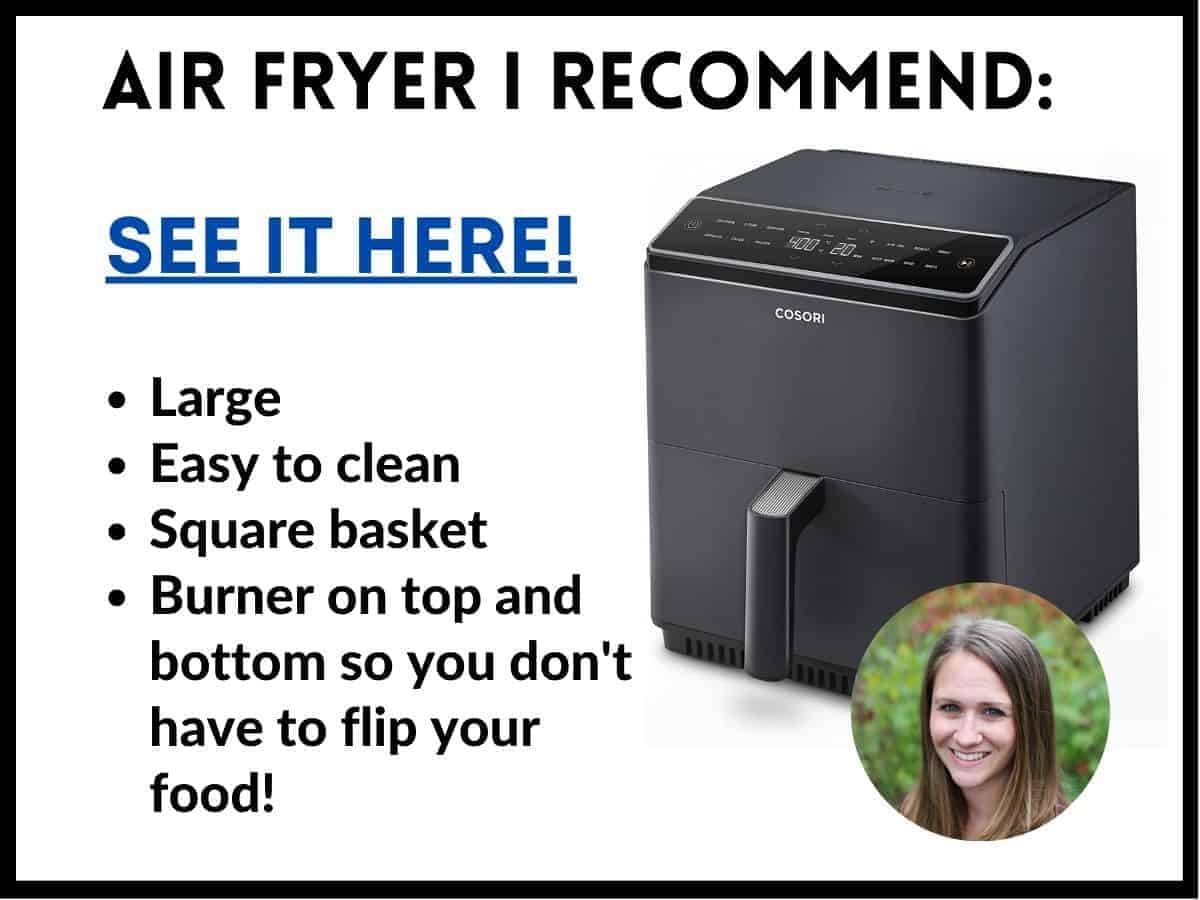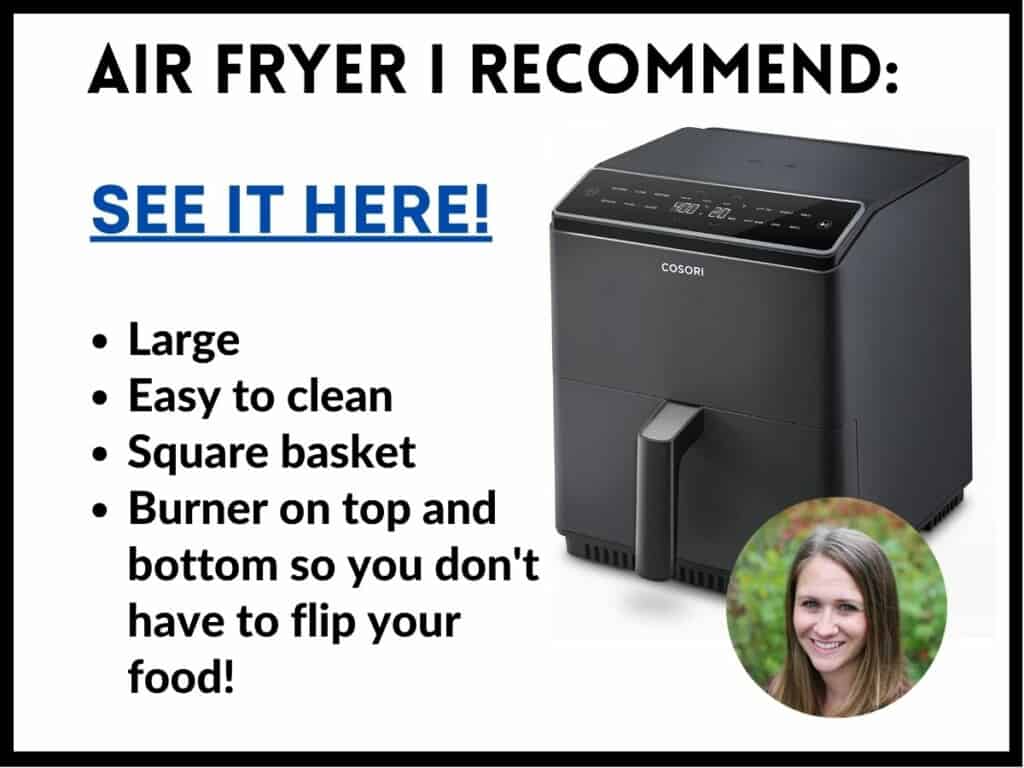 They're made with Pillsbury crescent rolls, making them so easy to make and are addicting to eat.
This air fryer dessert recipe makes a total of 8 twists and doesn't use a whole can of pumpkin puree, so feel free to double it if you're looking to share.
It's possible I ate 6 of them within a day of making them. Oh well!
We went to the pumpkin patch for a play date this week and got to pick out some baby pumpkins. It was Connor's first time at a pumpkin patch, and he loved it.
Seeing all those pumpkins inspired me to take out some pumpkin puree from the cupboards and make these Air Fryer Pumpkin Pie Twists.
While I used the pumpkin puree at the store, you can use fresh pumpkin as well. I just would never hear the end from my 3-year-old asking why I hurt her pumpkin. Oh, the lovely "why" phase.
How to Make Air Fryer Pumpkin Pie Twists
A full printable version of this recipe with ingredient measurements is available at the bottom of this post.
STEP ONE: Take one can of crescent roll dough out of the refrigerator and spread onto a clean counter or cutting board. You can use either the normal crescent rolls or the actual sheets without the perforation lines.
If using the perforated ones, gently press into the lines to make it all one big sheet. I always use crescent roll dough with the lines when testing recipes to make sure the recipe will work with either kind.
STEP TWO: Cut the dough into quarters, cutting halfway in the middle vertically and then horizontally. If you have a smaller air fryer, you may need to cut them a little smaller to fit inside flat.
To do this, cut each quarter in half again to make 8 pieces. They will be mini pumpkin twists, but still as delicious!
STEP THREE: Put your pumpkin puree into a small bowl, add half of the pumpkin pie spice along with the salt, and mix to combine. If using salted butter, omit the salt in this recipe. I only ever bake with unsalted butter so I know exactly how much salt is included.
STEP FOUR: Using the backside of a spoon or small spatula, take the pumpkin puree and evenly spread it on half of the crescent roll sheets. Leave the other half plain.
Place the other crescent roll sheets directly on top making sure the corners and side match up as well as possible.
STEP FIVE: Using a dough or pizza cutter, cut each of the pumpkin twist sheets into 4 lines, making a total of 8.
If you cut the dough into eighths, you will get 16 mini pumpkin pie twists. This will work better for smaller air fryers or circular ones.
STEP SIX: Gently pick up one end of the pumpkin pie strip and twist it one or two times. Then pick up the other end and twist it the same way one or two times until you get the twist you would like.
Continue with all pumpkin pie twists until they are all twisted.
Next, take your melted butter and baste it evenly on top of all the pumpkin pie twists. Then sprinkle the remaining pumpkin pie spice on top.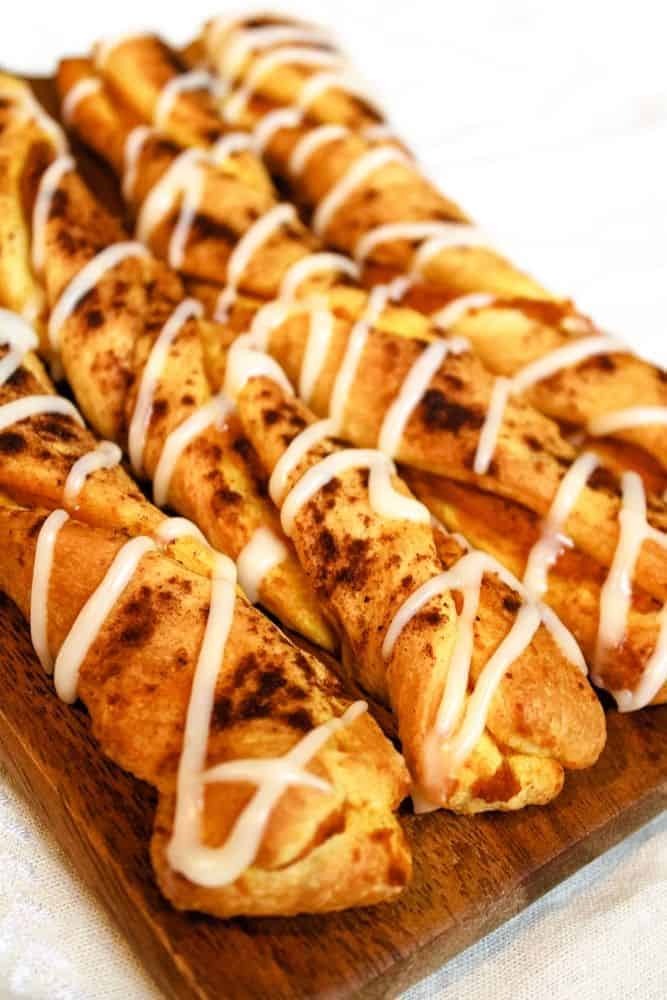 Cooking the Air Fryer Pumpkin Twists
Preheat your air fryer to 320 degrees for about 3 minutes.
Place the Air Fryer Pumpkin Pie Twists flat inside your air fryer, not touching. The crescent roll dough will expand slightly while it cooks.
Cook the pumpkin pie twists for about 6 minutes. There is no need to shake the basket or flip them halfway through.
Making the Icing
What brings this air fryer dessert over the top is a delicious icing drizzled on top. This simple icing recipe contains only 3 ingredients and takes less than 3 minutes to make.
Add the confectionery sugar, melted butter, and milk into a small bowl and mix with a whisk. And there you have it, your own icing!
Take the icing and place it into a small sandwich bag and close the top. You can also use piping bags, which are great for icing cookies and cakes.
For something this small, even I like to just use a quick sandwich bag because we always have them around the house.
Cut a tiny piece off one of the bottom corners of the bag for the icing to come out and drizzle it on top of each of the Air Fryer Pumpkin Pie Twists.
What Can I Use Instead of Crescent Rolls?
Since crescent rolls are not used worldwide, you can substitute puff pastry dough for them.
You may need to increase the temperature as high as 350 degrees while cooking depending on your air fryer.
Can I Make This Recipe Vegan?
The recipe as-is is completely vegetarian. To make it vegan, switch out the butter and use an olive oil or vegan butter instead. Original Pillsbury crescent rolls are already vegan.
When making the icing, use a non-dairy milk instead. I used whole milk, so if your milk consistency is thinner, you may need to use less than 1 ½ tablespoons, but if it's thicker, you may need to use more.
To make a vegan icing, I recommend using this Vegan Royal Icing recipe.

More Air Fryer Recipes Desserts
Love air frying? Join our newsletter! You can also follow us on Facebook, Instagram, or join our free Facebook Air Frying Community.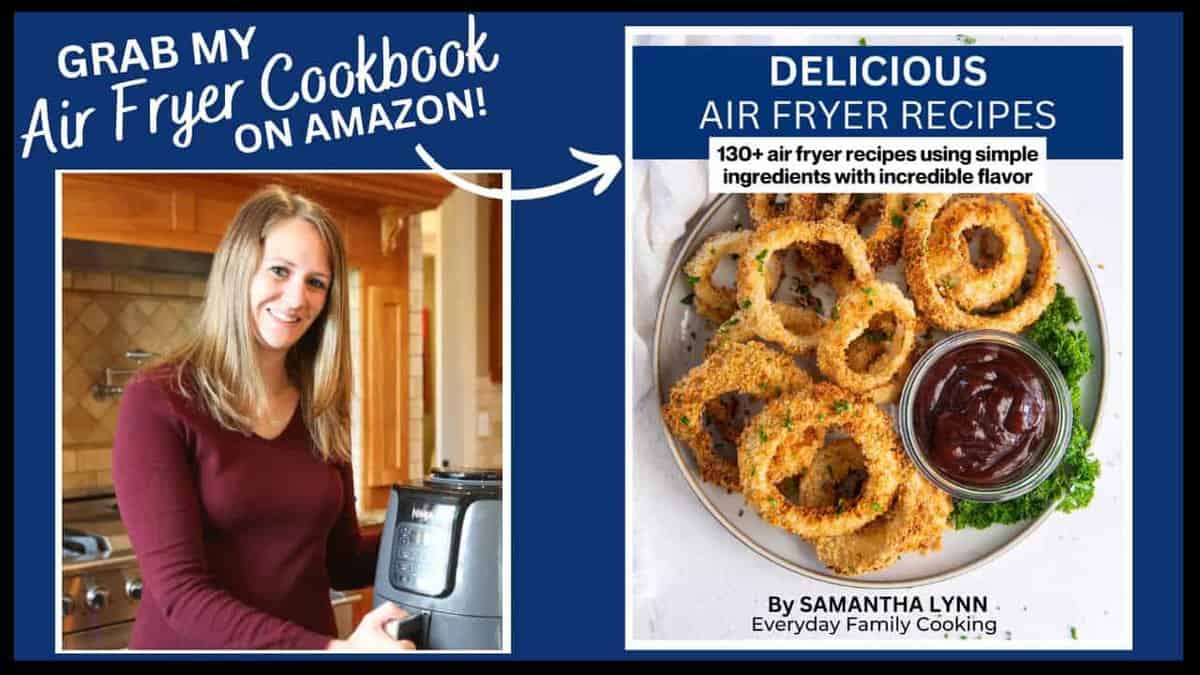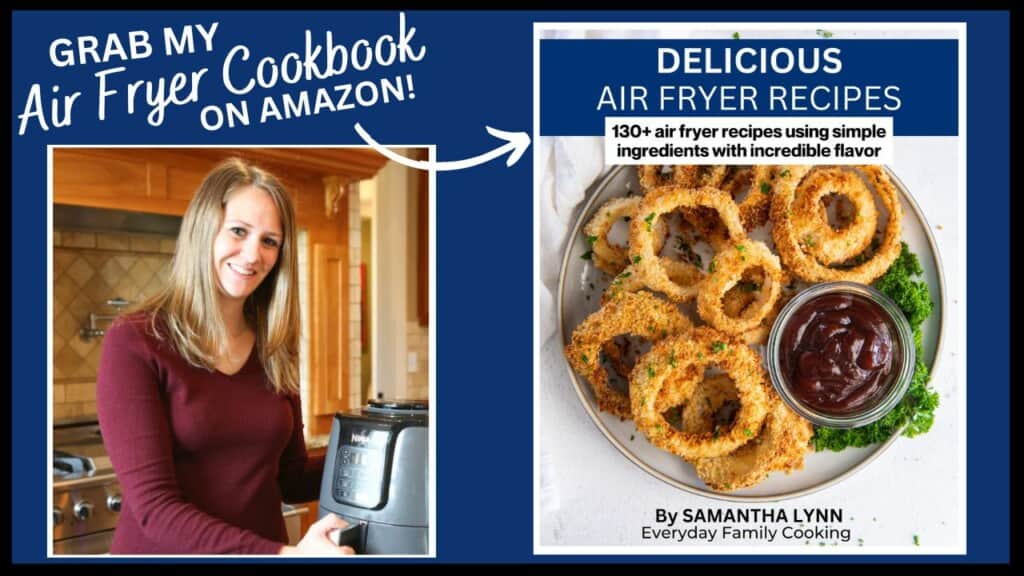 Yield: 8 servings
Air Fryer Pumpkin Pie Twists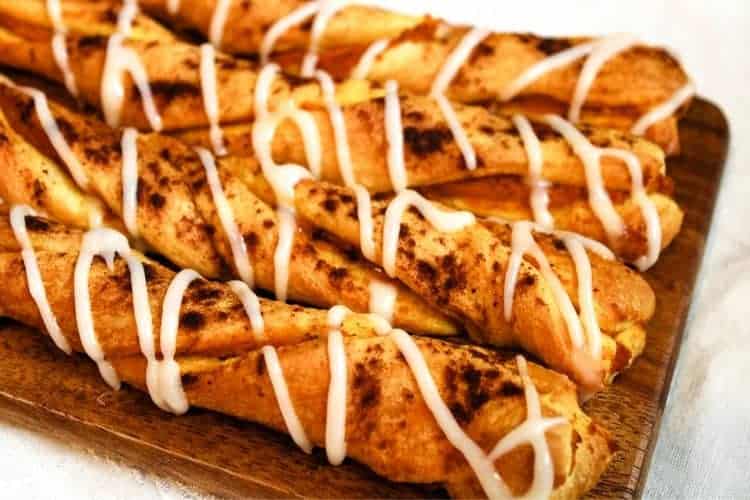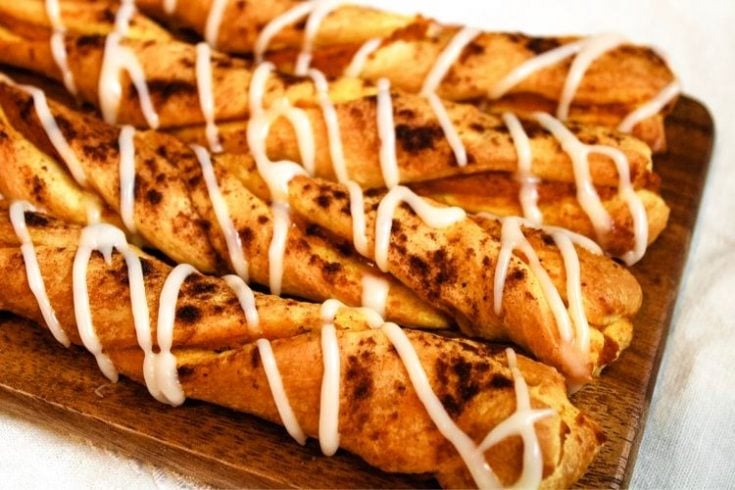 A delicious air fryer dessert made with pumpkin puree and Pillsbury crescent rolls.
Additional Time
2 minutes
Ingredients
1 can Pillsbury crescent rolls
1/2 cup pumpkin puree
2 teaspoons pumpkin pie spice
1/8 teaspoon salt
3 tablespoons unsalted butter, melted
Icing
1/2 cup confectionery sugar
2 tablespoons melted butter
2 and 1/4 teaspoons milk
Instructions
Roll out crescent roll dough and press down on any perforated lines.
Cut dough into quarters by making one cut length-wise and then again width-wise. Cut into eighths if needed for smaller air fryers.
Add pumpkin puree, half of the pumpkin pie spice, and salt, then mix to combine.
Spread the pumpkin puree on top of crescent roll dough.
Place the 2 of the crescent dough sheets on top of the other two, pumpkin side down. Make sure the corners and sides match up as well as possible.
Using a dough or pizza cutter, cut each pumpkin twist sheet into 4 long strips, making a total of 8.
Preheat air fryer to 320 degrees for 2-3 minutes.
Twist each strip 1-2 times on the bottom and 1-2 times on the top.
Baste melted butter on top of the pumpkin pie twists and sprinkle with remaining pumpkin pie spice.
Place the pumpkin twists into the air fryer evenly in one layer and not touching. Cook for 6 minutes.
Meanwhile, make the icing by whisking the confectionery sugar, melted butter, and milk in a bowl.
Remove Air Fryer Pumpkin Pie Twists from the air fryer and drizzle with icing.
Enjoy immediately or store in a refrigerator for up to 3 days.
Nutrition Information:
Yield:
8
Serving Size:
1
Amount Per Serving:
Calories:

219
Total Fat:

13g
Saturated Fat:

7g
Trans Fat:

0g
Unsaturated Fat:

4g
Cholesterol:

36mg
Sodium:

172mg
Carbohydrates:

25g
Fiber:

1g
Sugar:

16g
Protein:

2g
This nutrition information is based on the exact products I used in this recipe. Brands and sizes of products could alter exact nutrition and should always be calculated independently.