This post may contain affiliate links. If you click on a link and make a purchase, I may receive a small commission at no extra cost to you. For more information, please read my disclaimer here.
Air Fryer Chicken Wings with Buffalo Sauce are a favorite keto recipe in our house. My husband is from Buffalo where buffalo sauce was made, so his expectations of chicken wings are high.
Join our FREE Air Fryer Facebook Community to gain access to exclusive recipes, tips, and content!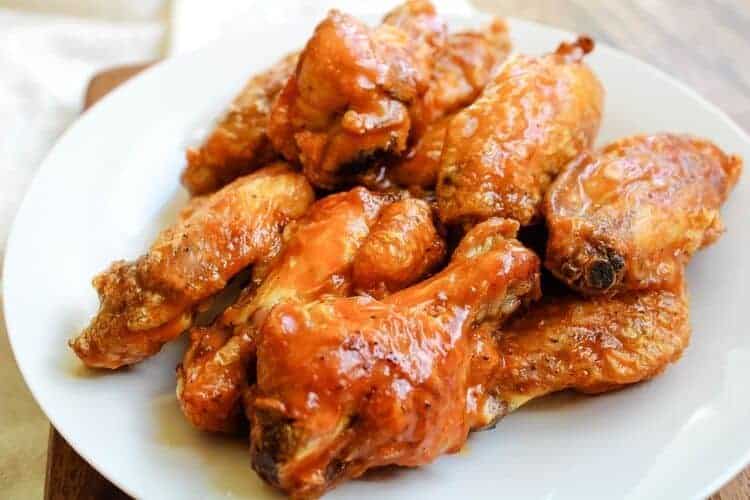 I remember the first time I wanted to make them in our Cosori Air Fryer, and he rolled his eyes. Nothing was as good as chicken wings in Buffalo.
I absolutely love our Cosori Air Fryer. It has a square basket that allows for more cooking space and creates extra crispy food, like this recipe.
We now make them all the time for sports games, appetizers, and just some good snacking side food. They're amazing to make in a Nuwave, Cosori, and even the Power Air Fryer Oven.
I think the favorite part of this Air Fryer Chicken Wings with Buffalo Sauce recipe is how easy it is to make. It even includes a homemade buffalo sauce that's a make-ahead recipe.
The spicy wing sauce can stay inside the fridge for up to a month, but you will probably go through it much quicker than that.
It doesn't hurt that these chicken wings are MUCH healthier than deep-fried ones. They contain absolutely no oil but still get the crispy flavor you know and love.
Love chicken wings? Try out this delicious list of 35 air fryer chicken wings recipes here!
How to Make Air Fryer Chicken Wings That Are Keto
I love buying chicken wings that are already trimmed and ready to go. Usually, I won't spend extra money on this, but when I want wings, I usually think about them last minute.
STEP ONE: If you buy the whole chicken wings, separate the wings at the joints, creating a flat and a drumette, and discard the tips.
STEP TWO: Pat the chicken wings dry. It's important they are as dry as possible to allow them to crisp up more. And that's my favorite part about making chicken wings in an air fryer.
STEP THREE: Preheat the air fryer to 380 degrees for about 4 minutes. This allows for more even cooking so the entire chicken wing is crispy.
STEP FOUR: Season the Air Fryer Chicken Wings with a generous amount of salt and some pepper. The salt will help bring out lots of flavor.
STEP FIVE: Place the chicken wings in the air fryer and cook on 380 degrees for 20-22 minutes, shaking the basket halfway through.
You can use aluminum foil in the basket if you would like, but you will get a crispier result without any. Air fryers are designed to circulate the air 360 degrees and aluminum foil restricts the air from moving below the basket.
STEP SIX: Shake the basket, then increase the temperature to 400 degrees. Continue to cook the Keto Air Fryer Chicken Wings for another 4-5 minutes.
Increasing the temperature gets the chicken wings nice and crispy on the outside and cooked tender on the inside.
STEP SEVEN: Toss them in this homemade make-ahead Buffalo Sauce or other wing sauce of preference and enjoy with some blue cheese!
Can You Stack Wings in an Air Fryer?
Yes, you can stack wings in your air fryer, but just slightly. You can let the chicken wings touch, but do not officially stack them on top of each other or they won't cook evenly
If slightly stacking your wings, add an extra minute or two into the initial cooking time. It's also crucial to give it a good shake halfway through.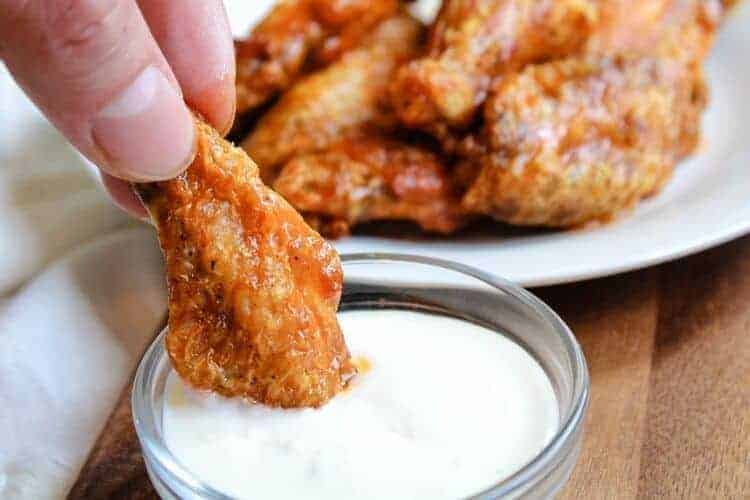 How Long Does it Take to Cook Wings in an Air Fryer?
These air fryer chicken wings with buffalo sauce have an approximate 25 minute cook time in the air fryer. This includes the initial cooking and the increase in temperature to crisp them up.
This does not account for the time to trim any chicken wings if needed.
Can I Eat air fryer Chicken Wings with buffalo sauce on a Keto Diet?
Yes, and they are delicious! This healthy low-carb recipe is specifically designed for the keto diet. There is no breading and the homemade buffalo sauce contains 0 carbs made as is.
The chicken wings contain only 1 gram of carbs per servings, which means you can eat them up on a low-carb diet!
The chicken wings and hot wing sauce are also completely gluten-free as well!

Other Air Fryer Recipes You'll Love:
Yield: 4 servings
Air Fryer Chicken Wings with Buffalo Sauce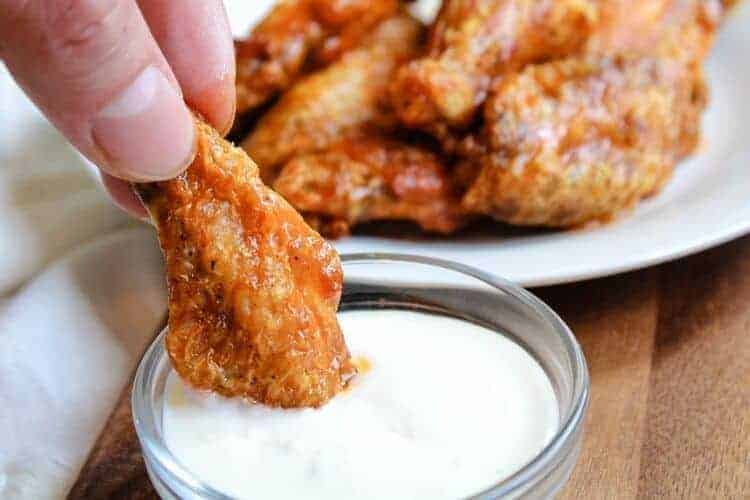 Crispy chicken wings are coated with homemade buffalo sauce to create a delicious spicy game day snack.
Ingredients
1 pound chicken drumettes and flats
salt and pepper to taste
Instructions
Preheat air fryer to 380 degrees.
Trim or separate wings at the joint if needed, creating a flat and drumette per chicken wing. Discard the tips.
Pat chicken wings dry -- you will want them as dry as possible to help crisp them up.
Coat chicken wings with a generous amount of salt and a little pepper.
Cook wings at 380 degrees until cooked through, about 20-22 minutes shaking the basket or flipping wings halfway through.
Increase air fryer temperature to 400 degrees and cook until chicken wings get a nice crispy outside, about 4-5 minutes.
Coat with homemade buffalo sauce or other desired sauce.
Enjoy immediately.
Notes
How to reheat chicken wings in the air fryer*:
1. Preheat air fryer to 350 degrees.
2. Cook chicken wings for 5-6 minutes until heated thoroughly.
3. Remove from the air fryer and enjoy!
*They will heat up better without sauce on them as different sauces will cook differently.
Nutrition Information:
Yield:
4
Serving Size:
1
Amount Per Serving:
Calories:

315
Total Fat:

20g
Saturated Fat:

7g
Trans Fat:

0g
Unsaturated Fat:

12g
Cholesterol:

124mg
Sodium:

340mg
Carbohydrates:

1g
Fiber:

0g
Sugar:

0g
Protein:

30g
This nutrition information is based on the exact products I used in this recipe. Brands and sizes of products could alter exact nutrition and should always be calculated independently.