This post may contain affiliate links. If you click on a link and make a purchase, I may receive a small commission at no extra cost to you. For more information, please read my disclaimer here.
It may be getting colder out and our grill is covered for the winter, but that won't stop me from getting my barbecue flavor. I put together this Air Fried Chicken Drumsticks with BBQ recipe for that very reason.
I used to think you could only get barbecued foods in the summer. Now, I'm getting them year-round.
While this won't taste like a charcoal grill because, well there's no charcoal involved, you will get that nice grill flavor from the gas grill.
I cooked this recipe using my Cosori Air Fryer. I love the basket-style air fryers and this square basket gives me a little extra room to cook more chicken legs at once.
You can read more about my personal review on the Cosori Air Fryer here.
I find the circle air fryers are a little more tough to place bigger foods into. It's like trying to play Tetris.
Also, if you're an air fryer newbie, you'll be happy to know chicken is an easy food to make in the air fryer.
Recipes like an Air Fryer Chicken Breast involve basically no ingredients and yet taste so delicious when air fried.
I love to pair this recipe with a baked potato and some baked beans. If you have a second air fryer or extra time, you can pair this with some Air Fryer Roasted Carrots or Air Fried Asparagus.
This recipe is made with skinless chicken drumsticks, but you can also use chicken legs (with the thighs attached).
To make with chicken thighs, just double the amount of oil mixture if cooking the same amount of chicken legs as drumsticks as stated.
You will also need to increase the cooking time of this recipe as chicken legs are bigger than just the drumstick part.
How to Make Air Fried Chicken Drumsticks with BBQ
Preheat your air fryer to 400 degrees.
Take your skinless chicken drumsticks best as possible and set aside. This allows the oil mixture to stick to the chicken better.
Mix together the olive oil, garlic powder, paprika, onion powder, salt and pepper, and cayenne pepper (if using) in a bowl.
Coat the chicken drumsticks with the oil mixture and massage into the drumsticks for a few minutes. This helps the flavor really get into the chicken instead of just staying on the skins and falling off in the air fryer.
Add the chicken drumsticks into the air fryer in one single layer and cook for 15 minutes. It's important the chicken doesn't touch and is not layered so it will cook evenly.
If your air fryer does not allow for enough room, you will need to cook in batches.
This is why I say a bigger air fryer is usually better to go with. You can say that to my first little Bella Air Fryer sitting in the basement.
Flip chicken and cook for 5 more minutes.
Check the internal temperature of the air fried chicken drumsticks.
If it's at 165 degrees or almost at that temperature, baste the chicken with your BBQ sauce, flip the chicken and baste the other side.
Cook for an additional 2-3 minutes or until the chicken reaches the internal temperature above.
Remove from air fryer and baste with more BBQ if desired. Enjoy!
How Do I Preheat My Air Fryer?
Preheating your air fryer is super simple. Simply turn your air fryer to the required temperature of the recipe you're making and let it run empty for 3-5 minutes.
Do not place foil or parchment paper in the air fryer without any food to weigh it down. It will fly up and hit the fan causing it to burn and possibly catch fire.
For this Air Fried Chicken Drumsticks with BBQ recipe, turn your air fryer to 400 degrees and let it preheat, or run empty, for about 5 minutes.
How Long Do You Cook Drumsticks in the Air Fryer?
I find that cooking chicken drumsticks in the air fryer take approximately 20 minutes to cook.
Once almost cooked thoroughly, you can add your favorite BBQ sauce on top and cook until the internal temperature reaches 165 degrees.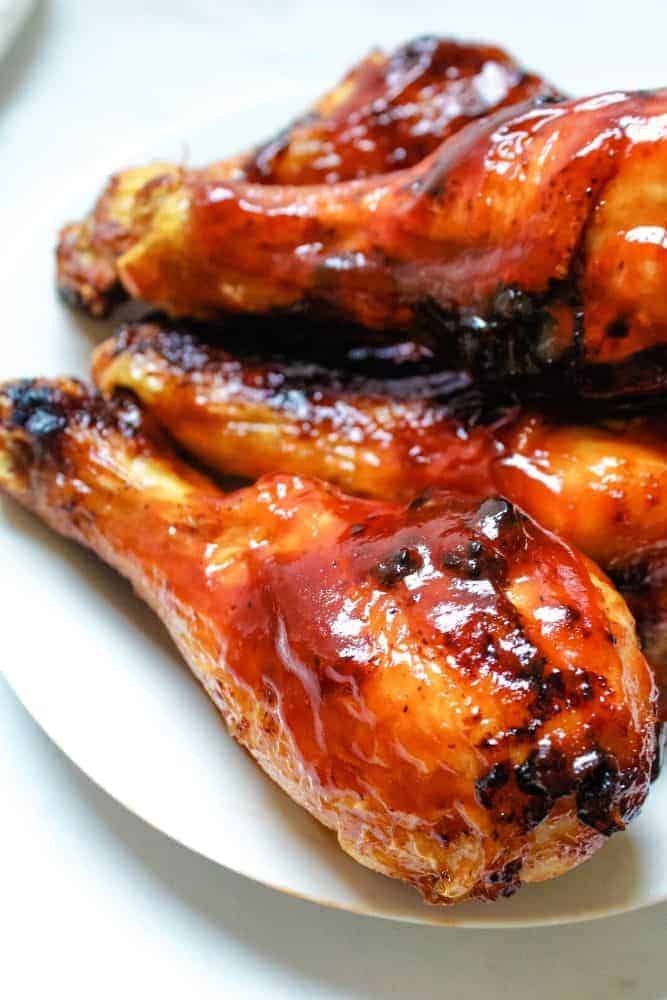 How Do I Reheat Air Fryer Chicken Drumsticks?
Preheat your air fryer to 350 degrees and cook until warmed thoroughly about 5-8 minutes.
It's important to keep an eye on your food when reheating it. If you notice your chicken turning brown on the outside, drop the temperature 20 degrees and let it cook longer at the lower temperature.
This allows the chicken to cook from the inside out without burning the outside.
Baste with a little more BBQ sauce then enjoy!
Yield: 5 servings
Air Fryer BBQ Drumsticks
Crispy air fried chicken is basted with BBQ sauce to create a flavorful chicken meal.
Ingredients
5-6 chicken drumsticks
1/8 cup extra virgin olive oil
1/2 teaspoon garlic powder
1/4 teaspoon paprika
1/4 teaspoon onion powder
1/4 teaspoon salt
1/8 teaspoon pepper
1/2 cup BBQ sauce (I prefer Sweet Baby Ray's)
Optional
pinch of cayenne pepper to add spice
Instructions
Preheat air fryer to 400 degrees.
Pat dry chicken drumsticks.
Mix together olive oil, garlic powder, onion powder, salt and pepper, and cayenne pepper (if using).
Coat chicken drumsticks with oil mixture and massage into the drumsticks for a few minutes to help keep the flavor in.
Add chicken drumsticks to air fryer in one single layer and cook for 15 minutes.
Flip chicken and cook for another 5 minutes.
Baste chicken with BBQ sauce, flip, then baste other side of chicken with BBQ sauce.
Cook until chicken has an internal temperature of 165 degrees, about 3-5 more minutes.
Remove from air fryer, baste additional BBQ sauce if desired and enjoy!
Nutrition Information:
Yield:
5
Serving Size:
1
Amount Per Serving:
Calories:

297
Total Fat:

15g
Saturated Fat:

3g
Trans Fat:

0g
Unsaturated Fat:

10g
Cholesterol:

139mg
Sodium:

503mg
Carbohydrates:

12g
Net Carbohydrates:

0g
Fiber:

0g
Sugar:

9g
Sugar Alcohols:

0g
Protein:

27g
This nutrition information is based on the exact products I used in this recipe. Brands and sizes of products could alter exact nutrition and should always be calculated independently.