An easy Bisquick Coffee cake recipe made with sour cream and cinnamon swirl for extraordinary flavor.
If you're looking for the best Bisquick coffee cake recipe, you've found it. This coffee cake recipe is filled with a cinnamon streusel and is freezer-friendly.
It's made in a 13×9 pan making it large enough to feed family and friends and includes a double streusel, so the cinnamon swirl flavor is not only on top of the cake but also on the inside!
This recipe ups the flavor and texture from the old original Bisquick recipe that used to be on the box and for good reason.
I've included sour cream in this recipe to help keep the coffee cake moist so you can enjoy it alongside your coffee, tea, or even hot cocoa balls.
In this post I will show you:
How to make the best Bisquick coffee cake you've ever had
What kinds of add-ins you can put into this coffee cake
Tips for measuring the Bisquick so this cinnamon coffee cake comes out perfect every time
How to store it
Does a Coffee Cake have Coffee in It?
You might think by the name that coffee cake must have coffee in it. But it doesn't! The term coffee cake comes from the idea that it is typically served with coffee.
This cake differs from your normal birthday cake as it replaces frosting with a streusel.
AKA giving you an excuse to enjoy cake for breakfast.
How to Make Bisquick Coffee Cake
A full printable version of this recipe with ingredient measurements is available at the bottom of this post.
STEP ONE: Preheat your oven to 325 degrees F.
STEP TWO: In a large bowl, mix the sour cream, Bisquick, unsalted butter, eggs, sugar, and cinnamon with a wooden spoon.
STEP THREE: Pour the cake mixture into a greased 13×9 pan.
STEP FOUR: In a medium bowl, mix the brown sugar, all-purpose flour, butter, and cinnamon. It's very important the butter is just softened and not melted to get that perfect crumbly consistency.
STEP FIVE: Pour half of the topping mixture over the cake and use a knife to swirl the mixture around in a zigzag pattern until you reach the bottom of the cake.
This will help create a marbling effect inside the cake.
STEP SIX: Add the remaining of the topping mixture over the cake in an even layer.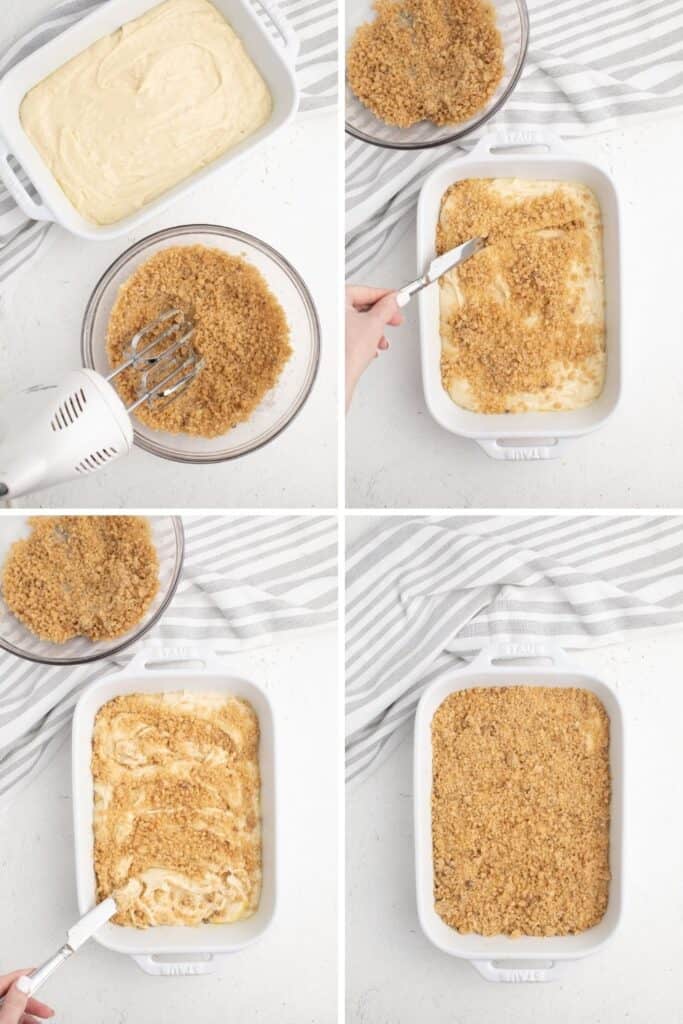 STEP SEVEN: Bake the Bisquick cinnamon coffee cake in the preheated oven for 1 hour. Use a toothpick to check the center. It's done baking when the toothpick comes out clean!
If additional time is needed, bake the cake in 5-minute intervals until done.
STEP EIGHT: Remove the cake from the oven and allow it to cool 10 minutes before slicing and serving.
Can I Add Anything Else to This Bisquick Coffee Cake Recipe?
Yes! This recipe works great when adding in everything from fruit to nuts and chocolate! Here are a few ideas!
Diced strawberries
Blueberries
Chopped Almonds
Chopped Walnuts
Chopped dark chocolate chunks
Small apple chunks
Chopped cherries
Diced Peaches
Pro-tip: when adding in fruit, toss the fruit in just enough flour to coat it. This keeps the juices inside the fruit to make sure they don't interfere with the baking process.
Are Crumb Cake and Coffee Cake the Same?
Although they are similar, crumb cakes and coffee cakes are not the same.
Here are a few differences:
Crumb cakes have a thicker crumb topping while coffee cakes have a thin streusel topping
The crumb topping on crumb cakes are large and include more of a crunchy texture while coffee cake's topping is softer
If you tried to pick up the cinnamon streusel on coffee cake, it would break into small pieces and is difficult to pick up while crumb cakes' topping is larger and can be eaten by hand if desired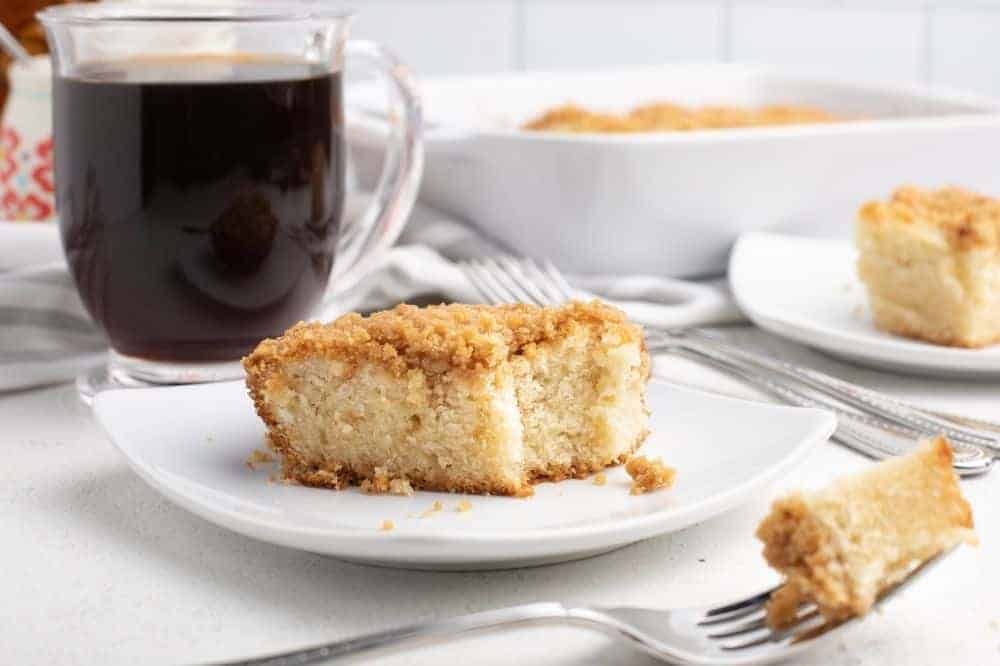 Are All Coffee Cakes Dry?
No! Coffee cakes should be moist, but there are two main reasons a coffee cake could end up dry:
The dry to wet ingredient ratio in the recipe is off. You will notice this recipe includes a lot of sour cream, butter, and eggs so it results in a nice tender moist cake.
You also may be measuring your dry ingredients incorrectly resulting in a dryer cake. See the tips below on how to measure the Bisquick and other dry ingredients.
The cake is overcooked. If your from-scratch coffee cakes tend to turn out dry, it's possible your oven cooks faster. Start checking your cake for doneness starting at 50 minutes and pull it as soon as it's done in the middle.
The Best Way to Measure Bisquick
If you're just simply dipping your measuring cup into the Bisquick or flour and measuring from there, you could be adding too much! This can result in a dry coffee cake.
Use this technique to correctly measure Bisquick and other dry ingredients.
Using a spoon, carefully scoop the Bisquick into the measuring cup to the top.
Take a knife and level off the Bisquick making sure not to pack down the mix.
How Do I Store Coffee Cake?
This is all a preference thing. You can either store it in the fridge if you like your Bisquick coffee cake cold, or you can cover it with plastic wrap and store it on the counter.
I prefer to store my coffee cake on the counter and then heat it in the microwave for about 10-15 seconds.
Counter: will stay fresh for about 3-5 days
Fridge: will last up to a week
Freezer: up to 3 months (see below)
Can I Freeze My Coffee Cake?
Yes! One reason I love making my Bisquick cinnamon coffee cake in a 13×9 pan is so I can eat half now and freeze half for later! It will store in the freezer for up to 3 months.
Once you're ready, take it out of the freezer and let it thaw overnight either on the counter or fridge.
Other Breakfast Recipes You'll Love: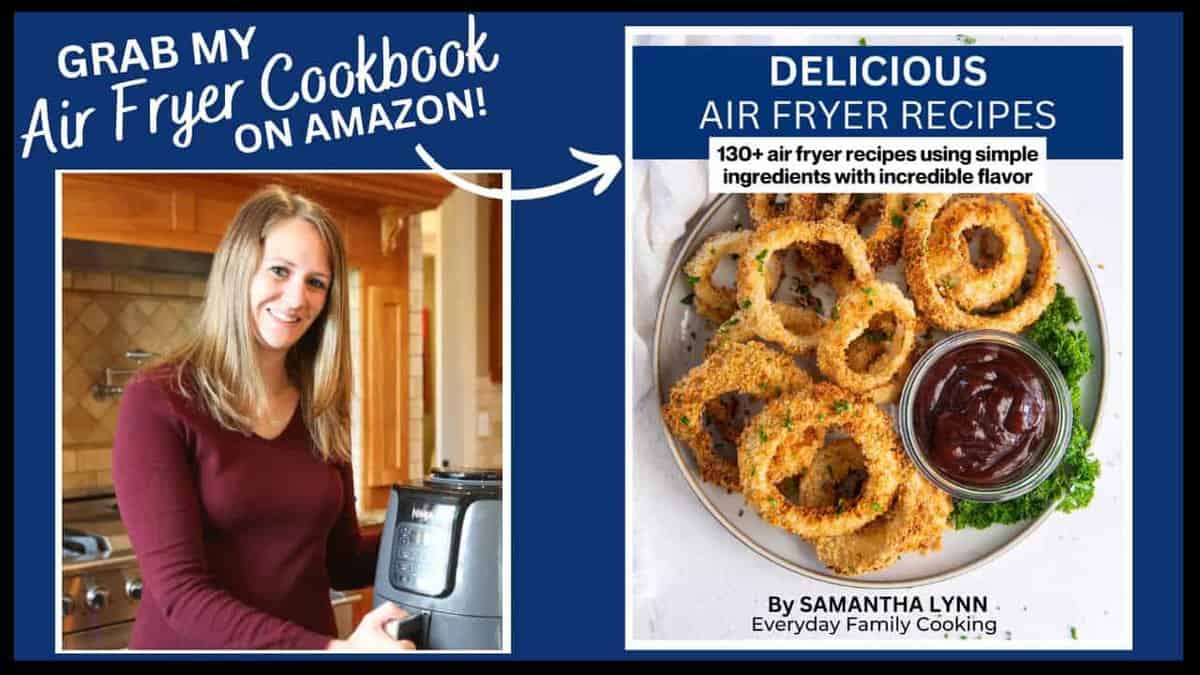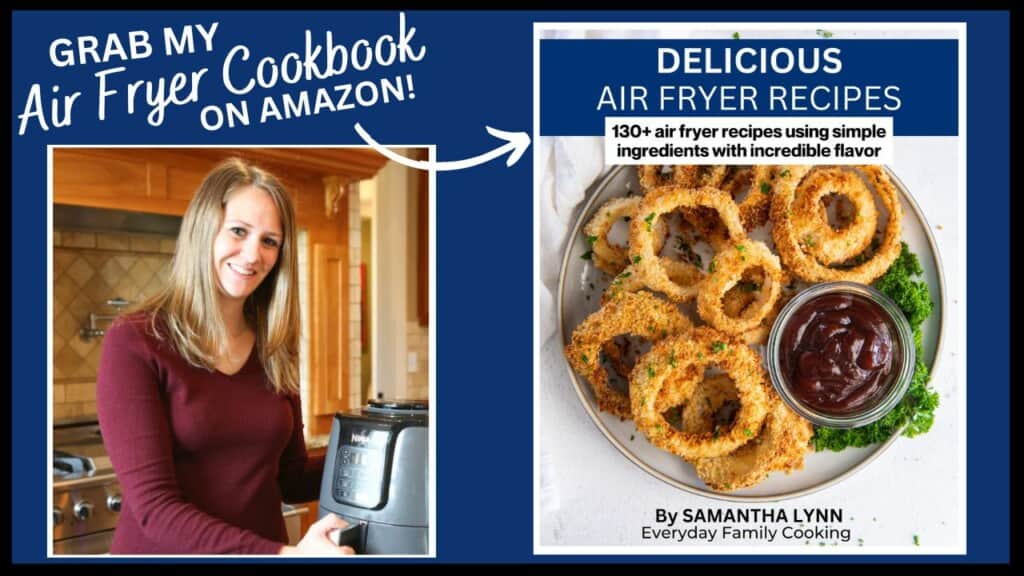 Yield: 16 servings
Bisquick Coffee Cake
An easy Bisquick Coffee Cake made withsour cream and cinnamon for a sweet breakfast treat.
Total Time
1 hour
10 minutes
Ingredients
1 cup sour cream
1 cup sugar
2/3 cup original Bisquick mix
2/3 cup unsalted butter, softened
2 eggs
1 teaspoon cinnamon
Streusel Topping
2/3 cup all-purpose flour
2/3 cup brown sugar, packed
4 tablespoon unsalted butter, softened
1/2 teaspoon cinnamon
Instructions
Preheat your oven to 325 degrees.
In a large bowl mix the sour cream, sugar, Bisquick mix, butter, eggs, and cinnamon. Pour the mixture into a greased 13x9 pan.
In a medium bowl, mix the flour, brown sugar, butter, and cinnamon with a hand mixer. It should have a crumbly consistency.
Pour half of the streusel over the cake mixture and using a knife, swirl the topping and cake mixture in a zigzag pattern to marble the cake.
Add the remainder of the streusel on evenly on top of the cake.
Bake the Bisquick Coffee Cake for about 60 minutes until a toothpick comes out clean in the middle. Cook in 5 minute increments if additional time is needed.
Remove the coffee cake from the oven and allow to cool for 10 minutes before slicing and serving.
Nutrition Information:
Yield:
16
Serving Size:
1
Amount Per Serving:
Calories:

250
Total Fat:

15g
Saturated Fat:

8g
Trans Fat:

0g
Unsaturated Fat:

5g
Cholesterol:

60mg
Sodium:

82mg
Carbohydrates:

28g
Fiber:

0g
Sugar:

21g
Protein:

2g
This nutrition information is based on the exact products I used in this recipe. Brands and sizes of products could alter exact nutrition and should always be calculated independently.