Air fryer shishito peppers are a unique and easy-to-make appetizer idea! Perfectly charred in the air fryer, they're crispy and served with a sauce made with mayo, lemon, garlic powder, and paprika.
It should come as no surprise that I love entertaining! It usually involves gathering friends and family around my table and serving them some of my favorite meals.
Spending time with the people I love and eating yummy food? There isn't much better than that.
Having people over means snacking on apps before digging into the main meal. These air fryer mushrooms are usually a hit, as are these Ninja Foodi chicken wings.
And I can't forget one of my all-time favorites, these air fryer fried pickles!
I've always been a fan of shishito peppers — they're mild and crunchy and oh so good with a mayo dipping sauce — and I had a feeling that they would taste great when made in the air fryer. I tried it out and I was right!
Air fryer shishito peppers have quickly become my new preferred appetizer, and once you try them I think you'll agree!
Here's what I'm going to teach you in this post:
How to make crispy shishito peppers in the air fryer, including the ingredients you'll need.
Instructions on how to whip up an easy and yummy sauce for shishito peppers.
Things to look out for when you cook your air fryer shishito peppers, including why it's normal to hear some funny noises as they roast.
Add this crispy shishito peppers air fryer recipe to your appetizer lineup! They're a major step up from your typical chips and dip. Plus, they only take 6 minutes to cook!
I made this recipe using the 5.8 QT Cosori Air Fryer. Its square basket makes it the perfect size for our family of 4.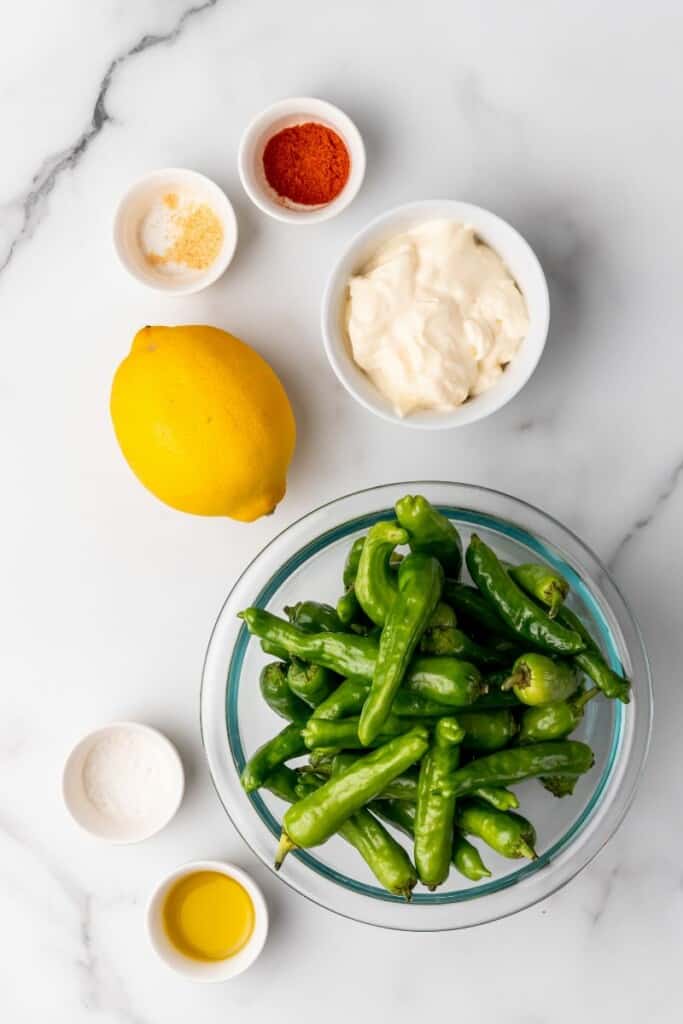 How to Make Air Fryer Shishito Peppers
A full printable version of this recipe with ingredient measurements is available at the bottom of this post.
STEP ONE: Preheat your air fryer to 390 degrees F and prepare your shishitos. You can eat the entire pepper, including the seeds, so you don't need to worry about removing them.
It's really important that they be very dry before cooking, as any excess moisture could cause them to steam instead of roast.
STEP TWO: Toss the peppers in oil so that they are evenly coated, then place them in an even layer in your air fryer basket. Allow to cook for 6 minutes — shake the basket halfway through.
STEP THREE: As they roast, prepare the sauce for shishito peppers. Mix the mayo, lemon juice, paprika, and garlic powder together in a small bowl until well combined.
STEP FOUR: Transfer your air fryer shishito peppers to a platter and drizzle a bit of lemon juice and salt on top. Enjoy them immediately with your dipping sauce!
My Air Fryer Shishito Peppers Pop While They Cook, Is That Normal?
Yes! When you roast your shishito peppers in the air fryer, the skin will split open from all of the heat.
It's totally normal to hear loud popping noises as they cook, so there's no need to worry or open your air fryer.
Remember that the cooking time could get thrown off if you do open it up mid-roast.
Do Shishito Peppers Need To Be Cooked?
You can serve shishitos raw or cooked. I personally love them in the air fryer — crispy shishito peppers that have been perfectly roasted are my favorite way to enjoy them!
The skin becomes blistered and charred, and the cooking process brings out its natural flavor.
Do You Cut The Stems Off Shishito Peppers?
You shouldn't eat the stems on air fryer shishito peppers. However, I like to leave mine on as they are easier to pick up and eat. It's like a built-in handle for your appetizer.
Just make sure to tell your guests not to eat the stems!
Is A Shishito Pepper Hotter Than A Jalapeño?
Shishitos are much milder than jalapeños. You may come across a spicy one every once and a while, but after they're cooked, they really aren't hot.
Plus, my special mayonnaise sauce for shishito peppers adds a cooling effect. That way, if you do end up with a rare spicy shishito, the sauce will balance out that heat.
Other Air Fryer Appetizer Recipes You'll Love:
Love air frying? Join our newsletter! You can also follow us on Facebook, Instagram, or join our free Facebook Air Frying Community.
Yield: 4 servings
Air Fryer Shishito Peppers
Air fryer shishito peppers come together with a few simple ingredients. Charred, crispy, and filled with flavor, it's the best app ever!
Ingredients
8 ounces shishito peppers, washed and thoroughly dried
2 teaspoons olive oil
1 tablespoon lemon juice
½ teaspoon coarse salt
½ cup mayo
1 tablespoon lemon juice
½ teaspoon paprika
¼ teaspoon garlic powder
Instructions
Preheat your air fryer to 390 F.
Toss peppers with oil in a large bowl until evenly coated.
Place in an even layer in the preheated air fryer basket and cook for 6 minutes, shaking the basket halfway through.
While the peppers are roasting, prepare a dipping sauce by mixing together the mayo, lemon juice, paprika, and garlic powder until well combined.
Transfer the cooked peppers to a platter, drizzle lemon juice over top, and sprinkle with salt.
Enjoy immediately with dipping sauce.
Nutrition Information:
Yield:
4
Serving Size:
1
Amount Per Serving:
Calories:

228
Total Fat:

23g
Saturated Fat:

4g
Trans Fat:

0g
Unsaturated Fat:

19g
Cholesterol:

12mg
Sodium:

447mg
Carbohydrates:

5g
Fiber:

2g
Sugar:

2g
Protein:

1g
This nutrition information is based on the exact products I used in this recipe. Brands and sizes of products could alter exact nutrition and should always be calculated independently.